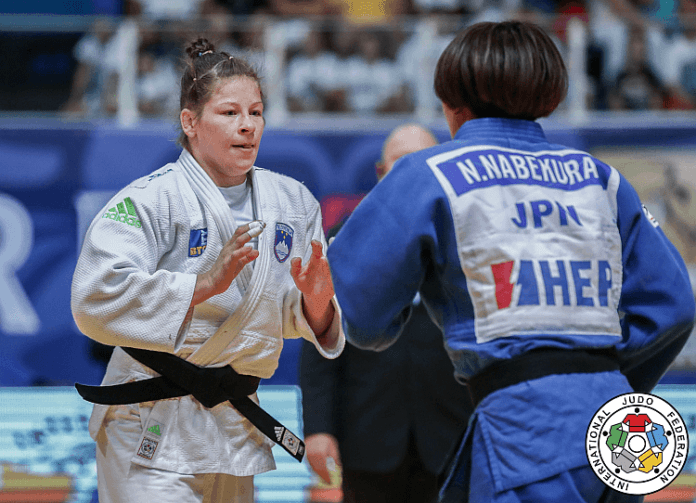 A large field of 552 judoka from 86 countries gathered for the last IJF World Tour event before next month's World Championships in Tokyo, with good results for Georgia's heavyweights and Japan's women.
At the Zagreb Open in Croatia, Beka Gvinishvili won at 90 kg and Gela Zaalishvili and Levani Matishvili went 1-3 in the +110 kg class and Georgia won four medals in all to lead the men's division.
Among the women, Japan had three gold medalists from Natsumi Tsunoda at 53 kg and on Sunday from Mami Umeki at 78 kg and Akira Sone at +78 kg. Combined with two silver medalists and Takanori Nagase's win at 81 kg for the men, the Japanese led the medal table with eight total medals. Georgia had five for second-best. Summaries:
IJF World Tour/Zagreb Open
Zagreb (CRO) ~ 26-28 July 2019
(Full results here)
Men
-60 kg: 1. Sharafuddin Lutfillaev (UZB); 2. Ashley McKenzie (GBR); 3. Ariunbold Enkhtaivan (MGL) and Tomer Golomb (POL).
-66 kg: 1. Alberto Gaitero Martin (ESP); 2. Denis Vieru (MDA); 3. Tumurkheleg Davaadorj (MGL) and Kilian Le Blouch (FRA).
-73 kg: 1. Tohar Butbul (ISR); 2. Arthur Margelidon (CAN); 3. Denis Iartcev (RUS) and Musa Mogushkov (RUS).
-81 kg: 1. Takanori Nagase (JPN); 2. Antoine Valois-Fortier (CAN); 3. Tato Grigalashvili (GEO) and Saeid Mollaei (IRI).
-90 kg: 1. Beka Gvinishvili (GEO); 2. Sanshiro Murao (JPN); 3. Noel Van't End (NED) and Krisztian Toth (HUN).
-100 kg: 1. Shady Elnahas (CAN); 2. Alexandre Iddir (FRA); 3. Peter Paltchik (ISR) and Miklos Cirjenics (HUN).
+100 kg: 1. Gela Zaalishvili (GEO); 2. Hisayoshi Harasawa (JPN); 2. Alisher Yusupov (UZB) and Levani Matishvili (GEO).
Women
-48 kg: 1. Otgonsetseg Galbadrakh (KAZ); 2. Melanie Clement (FRA); 3. Yanan Li (CHN) and Gulkader Senturk (TUR).
-53 kg: 1. Natsumi Tsunoda (JPN); 2. Da Sol Park (KOR); 3. Charline van Snick (BEL) and Chelsie Giles (GBR).
-57 kg: 1. Jessica Klimkait (CAN); 2. Momo Tamaoki (JPN); 3. Eteri Liparteliani (GEO) and Nekoda Smythe-Davis (GBR).
-63 kg: 1. Tina Trstenjak (SLO); 2. Nami Nabekura (JPN); 3. Mokhee Cho (KOR) and Sanne Vermeer (NED).
-70 kg: 1. Gemma Howell (GBR); 2. Kim Polling (NED); 3. Michaela Polleres (AUT) and Sanne van Dijke (NED).
-78 kg: 1. Mami Umeki (JPN); 2. Fanny Estelle Posvite (FRA); 3. Karla Prodan (CRO) and Marhinde Verkerk (NED).
+78 kg: 1. Akira Sone (JPN); 2. Larisa Ceric (BIH); 3. Iryna Kindzerska (AZE) and Anamari Velensek (SLO).