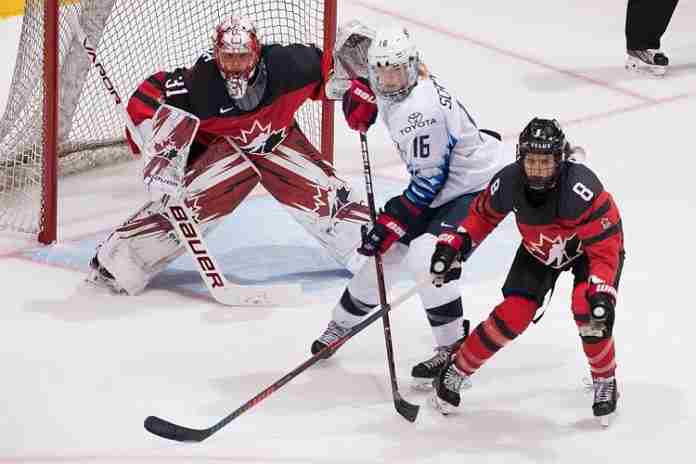 Another very hard-fought game between the Canadian and U.S. women ended in another one-goal difference and Jamie Lee Rattray's goal at 7:06 of the third period was the game-winner in a 4-3 final in Toronto (CAN) Thursday night.
After a tight, 1-0 game on Tuesday, the offenses were in charge in the first period in Toronto, as five goals were scored. American Alex Carpenter opened with a power-play goal with 7:03 gone in the period, but Canada tied it on a full-strength goal by Marie-Philip Poulin just 1:44 later.
Hannah Brandt scored for the U.S. at the 10:30 mark, but then the penalties came. Brianna Decker was sent off for roughing at 12:19 and Laura Fortino tied the game for Canada less than a minute later (13:13). Amanda Pelkey went to the box for hooking with 1:14 left in the period and Canada made the U.S. pay again with a power-play goal from Brianne Jenner with 0:36 to go, for a 3-2 lead.
Canada out-shot the U.S. in the period, 14-5, but the American defense in front of goalie Katie Burt got better in the second period. Despite three more U.S. penalties, Canada only got nine shots (to seven for the U.S.) and the period was scoreless.
The U.S. was much more aggressive in the third period, notably thanks to no penalties, and racked up a 15-7 advantage in shots. But it was Rattray who found the net at 7:06 of the period off a pass to the left side of the U.S. goal from Laura Stacey, to give Canada a 4-2 lead.
That only amped up the American effort and after a flurry of possession, Brianna Decker tipped on a pass from behind the net by Kendall Coyne Schofield at the 10:34 mark to make it a 4-3 game.
The U.S. continued to press and pulled Burt with 1:11 to go. The final minute was played in the Canadian end, but despite repeated scrums in front of Canada's Genevieve Lacasse in goal, the U.S. could not get the equalizer.
Burt, who was making her first start for the U.S., ended with 26 saves against 30, while Lacasse made 24 saves against the American total of 27 shots.
The full game summary is here. The two teams will play the final game of this three-game Rivalry Series on Sunday (17th) in Detroit, Michigan at noon Eastern time, and shown in the U.S. on the NHL Network.