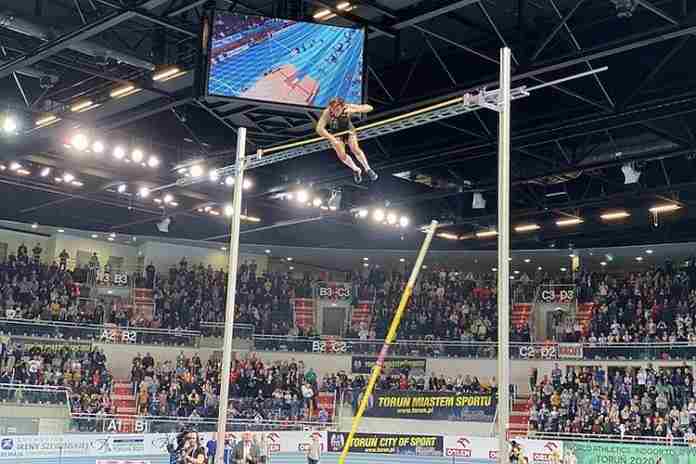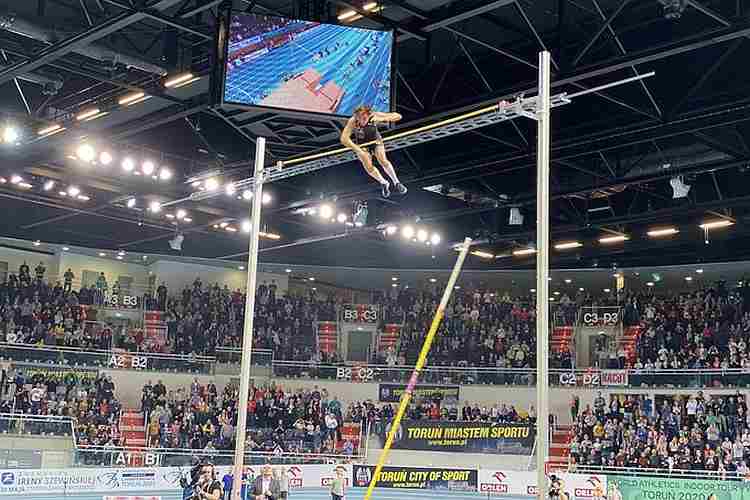 Headline results of noteworthy competitions around the world:
● ATHLETICS ● Saturday was one of those dream days in track & field, where athletes around the world were on fire:
At the Orlen Cup meet in Torun, Poland, Sweden's Mondo Duplantis realized his enormous potential with a world record in the pole vault of 6.17 m (20-2 3/4). The situation was perfect, as he essentially won the competition with his first jump of 5.52 m (18-1 1/4), and no one else could clear 5.62 m (18-5 1/4).
Duplantis passed that height and cleared 5.72 m (18-9 1/4) on his first try and was free to move the bar higher. He cleared 5.92 m (19-5) on his first attempt and then tried 6.01 m (19-8 1/2), a new national indoor record. After that, why not for the world record?
The bar was set at 6.17 m (20-2 3/4), one cm above Renaud Levillenie's 2014 world mark of 6.16 m (20-2 1/2), set indoors. Only France's Lavillenie and Ukraine's Sergey Bubka (6.15 mi/20-2i) had ever cleared 20 feet; the World Athletics rules allow world records to be set indoors if conditions are equivalent to outdoor environments, and the pole vault is an event that typically meets these requirements.
At 20-2 3/4, Duplantis missed his first try, but sailed elegantly over the bar on his second attempt, claiming the world mark and setting off a wild celebration – on the infield and in the Polish crowd – for the 20-year-old from Louisiana. "It's something that I wanted since I was three years old," he said.
That wasn't the only highlight in Torun, however. Home favorite Justyna Swiety-Ersetic won the women's 400 m in a national indoor record of 51.37, a world leader. In the women's 1,500 m, Ethiopia's Gudaf Tsegay won in a world-leading 4:00.09, moving her to no. 8 on the all-time world indoor list. Full results here.
¶
Just hours after Duplantis re-wrote the record book, World Champion Sam Kendricks set a new American Indoor Record of 6.01 m (19-8 1/2) in winning the Perche Elite Tour meet in Rouen, France.
Kendricks' effort replaced the 6.00 m (19-8 1/4) mark set by Jeff Hartwig way back in 2002.
¶
At the Millrose Games in New York, three American records were set, including a brilliant 1:44.22 in the 800 m by Donavan Brazier, who replaced his 2019 mark of 1:44.41. No one else was close, but Bryce Hoppel was second in 1:45.70, which moved him to no. 6 on the all-time U.S. indoor list.
Not to be outdone, Ajee Wilson lowered her own U.S. women's indoor 800 m mark from 1:58.60 in 2019 to 1:58.29. She won comfortably, with Jamaica's Natalya Goule second in 1:59.35.
Elle Purrier declared her intention to contend for an Olympic berth this season with an unexpected 4:16.85 win in the women's mile, the no. 2 performance of all time and another American Record. Her lifetime best in the event was 4:24.88 from 2019, so this is a major step up.
She overtook Germany's Konstanze Klosterhalfen on the final lap and finishers 2-4 – Klosterhalfen (4:17.26), Jemma Reekie (GBR/4:17.88) and Gabriela Debues-Stafford (CAN/4:19.73) all set national indoor records. Purrier's time wiped out Mary Slaney's famous 4:20.5 mark, run in San Diego in 1982.
Purrier also passed 1,500 m in 4:00.20, the no. 2 mark in U.S. history to Regina Jacobs' 3:59.98 from 2001 and making her no. 9 all-time. Klosterhalfen was leading at that point and her 3:59.87 moves her to no. 6 ever, with another national record.
Lost in the shuffle was another terrific performance for Olympic shot champ Ryan Crouser, who won at 22.19 m (72-9 3/4) over World Champion Joe Kovacs (21.34 m/70-0 1/4) and Sandi Morris's win in the women's pole vault at 4.91 m (16-1 1/4), a world leader. Results here.
What a day!
● ALPINE SKIING ● The men's World Cup in Chamonix (FRA) for technical events, with the first-ever World Cup victory for Swiss Loic Meillard in Sunday's Parallel Giant Slalom, ahead of teammate Thomas Turnier in the final. Saturday's Slalom was a sixth career World Cup win for France's 22-year-old star, Clement Noel. Full results here.
The women's World Cup was in Garmisch-Partenkirchen, with Viktoria Rebensburg (GER) winning the Downhill in front of home fans and the first career Super-G win by Swiss Corinne Suter. Rebensburg finished ahead of Italy's Federica Brignone – second in the overall standings to American Mikaela Shiffrin – and a noteworthy third by Snowboard star Ester Ledecka (CZE). Full results here.
Shiffrin, still mourning the unexpected death of her father, has given no indication of when she will return to skiing. She would normally have been expected to compete in Kranjska Gora (SLO) next week, with a Giant Slalom and Slalom on tap.
● ARCHERY ● The World Archery Indoor World Series finals was concluded at The Vegas Shoot in Las Vegas (USA), with Germany's Florian Kahllund scoring an upset win over American star Brady Ellison, 6-4, in the men's Recurve final.
The women's Recurve final was another demonstration of Korean power, with Na-Yeon Wi defeating Rio Olympic champ Hye-Jin Chang, 6-4, in the final. Full results here.
● BASKETBALL ● The U.S. women won the FIBA Olympic Qualifying Tournament in Belgrade (SRB) with a tight, 76-71 win over Nigeria on Sunday, their only challenging game of the event.
The American women, the clear favorite for another Olympic gold, defeated host Serbia by 88-69 in the opener, then stomped Mozanbique by 124-49. In Sunday's game, Nigeria outscored the U.S., 19-6, in the second period for a 40-26 halftime lead. That shrunk to 57-50 after three quarters and then a 26-14 final push in the fourth quarter provided the winning margin.
Nneka Ogwumike of the U.S. was named the Most Valuable Player of the tournament, one of three held to finish out the field for Tokyo.
Three Olympic Qualifying Tournaments were played, with Canada (3-0) and Belgium (2-1) punching their tickets to Tokyo at Ostend (BEL); France (3-0), Australia (2-1) and Puerto Rico (1-2) qualifying in the tournament at Bourges (FRA) and Serbia (2-1) and Nigeria (1-2) taking the spots from Belgrade Group A and China (3-0), Spain (2-1) and South Korea (1-2) qualifying from Group B. These 10 teams will join already-qualified Japan and the U.S. in Tokyo.
Links to results are here.
● CYCLING ● The second of five stops in the UCI BMX Supercross World Cup was in Bathurst, Australia, but rain and strong winds cancelled most of the races.
Only the men's race was held on Saturday (8th), with the women's race cancelled and no racing on Sunday. In the men's competition, the format was shortened to try and get the event in, with Americans Connor Fields and Corben Sharrah finishing 1-3 and Kye Whyte (GBR) second.
Australian rider Kai Sakakibara suffered head injuries in a bad crash and taken by helicopter to a hospital, where he was reported in "critical but stable" condition. Results are here.
● FENCING ● The U.S. collected four medals in a powerful showing at the FIE Foil Grand Prix in Turin (ITA), earning gold, silver and bronze medals in the men's division and a silver for the women.
Three Americans made it to the men's semis, with Rio silver medalist Alexander Massialas defeating France's Wallerand Roger, 15-2, while Gerek Meinhardt out-lasted Race Imboden, 15-11, in the all-American second semifinal. That put Meinhardt and Massialas into the final, with Meinhardt winning, 15-8. That evened the all-time record between the two at 6-6 in matches going all the way back to 2007!
The women's Foil tournament saw American Lee Kiefer score a 15-14 win over 2018 World Champion Alice Volpi (ITA) and advance to the final against France's two-time World Championships medalist, Ysaora Thibus. It was another 15-14 thriller, but Thibus came out on top. It was Kiefer's seventh career medal in a Grand Prix.
In the men's Epee tournament in Vancouver (CAN), Bas Verwulen of The Netherlands, 36, won his 17th career World Cup medal with a 15-9 win over Sergey Bida (RUS) in the final. In Barcelona (ESP), Estonia's Ketrina Lehis won her first career World Cup medal with a 15-8 victory over Alexandra Louis Marie of France in women's Epee. Links to results are here.
● FIGURE SKATING ● The ISU Four Continents Championships is one of the major regional events in the world each year and Japan's two-time Olympic champ Yuzuru Hanyu took the opportunity to make a statement.
Competing in Seoul (KOR), he set a record for the best score ever in the men's Short Program at 111.82, then won the Free Skate at 187.60 for a total of 299.42, well ahead of Jason Brown of the U.S. (274.82) and Yuma Kagiyama (JPN – 16 years old! – 270.61).
Japan's Rika Kihira repeated as Four Continents champ in the women's division, winning both the Short Program and the Free Skate to score 232.34, ahead of Young You (KOR: 223.23) and American Bradie Tennell (222.97).
The Pairs event was the sixth Four Continents title for China's Wenjing Sui and Cong Han, who out-scored countrymen Cheng Peng and Yang Jin, 217.51-213.29. The Ice Dance title went, for the second year in a row, to Americans Madison Chock and Evan Bates. They won the Free Dance to pass teammates Madison Hubbell and Zachary Donohue and scored 213.81 for the repeat win. Hubbell and Donohue finished third as Canada's Piper Gilles and Paul Poirier were second in the Free Dance and captured to silver by 210.18 to 208.72. Full results here.
● FREESTYLE SKIING ● Lots of action in Deer Valley, Utah, with Moguls and Aerials for men and women.
Mention Moguls, of course, and you're talking about Canadian superstar Mikael Kingsbury, the greatest ever in the event. He won the Dual Moguls event on Saturday for the second time in two tries this season, once again ahead of France's Benjamin Cavet. But Japanese star Ikuma Horishima scored a rare win over Kingsbury last Thursday in the standard Moguls event; in the five events held this season, they have been 1-2 each time, with Kingsbury winning three and Horishima two.
In Friday's Aerials, Russia's Maxim Burov won for the first time this season, out-pointing Swiss Noe Roth, and older brother Ilya Burov.
The women's Moguls was a showcase – once again – for Olympic champ Perrine Laffont, who won for the fifth straight time this season, this time in front of Australia's Jakara Anthony. In Dual Moguls, however, Canadian Justine Dufour-Lapointe was the winner for the first time this season, ahead of Americans Hannah Soar and Jaelin Kauf.
In Aerials, Aliaksandra Ramanouskaya from Belarus had been second in the first events of the season, but finally got to the top of the podium, beating Megan Nick of the U.S. for the gold. Full results here.
● FOOTBALL ● The U.S. women concluded a highly impressive romp through the CONCACAF Olympic Qualifying Tournament with a 2-0 win over Canada in Carson, California and a perfect 25-to-0 goals-against performance in the event. By making the final, both the U.S. and Canada qualified for the 2020 Olympic Tournament in Japan.
The American side won its group games by 4-0, 8-0 and 6-0, then strolled past Mexico, 4-0 in the semifinals. Canada piled up a 23-0 goals-against tally after skating past Costa Rica by 1-0 in their semi.
In the final, the U.S. had plenty of chances in the first half, especially by Christen Press, but could not find the net. But even more pressure in the second half finally lit up the scoreboard.
In the 57th minute, striker Lynn Williams took advantage of a failed clearance by Canada, then sent a right-footed rocket into the net for the first goal of the game. More U.S. pressure created more chances, and then Lindsey Horan scored in the 71st minute on a left-footed laser into the corner of the net after a Williams header placed the ball at Horan's feet in front of goal.
The final was added in the 87th minute, as Williams drove the ball through the middle of the field, then passed to a wide-open Megan Rapinoe rolling in from the left side, who finished with an left-footed strike into the net. The tournament summary is here.
● ICE HOCKEY ● The Rivalry Series featuring the Olympic and World Champion U.S. women against Canada concluded with a 4-3 overtime win for the Americans in front of a record crowd of 13,320 at the Honda Center in Anaheim, California last Saturday. It's the largest crowd ever to see a U.S. women's national team game on American soil.
Canada had a 3-2 lead after two periods in Anaheim, but Monique Lamoreaux-Morando tied it with nine minutes left, and Megan Bozek scored in the first minute of overtime for the game winner.
The victory ended the 2019-20 Rivalry Series at 4-1 for the U.S. After two wins in December, the U.S. lost, 3-2, in overtime on 3 February in Victoria, British Columbia, then won 3-1 in Vancouver on 5 February and added the overtime win on Saturday. More details here.
● JUDO ● The Paris Grand Slam is one of the most anticipated tournaments of the year, and this year was no different, especially with France's 10-time World Champion Teddy Riner competing in the +100 kg division.
He won his first two bouts to run his winning streak – since 2010 – to 154-0, then faced 10th-ranked Kokoro Kageura of Japan in the third round. There was no scoring in regulation time and then Kageura turned an attempted throw by Riner against him and turned him to the mat after 40 seconds of overtime for the 1-0 victory.
For Riner, 30, it was his first loss in 10 years, and he will have to continue to look for wins to compile enough points to qualify for Tokyo. Kageura himself was disappointed, finishing with the silver medal after a loss to Dutch star Henk Grol in the final.
Reigning women's world champs Daria Bilodid (UKR: 48 kg) and Christa Deguchi (CAN: 57 kg) won their divisions and the home crowd was thrilled with victories by French world champs Clarisse Agbegnenou (63 kg) and Madeline Malonga (78 kg). Full results here.
● NORDIC SKIING ● A busy weekend for all three disciplines, with the Cross Country skiers in Falun (SWE) for a Sprint and Mass Start race. The home fans were jubilant to see emerging star Linn Svahn (20) win her third Sprint of the season and second in the last three by defeating Russia's Natalya Nepryaeva and teammate Jonna Sundling. But when it comes to distances, there is no stopping Norway's Therese Johaug, won the 10 km Freestyle Mass Start for her 11th title this season (in 23 total races!). Johaug now leads the overall women's World Cup with 1,690 points to 1,212 for Nepryaeva.
Men's leader Alexander Bolshunov (RUS) won the men's 15 km Freestyle Mass Start and Pal Golberg (NOR) won the Classical Sprint with teammate Erik Valnes right behind. Bolshunov continues to lead the men's overall race, 1,647-1,222 over Johannes Hoesflot Klaebo (NOR). Full results here.
In Ski Jumping, the planned Willingen Five in Germany became the Willingen Two after high winds killed any chance of jumping on Friday or Sunday. However, home favorite Stephan Leyhe won his first-ever World Cup gold on Saturday, beating Marius Lindvik (NOR) and Polish star Kamil Stoch in the final. Full results here.
The women were able to compete in Henzenbach (AUT) off the 90 m hill, with new Austrian star Chiara Holzl (22) winning her third and fourth straight events this season and extending her overall lead. She won on Saturday over reigning World Cup champ Maren Lundby (NOR) and on Sunday, ahead of teammate Eva Pinkelnig. Full results here.
The planned Nordic Combined races in Otepaa (EST) were cancelled due to lack of snow.
● SHOOTING ● The U.S. Olympic Trials in Air Rifle concluded over the weekend in Colorado Springs, Colorado, with Lucas Kozeniesky and Mary Tucker winning the two-stage qualification program.
Kozeniesky (1,259.2) and Will Shaner (1,255.0) stood 1-2 and in line for Olympic spots after the first Trials event last December. Kozeniesky won the second Trials event, scoring 1,265.1, ahead of Matthew Sanchez (1,253.6) and Scott Rockett (1,253.4), but Shaner's fifth-place finish with 1,251.6 points was enough to maintain the second spot (2,506.6) and send him to Tokyo. Sanchez was third (2,502.1) and will be first alternate.
The women's event was all about Tucker, who led after the first event at 1,256.4. She scored a little better this time at 1,256.6 and won easily, with 2,513.0 points to 2,507.7 for Alison Weisz. The Rio Olympic gold medalist, Ginny Thrasher, came in standing only fifth and despite finishing second to Tucker on the weekend (1,254.4), it was not enough to get onto the 2020 American team. Weisz started in second place after the first event (1,256.0) and her weekend score of 1,251.7 was only sixth, but the combined total was enough to get a ticket to Tokyo. Sarah Beard finished third at 2,506.6 (alternate); Thrasher stayed in fifth (2,504.4). Full results here.
● SHORT TRACK ● The penultimate World Cup for 2020 was held in Dresden (GER), with four of the six individual seasonal titles decided.
Among the men, Hungary's Shaolin Sandor Liu finished second to Canada's Steven Dubois in the 500 m, but wrapped up the seasonal title ahead of next week's finale in Dordrecht (NED). Korea's Ji-Won Park dominated the distances, winning his second 1,000 m race and third 1,500 m race of the season. He clinched the seasonal title at 1,000 m, but is in a tight battle in the 1,500 m.
Canadian sprint star Kim Boutin has been strong from the start and won the 500 m in Dresden to clinch the seasonal title in that event with her fifth win in five tries (she did not compete in one race). Dutch star Suzanne Schulting won her second 1,000 m event of the season and will be the seasonal champion in that event, but even after winning the 1,500 m, she is in a fight with as many as five others for the seasonal crown next week. Full results here.
● SPEED SKATING ● The fifth of six World Cup events was on in Calgary (CAN) last weekend, with tremendous results for Russian skaters.
Angelina Golikova (RUS) won the women's 500 m, but still trails Japan's Nao Kodaira (264-250) in the seasonal standings, with American Brittany Bowe fifth (187). Kodaira won the women's 1,000 m for the first time this season, while Bowe lost for the first time and ended up sixth. But Bowe still leads the standings at 218-184 over Kodaira and only needs to finish 14th or better to take the 2020 title.
Japan's Miho Takagi won the women's 1,500 m, but Dutch star Ireen Wust is the almost-certain seasonal winner; she leads Russia's Evgeniia Lalenkova, 222-174, with just the one meet left. Perennial champion Martina Sabilkova (CZE) won her second meet of the season in the 3,000 m and has a 271-238 edge on top of Canada's Ivanie Blondin (238) this season.
Among the men, Ruslan Murashov (RUS) won the 500 m over teammate Viktor Murshtakov, but Mushkatov has the seasonal lead by 285-250 going into the final meet. Teammate Pavel Kulizhnikov scored his second win in a row in the 1,000 m, but the seasonal title will likely be decided between Dutch stars Kai Verbij (176 seasonal points) and Thomas Krol (second in Calgary, 174 total points). China's Zhongyan Ning finished second to Russian star Denis Yuskov in the 1,500 m, but still has the seasonal lead, 186-162-162 over Yuskov and Kjeld Nuis (NED).
Another Dutch star, Patrick Roest, won his fourth 5,000 m race of the season and is slightly ahead in the seasonal standings with 240 points to 237 for Russia's Danila Semerikov (237). Full results are here.
The final World Cup won't be for a month, on 2-3 March in Heerenveen (NED).