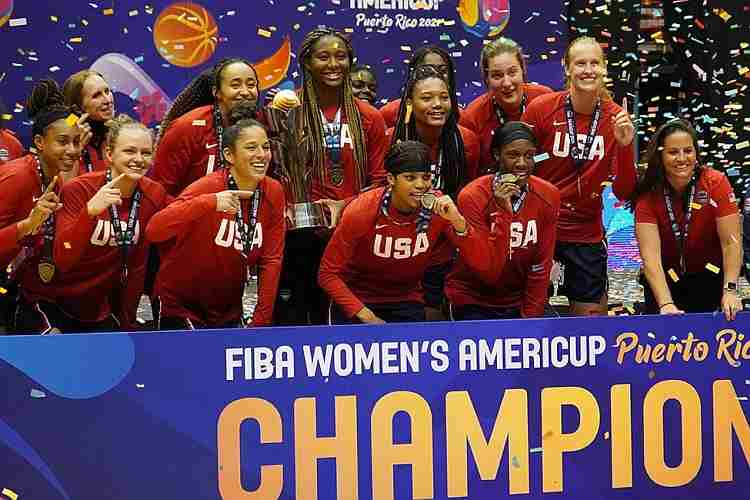 (★ Friends: The new bill for server and support costs has arrived. If you would like to support our coverage, please donate here. Your enthusiasm is the reason this site continues. Thank you. ★)
Headline results of noteworthy competitions around the world/updated/:
● Archery ● The World Archery final qualifier for the Tokyo Games was in Paris (FRA) this weekend, prior to the World Cup from the 21st to the 27th, with the United States looking for top-three finishes that would allow a full team of three shooters in Tokyo.
The men, with World Champion Brady Ellison, Jack Williams and Jacob Wukie, led the qualifying round at 2,031 and advanced to the second round of the team elimination matches. First was Slovenia and a 6-2 U.S. win, then another 6-2 win over Spain in the quarterfinals.
With three team slots available, winning the semifinal sent the U.S. to Tokyo and the American trio shut out France, 6-0. With a spot in the Games – and two individual spots for Wukie and Williams – the U.S. men won the qualifying tournament with a 5-3 score over Indonesia in the final.
Jeff Henckels of Luxembourg was the men's individual leader after qualifying, ahead of Russian Galsan Bazarzhapov, 682-675, with the elimination matches coming on Monday.
The U.S. women's team of Mackenzie Brown, Casey Kaufhold and Jennifer Mucino-Fernandez shot on Sunday, finishing third in the qualifying behind Mexico and India. In the elimination matches, the U.S. advanced to the quarterfinals with a 6-2 win over the Czech Republic and then faced a powerful team from Turkey. The U.S. won the first end, 54-50, and the third end, 57-52. Turkey tied it by winning the fourth, 55-52, requiring an extra end. It couldn't have been closer, as both teams scored 25 points, and the Americans squeezed out a victory with a closest-to-the-center measurement making the difference.
That brought the U.S. into the semifinals, with a win guaranteeing a full team in Tokyo. No problem, as the U.S. shut out Spain, 3-0, while Mexico advanced to the final (and to Tokyo) with a 5-1 win over Italy. In the final, the U.S. took the first end, 56-53, but then saw Mexico win the next two – 56-53 and 59-56 – and a 56-56 tie in end four to take the title, 5-3.
The women's individual competition saw Poland's Magdalena Smialkowska lead after the qualifying round at 653, ahead of Uzbek Ziyodakhon Abdusattorova (648). The elimination will be held on Monday.
● Athletics ● Although the U.S. Olympic Trials are center stage, meets are continuing around the world with excellent marks.
On Saturday in Madrid (ESP), Colombian World silver 400 m medalist Anthony Zambrano zoomed to a 44.51 win, now no. 6 on the world list. He edged reigning Olympic 400 m champ Wayde van Niekerk (RSA) who finally got his Tokyo qualifier at 44.56.
The triple jumps were outstanding, with Hugues Fabrice Zango of Burkina Faso facing off with Portugal's Pedro Pablo Pichardo in a memorable duel. Pichardo struck first, landing at 17.65 m (57-11) in the first round and then 17.59 m (57-8 1/2) in round two. But Zango got to 17.49 m (57-4 3/4) in round three, then exploded for 17.83 m wind-aided (58-6w) in round four to take the lead. Pichardo responded with a world-leading 17.69 m (58-0 1/2) with legal wind in round four, but could do no more and finished second.
Venezuela's Olympic favorite Yulimar Rojas won the women's TJ as expected, but had four jumps over 15 m (49-2 1/2) to dominate the event. She started with 15.19 m (49-10), then jumped 15.16 m (49-9), a foul, 15.19 m (49-9 3/4), 14.99 m (49-2 1/3) and finished with a wind-aided 15.34 m (50-4w) for the victory. She's one of the near-locks for Olympic gold in Tokyo.
On Sunday in Chorzow (POL), the 2021 European men's Indoor 800 m Champion Patryk Dobek (POL) won with a lifetime best and world-leading time of 1:43.73, all the more amazing because it's his first year in the event! Britons Jamie Webb and Elliot Giles followed in 1:44.14 and 1:44.2, outdoor lifetime bests for both.
World men's hammer leader Pawel Fajdek (POL) won at 82.14 m (269-6), a distance only he has reached this season and Isaac Makwala (BOT) won the men's 400 m in 44.47, no. 6 in the world for 2021.
Ethiopia's Gudaf Tsegay was after the world record in the women's 1,500 and won in 3:54.01, the no. 2 performance in 2021, with only teammate Hirut Meshesha anywhere close (3:59.43). It's a lifetime best for Tsegay and moves her up to no. 12 on the all-time list.
Namibian 400 m sensation Beatrice Masilingi showed that her high-altitude times are for real, winning in 49.88, just short of her 49.53 mark from April. Freweyni Hailu (ETH) won the women's 800 m in a speedy 1:57.57 – no. 2 for 2021 – ahead of Catriona Bisset of Australia (1:58.09: no. 4) and Renelle Lamote (FRA: 1:58.11: no. 5). It's getting crazy out there.
● Basketball ● The all-collegiate U.S. women's team won the 16th FIBA Women's AmeriCup and defended its 2019 title with a 74-59 win over host Puerto Rico at the Coliseo Roberto Clemente in San Juan on Saturday.
The U.S. steamed through the group stage with a 3-0 record, then stomped the U.S. Virgin Islands by 97-46 in the quarterfinals. Then things got tougher. In the semifinals against Brazil, the U.S. was down, 21-13, at the end of the first quarter and 31-18 with two minutes left in the first half.
But five points from Kentucky guard Rhyne Howard helped get the U.S. to 33-25 by halftime, before the Americans took over. They out-scored Brazil by 25-10 in the third quarter and 21-17 in the fourth for a convincing 71-60 victory and a place in the final. North Carolina State center Elissa Anne Cunane led the U.S. with 19 points and Rhyne and Michigan forward Naz Hillmon-Baker had 12 each.
Puerto Rico defeated Group A winner Canada, 65-61, in the other semi to set up a rematch from Group B, where the U.S. had won earlier, 87-65. But Puerto Rico led the final at halftime, 36-34, before the U.S. got going for good. A 10-0 run in the middle of the third quarter put the U.S. ahead by 51-40 and coach Dawn Staley's team had a 55-47 lead at the end of the quarter. A 19-12 final quarter sewed up the victory, with Howard scoring 22 points and South Carolina forward Aliyah Boston adding 17 and 19 rebounds. Cunane added 12 points and Hillmon-Baker had 12 rebounds.
The game did not end without more drama, however; USA Basketball reported:
"The USA was on the verge of closing out the win as Boston stepped to the free throw line at 1:59, and then the overhead lights in the arena went out. As staff worked to get the lights back on, the USA and Puerto Rico had enough light to shoot around on the court, while fans treated it like a concert, waving the flashlights on their cell phones. After about 15 minutes of that, an impromptu dance battle broke out between the two teams at half court, delighting everyone in the arena."
This was the fourth U.S. women's AmeriCup title, now equal with Cuba for the second-most, behind Brazil's five total wins. South Carolina coach Staley headed the U.S. squad and also coached the 2019 winners; she's 12-0 lifetime in this tournament!
In the bronze medal game, Brazil beat Canada, 87-82, in double overtime. The top four teams – the U.S., Brazil, Canada and Puerto Rico – qualified for the 2022 FIBA World Cup Qualifying Tournaments.
Howard was named as the Most Valuable Player in the tournament, with Cunane, Jennifer O'Neill of Puerto Rico, Manuela Rios of Colombia and Clarissa dos Santos of Brazil on the All-Star 5. O'Neill ended as the tournament's leading scorer at 16.8 per game and Boston led all rebounders at 9.3 per game.
● Canoe-Kayak ● The ICF Slalom World Cup tour was in Markkleeburg (GER), a late tune-up for the forthcoming Tokyo Games. And the stars were out in force.
In the women's K-1, three-time World Champion Jessica Fox (AUS) confirmed her Olympic favorite's status with a decisive win in 96.76 seconds (2 penalties). Germany's three-time Worlds medalist Ricarda Funk was second (100.28 and 2 penalties) and teammate Elena Apel (103.00 with 2 penalties) was third.
Germany's Andrea Herzog, the reigning World Champion from 2019, won the women's C-1 in 103.91 seconds with no penalties, beating two-time Worlds medalist Teresa Fiserova (CZE: 108.26 with 2 penalties) and 2019 Worlds bronze winner Nadine Weratschnig (AUT: 112.80 with 2 penalties). Fox, a four-time World Champion in this event, finished fourth (115.18 with 2 penalties).
The men's K-1 final was a win for unheralded Jakub Grigar of Slovakia in 88.91 with no penalties, over Felix Oschmautz (AUT: 90.92 with 2 penalties). France's 2014 World Champion Boris Neveu was third, at 91.86 with two penalties.
In the men's C-1, France's 2011 World Champion, Denis Gargaud Chanut, edged 2012 Olympic silver medalist Sideris Tasiadis, 94.75-96.87, with neither suffering penalties. Slovenia's 2017 World Champion, Benjamin Savsek, had the fastest time through the course, but with six penalties, he ended up third at 99.59 seconds in third.
● Cycling ● /Updated/The USA Cycling Road Nationals returned once again to Knoxville, Tennessee for racing in three events each for men and women.
In the men's 34.9 km Individual Time Trial, veteran star Lawson Craddock won his first national title, finishing well ahead of Chad Haga, 41:33.9 to 41:51.4, with Tejay van Garderen third in 42:03.2.
The 2019 World Time Trial Champion, Chloe Dygert, won her first U.S. road cycling title in the 23.2 km Individual Time Trial in 30:11.2 over 23.2 km, breaking free from five-time U.S. Time Trial champion Amber Neben (30:38.7) and Leah Thomas (31:01.6).
In Friday's Criterium races, Luke Lamperti took the men's title in 1:17:02.3 in a mass finish over Samuel Bassetti (1:17:02.5) and Eric Young (1:17:03.2). The women's title was won by Kendall Ryan (1:09:20) in another mass sprint, beating Megan Jastrab, Coryn Rivera and Alexis Ryan (all 1:09:22).
Sunday's road races started with the women contesting a 114.6 km (9 laps) on a hilly course in and around Knoxville. Lauren Stephens, the 11th placer in the 2020 World Road Champs, won her first national title on a breakaway, finishing in 3:11:19, 1:06 up on Coryn Rivera and Veronica Ewers (both 3:12:25), followed by Krista Doebel-Hickok (3:12:29) and Tayler Wiles (3:12:30).
The men's race was a 15-lap, 190.9 km program on the same course, with Sam Boardman, Kyle Murphy and George Simpson breaking away in mid-race and sprinting to a 5:45 gap on the rest of the field. Inevitably, their advantage dwindled and with four laps to go, Chad Haga, Robin Carpenter and Nate Brown had narrowed the lead to just 15 seconds. The lead group was caught and a new pack expanded to nine with two laps to go, then two-time U.S. Time Trial champ Joey Rosskopf attacked and built a 15-second lead with a lap to go. There was lots of action on the final lap, with six in contention into the final kilometer, but it was Rosskopf who crossed the line first in 4:38:12, ahead of Brent Bookwalter (4:38:15), Murphy (4:38:17), Alexey Vermuelen (4:38:18) and Lawson Craddock (4:38:22).
● Modern Pentathlon ● The UIPM World Championships finished last Monday with the Mixed Relay, a triumph for Sehee Kim and Changwan Seo of South Korea. They finished with 1,432 points, ahead of Anastasiya Prokopenko and Ilya Palazhov of Belarus (1,422) and Germans Rebecca Langrehr and Patrick Dogue (1,415).
Seo and Kim won the Fencing, second in the Riding and seventh in Swimming and with a sixth-best time in the Laser Run held off the Belarusian team, which had the fastest time in the field.
● Swimming ● The Olympic Marathon Qualifier was held in Setubal (POR), with 15 individual spots available, and won by Hungary's Anna Olasz in 2:01:55.5, just inches ahead of Spain's Paola Ruiz Bravo (2:01:58.0) and Canada's Kate Sanderson (2:01:58.4).
Sunday's men's race was a 1-3 finish for Great Britain, as Hector Pardoe won by daylight in 2:02:07.60, with Athanasios Kynigakis (GRE) and Tobias Robinson (GBR) third touching almost together in 2:02:13.10. The amazing Ous Mellouli of Tunisia, now 37 and the gold medalist in the 1,500 m in the pool in 2008 and the 10 km open-water in 2012, qualified for his sixth Olympic Games with a 10th-place finish in 2:02:55.60.
(The U.S. has already secured its spots for Tokyo and did not compete at Setubal.)
● Volleyball ● The FIVB Nations League is moving toward the end of the long round-robin schedule, with the playoffs looming for both men and women. All matches are being played in a sequestered environment in Rimini (ITA).
The women's Nations League has been a showcase for the Karch Kiraly's United States squad, which cruised to a 14-0 record before dropping its last match to China, 25-10, 25-20 and 25-17. OK, so 14-1 isn't too bad; the U.S. won 42 of 49 sets in its 15 matches.
Behind the U.S. are Brazil (12-2 with one game to play), Japan at 12-3, Turkey at 11-3 (playing Brazil later today); China (10-5) finished fifth and out of the playoffs. The semifinals are scheduled for 24-25 June.
In the men's Nations League, Brazil continues to lead after four of five weeks of play, with an 11-1 record, trailed by Poland (10-2), Slovenia (9-3) and Russia, France and Serbia (all 8-4).
The U.S. has moved up to 6-6 – with three other teams – but only the top four teams will participate in the playoffs, on 26-27 June.
● Water Polo ● The 17th edition of the FINA World League Super Final underlined the dominance of the U.S. women's team – the Olympic favorites – winning its seventh straight title and 11th in the last 12. In all, the U.S. has won 14 of the 17 tournaments all-time, including the 2021 edition held in Athens (GRE).
In the group stage, Canada was 3-0 to take Group A and the U.S. zipped through Group B with a 3-0 record and a 54-20 goals-against total. In the quarterfinals, the U.S. cruised past Japan by 20-6 and 17-8 against Russia in the semis. Canada was surprised in its semi, 14-10, by Hungary and ended up playing for third against Russia.
In the final, the U.S. had some trouble with Hungary, taking a 4-2 lead after a quarter and 6-3 at half, but leading only 9-8 in the fourth period. But the American squad scored the last five goals of the match and won by 14-8. Maggie Steffens led the U.S. in scoring with four goals, and Rachel Fattal and Maddie Musselman had three each. Russia edged Canada, 10-8, to win the bronze medal.
The U.S. finished with a 51-22 goals-against edge in the playoffs and 105-42 overall in the tournament. Musselman led the U.S. scorers with 18 goals, followed by Steffens with 16, Fattal with 15 and Stephanie Haralabidis with 13. The U.S. also had some of the best goalkeeping in the tournament, as primary keeper Ashleigh Johnson had the fourth-best save percentage at 52.9% and Amanda Longan saved 72.0 percentage of her chances (18-25), the best in the tournament!
Japan's Yuri Arima led all scorers in the tournament with 23 goals.
You can receive our exclusive TSX Report by e-mail by clicking here. You can also refer a friend by clicking here, and can donate here to keep this site going.
For our 649-event International Sports Calendar for 2021 and beyond, by date and by sport, click here!