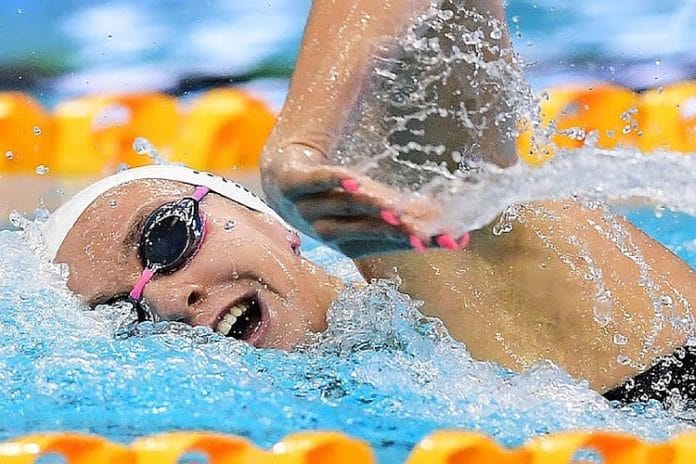 Headline results of noteworthy competitions around the world/updated/:
● Archery ● The World Archery World Cup was in Gwangju (KOR), with a potent demonstration of Korean power, winning four of the five Recurve (Olympic) finals.
In the men's Recurve final, three-time World Champion Woo-jin Kim, 29, showed he is not slowing down, with a 7-1 finals win over Woo-seok Lee in the all-Korean final. Rick van der Ven (NED) won the bronze over Miguel Alvarino (ESP), 6-2.
The Korean defeated Italy in the men's Team event, 6-0, while Spain edged France, 5-4, in an extra-end shoot-out.
The women's Recurve final was another all-Korean affair, with Mi-sun Choi – a two-time Worlds bronze medalist – dispatching Ga-hyun Lee by 6-2. The bronze-medal match was an all-Chinese Taipei face-off between Yi-Ching Chiu and Tzu-Ying Kuo, with Chiu winning by 6-2.
The Korean women easily won the Team event, 5-1, over Italy. India won the bronze, 6-2, over Chinese Taipei.
In the Mixed Team final, Germany's Felix Weiser and Katharina Bauer edged Brady Ellison and Casey Kaufhold of the U.S. by 5-3. Netherlands won the bronze, 5-3, over Canada.
● Artistic Swimming ● The FINA World Series Final in Athens (GRE) was a showcase for Austria's Alekandri triplets: Vasliki, Anna-Maria and Eirini.
The women's individual events started with the Solo Technical, won by Austria's Vasiliki Alexandri at 86.9450, followed by American Anita Alvarez (84.6858) and Marlene Bojer (GER: 80.0743). Alexandri followed up with a sweep in the Solo Free (89.4333), with Iris Tio Casas (ESP: 88.2000) second and Alvarez third (87.1000).
The Alexandri family kept winning, with the other two sisters – Anna-Maria and Eirini Alexandri – winning the Duet Technical (90.4430), ahead of the Dutch duo of Bregje De Brouwer and Marloes Steenbeek (84.8617) and Americans Megumi Field and Daniella Ramirez (84.3622). The Duet Free, too, with Anna-Maria and Eirini scoring 91.6000, with De Brouwer and Steenbeek second (86.6667) and Field and Natalia Vega fourth (85.3000).
The Team Technical was won by the U.S. (86.1525), with Israel (83.4367) second and Kazakhstan (79.2041) third. Israel won the Team Free (85.1333), followed by Kazakhstan (81.5333) and Slovakia (75.7333).
In the Mixed Team Technical, Spain's Emma Garcia and Pau Ribes won, scoring 83.3138, followed by Americans Claudia Coletti and Kenneth Gaudet (78.3346) and Kazakhs Eduard Kim and Zhaklin Yakimova (78.2740). The Mixed Duet Free was also won by Garcia and Ribes (84.0000), ahead of Italy's Nicolo Ogliari and Federica Sala (82.5667). Coletti and Gaudet were third (80.9333).
The Mixed Team Free Combination was a win for Greece (85.93330 and the Mixed Team Highlight was won by the U.S. team, scoring 86.8333 to out-score Greece (85.0000).
● Athletics ● Further to our post on Saturday's Diamond League meet in Birmingham (GBR), some readers saw an early version stating there were five world-leading performances. In fact, there were six, as the British women's 4×100 m team of Beth Dobbin, Imani Lansiquot, Dina Asher-Smith and Daryll Neita won the non-Diamond League event in 42.29. The story has been updated.
¶
At the Duval County Challenge in Jacksonville, Florida, marks were generally modest, but Sha'Carri Richardson appeared for the first time this season.
The 2021 U.S. Olympic Trials winner in the women's 100 m, then disqualified and suspended for a month for marijuana use, had not run since last September. She ran twice on Saturday, winning an "exhibition" 100 m in 11.27 (wind: -0.1 m/s) ahead of Twanisha Terry (11.29), then finished fourth in the fifth section of the main women's 100 m races, in 11.37 (-1.5). Aleia Hobbs won that fifth section in 11.28, followed by Brittany Brown (11.30) and Terry (11.34), ahead of Richardson.
One of the best marks came in the women's 100 m hurdles, with Jamaica's Britney Anderson winning in 12.59, ahead of Tonea Marshall (12.76). Lynna Irby won the 400 m in 51.03.
The men's 100 m was won by Brandon Carnes (10.19, +0.1); the 200 m went to Mario Heslop (JAM: 20.76) and the 400 m was won by Trevor Stewart at 45.91. Olympic fourth-placer Devon Allen won the 100 m hurdles in 13.17 (+1.2) and Craig Allen won the men's 400 m hurdles in 49.05.
¶
The USATF Throws Festival in Tucson, Arizona saw a big win for American hammer star Janee Kassanavoid, whose third-round throw reached 78.00 (255-11) for a lifetime best, no. 3 in the world for 2022 and now no. 6 on the all-time list. The U.S. now sits 2-4-6-7 on the all-time list with DeAnna Price, Brooke Andersen, Kassanavoid and Gwen Berry!
Veronica Fraley got a lifetime best in the women's discus to win at 62.00 m (204-5) and stand no. 13 in the world for 2022. Jamaica's Danniel Thomas-Dodd won the shot at 19.53 m (64-1) to move up to number 4 on the world list; American Jessica Ramsey was third at 19.38 m (63-7) to move up to no. 5. Four-time Olympian Kara Winger moved to equal-4th for 2022 with a 63.75 m (209-2) win in the javelin.
In the men's events, Olympic silver winner Chris Nilsen took the vault at 5.80 m (19-0 1/4) and New Zealand star Tom Walsh got a seasonal best of 21.60 m (70-10 1/2) to win the shot.
Sam Mattis unleashed a lifetime best of 68.69 m (225-4) to win the men's discus and move to no. 4 on the 2022 world list, with Andrew Evans second, also with a lifetime best of 66.74 m (218-11). Olympic Trials winner Rudy Winkler, already no. 4 for 2022, won the hammer at 78.51 m (257-7), beating Diego Del Real (MEX: 78.26 m/256-9 for no. 6 in 2022) and Daniel Haugh (77.94 m/255-8 for no. 9). Tim Glover won the javelin with a seasonal best of 82.81 m (27108) to rise to no. 15 for 2022.
¶
At the Jubilee Series in Kingston, Jamaica, Oblique Seville stole the show with a lifetime best of 9.86 (+0.2) – his best prior was 10.00 – to become the newest Jamaican sprint threat. That's no. 2 on the world list for 2022.
Superstar women's sprinter Elaine Thompson-Herah doubled, winning the 100 m in 10.94 into a 1.8 m/s headwind and then took the 200 m in 22.55 (-0.7) as well.
¶
American Chase Ealey continued her strong early season with a world-leading shot win at Halle in Germany, reaching 19.76 m (64-10) on her first try. That's her best-ever outdoors and second only to her 20.21 m (66-3 3/4) indoor throw for second at the 2022 World Indoor Championships!
● Badminton ● The BWF World Tour was in Bangkok for the Thailand Open, with China reaching three finals and Japan, two, but the Japanese had the better final day.
In the men's Singles final, Zii Jia Lee (MAS) came from behind to defeat Shi Feng Li (CHN), 17-21, 21-11, 23-21. The women's final was a battle, but top-seeded Tzu Ying Tai (TPE) defeated no. 3 Yu Fei Chen (CHN), 21-15, 17-21, 21-12.
Takuro Hoki and Yugo Kobayashi (JPN) won the men's Doubles over Fajar Alfian and Muhammad Rian Ardianto (INA), with the Indonesians withdrawing at 4-13 in the first set due to injury to Alfian.
The all-Japan final in the women's Doubles saw Nami Matsuyama and Chiharu Shida win in a major struggle over Mayu Matsumoto and Wakana Nagahara, 17-21, 21-15, 26-24.
The Mixed Doubles title went to second-seeds Si Wei Zhang and Ya Qiong Huang (CHN), who persevered over Dechapol Puavaranukroh and Sapsiree Taerattanachai (THA), 21-12, 18-21, 21-14.
● Beach Volleyball ● The Volleyball World Beach Pro Tour was in Kusadasi (TUR) for a Challenge tournament, with Americans Taryn Kloth and Kristen Nuss winning their second Beach Pro Tour tournament this season.
They had to come up through the qualification round, winning two matches to get into the tournament itself, then won two of three pool matches to get into the elimination round. They then sailed through the rest of the event, winning three straight matches by 2:0 and then facing Taliqua Clancy and Mariafe Artacho (AUS) in the final, winning 21-12, 17-21, 17-15.
Kloth, 25, and Nuss, 24, won a Beach Pro Tour Futures event in Australia and April and have now moved up a level in play. They are ones to watch.
Americans Terese Cannon and Sarah Sponcil took the bronze medal with a 21-11, 17-21, 15-12 win over Sandra Ittlinger and Isabel Schneider (GER)
The men's final saw David Ahman and Jonatan Helvig (SWE) win their first medals of the season and their first Beach Pro Tour tournament, defeating Christopher McHugh and Paul Burnett (AUS), 19-21, 21-18, 15-12.
Clemens Wickler and Nils Ehlers (GER) on a tight third-place match from Adrian Camambula and Enrico Rossi (ITA), 21-12, 17-21, 15-12.
● Boxing ● The IBA Women's World Championships in Istanbul (TUR) included 12 weight classes and a $2.4 million prize pool, and was dominated by the host nation. Turkish fighters won five of the 12 weight classes:
● 48 kg (Minimum): Ayse Cagirir
● 50 kg (Light Fly): Buse Cakiroglu (Tokyo 2020 silver medalist)
● 54 kg (Bantam): Hatice Akbas
● 66 kg (Welter): Busenaz Surmeneli (Tokyo 2020 gold medalist)
● +81 kg (Heavy): Sennur Demir
All won by decisions except Surmeneli, where the referee stopped the bout at 2:17 of the third round. Each of these winners will receive $100,000 for their victories (finalists receive $50,000 and bronze medalists, $25,000).
Ireland was the only other country with multiple winners, as Amy Broadhurst won at 63 kg (Light Welter) and Lisa O'Rourke won at 70 kg (Light Middle). Other winners included India's Zareen Nikhat (52 kg: Fly), Yu-Ting Lin (TPE, at 57 kg: Feather), Canada's Tammara Thiebault (75 kg: Middle) and Gabriele Stonkute (LTU) in the Light Heavy category (81 kg).
American Rashida Ellis won her first Worlds gold, taking the Lightweight class (60 kg) via a 3:2 decision over Brazil's Beatriz Ferreira, the Tokyo 2020 silver medalist. Ellis had previously won a Worlds bronze in 2019. That was the only American medal of the tournament.
● Canoe-Kayak ● The first Sprint World Cup of the season was in Racice (CZE), with two-time World Champion Martin Fuksa winning twice on home waters.
Fuksa, the 2017 and 2019 Worlds gold medalist in the men's C-1 500 m, won that event and the C-1 1,000 m for the two home wins of the event.
Portugal's Fernando Pimenta, a two-time World Champion in the K-1 1,000 m, won that event and teamed with Joao Duarte to win the K-2 1,000 m, in which Pimenta was the London 2012 silver medalist.
They were the only double winners among the men in the C-1/C-2 and K-1/K-2 events. Ukraine's Oleh Kukharyk and Ihor Trunov won a heart-warming victory in the men's K-2 500 m.
The women's racing had triple Tokyo gold medalist Lisa Carrington of New Zealand in the water and she won the K-1 500 m, but was third with Alicia Hoskin in the K-2 500 m final. Poland's Karolina Naja and Anna Pulawska were Olympic silver medalists to Carrington and Caitlin Regal in Tokyo in the K-2 500 m, who won here convincingly in 1:39.17.
Ukraine's Liudmyla Luzan was a star; the 2021 European champ in the C-1 500 m, she won that event and the C-1 1,000 m. Cuba's Yarisleides Duboys was also busy, winning the C-1 200 m final and the C-2 200 m race with Katherin Segura.
China's Mengya Sun and Shixiao Xu won the Tokyo gold in the C-2 500 m and repeated in Racice, and Sun teamed with Hao Liu to win the Mixed C-2 500 m.
● Cycling ● The close of the second week of the 105th Giro d'Italia saw the difficult stages shuffle the leaderboard that had seen Spain's Juan Pedro Lopez at the top for 10 straight stages.
On Saturday, a nasty, 147 km stage from Santena to Turin featured 13 different climbs, designed to break up the race standings and it did. Only four were left in the lead pack after the second time over the Colle della Maddalena, and then the 2018 Vuelta a Espana winner, Simon Yates (GBR) attacked and was able to get away in the final 5 km for a 15-second win in 3:43:44.
Australia's Jai Hindley, the 2020 Giro runner-up, managed to finish second, just ahead of Ecuador's Richard Carapaz, and Italian star Vincenzo Nibali in fourth. Spain's Lopez was 10th, 4:25 behind and Carapaz became the race leader by seven seconds over Hindley.
Sunday's frightening stage was a 177 km test from Rivarolo Canavese to Cogne, with major climbs to the Pila (1,408 m) and Verrogne (1,583 m) and then finishing uphill with an 870 m climb to central Cogne (to 1,527 m) over the last 19 km.
It was Italy's Guilio Ciccone who took the initiative on the final ascent and only Santiago Buitrago (COL) and Antonio Pedrero (ESP) could follow and they finished 1-2-3, with Ciccone riding away solo over the final 18 km for a 1:31 margin of victory in 4:37:41. Buitrago was second, with Pedrero third, 2:19 behind the winner.
The race contenders finished 7:48 back and so going into Monday's rest day, Carapaz leads Hindley by 0:07, Almeida by 30 seconds and Mikel Landa (ESP) by 0:59.
¶
In the meantime, the four-stage third Vuelta a Burgos Feminas has been cycling through Spain, with different winners in the first three races: Belgian star Lotte Kopecky, Matilde Virillo (ITA) and Mavi Garcia (ESP).
Sunday's final test was the most difficult, a 125.1 km ride to an uphill finish to Lagunas de Neila, rising 746 m in the final 12 km. It was Dutch star Demi Vollering who got away over the final kilometer for a 17-second win over Juliette Labous (FRA), with Evita Muzic (FRA: +0:37) and American Krista Doebel-Hickok (+0:44) in fourth.
Garcia entered Sunday with a 12-second lead on Muzic, but the final stage blew up the leaderboard and it was Labous who ended up the winner by 17 seconds over Muzic and Vollering, in 13:06:28. Doebel-Hickok got fourth (+0:27), with Garcia falling back to 15th overall.
¶
The UCI Mountain Bike World Cup was in Fort William (GBR) for the second set of Downhill races, with France's Amaury Pierron keeping his record perfect this season.
He won the men's final in 4:37.115, just ahead of teammate Thibaut Deprela (4:37.584) and Laurie Greenland (GBR: 4:38.031). Pierron won the season opener in March, his first World Cup win since 2019; he also won at Ft. William that year.
The women's title went to Germany's Nina Hoffmann, finishing ahead of the season-opening winner, Camille Balanche (SUI), by 5:14.170-5:17.785. France's two-time World Champion Myriam Nicole was third in 5:21.342.
● Fencing ● The FIE Grand Prix Sabre was held in Padua (ITA) – the 63rd Trofeo Luxardo – for men and women, with Hungary's 2012-16-20 Olympic champion Aron Szilagyi defeating three-time Worlds medalist Bon-gil Gu (KOR) in the final, 15-14.
Szilagyi, now 32, won his third career Grand Prix gold, to go along with eight World Cup wins; he now has 36 career Grand Prix and World Cup medals. Gu, 33, win his fifth Grand Prix silver – no wins – and his ninth career Grand Prix medal (he has 25 career Grand Prix and World Cup medals).
The women's title went to Russian-born Anna Bashta (AZE), who won the final against Risa Takashima (JPN) by 15-11. Bashta scored her first-ever Grand Prix win and first career Grand Prix medal. Takashima, 23, won her first international medal!
● Gymnastics ● The first of three FIG Rhythmic World Challenge Cup events was in Pamplona (ESP), with Bulgaria's Boryana Kaleyn – the 2021 European silver medalist – winning the All-Around at 128.700, ahead of teammate Stiliana Nikolova (126.450) and Ekaterina Vedeneeva (SLO: 124.250). American Evita Griskenas was 10th (112.150).
In the individual event finals, Margarita Kolosov (GER) won with Hoop, scoring 31.850; teammate Darja Varfolomeev won on Ball (33.300), Bulgaria's Nikolova won on Clubs (33.450) and Varfolomeev also won on Ribbon (31.450).
Griskenas made the Hoop final and was fourth (30.300) and the Ribbon final, finishing sixth (28.450); teammate Lili Mizuno made the Clubs final and was sixth (30.050).
● Ice Hockey ● The IIHF men's World Championship in Finland is continuing, with round-robin play ongoing through the 24th (Tuesday).
In Group A, Switzerland has dominated with a 5-0 record (15 points), ahead of Germany (5-1: 15) and Canada (4-1: 12), all with games to play.
In Group B, Finland has a 5-1 mark (overtime loss: 16 points), ahead of Sweden (4-1: one overtime win, one overtime loss: 12), the Czech Republic (3-2; one overtime loss: 10) and the U.S. (4-1: two overtime wins: 10). The top four in each division move on to the playoffs.
The U.S. still has games to play against the Czechs and Norway (2-3: 5 points).
● Judo ● The USA Judo National Championships in Daytona Beach, Florida saw five fighters defend their 2021 national titles and three more move from the podium to the top step.
The repeaters included Ari Berliner in the men's 66 kg class and Alexander Knauf in the men's 90 kg division, Mariah Holguin in the women's 57 kg class, Sara Golden at 63 kg and Nicole Stout at 78 kg.
Kell Berliner won the 2021 bronze in the men's 90 kg, but won gold this time at 81 kg; Christian Konoval moved up from silver at +100 kg to win in 2022 and Yasmin Alamin went from bronze to gold in the women's 70 kg class.
A prior national champ who won again was Mackenzie Williams, who won the +78 kg class, as she did in 2017.
Another familiar name on the podium was two-time U.S. Olympian Angelica Delgado, who triumphed in the women's 52 kg competition.
First-time winners were Christopher Velasco in the men's 60 kg event, Jack Yonezuka – the 2020 Pan Am Junior silver winner – in the men's 73 kg, Oleksandr Blekherov at 100 kg and Avtandili Bogveradze in the men's Open Weight class.
Maria Laborde won the women's 48 kg class, having changed her allegiance from Cuba, where she won a Worlds bronze in 2014 and was already the 2022 Pan American Championships bronze medalist for the U.S.
● Rugby Sevens ● All of the action in the Rugby Sevens Series was in Toulouse (FRA), with the men's contesting the seventh of nine tournaments this season and the women in the sixth and final leg of the season.
The men's tournament had Argentina, Fiji, Australia and Samoa as the pool winners, but it was Ireland, France, Samoa and Fiji was the quarterfinal winners. The Irish and Fijians had no trouble in their semifinals and it was Fiji that came out the winner in a 29-17 final. France skipped by Samoa, 17-12, in the third-place final.
With two stops left, the race has tightened considerably, with Argentina just holding on against South Africa and Australia, 118-116-110. Ireland is fourth with 88 and the U.S. sits seventh at 80.
The women's competition had three pools, with Australia, New Zealand and France the winners and Australia, New Zealand, Fiji and Ireland advancing to the semifinals. New Zealand and Australia were easy winners and the Kiwis won the final by 21-14. Fiji defeated Ireland, 26-10, for third.
Even with the loss in the final, Australia was an easy winner in the seasonal standings, winning four of six tournaments and finishing with 80 points. France, Fiji and Ireland placed 2-3-4, all scoring 60 points. The U.S. was sixth with 56.
● Sport Climbing ● /Updated/The IFSC World Cup has come to the U.S. for the first of two events in Salt Lake City, on consecutive weekends. This week's event included Bouldering and Speed.
Friday's Speed finals was another demonstration of Indonesian power, with Kiromal Katibin winning the men's final over Noah Bratschi of the U.S. in 5.64 seconds, while Bratschi fell. Veddriq Leonardo and Ludovico Fossali – both from Indonesia – finished 3-4. Katibin won his fourth career World Cup medal, but his first gold.
Poland swept the women's Speed races, with world-record holder Aleksandra Miroslaw winning the final over countrywoman Aleksandra Kalucka, 6.93-7.83, with Natalia Kalucka third and Emma Hunt of the U.S. fourth.
The Bouldering finals featured France's Mejdi Schalck, 18, who won his first World Cup title with 3T3Z – 7/5, over Rei Kawamata (JPN: 3T3Z – 14/8) and Yoshiyuki Ogata (JPN: 2T2Z – 2/2).
The women's title went to American Natalia Grossman, who won for the second consecutive World Cup, won her 11th career World Cup medal and for the third time in Salt Lake City.
She managed a final-round performance of 3T3Z – 8/8 to defeat Jessica Pilz (AUT: 3T3Z – 16/16) and Miho Nonaka (JPN: 2T3Z – 8/17). American Brooke Raboutou was sixth (1T2Z – 2/12).
● Swimming ● Olympic star Ariarne Titmus splashed into history with a world record in the women's 400 m Freestyle on the final day of the Australian Nationals in Adelaide.
Titmus defeated American star Katie Ledecky in the Tokyo 400 m Free and won on Sunday in 3:56.40, breaking Ledecky's world mark of 3:56.46 from the 2016 Rio Olympic Games. She will not face Ledecky at the Worlds in Budapest, but has opted instead for the Commonwealth Games in Birmingham (ENG) later in the summer.
Said the 21-year-old Titmus: "I did not expect this at all after thoroughly enjoying my break and I took it slow in the beginning [when she returned to training] and I never thought that at this meet post the Olympics I'd be swimming faster than at an Olympics Trials and the Olympic Games but I suppose if you keep surprising yourself it keeps the sport interesting."
That wasn't all, as Shayna Jack won the women's 50 m Free in a fast 24.14, now no. 2 only to Swede Sarah Sjostrom's swim at Mare Nostrum Monaco (see below).
Kaylee McKeown, who won the women's 100 and 200 m Back events in Tokyo, took her third and fourth nationals wins in 200 m Back in 2:00.51 and 200 m Medley in 2:09.15. She's already the world leader in the 200 m Back at 2:04.64, and the 2:09.15 ranks her no. 2. She previously won the 100 m Back and 400 m Medley golds.
Mollie O'Callaghan, the 100 m Freestyle national champ and world leader, was second to McKeown at 2:08.48, no. 7 on the 2022 world list.
Elizabeth Dekkers won the women's 200 m Fly in 2:07.62, no. 4 in 2022.
Lani Pallister moved to no. 3 on the world list for 2022 in the women's 1,500 m Free with a win in 15:55.40, adding to her earlier 800 m Free victory. She then finished second to Titmus in the 400 m Free in 4:02.21, which makes her no. 4 on the year list. Wow!
¶
At the first stop on the three-stage Mare Nostrum tour in Monaco, Swedish star Sjostrom improved her grip at the top of the world list in the 50 m Free, winning in 24.08, an improvement of 0.23 on her 24.31 mark from early April.
Brazil's Bruno Fratus moved to no. 3 on the 2022 world list in the men's 50 m Free, winning in 21.49.
South Africa's Matt Sates won four events, taking the 200 and 400 m Freestyles, and the 200-400 m Medleys. American Lydia Jacoby won the 100 and 200 m Breaststroke events.
You can receive our exclusive TSX Report by e-mail by clicking here. You can also refer a friend by clicking here, and can donate here to keep this site going.
For our updated, 620-event International Sports Calendar for 2022 and beyond, by date and by sport, click here!