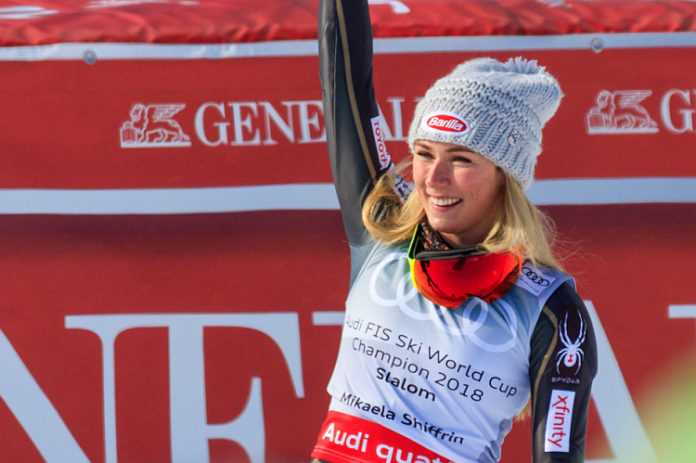 Headline results of noteworthy competitions around the world/updated/:
● Alpine Skiing ● The women's FIS Alpine World Cup circuit is back in the U.S., with a women's Giant Slalom and Slalom in Killington, Vermont for Saturday and Sunday. Unfortunately, heavy winds caused the Giant Slalom to be canceled.
But on Sunday, the Slalom course was good and reigning World Cup overall champion Petra Vlhova (SVK), winner of both races in Levi (FIN) the week before, led U.S. star Mikaela Shiffrin after the first run, 49.87-50.07. But Shiffrin poured on the gas on the second run, cheered by fans who remember her early days at the nearby Burke Mountain Academy. She blew through the course in 48.26 to take the lead as the next-to-last starter, followed by Vlhova, who could only manage 49.21 (14th best) and had to settle for second, 1:38.33-1:39.08. Swiss star Wendy Holdener finished third (1:39.16); American Paula Moltzan was seventh (1:40.46).
For Shiffrin, it was her 71st career World Cup win and the 46th in Slalom, tying her with Swedish icon Ingemar Stenmark for the first World Cup victories in a single discipline. He had 46 Giant Slalom wins from 1973-89. Shiffrin remains third on the all-time victories list, behind Stenmark (86) and fellow American Lindsey Vonn (82); she has two wins in the five races held this season and now has the overall World Cup lead by 360-340 over Vlhova.
¶
The men were scheduled for two Downhills and a super-G in Lake Louise (CAN), but the Friday race had to be canceled due to heavy snow. In Saturday's Downhill, Austria's Matthias Mayer, the 2014 Olympic champ, scored his 11th career World Cup win at 1:47.74, 0.23 ahead of countryman Vincent Kriechmayr and 0.35 seconds up on 2017 World Champion Beat Feuz (SUI).
More bad weather caused Sunday's Super-G to be canceled. FIS reported an alarming 10 Covid departure positives in Lake Louise, but on re-testing, nine were found to be false positives. One skier tested positive again and was placed in quarantine.
● Badminton ● The Indonesia Open in Bali was hoped to show off the country's outstanding Doubles teams and two made it to the finals.
Top-seeded Marcus Fernaldi Gideon and Kevin Sanjaya Sukamuljo thrilled the home fans with a 21-14, 21-18 win over Takuto Hoki and Yugo Kobayashi (JPN) for the men's Doubles title, but second-seeded Greysia Polii and Apriyani Rahayu were upset by Nami Matsuyama and Chiharu Shida (JPN), 21-19, 21-19 in the women's Doubles.
The men's Singles saw Danish star Viktor Axelsen win a tight battle with Kean Yew Loh (SGP), 21-13, 9-21, 21-13, while Korea's Seyoung An scored a modest upset over Ratchanok Intanon (THA), 21-17, 22-20.
In the Mixed Doubles, Thailand got a win from top-seeded Dechapol Puavaranukroh and Sapsiree Taerattanachai, who defeated Yuta Watanabe and Arisa Higashino (JPN), 21-12, 21-13.
● Basketball ● /Updated/The Americas Qualifiers for the 2023 men's World Cup got underway this weekend with all 12 teams in action. The Group D openers in Chihuahua City (MEX) included the U.S. and Cuba, with a tight game ending in a 95-90 U.S. victory.
The American team of G League players and free agents fell behind by 37-27 after the first quarter, then rebounded with a 33-16 second quarter to take a 60-53 halftime lead. But the Cubans came back with a strong third quarter (24-13) to take a 77-73 lead. But the Americans came back with a final quarter edge of 22-13 for the 95-90 final.
The U.S. was led by guard Isaiah Thomas with 21 points on 7-20 shooting, followed by forwards B.J. Johnson and Brian Bowen (both 16), and forward Justin Anderson (10). The U.S. shot 49.3% from the field, but allowed Cuba to shoot 51.4%, with center Jasiel Rivero lighting up for 34 points (13-18 from the field).
The U.S. will play Mexico on Monday; the next window of games is not until February.
● Biathlon ● The IBU World Cup began its 2021-22 season in Oestersund (SWE), with Czech Marketa Davidova winning the 15 km Individual race in 42:43.5, ahead of Lisa Theresa Hauser (AUT: +1:17.7) and Germany's Denise Herrmann (+1:23.0).
The men's 20 km Individual race was a 1-2 for Norway, with Sturla Holm Laegreid winning his eighth career World Cup title in 51:04.0, ahead of Tarjei Boe (NOR: +59.2) and Simon Desthieux (FRA: +1:00.6).
Sunday was reserved for the Sprints. Swede Sebastian Samuelsson won his second career World Cup race with a 22:33.5 win in the 10 km race, well clear of Norwegians Vetle Christiansen (+11.8) and three-time World Cup winner Johannes Thingnes Boe (+12.2).
Sweden completed a Sprint sweep with Hanna Oeberg winning her seventh career World Cup race, covering 7.5 km in 19:01.5, ahead of Anais Chevalier-Bouchet (FRA: +11.3) and Norway's Marte Olsbu Roeiseland (+15.4).
The biathletes will stay at Oestersund for a second week of competition beginning on Thursday.
● Bobsled & Skeleton ● The big sleds were in Innsbruck (AUT) for the second straight week, with German superstar Francesco Friedrich – the double Olympic champion – taking the two-man race on Saturday in 1:43.48 to 1:43.84 for teammate Johannes Lochner. Canada's Justin Kripps was third (1:43.96); American Codie Bascue was 10th (1:44.54).
Friedrich also won – as expected – the Four-man, finishing 0.28 seconds ahead of Latvian Oskars Kibermanis, who came from sixth after the first run. Kripps, tied with Kibermanis in sixth after the first race, moved up to third overall. American Hunter Church's crew tied for fifth.
Germany's Laura Nolte won the two-women race for the second week in a row, repeating her victory over teammate Kim Kalicki, 1:46.71-1:46.77. The podium from the first week remained the same, with Canada's Christine de Bruin taking the bronze. American sleds were fifth (Elana Meyers Taylor) and 10th (Kaillie Humphries).
The men's Skeleton run produced an amazing three-way tie among Germany's Chris Grotheer, Britain's Matt Weston and Wenqiang Geng (CHN), all at 1:46.04. Russian veteran Elena Nikitina (1:47.83) won the women's Skeleton solo over Kimberely Bos (NED: 1:48.03).
¶
The women's Monobob series was busy, in Park City, Utah during the week and Altenberg (GER) and Innsbruck on the weekend.
The Park City races saw Canada's Alysia Rissling winning her fourth and fifth races of the season, timing 1:43.60 to beat Americans Brittany Reinbolt (1:44.26) and Nicole Vogt (1:44.69) on the 23rd and then Reinbolt and Canada's Bianca Ribi (1:44.42-1:45.95-1:46.05).
At Altenberg, German Lisa Buckwitz won for the first time this season, beating Viktoria Cernanska (CRO), 2:00.61-2:02.35. In Innsbruck, it was American Elana Meyers Taylor with a second win on the season, finishing in 1:51.60 to 1:51.65 for Laura Nolte (GER); American Kaillie Humphries was sixth (1:51.84).
● Cross Country Skiing ● The FIS World Cup season opened in Ruka (FIN) with a full program and a strong start from the Swedish women.
Swedes Maja Dahlqvist (3:01.81) and Johanna Hagstroem (3:03.58) went 1-2 in the first race of the season, the Classical Sprint final, with Norwegian star Maiken Caspersen Falla third (3:03.83). Two-time Worlds silver medalist Frida Karlsson won the women's 10 km Classical, beating Norwegian superstar Therese Johaug, 24:29.4-24:43.1; American Rosie Brennan was sixth (25:08.0).
The men's Classical Sprint went to Russia's Alexander Terentev (2:31.90), with Norwegian stars Johannes Hoesflot Klaebo (2:33.08) and Erik Valnes (2:34.03) following. The home fans loved seeing Iivo Niskanen (FIN) win the 15 km Classical, over Russians Alexey Chervotkin (33:16.9) and two-time World Cup overall champ Alexander Bolshunov ( 33:22.7).
Sunday's Freestyle Pursuit races saw Bolshunov lead a Russian sweep with a win over 15 km in 35:23.7, ahead of two-time Worlds gold medalist Sergey Ustiugov (35:24.2) and Artem Maltsev (35:24.4).
Norway's 14-time World Champion Johaug took her first win of the season in the women's 12.5 km Pursuit in 25:56.0, some 7.8 seconds ahead of Karlsson (26:03.8) and fellow Norwegian Heidi Weng (26:33.9). Brennan was fifth and Jessie Diggins finished 11th.
● Figure Skating ● The last "regular season" leg of the ISU Grand Prix was the Rostelecom Cup in Sochi (RUS), with host skaters taking three of the four titles.
Russia's Kamila Valieva, the 2020 World Junior Champion, won the women's division – a Russian sweep – by more than 43 points over teammates Elizaveta Tuktamysheva and Maiia Khromykh, 272.71-229.23-219.69. American Mariah Bell was third after the Short Program, but slipped to fourth after the Free Skate, finishing at 210.35.
Anastasia Mishina and Aleksandr Galliamov and won the Pairs in another Russian sweep, scoring 226.98 to outscore Daria Pavliuchenko and Denis Khodykin (212.59) and Iasmina Kadyrova and Ivan Balchenko (193.58). Americans Andrey Liu and Misha Mitrofanov finished fourth (186.16).
Russia's Victoria Sinistsina and Nikita Katsalapov took the Ice Dance, scoring 211.72 to win over Italy's Charlene Guignard and Marco Fabbri (203.71) and Laurence Fournier Beaudry and Nikolaj Soerensen (CAN: 191.40). Americans Kaitlin Hawayek and Jean-Luc Baker were fifth with 187.62.
The biggest surprise came in the men's event, where Georgia's Morisi Kvitelashvili took his first Grand Prix title at 266.33, as Short Program leader Kazuki Tomono (JPN) fell to fifth in the Free Skate and finished third overall (264.19). Russia's Mikhail Kolyada moved up from fourth after the Short Program to second overall by winning the Free Skate, scoring 264.64 overall. Kvitelashvili has done well in this event, finishing second in 2018 and 2020, his only prior Grand Prix medals.
The Grand Prix Final comes 9-12 December in Osaka (JPN).
● Football ● The U.S. Women's National Team got a goal in the first 24 seconds of the game from Ashley Hatch and enjoyed stellar goalkeeping from Casey Murphy in her international debut to defeat Australia in a friendly, 3-0, in Sydney on Friday afternoon.
Hatch, in only her third appearance for the U.S., was set up on a header from Lynn Williams and sent a left-footed shot into the net for the third-fastest goal in U.S. women's team history.
But the Matildas pushed back hard against Murphy, but could not score and the half ended 1-0. More of the same in the second half, but the U.S. went up 2-0 on a Rose Lavelle goal in the 49th minute and got a third score in the 68th on a penalty shot by Lindsay Horan, who had been fouled by Australia's Ellie Carpenter.
The U.S. had the edge in total shots, 14-11, but Australia landed eight shots on Murphy vs. six shots on goal for the Americans. The crowd of 36,109 was the second-largest ever to watch the U.S. women on the road.
The U.S. women will take on Australia again on 30 November in Newcastle to close out its two-game tour.
● Freestyle & Snowboard ● The Freestyle Ski Cross season opened Saturday in China's Secret Garden Resort, with wins for Russia's Sergey Rizik (over Brady Leman/CAN) for the men and Swedish star Sandra Naeslund for the women, ahead of Swiss Fanny Smith.
The first Snowboard SnowCross competition on Sunday, with familiar faces on the podiums. Austria's Alessandro Hammerle, the 2021 Worlds silver medalist, won the men's race ahead of Italy's Omar Visintin and American Nick Baumgartner, a two-time Worlds bronze medalist.
Czech star Eva Samkova, the 2014 Olympic winner, took the women's race for her 18th career World Cup win, beating 2021 World Champion Charlotte Bankes (GBR) and 2018 PyeongChang gold medalist Michela Moioli (ITA) to the line.
● Luge ● The 2014 Olympic site of Sochi (RUS) was selected to replace both North American stops at Whistler (CAN) and Lake Placid, New York due to Covid travel restrictions.
The men's Singles was a wild affair on Sunday, with the big names having terrible first runs. Two-time Olympic champ Felix Loch (GER) was 15th, PyeongChang bronze medalist Johannes Ludwig was 20th and 2020 World Champion Roman Repilov of Russia was 23rd. The weather was also deteriorating rapidly, so when the second run started, the early starters – those with the worst first-run results – had an advantage. The stars took advantage.
Ludwig had the fastest second run in the field and ended up winning at 1:44.626, followed by Loch – with the sixth-fastest second run – at 1:44.784, followed by Repilov, second-fastest on the second run, in 1:44.834. The first-run leader, Latvia's Kristers Aparjods, had the 18th-fastest second run and ended up fifth (1:45.027).
In Doubles, it was Latvian stars Andris and Juris Sics winning a tight battle with Andrey Bogdanov and Yuri Prokhorov, 1:39.783 to 1:39.903, with Germany's Tobias Wendl and Tobias Arlt third (1:40.012).
German Anna Berreiter took her third career women's title, winning in 1:40.649 to 1:40.756 over Kendija Aparjode (LAT: sister of Kristers). American Summer Britcher was 10th (1:41.148).
● Nordic Combined ● The 2021-22 season also opened in Ruka (FIN), with three competitions off a 142 m hill. Friday's event had a 5 km cross-country race, with three-time defending World Cup champ Jarl-Magnus Riiber (NOR) winning at 12:16.1, followed by Johannes Lampartner (AUT: 12:36.3) and Jens Luraas Oftebro (NOR: 12:38.3).
Germany swept Saturday's event with a 10 km final, as Terence Weber taking his first career World Cup gold in 26:11.0, ahead of five-time World Cup winner Eric Frenzel (26:12.2) and Vinzenz Geiger (26:13.3).
Sunday's race was also over 10 km, with Riiber taking his second win of the weekend and his 38th career World Cup title. He finished in 25:08.3, with Lamparter (25:20.7) second and Oftebro (25:41.3) third.
● Rugby Sevens ● The Rugby Sevens World Series for 2021-22 got underway with tournaments in Dubai (UAE).
The 12-team men's program saw Fiji, and South Africa complete pool play undefeated (3-0) with Argentina (2-1) and the U.S. (1-1-1) the top two in Pool B. In the playoffs, South Africa handled Argentina, 17-7, in one semifinal and the U.S. edging Fiji, 21-19 in the other.
Argentina won the bronze over Fiji, 19-12 for the bronze medal and then the South Africans crushed the U.S. Eagles by 42-7 in the final.
The 10-team women's tournament had Australia as a 4-0 winner in Pool A, but Fiji, Russia and Great Britain were all 3-1 in Pool B. Fiji won the pool on the tie-breakers and went on to face Australia in the final, but the result was a 22-7 victory for the Aussies. The U.S. finished seventh.
● Short Track ● Olympic men's 500 m champ Dajing Wu of China took his specialty at the second ISU World Cup, in Dordrecht (NED), defeating a good field in the final, with Canada's Steven Dubois second, 39.878-40.023.
China also won the men's 1,500 m with Ziwei Ren overcoming Sjinkie Knegt (NED), 220.352-2:20.511. Sunday's 1,000 final was won by Hungarians Shaoang Liu (1:23.791) and American-born John-Henry Krueger (1:23.891).
Canada's Kim Boutin won the women's 500 m (42.464), beating seasonal leader Arianna Fontana (ITA: 42.756) and Russian Elena Seregina (42.792). Korean Yubin Lee won her second 1,500 m of the season at 2:21.931, over Courtney Sarault (CAN: 2:22.043), with American Kristen Santos fourth (2:22.107).
PyeongChang 1,500 champion Minjeong Choi (KOR) won the women's 1,000 m on Sunday in a tight battle with Boutin, 1:28.417 to 1:28.510.
● Ski Jumping ● The women's World Cup season opened on the 97 m hill at Nizhny Tagil (RUS) with a 1-3 finish for Austria: Marita Kramer won at 253.5 with veteran Daniela Iraschko-Stolz taking the bronze with 207.4 points. Slovenia's Ema Klinec was second at 211.8.
Klinec came back to win on Saturday at 235.1, with teammate Ursa Bogataj just behind at 227.0. Germany's 2018 Olympic silver medalist Katharina Althaus was third (225.9).
The men were in Ruka (FIN) on a 142 m hill, with Japanese star Ryoyu Kobayashi, the 2019 World Cup winner, taking his first title of the season at 324.5, over Anze Lanisek (SLO: 318.9) and Germany's Markus Eisenbichler (304.4).
On Sunday, it was Lanisek's turn, taking his first career World Cup win by 311.9-310.3 over Germany's Geiger, with Eisenbichler third (3:05.2).
● Swimming ● The International Swimming League held its last "semifinal" matches before the December final, with the defending champion Cali Condors, Energy Standard (FRA), the London Roar (GBR) and the L.A. Current advancing to the championship round.
In the fifth playoff match, Energy Standard won with 561.5 points, ahead of London Roar (498.5), L.A. Current (415.5) and 289.5 for the D.C. Trident. The men's star was American Backstroker Ryan Murphy, who won the 50 m Back in an American Record of 22.53 (bettering his own 2020 mark of 22.54), the 50 m Skins, the 200 m Back and was second in the 100 m Back.
Breaststroke star Ilya Shymanovich (BLR) won the 50-100-200 m events; American Tom Shields won the 50-100 Flys and Britain's Duncan Scott took the 200-400 m Medleys.
Sweden's Sarah Sjostrom, swimming for Energy Standard, was sensational with individual wins in the 50 m Free, the 50-100 m Flys and the 100 m Medley. Hong Kong star Siobhan Haughey won the 100-200-400 m Frees, and three others won two events: Canadian Ingrid Wilm (50-100 m Back), Alia Atkinson (JAM: 50-100 m Breast) and Canada's Sydney Pickrem (200-400 m Medleys).
The sixth match saw the Condors win easily (532.5) over Iron (446.0) and Aqua (444.5), with Toronto at 331.0. The men's standouts were Romanian backstroker Robert Glinta, who won the 100 m and 50 m Skins races, and Dutch star Arno Kamminga, who took the 100 and 200 m Breaststroke events.
In the women's racing, American superstar Lilly King won the 50-100 m Breast events and was second to Condors teammate Emily Escobedo in the 200 m Breast. Canada's Kylie Masse dominated the 50-100 m Backstrokes; American Hali Flickinger won the 400 m Free and 200 m Fly, Kelsi Dahlia of the U.S. won the 100 m Fly and the 50 m Fly Skins race, and fellow American Beata Nelson tool the 200 m Back and 100 m Medley.
The final will be on 3-4 December in Eindhoven (NED).
● Table Tennis ● /Updated/The 2021 World Table Tennis Championships are ongoing at the George R. Brown Convention Center in Houston, Texas, the first time the event has been held in the U.S.
One of the unique aspects of this tournament are the two special Mixed Doubles teams with players from China and the U.S. together to mark the 50-year anniversary of the "ping pong diplomacy" matches between China and the U.S. in 1971. The idea was developed and petitioned for by the national federations in China and the U.S.
In Houston, Chinese star Manyu Wang and American champ Kanak Ja won their first two matches, but lost in the third round. The pairing of American women's champion Lily Zhang and China's Gaoyuan Lin did better, reaching the semifinals, but ended with bronze medals as they lost to Japan's Tomokazu Harimoto and Hina Hayata, in five sets.
Harimoto and Hayata moved on to face China's Chuqin Wang and Yingsha Sun, and were swept aside in straight sets (3-0), the second Worlds win in a row for the Chinese.
The finals will be held for the other events on Monday (29th).
You can receive our exclusive TSX Report by e-mail by clicking here. You can also refer a friend by clicking here, and can donate here to keep this site going.
For our 743-event International Sports Calendar for 2021 and beyond, by date and by sport, click here!