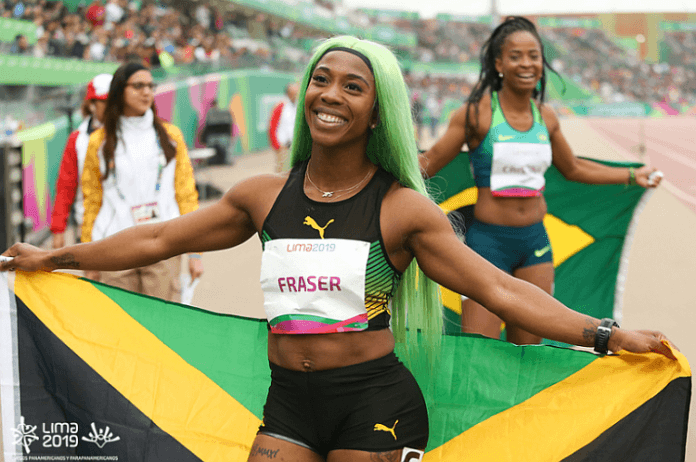 Headline results of noteworthy competitions around the world/Updated/:
● Artistic Swimming ● The fourth leg of the FINA World Series was hosted by Australia and held as a "virtual event" with videos of each performance submitted for judging.
Only first-day results were available, with the women's Solo Technical won by Austria's Vasiliki Alexandri (84.1776) and Austrian sisters Anna-Maria and Eirini Alexandri taking the women's Duet Technical (87.8449).
In the Mixed Duet Technical, Yotaro Sato and Tomoka Sato (JPN) scored 83.5156 to win, while the U.S. won the Team Technical event (84.8199) and the Team Highlights (87.8000).
● Athletics ● Saturday's Kip Keino Classic in Nairobi (KEN) was important for many reasons, not the least of which was as a promotion for a possible World Championship at the 60,000-seat Kasanari Stadium.
But even with admission reportedly free to the event, only the lower-level seats were fairly full and the upper level was mostly empty; maybe 20,000 were there. But what they saw was historic.
While Kenya is justly known for its distance prowess, it was the sprints that provided the biggest thrills, especially in the men's 100m. Olympic 100 m champ Lamont Marcell Jacobs (ITA) had a stomach ailment that reportedly required a hospital visit and could not run, leaving silver medalist Fred Kerley of the U.S. to battle new Kenyan star Ferdinand Omanyala.
The first start was recalled, but Kerley and American Mike Rodgers ran halfway down the track before slowing. On the re-start, Omanyala got out best and was in full speed with Kerley also separating from the field by 40 m and that's the way they finished – to a loud roar from the home crown – with Omanyala claiming a world-leading 9.85, with Kerley at 9.92, with a legal 2.0 m/s wind. American Isiah Young was third at 10.13.
That was one of seven world leaders on the day; please note that Nairobi is at 5,889 feet of altitude, considered to be very "altitude-aided" for the sprints and jumps:
● Men/100 m: 9.85, Ferdinand Omanyala (KEN)
● Men/1,500 m: 3:31.01, Abel Kipsang (KEN)
● Men/Hammer: 81.43 m (267-2), Wojciech Nowicki (POL)
● Women/100 m: 10.67, Shelly-Anne Fraser-Pryce (JAM)
● Women/1,500 m: 4:01.50, Diribe Welteji (ETH)
● Women/Steeple: 9:04.95, Norah Jeruto (KAZ)
● Women/5,000 m: 14:49.87, Giramit Gebrzihair (ETH)
Fraser-Pryce dominated the women's 100 m, running away from the start and winning unchallenged in 10.67 into a 0.4 m/s headwind! That's the equal-12th performance of all time and Fraser-Pryce's no. 3 performance – she ran 10.60 and 10.63 in 2021 – and at age 35, she isn't slowing down.
Namibia's teen star, Christine Mboma, who has run 10.97 and 21.87 this season, did not finish after appearing to pull a right hamstring halfway through the race; she had to be carried off on a stretcher. Egypt's Bassant Hemida was second in a lifetime best of 11.02 and American Shannon Ray was third in 11.33.
Nigeria's Aminatou Seyni won the women's 200 m in 22.43 (no. 10 for 2022); South Africa's Prudence Sekgodisa won the 800 m in 1:58.41, no. 2 for the season, and Welteji's world-leading 1,500 m in 4:01.50 led Birke Haile (ETH: 4:02.25) and Edina Jebitok (KEN: 4:02.66), nos. 2-3 for 2022.
Former Kenyan Jeruto now runs for Kazakstan and won the Steeple easily in 9:04.95, ahead of Kenya's Faith Cherotich (9:12.04) and Peruth Chemutai (UGA: 9:02.07), now 2-3 for 2022.
In the women's hammer, triple Olympic gold medalist Anita Wlodarczyk (POL) moved to no. 2 on the world list at 78.06 m (256-1) with American Janee Kassanavoid now at no. 3 at 76.82 m (252-0).
In the men's 200 m, Canada's Aaron Brown won in 20.05w (+2.1) over American Kyree King (20.18) and Kenya won all four of the distance races with Emmanuel Wanyonyi (1:45.01), Kipsang (3:31.01 world leader), Abraham Kibiwot (8:21.92) in the Steeple and Jacob Krop (13:12.19) in the 5,000 m.
¶
Friday night's Sound Running The Track Meet in San Juan Capistrano, California had a much smaller crowd, but some impressive performances, including two world leaders:
● Men/5,000 m: 13:02.03, Jakob Ingebrigtsen (NOR)
● Women/800 m: 1:58.18, Allie Wilson (USA)
Ingebrigtsen led four men under 13:10, equaling his second-best time ever, and flew by Mohamed Mohumed (GER: 13:03.18 lifetime best) in the final 100 m for the victory; his final 400 m was 54.6. Third was American Joe Klecker (13:04.42 lifetime best), then Abdihamed Nur (USA: 13:06.32) of Northern Arizona. Nur's time breaks one of the long-standing collegiate records of all-time, Washington State's (and Kenyan) Henry Rono's then-world record 13:08.4 in Berkeley in 1978.
Nur's prior best had been 13:19.01 indoors in March in winning the NCAA Indoors. Klecker's best had been 13:06.67 from 2021 on the same track.
Wilson, the former Monmouth star who finished sixth in the Olympic Trials 800 m, scored a lifetime best while getting a world-leader in the 800, beating fellow American and NCAA runner-up Nia Akins (1:58.82 lifetime best) and Canadian Lindsey Butterworth (1:59.59).
Canadian star Gabriela DeBues-Stafford won the 1,500 m in what was – before the Keino meet – a world-leading 4:03.20, ahead of Sinclaire Johnson (USA: 4:03.33, lifetime best) and Britain's Kate Snowden (4:03.90).
In the second section of the men's 1,500 m, Newbury Park High School star Colin Sahlman finished third in 3:39.59, a lifetime best and moving him to no. 4 on the all-time U.S. high school list. Only Hobbs Kessler (3:34.36 '21), Alan Webb (3:38.26 '01) and Jim Ryun (3:39.0 '64) have ever run faster in high school. Sahlman is also now no. 6 on the all-time U.S. Junior list (in case you're wondering, he's headed to Northern Arizona next season).
¶
At the USD Twilight meet on Friday evening in Greenfield, South Dakota, Olympic silver medalist Chris Nilsen of the U.S. won the men's vault at 6.00 m (19-8 1/4), making it on his first try to become the world outdoor leader.
He's now the 22nd man to clear 6 m outdoors in the vault, and the sixth American; he set a lifetime best of 6.05 m (19-10 1/4) indoors this season.
¶
Tokyo Olympian Emily Sisson not only won the USA Track & Field Half Marathon Championships – also the OneAmerica 500 Festival Mini-Marathon – in Indianapolis on Saturday, she did it in style, setting an American Record of 1:07:11, shaving four seconds off Sara Hall's 1:07:15 from January.
Andrea Pomaranski, 39, was second in 1:13:12.
The men's race was yet another match between Leonard Korir and Futsum Zeinasellassie, who finished 2-6 at the USATF 15 km Championships earlier this year; Zeinasellassie finished ahead of Korir (5th and 7th) at the 2021 USATF Half. Korir won the USATF Half title in 2017 and 2019.
The two ran together for much of the race and could not be separated until Korir managed to get to the line in 1:02:35, just a second ahead of Zeinasellassie (1:02:36). Jacob Thomson was third in 1:02:46. It's Korir's eighth career U.S. national title, including Cross Country, 10 km, 15 km, 20 km and the Half.
¶
Olympic Trials winner Garrett Scantling and Florida star Anna Hall both achieved world-leading scores to dominate the USATF Combined Events Championships in Fayetteville, Arkansas.
Scantling, fourth in Tokyo, had a brilliant second day, winning the 110 m hurdles and javelin and was runner-up in the discus and pole vault on the way to a lifetime best of 8,867 points, moving him to no. 3 all-time U.S. Only Ashton Eaton (9,045) and Dan O'Brien (8,891) have scored more and it's the best American score since Eaton's Rio 2016 Olympic gold. He's no. 7 on the all-time world list!
Each of the top three got lifetime bests, with Georgia's Kyle Garland scoring 8,720 for second and Zach Ziemek at 8,572 for third. Steven Bastien scored 8,135 for fourth.
Garland is now no. 7 on the all-time U.S. list and shattered the collegiate record of 8,539 by Texas A&M's Lindon Victor (GRN) from 2017. Wow!
The University of Florida's Hall won three of the last four events to score 6,458, increase her world lead, and win going away. Importantly, Hall's lifetime best also achieved the World Championships qualifying score of 6.420, so she will represent the U.S. at the Worlds in Eugene this summer. She finished with a sensational 800 m in 2:03.11!
Ashtin Mahler was second at 6,184, followed by Michelle Atherley (6,154). Kendell Williams competed only on the first day, as she is already qualified for the Worlds by winning the World Athletics Combined Events Tour last season. Tokyo Olympian Erica Bougard also has a qualifying score from 2021, but competed only in two events.
¶
At the Combined Events Tour Gold meet in Ratingen (GER), Swiss Simon Ehammer scored a lifetime best of 8,354 to win, but also moved to no. 2 on the world long jump list for 2022 with an outstanding 8.30 m (27-2 3/4) effort on his third try.
Ehammer, 22, and German Tim Nowak (8,160) were the only scorers over 8,000 points.
Germany scored a 1-2 in the heptathlon, with Sophie Weissenberg winning at 6,273, followed by 2017 Worlds silver winner Carolin Schaefer at 6,170, the only finishers above 6,000.
¶
On Sunday, the Seiko Golden Grand Prix meet (Continental Tour Gold) was held in Tokyo's Olympic Stadium, with American Christian Coleman winning the 100 m easily – in cold conditions – in 10.09.
There were four more American winners, all mostly unchallenged.
American Michael Norman won the men's 400 m easily in 44.62 and Rai Benjamin won the 400 m hurdles in 48.60. American Lynna Irby won the women's 200 m in 23.09, and countrywoman Keni Harrison took the 100 m hurdles in 12.76.
● Beach Volleyball ● The Volleyball World Beach Pro Tour Challenge was in Doha (QAT) for fifth tournament of the season, with both champions taking their second wins of the season.
Second-seeded Michal Bryl and Bartosz Losiak (POL) swept aside Paolo Nicolai and Samuele Cottafava (ITA) in the final by 21-18, 21-15. The Poles won in the season-opening Challenge tournament in Mexico in March.
The no. 16 seeds, Martin Ermacora and Moritz Pristauz of Austria, won the men's bronze medal by defeating third-seeds Yorick De Groot and Stefan Boermans (NED) by 21-17, 21-18.
The women's final saw Brazilians Barbara Seixas and Carol Salgado – also winners of the season opener in Mexico – beat 10th-seeded Chantal Laboureur and Sarah Schulz (GER) in straight sets by 21-13, 21-13.
Swiss stars Tanja Huberli and Nina Brunner (SUI) won the bronze medal over Australian veterans Taliqua Clancy and Mariafe Artacho, 13-21, 21-19, 15-11.
● Canoe-Kayak ● The 2022 Pan American Slalom Championships were held in Oklahoma City (USA) and also served as the American selection meet for the ICF Worlds later this year.
In the Pan-Am Champs, contested on Friday and Saturday, American star Evy Leibfarth won both of the K-1 races on Friday, ahead of Brazil's Omira Estacia Neta. On Saturday, Leibfarth won both heats again, first beating Estacia Neta and then American Ria Sribar in the second heat.
In the men's K-1, American Joshua Joseph won both of Friday's races, ahead of Argentina's Lucas Rossi both times. On Saturday, it was American Tyler Westfall winning twice, both times ahead of Guilherme Rodrigues (BRA); Joseph was third in Saturday's second race.
In the women's C-1, Estacia Neta defeated Leibfarth twice on Friday and then in Saturday's first heat, with Canadian Lois Betteridge getting up for second and Leibfarth third. But Saturday's second race saw Leibfarth get the win, with Estacia Neta second and Betteridge third.
American star Casey Eichfeld finished ahead of teammate Zach Lokken in all four of the men's C-1 races on Friday and Saturday.
The Extreme Canoe races actually had a playoff-style system, leading to a final. In the women's championship race, Canada's Lea Baldoni was the winner over Maria Luz Cassini (ARG), while Canadian Trevor Boyd won the men's race over Andraz Echevarria of Chile.
● Curling ● /Updated/The final event of the Grand Slam of Curling season, the Champions Cup, was on at the Olds Sportsplex in Olds (CAN), with mostly familiar names in the final matches.
The men's all-Canadian final had 2006 Olympic Champion Brad Gushue's rink against two-time World Champion Kevin Koe. Despite trailing 2-0 after the first end, Gushue piled up ends of 2-1-3-2 to take an 8-2 lead and even with three points from Koe in the sixth, the match ended with an 8-5 win.
Canada's Kerri Einarson, the 2022 Worlds bronze medalist, was favored against surprise finalist Un-chi Gim of Korea, a four-time Worlds entrant. The Canadians got off to a hot start, with a 3-0 lead after two ends and 7-2 after four. But the Koreans responded with a point in the fifth, two in the sixth and one in the seventh to get to 7-6. But Einarson engineered a three-point eighth end to win, 10-6.
● Cycling ● The first Grand Tour of the season, the 105th Giro d'Italia, started in Budapest (HUN) for three stages before heading to Italy for the last 18, finishing on 29 May.
The first ride was Friday's hilly, 195 km race from Budapest to Visegrad, with a nasty uphill climb in the last 5 km. That did not deter a mass finish, with Dutch star Mathieu van der Poel getting his third UCI World Tour win of the season. He crossed just ahead of Eritrea's Biniam Girmay, then Pello Bilbao (ESP), Magnus Cort (DEN) and Wilco Kelderman (NED).
Saturday was an Individual Time Trial in Budapest, covering just 9.2 km on a flat route, making it an all-out sprint. Britain's Simon Yates, third in the Giro in 2021, won his fifth career Giro stage in 11:50, trailed by van der Poel (11:53) and 2017 Giro champ Tom Dumoulin (NED: 11:55).
Sunday's final Hungarian stage was a fairly flat, 201 km ride from Kaposvar to Balatonfured, and super-sprinter Mark Cavendish (GBR) scored his 16th career Giro stage win at the end of a mass dash. Now 36, he timed 4:56:39 to beat Arnaud Demare (FRA), Fernando Gaviria (COL), Girmay, Jakub Mareczko (ITA) and others.
Heading back to Italy, the overall leader is Van der Poel, who has 11 seconds on Yates and 16 seconds on Dumoulin. Racing continues on Tuesday with a misery-inducing 172 km stage ending at Etna!
¶
The UCI Mountain Bike World Cup racers were in Albstadt (GER), with a brilliant demonstration by Olympic Champion Tom Pidcock of Great Britain.
He stayed near the front of the seven-loop, 28.00 km course at the start, then took control on the fourth loop, forging a 20-second lead that he never relinquished. He extended his lead to 39 seconds by the end of the fifth loop and cruised home a 20-second winner over nine-time World Champion Nino Schurter (SUI) and 21 seconds over Romania's Vlad Dascalu, 1:18:42-1:19:02-1:19:03.
The men's Short Track (10.80 km) race went to New Zealand's Samuel Gaze, who stormed the ninth and final lap to come from sixth to first in 21:29. He barely won, ahead of Jordan Sarrou (FRA) and Swiss legend Schurter, both also timed in 21:29, with eight more finishers within five seconds!
In Saturday's 8.40 km Short Track race, Australia's Rebecca McConnell won a mass finish, moving from fourth to first in the final lap in 18:56, ahead of Pauline Ferrand Prevot (FRA: also 18:56) with Sweden's Jenny Rissveds and Swiss Alessandra Keller both two seconds back.
On Sunday, McConnell – a two-time Worlds bronze medalist – shook off everyone except 2016 Olympic champ Rissveds by the end of the fourth loop (of six) and then rode away to a 38-second lead by the end of the fifth loop, eventually winning by 48 seconds, 1:19:39-1:20:27. Austrian Mona Mitterwallner was third in 1:20:39.
● Fencing ● The Sabre stars were in World Cup action this week in Spain and Tunisia.
The men's World Cup was the 39th edition of the Villa de Madrid Trophy meet, with 233 competitors entered, but Korea's 2019 World Champion, Sang-uk Oh, the winner. He defeated Italy's 2019 Worlds bronze medalist, Luca Curatoli, 15-11 in the final.
Sandro Bazadze (GEO) and Korea's Jung-hwan Kim – the Tokyo Olympic bronze medalist – finished third. American Eli Dershwitz reached the quarterfinals and finished sixth.
Oh and Kim teamed with Bon-gil Gu and Jun-ho Kim to win the team gold, 45-32, over Hungary.
The women's Sabre World Cup was in Hammamet (TUN), with 23-year-old Misaki Emura (JPN) winning her first major international tournament and third World Cup medal overall. She out-pointed Greece's Despina Georgiadou, 15-13, in the final.
France's Manon Apithy-Brunet and Japan's Kanae Kobayashi shared the bronze medals; it was the third medal of the season for the Apithy-Brunet. Korea defeated Japan, 45-25, in the team final.
● Football ● /Updated/The CONCACAF women's U-17 Championship concluded in the Dominican Republic with two undefeated teams, the U.S. and Mexico, meeting in the final and the game not decided until the 77th minute.
Both teams entered with 6-0 records in the tournament, with the Americans sporting a 56-0 goals-against total and the Mexicans at 57 goals and none against.
In the semifinals, both teams pitched shutouts, with the Americans defeating Canada, 3-0, and Mexico shutting down Puerto Rico, 5-0.
The U.S. got an 18th-minute goal from Melina Rebimbas for a 1-0 halftime lead and she scored again in the 58th minute. Onyeka Gamero scored in the 78th minute for the 3-0 final. Mexico took an early lead with a fifth-minute goal from Valarie Vargas and an eighth-minute goal from Alice Soto and had a 4-0 halftime lead as Vargas scored again in the 29th minute.
In the final, the U.S. opened with a 20th-minute goal from Lauren Martinho to take a 1-0 lead that held up through halftime. Mexico got an equalizer from Maribel Flores in the 66th, but substitute striker Rebimbas got the game-winner in the 77th minute and the U.S. held on for a 2-1 win. The U.S. had an 18-4 edge in shots, but this was by far the closest game either side played in the entire tournament.
It's the fifth CONCACAF Women's U-17 title for the Americans and third in a row, defeating Mexico each time by 2-1 (2016), 3-2 (2018) and 2-1 in 2022.
Canada got three second-half goals to defeat Puerto Rico, 3-0, for the bronze medal.
● Rowing ● At the US Rowing National Selection Regatta 2 in West Windsor, New Jersey, the winners of the men's and women's Pairs and Double Sculls were vying for World Rowing World Cup invitations as a path to the 2022 World Championships.
Justin Best and Michael Grady were decisive winners in the men's Pairs, clocking 6:37.45 to best Alexander Hedge and Ezra Carlson (6:41.91). The women's Pairs final saw Claire Collins and Madeleine Wanamaker cross first in 7:13.09, a clear winner over Charlotte Buck and Jessica Thoennes (7:16.77).
In the Double Sculls, Kevin Cardno and Jonathan Kirkegaard won a tight men's final over Dominique Williams and Jacob Plihal, 6:23.40-6:25.26. The women's final was even tighter, with Kara Kohler and Sophia Vitas edging Sophia Luwis and Audrianna Boersen, 7:01.36-7:02.12.
● Sport Climbing ● The second IFSC World Cup of the season was in Seoul (KOR) and featured Bouldering and Speed events.
The Speed event came first, with Indonesia sweeping the top three places. The 2019 Asian Champion and current world-record holder, Veddriq Leonardo, won the final from countryman Kiromal Katibin in 6.96 after the latter false-started. Their teammate, Rahmad Adi Mulyono was third in 5.58, after Italy's Ludovico Fossali fell.
Olympic fourth-placer – and 2019 World Champion in Speed – Aleksandra Miroslaw (POL) won the women's Speed over American Emma Hunt, 6.72-7.23. Fellow Pole Aleksandra Kalucka won the bronze, 7.24-7.58, against Franziska Ritter (GER).
In Bouldering, Japan swept the top three places in the men's division, with 2021 World Champion Kokoro Fujii (4T4Z~11/4), two-time World Champion Tomoa Narasaki (4T4Z~12/8) and Yoshiyuki Ogata (3T4Z~6/7).
America's 2021 World Bouldering Champion Natalia Grossman scored her third career World Cup win with 4T4Z~7/5, over France's Oriane Bertone (3T4Z~5/5) and fellow American Brooke Raboutou (3T3Z~6/5).
● Weightlifting ● The IWF World Junior Championships is ongoing in Heraklion (GRE), with 10 weight classes for both men and women and continuing through the 10th.
Through the first three-quarters of the tournament, medals have widely distributed, with only Indonesia winning more than one weight class.
The U.S. won four medals through the first six days, with Hampton Morris setting a World Junior Record in the Clean & Jerk in the 61 kg class and taking the gold medal. Ryan Grimsland won the bronze at 73 kg for the other men's medal, and Katharine Estep (59 kg) and Olivia Reeves (71 kg) won silvers.
Ukraine's Maksym Dombrovskyi won a heartwarming gold in the men's 89 kg class, winning the overall title at 345 kg, winning the Clean & Jerk and second in Snatch. Svitlana Samuliak won the silver at 55 kg for women.
Indonesia's Rizki Juniansyah dominated the men's 73 kg class, winning both lifts (341 kg total) and setting a World Junior Record in the Snatch. In the women's 49 kg class, Windy Cantika Aisah also won both lifts and scored an impressive victory at 185 kg.
● Wrestling ● /Updated/The U.S. sent a powerful team to the Pan American Championships in Acapulco (MEX), and came away with an impressive performance, taking the team titles in Greco-Roman and women's Freestyle on Friday and Saturday.
The men's Freestyle team overwhelmed the competition, winning eight of the 10 classes with Tom Gilman (61 kg), Daton Fix (61 kg), Joe McKenna (65 kg), three-time World Champion Kyle Dake (74 kg), five-time World Champion Jordan Burroughs (79 kg), Zahid Valencia (86 kg), two-time World Champion J'Den Cox (92 kg), and two-time World Champion Kyle Snyder (97 kg).
Canada won two classes: Emmanuel Olapade at 70 kg and Amar Dhesi at 125 kg, defeating American Nick Gwiazdowski.
In Greco-Roman, the U.S. led all countries with four wins, from Brady Koontz at 55 kg, Randon Miranda (60 kg), Samuel Lee Jones (63 kg) and Patrick Smith at 72 kg, plus three more bronze medals. Cuba won three weight classes, from Yosvanys Pena (77 kg), Daniel Gregorich (87 kg) and Oscar Pino (130 kg).
The American women won half of the weight classes and picked up two silvers to dominate the division. The gold medalists included Tokyo silver winner Sarah Hildebrandt (50 kg), Dominique Parrish (53 kg), 2021 Worlds bronze medalist Forrest Molinari (65 kg), Skylar Grote (72 kg) and Dymond Guilford (76 kg). The silvers were won by 2019 World Champion Jacarra Winchester (55 kg) and 2021 Worlds silver medalist Kayla Miracle at 62 kg.
Canada won three classes with Karla Godinez at 55 kg, Laurence Beauregard at 59 kg and Ana Godinez at 62 kg.
You can receive our exclusive TSX Report by e-mail by clicking here. You can also refer a friend by clicking here, and can donate here to keep this site going.
For our updated, 620-event International Sports Calendar for 2022 and beyond, by date and by sport, click here!