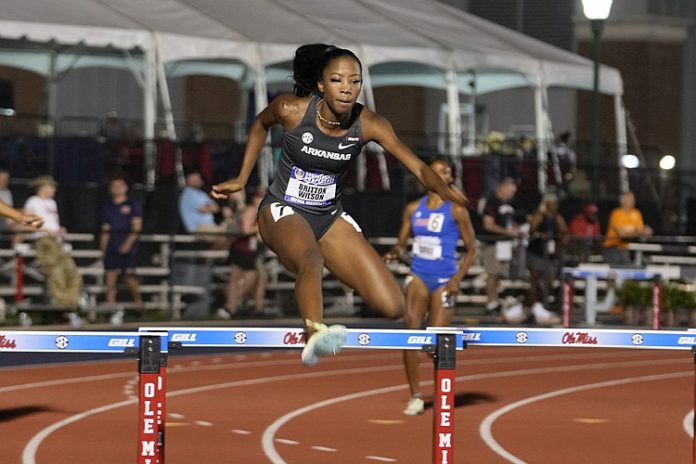 Headline results of noteworthy competitions around the world/Updated/:
● Archery ● USA Archery conducted its Field Archery National Championships this past week in Yankton, South Dakota, which included the trials for the World Games and 2022 World Field Championships, both to be held in the U.S.
It was no surprise that two-time World Field Archery gold medalist Brady Ellison led the men's Recurve competition, winning with 901.00 points. He won the world titles in 2014 and 2016 and took the bronze medal in 2018.
Behind Ellison at the U.S. Nationals were Jackson Mirich (827.00), Matthew Nofel (826.00) and Alex Gilliam and three-time Olympian Vic Wunderle (both 805.00). Nofel will team with Ellison at the World Games and Ellison, Mirich and Nofel will all go to the World Field Champs in Yankton in October.
The women's Recurve division was a big win for defending champion Molly Nugent, whose total score of 788.00 outdistanced Savannah Vanderweir (722.00) and Heather Jane Koehl (706.00). All three will go to the World Field Champs, but only Nugent will shoot at the World Games in Birmingham, Alabama in July.
● Athletics ● The Wanda Diamond League opener in Doha (QAT) had to postpone the men's vault due to high winds that made it too dangerous to vault at the Qatar Sports Club Stadium. But on Saturday, the event was staged indoors at the Aspire Academy, with Sweden's world-record holder Mondo Duplantis winning at 6.02 m (19-9).
American K.C. Lightfoot was second at 5.71 m (18-8 3/4), with Ben Broeders (BEL) third and Chris Nilsen of the U.S. fourth, all at the same height.
¶
This was the conference championships weekend, with plenty of noteworthy marks:
● Men/400 m: North Carolina A&T's Randolph Ross Jr. won the Big South in 44.61, equal-sixth in the world for 2022. At the SEC Championships at Oxford, Mississippi, Florida went 1-3 with Champ Allison getting a lifetime best of 44.74 to move to no. 10 on the world list, and Jacory Patterson also getting a PR of 45.12. Georgia's Elija Godwin ran 44.81 for second.
● Men/4×400 m: Those Florida Gators were at it again, winning in 2:59.44 to edge Kentucky (2:59.93), Alabama (3:02.31) and Texas A&M (3:02.70). Allison ran 44.8 on anchor, but there were faster legs, including Kennedy Lightner (3rd: 44.6) and Brian Faust (4th: 44.5) for Kentucky and a 44.4 third leg for Demetrius Jackson for Alabama. Yowsah!
● Women/100 m: Saint Lucia's Julien Alfred, running for Texas, set a national record of 10.81 in the Big XII prelims (wind: +1.7). Just 20, she was primarily a 200 m runner and had only run 11.39 in 2019. But she ran 11.07 and 10.98 earlier this season and now is equal-25th all-time!
Allred won the final at a wind-aided 10.80 (+2.4), just ahead of Longhorn teammate Kevona Davis (JAM: 10.83) and Texas Tech's Rosemary Chukwuma (NGR: 10.88).
At the SEC Championships, Favour Ofili (Nigeria-LSU) won a serious showdown with Kentucky's Abby Steiner (USA), 10.93-11.02, into a headwind of 0.7 m/s!
● Women/200 m: Ofili won her heat of the SEC prelims in 22.21, then won a sterling final from Steiner again, 22.04-22.07 (+0.2)! That moves Ofili to no. 4 on the world list for 2022.
● Women/400 m Hurdles: American Britton Wilson (Arkansas) won the SEC in a world-leading 53.75, about 53 minutes after winning the women's 400 m in a lifetime best 50.05, no. 3 on the 2022 world list!
● Women/4×400 m: Kentucky won a sensational SEC final in a collegiate record (and world-leading) 3:21.93, a time better by only 12 countries! Karimah Davis, Dajour Miles, Abby Steiner (48.8 !) and Alexis Holmes (49.6) were just good enough to hold off Texas A&M (3:22.01 with Charokee Young 48.9 on anchor) and Arkansas (3:22.55, with Wilson at 48.6 on anchor!).
/Updated/Sunday had more action, with the Big XII and Pac-12 finals, and Oregon soph Micah Williams scored an impressive double at 9.93 in the men's 100 m (+0.7) for no. 5 on the world list for 2022, then doubled back to win the 200 m in 20.05 (0.0).
At the Big XII in Lubbock, Jamaica's Demisha Roswell (Texas Tech) won a quick women's 100 m hurdles in 12.44 (+1.5) over countrywoman Ackera Nugent of Baylor (12.45), nos. 2-3 on the 2022 world list! Texas' Kynnedy Flannel (USA) won the women's 200 m in 22.23 (+2.0), now no. 6 in the world for 2022, with Davis second at 22.26 (no. 7).
In the men's 400 m, Texas soph Jonathan Jones (BAR) won in 44.43, now no. 3 in the world for 2022. The men's 100 m was won by Texas' Micaiah Harris (USA) in a windy 9.93 (+2.4) over Isaiah Cunningham (USA/Baylor: 9.97w). Baylor's Nathaniel Ezekiel (NGR) won the 400 m hurdles in 48.42, no. 4 on the world list; runner-up Isaiah Levingston (USA/Oklahoma) ran 48.82, no. 6 on the season.
Harris came back to win the 200 m in a speedy 19.72, but wind-aided (+3.8) over Courtney Lindsey of Texas Tech (USA: 19.81w).
● Badminton ● The Thomas & Uber Cup team championships competition was in Bangkok (THA) with Indonesia defending its Thomas Cup title (for men) and China the defending women's champion (Uber Cup).
The men's final saw Indonesia trying for its seventh Thomas Cup championship against first-time finalist India, but was shut out, 3-0. In the men's Singles, Lakshya Sen defeated Anthony Ginting, 8-21, 21-17, 21-16, and Srikanth Kidambi swept Jonatan Christie, 21-15, 23-21. And India's Satwiksairaj Rankireddy and Chirag Shetty upset Mohammad Ahsan and Kevin Sankaya Sukamuljo, 18-21, 23-21, 21-19, to clinch the title.
The Uber Cup final had defending champs China trying to win its 16th title, but was upset by South Korea, 3-2, winning for the first time since 2010. Only Yu-jin Sim won her Singles match over Zhi Yi Wang, 28-26, 18-21, 21-8, but the Koreans won both Doubles matches. So-hee Lee and Seung-chan Shin defeated Qing Chen Chen and Yi Fan Jia, 12-21, 21-18, 21-18, and Hye-jeong Kim and Hee-yong Kong got past Dong Ping Huang and Wen Mei Li, 22-20, 21-17.
● Cycling ● The 105th Giro d'Italia concluded its first full week of riding with a hilly stage on Saturday and a brutal mountain stage on Sunday.
The hilly eighth stage over 153 km in and around Naples came down to four-man sprint after an early breakaway, with Thomas De Gendt (NED) winning in 3:32:53 over Davide Gabburo (ITA), Jorge Arcas (ESP) and Harm Vanhoucke (BEL: +0:04).
Sunday's 191 km stage from Isernia to Blockhaus started at 475 m elevation and finished uphill in a 13.9 km climb to 1,664 m, after two prior climbs to 1,240 m and 10.8 km to 1,308 m at the Passo Lanciano! Ouch!
The stage came down to who climbed the Blockhaus best and after an attack by Richard Carapaz (ECU) with 5 km to go, he was joined by Australia's Jai Hindley, French star Romain Bardet and veteran climbers Mikel Landa (ESP) and Portugal's Joao Almeida in contention. Hindley sprinted best to the finish for his second career Giro stage win, in 5:34:44, with Bardet and Carapaz following.
Spain's Juan Pablo Lopez finished 15th on Sunday and retained the leader's jersey, but is now only 12 seconds up on Almeida, 14 seconds up on Bardet and 15 ahead of Carapaz. The top eight are within 54 seconds going into Monday's rest day.
¶
The UCI Women's Tour has been busy with the inaugural, three-stage Itzulia Women in Spain, with Dutch star Demi Vollering winning the hilly, 105.9 km first stage in 2:55:17 in a sprint over countrywoman Pauliena Rooijakkers and American Kristen Faulkner (+0:02).
The tougher, 117.9 km second stage in and around Mallabia was also won by Vollering, in 3:16:08, two seconds up on Olivia Baril (CAN) and Marta Cavalli (ITA), with Rooijakkers fourth (+0:04).
Sunday's final stage was another hilly course of 139.8 km from Donostia to San Sebastian, and Vollering made it a sweep, winning in 4:01:03 in a breakaway from 8 km out. Liane Lippert (GER) led a 10-woman chase pack that finished 15 seconds back.
Vollering's final winning margin for the three stages was 47 seconds over Rooijakkers and 1:07 on Faulkner.
¶
/Updated/The second UCI Track Cycling Nations Cup of the season was in Milton (CAN), with American Olympic gold medalist Jennifer Valente in the thick of the action.
She won the Elimination Race over Silvia Zanardi (ITA), then finished second in the Omnium – which she won in Tokyo – by just 117-110 behind Italian star Elisa Balsamo.
German Emma Hinze won the women's Sprint, defeating Tokyo winner Kelsey Mitchell (CAN) in the final, and led her German team to victory in the Team Sprint over the Netherlands. Mitchell got her own gold on Sunday, winning the Keirin over Japan's Mina Sato.
Australia scored win in the 500 m Time Trial with Kristina Clonan and the Individual Pursuit, thanks to Maeve Plouffe. Italy got a second women's gold from Martina Fidanza in the Scratch Race, and then a third on Sunday from Balsamo and Chiara Consonni in the women's Madison.
The men's Sprint was won by Australia's Matthew Richardson, who bested Olympic silver winner Jeffrey Hoogland (NED), 2-0 in the final. Colombia's Kevin Quintero won the Keirin, Chenxi Xue (CHN) won the 1,000 m Time Trial, Nicolas Heinrich (GER) won the Individual Pursuit and Belgium's Jules Hester won the Elimination Race.
Great Britain's Rhys Britton won the Scratch Race and the Dutch duo of Yoeri Havik and Jan van Schip won the Madison. The Dutch team took the Team Pursuit despite not having a medalist in the Individual Pursuit. Britain got a second gold in the men's Omnium, as Ethan Hayter finished with 163 points, ahead of American Gavin Hoover (128) and van Schip (125).
¶
The third UCI Mountain Bike Cross Country World Cup was in Nove Mesto (CZE) over the weekend, with Olympic champ Tom Pidcock (GBR) winning his second straight Cross Country World Cup race and two-time Worlds bronze medalist Rebecca McConnell (AUS) winning her third.
The nine-loop, 30.1 km men's final was a battle between Pidcock and Romania's 2019 U-23 World Champion Vlad Dascalu, who separated from the field only on the final lap and then finished one second apart, 1:21:19-1:21:20, with Pidcock getting the win. Swiss legend Nino Schurter was third in 1:21:49, 30 seconds back and he and Dascalu have now won medals in all three races this season.
The men's Short Course race (11.66 km) was a flying finish with the top 24 crossing within 10 seconds. Germany's Luca Schwarzbauer was close to the lead the entire race and won by two seconds over Pidcock and Filippo Colombo (SUI), 22:40-22:42-22:42. Christopher Blevins of the U.S. was fourth in 22:43.
McConnell continued her undefeated season in the women's 26.2 km race, taking the lead from the start and extending throughout, finishing 40 seconds ahead of 2021 World Cup series champ Loana Lecomte (FRA), 1:21:17 to 1:21:57. Rio Olympic champ Jenny Rissveds (SWE) was third in 1:22:34.
Tokyo Olympic champ Jolanda Neff (SUI) won the women's Short Course (9.54 km) over McConnell, Rissveds (SWE), Sina Frei (SUI) and Lecomte by one second: 21:01 to 21:02.
¶
The USA Cycling BMX National Championships is on in Tulsa, Oklahoma on Sunday; look for an update later.
● Fencing ● This week's Grand Prix was in Incheon (KOR) for the Foil fencers, with Olympic champ Lee Kiefer of the U.S. scoring her third career Grand Prix gold with a 15-11 victory over Canada's Eleanor Harvey. It's Kiefer's second tournament win of the season and Harvey's first medal in a Grand Prix in four years.
Germany's Anne Sauer and 2018 World Champion Alice Volpi (ITA) took the bronzes.
In the men's division, Italy's Tommaso Marini taking his second tournament title of the year, with a 15-14 thriller over Hong Kong's Chun Yin Choi. Marini won the Belgrade World Cup in April and now adds his first Grand Prix gold. Choi won his second Grand Prix medal and first in three years with the silver.
France's Maximilien Chastanet and Italy's 2018 World Champion Alessio Foconi shared the bronze.
¶
Both the men's and women's epee fencers were in World Cup action, with the men in Heidenheim (GER) and the women in Fujairah (UAE).
The Heidenheim Cup was a win for France's Olympic champion Romain Cannone, who defeated Morocco's 2019 African Champion Houssam Elkord in the final, 15-11. Italy's Gabriele Cimini and Mate Koch (HUN) shared the bronze medal. Korea defeated Germany in the team final.
No results were available from Fujairah.
● Ice Hockey ● The IIHF men's World Championship is underway in Finland, with group play continuing through the 24th and then the quarterfinals beginning on 26 May.
The U.S. is in eight-team Group B, along with heavyweights Finland, Sweden and the Czech Republic. The Americans defeated Latvia, 4-1, in their first match and got past Austria, 3-2, in overtime on Sunday, both in Tampere.
Russia and Belarus both qualified to be in the tournament, but were excluded by the IIHF.
● Modern Pentathlon ● Tokyo Olympic bronze medalist Woongtae Jun of Korea authored an impressive performance to run away to victory in the third UIPM World Cup of the season, this time in Albena (BUL).
Once again, the qualifications skipped the riding phase, controversially withdrawn from the sport by the UIPM in its effort to be reinstated to the program for Los Angeles 2028. In the final, Jun was outstanding, winning the fencing and swimming phases, seventh in the riding and then while only 12th-fastest in the Laser Run, he won by 36 seconds overall, scoring 1,537 points.
Olympic champ Joseph Choong (GBR) battled with Egypt's Mohanad Shaban throughout the Laser Run and sprinted to the line to get second, 1,501-1,500.
The women's star was Ieva Serapinaite of Lithuania, who had the highest score in the four-event semifinals, then won the fencing, was second in swimming and sixth in riding to take a 23-second lead into the Laser Run.
The big challenge came from Czech Veronika Novotna, who zoomed from eighth to second on the opening lap, and charged to within eight seconds of the leader, but had to settle for second, 1,402-1,394. Turkish star Ilke Ozyuksel, fifth in Tokyo, got up for third with 1,385 points.
In the Mixed Relay, Mexico's Emiliano Hernandez and Tamara Vega had the second-fastest Laser Run in the field and that propelled them to victory, 1,339-1,317, over Soeng-jin Kim and Se-hee Kim (KOR). Turkey's Bugra Unal and Ozyuksel finished third (1,310).
● Triathlon ● The World Triathlon Series opener in Yokohama (JPN) was a British sweep for Olympic medal winners Alex Yee and Georgia Taylor-Brown.
Olympic silver medalist Yee and New Zealand's Tokyo bronze medalist Hayden Wilde were among a huge pack of 39 athletes who closed in on the end of the men's 40 km bike phase and then moved to the lead of the 10 km run after just 1,000 m.
They came to the close together and it was Yee with the fastest run in the field – 28:50 – to 29:03 for Wilde – and Yee broke the tape at 1:43:30 to 1:43:40 for Wilde, with France's Leo Bergere third (1:43:59).
The women's race was impacted by rain and slick streets, especially in the bike phase, with a half-dozen in contention once the running started. 2020 World Champion and Tokyo silver medalist Taylor-Brown attacked with 9 km remaining and opened a gap with four trailers, including Olympic champ Flora Duffy of Bermuda.
On the final lap, Taylor-Brown was in total control and won in 1:51:44. But behind her was a furious battle between Duffy and Leonie Periault and Emma Lombardi, both from France. It was Periault who had the best finish and grabbed second, just six seconds back of Taylor-Brown, with Duffy third (1:51:55) and Lombardi fourth (1:52:03).
The U.S. had three in the top nine, with Taylor Knibb in sixth (1:53:00), Taylor Spivey in eighth (1:54:36) and Kirsten Kasper in ninth (1:55:18).
You can receive our exclusive TSX Report by e-mail by clicking here. You can also refer a friend by clicking here, and can donate here to keep this site going.
For our updated, 620-event International Sports Calendar for 2022 and beyond, by date and by sport, click here!