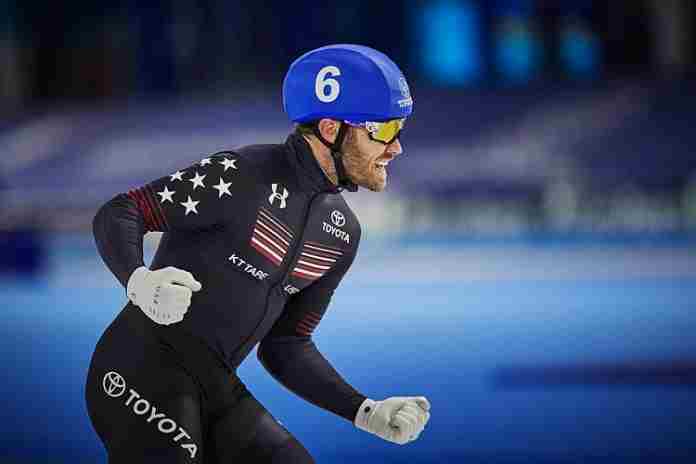 (★ Friends: Yes! With our 44th donor toward our December bill for server and support costs, we're a little over 100% of our goal! If you would like to help us prep for June's invoice, please donate here. Your enthusiasm is the reason this site keeps going. ★)
Headline results of noteworthy competitions around the world:
● Alpine Skiing ● The FIS Alpine World Championship are continuing in Cortina d'Ampezzo (ITA), with the Downhills being held this weekend.
Austria's Vincent Kriechmayr made a major statement with a win in the Downhill on Sunday, winning his second Worlds gold in four days in 1:37.79 on the Vertigine course. He started first in the order and no one could catch him.
In fact, the gold and silver medals were decided in the first two runs, as German Andreas Sander – starting second – clocked 1:37.80 and had to settle for second, just 0.01 behind! Swiss Beat Feuz, the 2017 World Champion, finished third in 1:37.97.
Kriechmayr, 29, had eight wins in 11 World Cup seasons coming into the 2021 Worlds, but has been at his best when medals are at stake. He won a Super-G silver and Downhill bronze at the 2019 Worlds, but became the first to win both World titles for the first time since 2005, when American Bode Miller took the Downhill and Super-G, also in Italy (at Bormio).
The top American finishers in the Downhill were Bruce Bennett (tie for 10th) and Travis Ganong in 12th.
Earlier in the week, the delayed Super-G races saw Kriechmayr claim his third career World Championships medal – but first victory, in 1:19.41 – ahead of former Austrian star Romed Baumann (now GER: 1:19.48) and France's Alexis Pinturault (1:19.79 for his fifth career Worlds medal).
Saturday's women's Downhill was a triumph for Switzerland, which logged its second winner in a single women's Worlds since 1991 with Corinne Suter winning her fourth Worlds medal overall and first title.
Suter, 26, was the silver medalist in the 2019 Worlds Downhill and was second in the Super-G earlier in the week, 0.34 behind winner and fellow Swiss Lara Gut-Behrami. Starting seventh, Suter steamed down the Olympia delle Tofane course in 1:34.27 and no one could match her. Germany's Kira Weidle, starting 11th, was the closest at 1:34.47 and Gut-Behrami was third for her seventh career Worlds medal in 1:34.64, ahead of Czech star Ester Ledecka (1:34.71). American Breezy Johnson finished ninth in a very creditable 1:35.17.
In the Super-G earlier in the week, Gut-Behrami won her seventh Worlds medal in the women's Super-G, but first title, in 1:25.51, ahead of Suter (1:23.85) and American Mikaela Shiffrin (1:25.98). For Shiffrin, it was her eighth Worlds medal (5-1-2) and second in the Super-G, which she won in 2019.
The Worlds continue this week, with the Combined, followed by the Parallel races, Giant Slalom and Slalom.
¶
American star Ted Ligety, who had announced his retirement, to take effect after the World Championships Giant Slalom, withdrew from the race due to sciatic nerve pain and concerns over injury. He leaves the sport at 36, having won Olympic golds in 2006 and 2014, five World Championships golds (and seven total medals) and five seasonal titles in the Giant Slalom. One of the finest American skiers ever.
● Athletics ● Big marks were expected at the New Balance Grand Prix meet, relocated to the Ocean Breeze Track & Field Athletic Complex on Staten Island, New York after the Reggie Lewis Center in the Boston area was unavailable due to its use as a Covid-19 vaccination site.
A great field of athletes looking for a way to start the season was assembled and resulted in eight world leaders and a batch of American-record performances:
● Men/800 m: 1:44.21, Donovan Brazier (USA) ~ American Record
● Men/1,000 m: 2:16.27, Bryce Hoppel (USA) ~ American Record
● Men/2-mile: 8:13.92, Justyn Knight (CAN)
● Men/High Jump: 2.33 m, Trey Culver (USA: 7-7 3/4)
● Women/300 m: 35.73, Gabby Thomas (USA)
● Women/400 m: 50.21, Shaunae Miller-Uibo (BAH)
● Women/2-Mile: 9:10.28, Elle Purrier (USA) ~ American Record
● Women/60 m hurdles: 7.82, Keni Harrison (USA)
Trayvon Bromell showed he is really ready for outdoors, winning the 60 m in 6.50, just 0.02 behind his world-leading mark of 6.48 in late January. His acceleration in the back half was impressive and bodes well for his spring at 100 m.
Noah Lyles won the 200 m in 20.80, ahead of Deon Lendore (TTO: 20.92), but was unimpressed with the time. "It's indoors," he said afterwards. The 400 m was an at-the-tape lean for Michael Norman over roommate Rai Benjamin, 45.34-45.39.
In the 800 m, Brazier was looking for a fast time, and separated from the field right away, passing the 400 m mark in 51.16 behind only pacesetter James Bias. He was never challenged, and came home in 53.05 for 1:44.21, shaving 0.01 from his own American Record, moving to equal-fourth on the all-time world list.
Hoppel ran away from the field over the final half-lap in the 1,000 m, taking with him the American Record of 2:16.76 of the late David Torrence from 2014. The mark moves Hoppel to no. 8 on the all-time world list.
Australia's Oliver Hoare steamed past Britain's Jake Wightman in the last half-lap to win the 1,500 m in 3:32.35, his best ever – indoors or out – and the no. 2 mark in the world for 2021, with Wightman in 3:34.48 (no. 3) and Sam Tanner (AUS) in 3:34.72 (no. 6). Hoare's mark moves him to no. 7 on the all-time world list as well.
Culver equaled his best-ever jump, indoors or out, adding one cm to the world-leading mark, even though he hit the bar hard on the way over on his second try. He missed three times at 2.36 m (7-8 3/4).
Thomas came from behind on the final straight to edge Lynna Irby, 35.73-35.99, bettering her own world-leading time, and moving to no. 5 on the all-time list and no. 2 on the all-time U.S. list, just 0.02 behind Quanera Hayes's American Record from 2017. Irby moves to no. 9 on the all-time world list.
Superstar Shaunae Miller-Uibo (BAH) went to the front early and cruised to a world-leading 50.21 in the 400 m, a national indoor record and equal-8th on the all-time world list. American Wadeline Jonathas was well behind in second at 51.95.
U.S. 800 m star Ajee Wilson took control over the final turn and won the 800 m in 2:01.79 from Kaela Edwards (USA: 2:02.17). Wilson said afterwards that she had scratched from the race due to a minor injury, but felt better on Saturday morning and looked comfortable throughout, emphasizing winning rather than a fast mark.
In the two-mile, Purrier finally broke former World Steeple champ Emma Coburn with 2 1/2 laps to go and ran away with the win in 9:10.28, an American Record (old: 9:18.35, Jenny Simpson in 2015) and the no. 3 mark of all-time in the event. Coburn finished in 9:15.71, also below Simpson's mark, and no. 8 on the all-time world list.
Sandi Morris of the U.S. claimed the vault at 4.60 m (15-1).
¶
Back at the Tyson Invitational in Fayetteville, Arkansas, Oregon senior Cooper Teare led teammate, soph Cole Hocker – both Americans – to a world-leading 3:50.39 men's mile win, with Hocker at 3:50.55! That's a collegiate indoor record for Teare, and he claimed the 1,500 m mark too at 3:35.46, with Hocker at 3:36.63.
The marks move Teare and Hocker to nos. 3-4 on the all-time U.S. indoor mile list, and positions 6 and 7 on the all-time U.S. 1,500 m list.
Florida State senior Isaac Grimes (USA) was second heading into the final round of the men's long jump, but then he produced a lifetime best of 8.33 m (27-4) to win, a world-leading mark for 2021. He'd jumped 8.00 m (26-3) indoors coming into this season, but improved to 8.18 m (26-10) on 29 January and now this!
At the Orlen Cup in Lodz (POL), the ageless Mike Rodgers (USA) won the men's 60 m over Italy's Lamont Marcell Jacobs, 6.52-6.53 for the no. 2 and equal-3rd positions on the year list, behind Bromell. Sam Kendricks of the U.S. won the vault over Ernest John Obiena (PHI), as both cleared 5.86 m (19-2 3/4).
On Sunday, Ethiopia's Gudaf Tsegay won the women's 800 m in a sensational 1:57.52, moving to ninth on the all-time world indoor list, at the Meeting de L'Eure at Val-de-Reuil (FRA). Countryman Getnet Wale won the men's 1,500 m 3:35.54 to 3:35.60 for fellow Ethiopian Lamecha Girma. American winners included Grant Holloway in the men's 60 m hurdles in 7.41 and Javianne Oliver in the women's 60 m in 7.14.
¶
Outdoors, New Zealand's Jacko Gill scored another win over star putter Tomas Walsh (NZL) in Hamilton on Saturday, once again reaching 21.52 m (70-7 1/4) to Walsh's 21.45 m (70-4 1/2). Two-time Olympic champ Valerie Adams (NZL) had two world-leading throws to win the women's shot at 18.68 m (61-3 1/2).
On the roads, Kenyan star Beatrice Chepkoech, the world-record holder in the Steeplechase, grabbed the 5 km road record by winning the Monaco Run in 14:43. That's one second faster than the 14:44 mark by Sifan Hassan (NED) in the same race in 2019.
● Biathlon ● The 2021 World Championships are underway in Pokljuka (SLO), with competitions through next weekend and at the start, it's the Tiril Eckhoff show.
The 30-year-old from Baerum, Norway had won nine Worlds medals coming into 2021, including two golds each in 2016 (Sprint and Relay), 2019 (both relays) and 2020 (both relays), but has won three golds in just the first five days of the 2021 championships.
She started with the third leg of Norway's 4×7.5 km Mixed Relay on the 10th, handing a big lead to teammate Marte Olsbu Roeiseland, who finished off a 27.0-second win. Then she dominated the women's 7.5 km Sprint, shooting clean and winning by 12.0 seconds over France's Anais Chevalier-Bouchet, 21:18.7-21:30.7. Hanna Sola (BLR) was third, some 14.4 seconds behind. Susan Dunklee was the top American in 18th place, 1:17.9 behind the winner.
It was Eckhoff's second world sprint title after her 2016 win. She then added a third gold in Sunday's 10 km Pursuit, an event she where she won the silver medal in 2019. She had two shooting penalties, but still won by an impressive 17.3 seconds in 30:38.1 over Austria's Lisa Theresa Hauser and by 33.0 over Chevalier-Bouchet. It was the first Sprint-Pursuit double at the women's Worlds since 2008, when German Andrea Henkel managed the feat.
Dunklee was the top American in the Pursuit, 3:01.4 behind Eckhoff.
The men's 10 km Sprint was won by surprise first-time World Champion Martin Ponsiluoma, who combined a perfect shooting performance with strong skiing to win in 24:41.1, 11.2 seconds ahead of France's Simon Desthieux, with teammate Emilien Jacquelin (FRA: +12.9). Ponsiluoma, 25, wasn't a total shock, having won two World Cup medals this season, but his best prior finish in a Worlds was 23rd in last year's Pursuit!
Desthieux and Jacquelin were also first-time World Championships medal winners. The top American was Jake Brown in 12th, 44.8 seconds back of Ponsiluoma.
The men's 12.5 km Pursuit remained in French hands, as Jacquelin defended his 2020 title in style, with no shooting penalties and a 7.3-second margin over Swede Sebastian Samuelsson in 31:22.1, with Norway's Johannes Thingnes Boe third, 8.1 seconds back. France has now won this race in four of the last five Worlds and six of the last nine. Boe won his fourth Worlds medal in this race, having finished second three times in a row in 2017-19-20.
Brown was again the top American, finishing 25th, some 3:17.2 behind the victor. The Worlds continues this week, with all eyes on Eckhoff in Tuesday's 15 km Individual race.
● Bobsled & Skeleton ● The IBSF Worlds wrapped up in Altenberg (GER) this week, with more golds for superstars Kaillie Humphries of the U.S. and Germany's Francesco Friedrich.
Humphries won the two-women race with Lolo Jones last week, but collected the first-ever women's Monobob title on Sunday. After placing fourth in the first run, Humphries zipped to the fastest time in each of the last three races, compiling a total time of 3:59.62, ahead of Germans Stephanie Schneider (+0.50) and Laura Nolte (+0.80). American Elana Meyers Taylor had a tough competition, ranking 22-9-10-15 and finishing 15th overall (4:05.44).
Humphries now owns five Worlds golds from 2012-21 and is clearly one of the hot stories of the forthcoming 2022 Winter Games.
Friedrich continued his dominance in the four-man sled, winning his fourth title in a row and a medal in his fifth straight Worlds. There was little doubt about the outcome, as Friedrich's sled posted the fastest time on all four runs and won in 3:35.02. That was 0.79 seconds faster than Benjamin Maier (AUT) and 1.51 seconds up on German teammate Johannes Lochner.
Friedrich has now piloted the winning two-man and four-man sleds in four World Championships in a row.
In the Skeleton races, there were few surprises, with another German sweep of the golds. Defending champion Christopher Grotheer only won one medal on the World Cup circuit this season – a bronze – but he was ready when it counted. After running third after the first race, he clocked the fastest time in each of the final three to win in 3:46.31, a tight 0.28 seconds ahead of Russian Alexander Tretiakov (3:46.59) and then German teammate Alexander Gassner (3:47.51).
Seasonal winner Martins Dukurs (LAT) finished 11th after the first run and was never in contention, ending in 16th (3:50.69) The top American was Austin Florian in 15th (3:50.67).
It was the second straight Worlds win for Grotheer and second bronze in a row for Gassner.
The women's title was once again the property of Tina Hermann (GER), who won her fourth World Championships gold in the event and third in a row. It wasn't easy, however, as Hermann logged only the 11th-fastest ride in the first round, but then won the last three runs to finish just 0.11 ahead of teammate Jacqueline Loelling, 3:52.97-3:53.08. For Loelling, it was her third silver medal. In the last six years, to go along with her 2017 Worlds gold. Russian Elena Nikitina was third (3:54.65).
American Katie Uhlaender, the 2012 Worlds winner, was the top American in sixth (3:54.88).
For good measure, Grotheer and Hermann teamed up to win the Mixed Team event, ahead of Loelling and Gassner, 1:55.41-1:55.55, with Russia's Nikitina and Tretiakov third.
● Freestyle Skiing ● The FIS World Freestyle Championships have been split into three parts with the cancellation of the planned program in China; the first section saw the Ski Cross title decided in Idre Fjall (SWE).
Swiss Alex Fiva, a consistent contender on the World Cup circuit, took his first Worlds medal with a win in the final on Saturday (13th), edging defending champ Francois Place (FRA), and ahead of Erik Mobaerg (SWE) and Oliver Davies (GBR). For Place, it was his third straight Worlds medal, after a bronze in 2017 and the gold in 2019.
The women's final saw familiar stars on the podium, with Swede Sandra Naeslund winning her second world title – also in 2017 – over Swiss Fanny Smith, who took her third straight Worlds silver in the event! France's Alizee Baron won her second straight bronze medal, with Talina Gantenbein (SUI) fourth.
The 2021 Worlds in Big Air, Halfpipe and Slopestyle will be held in Aspen, Colorado (USA) from 7-17 March, and the Aerials and Moguls Worlds will be in Almaty (KAZ) from 8-11 March.
● Ski Jumping ● The men's World Cup tour was in Zakopane (POL), jumping off of the 140 m hill, with 2019 World Cup champ Ryoyu Kobayashi claiming his first World Cup medal of this season with his 17th career gold. Poland's Andrej Stekala who won his first career individual World Cup medal in second, 268.9-268.6, with Marius Lindvik (NOR) taking third (267.8) for his fifth World Cup medal of the season.
Seasonal leader Halvor Egner Granerud took his 11th win of the season on Sunday, out-pointing Slovenia's Anze Lanisek, 298.1-295.2. Norway's Robert Johansson – the man with the big moustache – was third at 293.8.
Granerud leads the seasonal standings, 1,542-1,017, over Germany's Markus Eisenbichler.
● Snowboard ● The Ski Cross Worlds were in Idre Fjall (SWE), along with the Freestylers, with experienced former medal winners moving up to take their first Worlds golds.
Spain's Lucas Eguibar won the Worlds silver in 2017, but was first to the line in the final, edging Austrian star Alessandro Hammerle, who won his first Worlds medal in second. Canadian Eliot Grondin was a surprise in third, ahead of Austria's Jakob Dusek.
The women on the victory stand in 2021 were the same as 2019 … but in a different order. Britain's Charlotte Bankes was runner-up two years ago, but was the winner this time, ahead of with three-time bronze medalist Michela Moioli (ITA) finishing second this time and defending champ Eva Samkova (CZE) third. Australia's Belle Brockhoff was fourth.
However, Brockhoff and Jarryd Hughes came back to win the SnowCross Team title, ahead of Italy and France. Americans Hagen Kearney and Faye Gulini finished fourth.
● Speed Skating ● The ISU World Single Distance Speed Skating Championships, like the World Cups before them, was held in Heerenveen (NED) to assure the health and safety of the skaters, and turned into one of the most competitive Worlds ever.
The U.S. got strong performances that included big Saturday wins by Joey Mantia in the 16-lap men's Mass Start race and Brittany Bowe in the women's 1,000 m.
Mantia was in familiar territory as the World Champion in 2017 and 2019, but wasn't sure of himself after have recovered from the coronavirus. "After having Covid in December I didn't really know what to expect.
"I was skating pretty well in practice but I was really, really tired all the time. The last two World Cups were really rough. The races weren't overly fast but I just felt I couldn't keep up. I had no legs.
"I said to my coach, 'Man, if I get on to the ice and my body gives me what I want it to give me, I'm going to win.' I was extremely confident. I felt like I could do whatever I wanted and coming down to five laps, I was just licking my chops because I knew, given the opportunity and a clear line, I should be able to win."
He worked his way into a striking position and then surged to the front to win in 7:32.470, ahead of Arjan Stroetinga (NED: 7:32.770) and Belgian star Bart Swings (7:32.830).
Bowe was the clear favorite in the women's 1,000 m, a race in which she was the 2015 and 2019 World Champion and bronze medalist in 2013 and 2016, but she didn't let it bother her.
"Pressure is definitely a privilege because not many people get to feel it. It's whether or not you can embrace it. It doesn't always go the way you want it to go. Sometimes you're able to deal with it and sometimes you're not. We're not machines, we're only humans."
Bowe was in the next-to-last pairing with another of the favorites, defending champion Jutta Leerdam (NED). Fine for her: "The draw was good. You always want to be paired with the best competitor and starting from the inner lane is always nice in the 1000m because you can chase in that last inner [corner].
"The race went exactly how I replayed it time and time again in my head, and I was really happy to cross the line and see that green number next to my name."
Bowe finished in 1:14.128 to best Leerdam (1:14.672) for a third world title in the event and her fourth career Worlds gold. Russian Elizaveta Golubeva was third (1:14.848).
In Sunday's 1,500 m, Bowe was again the favorite, but had to settle for silver as 20-year-old Norwegian Ragne Wiklund, skating in the seventh pair, put up a stunning time of 1:54.613 that held up against the rest of the field. Bowe won her pairing at 1:55.034, and Russian Evgeniia Lalenkova was third (1:55.099). Bowe now owns a career total of 11 Worlds medals.
Overall, however, it was the skaters from the Netherlands who dominated the women's racing. Russian Angelika Golikova won the 500 m in a modest upset over Dutch sprinter Femke Kok, 37.141-37.281, but then the Dutch took over. Antoinette de Jong won the 3,000 m in 3:58.470 over six-time winner Marina Sablikova (CZE), Irene Schouten took the 5,000 m in 6:48.537, Marijke Groenewoud won the Mass Start over Canada's Ivanie Blondin with Schouten third, and the Dutch squad of de Jong, Schouten and legend Ireen Wust won the Team Pursuit over Canada and Russia. The Dutch won nine of the 21 medals in the women's competitions, with Russia next best at six.
The men's honors started with the Dutch again, who took three events: Kai Verbij won the 1,000 m (his second) in 1:08.052 over Pavel Kulizhnikov (RUS: 1:08.313); Thomas Krol won his second 1,500 m world title, leading a Dutch sweep ahead of Kjeld Nuis and Patrick Roest, 1:43.752-1:44.110-1:45.493, and Roest teamed with Marcel Bosker and Beau Snellink to take the Team Pursuit over Canada and Russia.
Canada's Laurent Dubreuil won the 500 m sprint in tight duel with Kulizhnikov and Dai Dai Ntab (NED), but the biggest surprises came in the 5,000 m and 10,000 m races. Sweden's Nils van der Poel won both – the first-ever Worlds wins in these events for Sweden – defeating Dutch stars Roest in the 5 and Jorrit Bergsma in the 10, setting a world record of 12:32.952 in the 10,0000 m and a national record in of 6:08.395 in the 5,000 m.
Overall, the Dutch won 18 medals (7-6-5), with Russia at 11 (1-3-7). The Netherlands won seven golds, to two each for the U.S. and Sweden.
You can receive our exclusive TSX Report by e-mail by clicking here. You can also refer a friend by clicking here, and can donate here to keep this site going.
For our 649-event International Sports Calendar for 2021 and beyond, by date and by sport, click here!