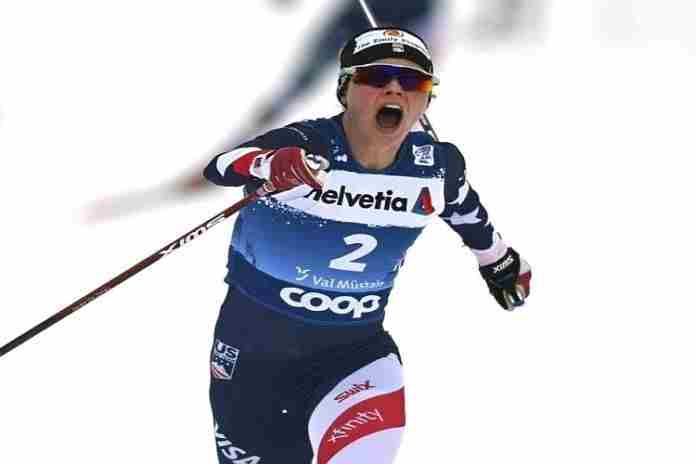 (★ Friends: Let's hope 2021 is a much better year for everyone. Thank you to our 34 donors toward our bill for server & support costs; we're at 81% of our goal. If you would like to join in, please donate here. Your enthusiasm is the motivation for this site. ★)
Headline results of noteworthy competitions around the world:
● Alpine Skiing ● The FIS World Cup tour is happily settling into a groove, with three events during the past week.
The men's tour included a night Slalom in Zagreb (CRO) on the 6th (Wednesday), won by Linus Strasser (GER), his second career World Cup win and fifth career medal. He stood only eighth after the first run, but skied well enough on the second run to record the fifth-best time and as the leaders faded, he finished 0.10 seconds ahead of Manuel Feller (AUT). Fellow Austrian Marco Schwarz was third.
Three days of technical races in Adelboden (SUI) followed on the weekend, with identical 1-2 finishes for the Giant Slalom races on Friday and Saturday: wins for France's overall World Cup leader Alexis Pinturault, followed by Filip Zubcic (CRO) by 1.04 seconds and 1.26 seconds, with Swiss skiers Marco Odermatt and and Loic Meillard third. These were Pinturault's third and fourth wins of the season, all in Giant Slaloms.
Sunday's Slalom saw Marco Schwarz (AUT) get his third career World Cup gold – and first in two years – by just 0.14 over Strasser, with a rare British World Cup medal for Dave Ryding in third.
The women's tour was in St. Anton (AUT) for a Downhill and Super-G. Italy's Sofia Goggia continued her mastery of the Downhill, winning for the second time in the three races this season (she was runner-up in the other). Austria's Tamara Tippler won her sixth career World Cup medal and first in a Downhill in second and American Breezy Johnson continued her long-hoped-for ascent into medal class with her third bronze in the third Downhill of the season.
Sunday's Super-G was a showcase for former World Cup overall champ Lara Gut-Berhami (SUI), followed by Marta Bassino (ITA: +0.16) and Swiss star Corinne Suter (+0.20).
● Biathlon ● The IBU World Cup picked up again in Oberhof (GER) for the first of two weeks of racing, with Norway sweeping all the men's individual medals, but "only" three of the six women's medals.
Seasonal leader Johannes Thingnes Boe led a family 1-2 with a win over his older brother, Tarjei Boe (+10.8), in the 10 km Sprint, with this season's new star, Sturla Holm Lagreid, third (+21.6). Then Langreid took the 12.5 km Pursuit by 15.6 seconds over Johannes Dale with Tarjei Boe third (+25.4), with J.T. Boe eighth. It was Langreid's fourth win of the year, the most so far.
The women's races showcased Norway's Tiril Eckhoff, who won both the 7.5 km Sprint and 10 km Pursuit. She won easily in the 7.5 km Sprint by 29.6 seconds over Swede Hanna Oberg and 40.2 against Austria's Lisa Theresa Hauser.
Eckhoff had a much tougher time in the 10 km Pursuit, squeezing past teammate and seasonal leader Marie Olsbu Roeiseland by just 0.5; the finish was close thanks to two shooting penalties for Eckhoff and none for Roeiseland. Hauser was third again, this time 43.0 seconds back.
The schedule continues next week with Sprint and Mass Start racing beginning on Wednesday.
● Bobsled & Skeleton ● The fifth of eight stops on the IBSF World Cup was in Winterberg (GER), which also doubled at the European Championships.
The scene of location meant little in terms of results: Francesco Friedrich won both men's events and Germans dominated the women's race. Friedrich – the double Olympic gold medalist from PyeongChang – won the two-man (this time with Thorsten Margis) for the eighth time in nine races this season. He was well ahead of fellow German Johannes Lochner (with Eric Franke) by 1:50.08-1:50.75, with Austrians Benjamin Maier and Markus Sammer third (1:50.93).
In the first four-man races of the season, Friedrich won again, besting Canada's Justin Kripps and Maier, 1:48.13-1:48.70-1:48.89.
This was the first appearance for the North American sleds in the World Cup; the U.S. entries finished 14th (Codie Bascue) and 17th (Geoffrey Gadbois) in the two-man and tied for 14th (Bascue) and finished 16th (Gadbois) in the four-man.
The two-woman racing was won by Germany's Laura Nolte and Deborah Levi, who won their third title of the season. They finished well ahead of teammates Kim Kalicki (with Ann-Christin Strack) and Mariama Jamanka (with Leonie Fiebig), 1:53.60-1:54.02-1:54.39. Austrians Katrin Beierl and Jennifer Onasanya tied for third.
North American sleds also competed for the first time this season: Canada's Christine de Bruin (with Sara Villani) was fifth, followed by the U.S. sleds of Kaillie Humphries (with Sylvia Hoffman: 1:54.45) and Elana Meyers Taylor (with Lolo Jones: 1:54.48) in sixth and seventh.
In Skeleton, Russia's Alexander Tretiakov won his second World Cup of the season, edging four-time winner Martins Dukurs (LAT) by 1:52.36-1:52.53, with Alexander Gassner (GER) third. Americans Austin Florian and Austin McCrary finished 15th and 20th.
Russia's Elena Nikitina won her fourth European title in the women's races, followed by Tina Hermann (GER) and Austria's Janine Flock, the seasonal leader. Flock continued her streak of medaling in each race this season, now up to five. The top U.S. finisher was Katie Uhlaender in 13th.
● Luge ● The sixth of nine stops on the FIL World Cup circuit was in Sigulda (LAT) – and included the European Championships – but it looked like the rest, as German superstar Felix Loch won for the seventh time in eight races this season. He completed a 1-2 finish with countryman Johannes Ludwig for the third time in 2020-21, 1:35.884-1:36.104, with Dominik Fischnaller (ITA) claiming his fourth bronze medal.
The U.S. joined the circuit for the first time, with Tucker West, Chris Mazdzer and Jonathan Gustafson finishing 12-13-15.
The men's Doubles saw Latvia's Andris and Juris Sics win for the first time this season, slipping past Germans Tobias Wendl and Tobias Arlt, 1:23.610-1:23.639. Martins Bots and Roberts Plume (LAT) finished third. The U.S. pair of Mazdzer and Jayson Terdiman finished 10th.
The women's races saw Russian Tatiana Ivanova win for the second time this season; she's the only non-German to win in the eight races. Just as amazing was German Natalie Geisenberger in second place; the four-time Olympic gold medalist has now been the runner-up in all eight races this season! Russian Victoria Demchenko was third; American entries Summer Britcher, Brittney Arndt and Ashley Farquharson were 10-12-14 in the standings.
● Nordic Skiing ● She did it!
True, the Norwegians – winners of the last seven editions – did not compete, but American Jessie Diggins was nonetheless brilliant, winning two stages and in the top three in six of the eight races of the 15th Tour de Ski to become the first U.S. skier to win the Tour.
Diggins held the lead off five medal performances in a row in the first five stages – 3rd-3rd-1st-1st-3rd, then headed to Val di Fiemme (ITA) for the final weekend, with Russian Yulia Stupak in hot pursuit. In the 10 km Classical Mass Start on Friday, Diggins finished ninth while Russian Natalia Nepryaeva won by 2.4 seconds over Katharina Hennig (GER) and 4.1 ahead of Swede Ebba Andersson.
Then came the 1.27 km Classical Sprint on Saturday, with neither Diggins nor Stupak making the final. Sweden enjoyed a sweep, with Linn Svahn winning her third event of the Tour de Ski, ahead of Maja Dahlqvist and Emma Ribom. Stupak (8th), Diggins (10th) and Rosie Brennan (12th) of the U.S. reached the semifinals.
The final leg was Sunday's 10 km Freestyle Mass Start. The race belonged to Andersson, who won in 36:45.6, 9.2 seconds ahead of Diggins, with Delphine Claudel (FRA) third, some 32.6 seconds behind the winner. Brennan was seventh.
Add it all up and Diggins's cumulative time of 3:04:45.8 was the winner by 1:24.8 over Stupak, 2:00.8 over Andersson, with Brennan sixth (+3:27.6).
"This is a lifelong goal…it really means a lot," said Diggins, 29, afterwards. "We have had an amazing team atmosphere this whole time, amazing support, and help, and so many cheers from all around the world, so that really gave me wings up the hill today."
The men's Tour de Ski was dominated by Russia's defending champion, Alexander Bolshunov, who won five of the eight races, was second twice and third once. At Val di Fiemme, he won the 15 km Classical Mass Start, was third in the Classical Sprint and second in the 10 km Freestyle Mass Start.
Francesco di Fabiani (ITA) was second and Alexey Chervotkin (RUS) third in the 15 km Classical Mass Start, and Swede Oskar Svensson was the Sprint winner, with Gleb Retivykh (RUS) second and Bolshunov third. On Sunday, Russian Denis Spitsov won, with Bolshunov second and France's Maurice Manificat third. That finish helped propel the Frenchman to second overall in the Tour de Ski with Spitsov third and Russia taking places 3-7.
In Ski Jumping, the men finished the Four Hills Tournament on Wednesday, with Poland's Kamil Stoch taking his third career title, but there was no time for rest. The tour moved to Titisee-Neustadt in Germany for jumping on Saturday and Sunday off the 142 m Hochfirstschanze. And Stoch was in great form again, scoring his third straight win on Saturday, outscoring seasonal leader Halvor Egner Granerud (NOR)and Pole Piotr Zyla, 281.6-277.6-270.8.
On Sunday, it was Granerud taking his sixth win of the season – and first of 2021 – with a 299.4-297.0 margin over teammate Daniel Andre Tande, with Austrian veteran Stefan Kraft (291.3) third.
● Snowboard ● The FIS World Cup resumed with the Big Air opener in Kreischberg (AUT). Canadian vet Max Parrot was the only one to score more than 80 points on two of his three runs and compiled 165.00 points to edge Sven Thorgren (SWE: 164.00) and Norway's Mons Roisland (163.20). Roisland had the best individual score of the event, with a final-round 91.00.
New Zealand's Zoi Sadowski Synnott won her second career World Cup – and first in Big Air – by edging Japan's Kokomo Murase, 162.40-161.80, with 2018 Olympic champ Anna Gasser (AUT: 161.40) third.
The third Parallel Giant Slalom of the season was held in Scuol (SUI), with Russian Igor Sluev winning his first career World Cup race, by just 1:08.45-1:09.11 Pole Michal Nowaczyk, with Slovenia's Tim Mastnak third.
The women's PGS had another first-time winner in Russian Sofia Nadyrshina, who won by more than a second over German Ramona Theresia Hofmeister (GER), 1:11.81-1:12.86, with Swiss veteran Julie Zogg third (1:14.32). Hofmeister is the only medalist all in three races so far this season.
● Coming Attractions ● Of this special interest this week are the Doha Masters in Judo – with the return to competition of 10-time World Champion Teddy Riner (FRA), and the U.S. Figure Skating National Championships in Las Vegas!
You can receive our exclusive TSX Report by e-mail by clicking here. You can also refer a friend by clicking here, and can donate here to keep this site going.
For our 709-event International Sports Calendar for 2021 and beyond, by date and by sport, click here!