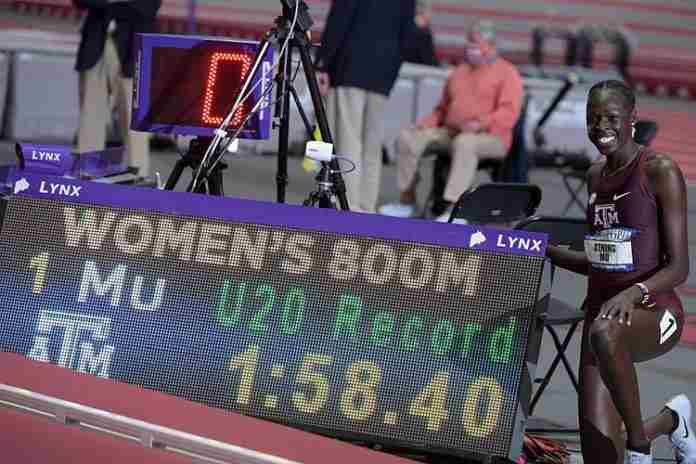 Headline results of noteworthy competitions around the world:
● Alpine Skiing ● The FIS Alpine World Cup got back into action this weekend, with Swiss Lara Gut-Behrami sprinting into the overall lead with two wins and a silver in Val di Fassa (ITA).
Gut-Behrami won the last two races prior to the World Championships – both Super-Gs – then won the Super-G and Giant Slalom, plus a bronze in the Downhill at the Worlds. This time, she won the Downhills on Friday and Saturday and then claimed a silver medal in the Super-G on Sunday.
Her Swiss teammate, Corinne Suter – the Downhill World Champion – also won three medals in three days, finishing third in Friday's Downhill, second in Saturday's Downhill and third in Sunday's Super-G. That left only Sunday's gold for home favorite Federica Brignone, her 16th career World Cup win, a silver for Ramona Siebenhofer (AUT) on Friday and a bronze for Kira Weidle (GER) in Saturday's Downhill as the remaining medal winners.
Sunday's Super-G was marred by two severe crashes. Kajsa Vickhoff Lie (NOR), the 13th starter, skied off the course and into the safety nets, and then Rosina Schneeberger (AUT) also ran off into the nets. Both had to be removed from the site by helicopter for further attention.
Once all of the results were tallied, Gut-Behrami – who won the overall World Cup title in 2016 – with the overall lead after 25 of 33 races. She leads Slovakia's Petra Vlhova by 1,227-1,040, with Swiss Michelle Gisin third (892). The schedule favors Vlhova, with four slaloms left, two Giant Slaloms, one Downhill and one Super-G, but Gut-Behrami is on a roll.
The men's racing was in Bansko (BUL) for two Giant Slalom races. Filip Zubcic, the Worlds silver medalist in the Parallel, won his third World Cup gold on Saturday, just ahead of the Giant Slalom World Champion, France's Mathieu Faivre, 2:20.62-2:21.02, with Austria's Stefan Brennsteiner third (2:21.55).
Faivre got to the top of the podium on Sunday, winning his second career World Cup race – and first since 2016 – by 75/100ths of a second over Swiss veteran Marco Odermatt, 2:25.29-2:26.04, with French star Alexis Pinturault third (2:26.10).
Pintuault remains in the overall lead by 1,034-824 over Odermatt after 29 of 38 races, with Marco Schwarz (AUT) well back in third with 718 points.
● Athletics ● The track & field season is heating up as the indoor season ends and outdoors starts, but nowhere more so than Fayetteville, Arkansas at the SEC Indoor Championships:
● Men/200 m: Three world leads in this event, with Georgia soph Matthew Boling running 20.37 in the heats, then Joe Fahnbulleh (Florida soph) winning the first section of the finals in 20.32, followed by a win in the second section for Terrence Laird (LSU senior) in 20.28! That puts Laird in the no. 8 spot all-time U.S. What about Boling? He was disqualified for a lane violation in the final, but still claimed a school record from his heat time.
● Men/400 m: LSU junior Noah Williams won in 45.26 for sixth on the 2021 world list, with Georgia junior Elija Godwin second in 45.37, good for ninth in the world.
● Men/Long Jump: LSU senior JuVaughn Harrison equaled the world lead at 8.33 m (27-4) and also won the high jump at 2.20 m (7-2 1/2)!
● Men/Triple Jump: Tennessee junior Carey McLeod (JAM) won at 17.17 m (56-4) to move to no. 3 on the 2021 year list on his final jump.
● Women/400 m: Florida freshman Talitha Diggs ran a lifetime best 51.14 to win, placing her no. 5 on the 2021 world list, while Florida senior Taylor Manson was second at 51.82, now ninth on the world list.
● Women/800 m: The amazing Athing Mu (Texas A&M) won in 1:58.40, the no. 2 performance in U.S. history behind Ajee Wilson's 1:58.29 from 2020. Mu won by almost four-and-a-half seconds and set a World U-20 Record in the process, a Collegiate indoor record and is the best-ever all-conditions Collegiate mark at 800 m, as the outdoor record is 1:59.40 by Oregon's Raevyn Rogers from 2017. Wow!
Mu had a clear lead after a lap and just keep pouring it on, splitting 28.65, 29.32 [57.96], 29.64 and 30.81 to win by 1:58.40-2:02.85 over Florida soph Gabrielle Wilkinson!
¶
At the "All-Star Perche" meet in Aubiere (FRA), the 2012 Olympic gold medalist in the men's vault, France's Renaud Lavillenie cleared 6.06 m (19-10 1/2), his highest clearance since 2014!
It's the =14th best performance of all-time indoors, showing that at age 34, he cannot be counted out coming Tokyo time. He won the event at 5.96 m (19-6 1/2) from Menno Vloon of The Netherlands (26), who set a national record, but cleared on this third try, while Lavillenie cleared on his second. Lavillenie also tried 6.20 m (20-4), but missed all three times. Chris Nilsen (USA) was third at 5.86 m (19-2 3/4).
¶
The latest mystery meet was the Texas Qualifier, a distances event in Austin, Texas on Friday and Saturday, with Olympic qualification in mind. The top marks:
● 10,000 m: German Konstanze Klosterhalfen won the fastest women's section easily in 31:01.71, well under the Olympic qualifying mark of 31:25.00. Her mark was also good for a German national record in her first 10,000 m track race ever. Keira D'Amato was second in 32:16.82.
● 5,000 m: Ellie Purrier continued her hot running with a win in 15:08.61 in the fastest women's section, easily making the Olympic qualifying time (15:10.00) and taking the world outdoor lead. Eritrea's Weini Kelati was second in 15:13.12, a lifetime best.
● 800 m: Ajee Wilson took the world outdoor lead by winning in 1:58.93, ahead of Kaela Edwards (1:59.86) and Hannah Seagrave (2:01.33). Isaiah Harris won the fastest men's 800 race in 1:46.19, also the fastest outdoor time this year.
¶
A World Athletics Continental Tour Bronze meet was held in Auckland (NZL) on Saturday, with two-time Olympic women's shot champ Valerie Adams (NZL) taking the world outdoor lead with a win at 19.65 m (64-5 3/4). That's her best since 2016!
In the men's shot, New Zealand stars Tomas Walsh and Jacko Gill faced off again, but with Walsh winning this round, 21.60 m (70-10 1/2) to 21.44 m (70-4 1/4).
¶
Unbelievable might be too tame for the results of the 76th Lake Biwa Marathon in Otsu, Japan on Sunday, with Kengo Suzuki won with a lifetime best and national record of 2:04:56.
In his fifth career marathon, Suzuki left the field behind with a break at 36 km and was never headed, setting a PR by more than five minutes from his old best of 2:10:21 from 2018.
"I never imagined such a time was possible, so, I am the one most surprised with the record," Suzuki said. "The big factor of my success was that I was able to train for a year without any injury. My training since the new year went great."
There was more to it than that; the entire race was a record-maker. An elites-only race with 369 starters, Hidekazu Hijikata finished second at 2:06:26, and Kyohei Hosoya third with 2:06:35. World Athletics reported:
"[F]ive runners cracked the 2:07 barrier with personal bests. Fifteen ran under 2:08 (the record for a race is 17 from the 2020 Tokyo Marathon) and a record 28 runners cracked 2:09, breaking the previous record of 24, also set at last year's Tokyo Marathon. A record 42 runners finished in under 2:10, smashing the previous best of 30 from last year's Valencia Marathon."
To answer your next question, no report was filed on the shoes worn by the top 42.
● Beach Volleyball ● The FIVB World Tour returned to the sand for the first time in almost a year, in Doha (QAT), with the home team taking the win at the one-star Doha Beach Volleyball Cup on Saturday.
Cherif Younousse and Ahmed Tijan were the top seeds and won Qatar's second World Tour gold with a 21-15, 21-19 victory over Swiss Quentin Metral and Yves Haussener. Cherif had been part of the first Qatari win in the World Tour in 2016, but this was the first win for Cherif and Ahmed together.
Russia's Alexey Gusev and Pavel Shustrov won the bronze-medal match by 19-21, 21-15, 19-17 over Murat Giginoglu and Volkan Gogtepe of Turkey. The four-star Katara Cup in Doha will start on 8 March.
● Cycling ● After building a solid lead in the uphill fifth stage, Slovenia's reigning Tour de France champion Tadej Pogacar won the UCI World Tour season opener, the UAE Tour, on Saturday.
He finished the seven-stage event in 24:00.28, thirty-five seconds ahead of Adam Yates (GBR) and 1:02 in front of Portugal's Joao Almeida. Australian Chris Harper (+1:42) and American Neilson Powless (+1:45) were fourth and fifth.
The last two stages were flat routes for the sprinters, and Ireland's Sam Bennett edged Elia Viviani (ITA) in the 165 km sixth stage (3:32:23), and Australian star Caleb Ewan got to the line first in the 147 km final stage in 3:18:29, just ahead of Bennett.
¶
The first of the World Tour Classics races in Europe was on Saturday, the 76th Omloop Het Nieuwsblad from Ghent to Ninove in Belgium. The 200.5 km route ended in a bunch sprint, with Italian Davide Ballerini claiming his second career World Tour win, and his first in a one-day race.
Ballerini managed to get to the line just ahead of Jake Stewart (GBR) and Sep Vanmarcke (BEL), with the first 45 riders given the same time of 4:43:03.
● Freestyle Skiing ● The Ski Cross stars were in Bakuriani (GEO) for the resumption of the FIS Freestyle World Cup, with Swiss star Fanny Smith taking her fifth win of the season over long-time rival Sandra Naeslund of Sweden.
This was the eight medal of the season for Smith in nine races (5-2-1) compared to two for Naeslund and clinched the Ski Cross title for 2020-21 for Smith. France's Marielle Berger Sabbatel was third, winning her second World Cup medal of the season.
The men's race was the first career World Cup victory for Germany's Florian Wilmsmann, 25, who got to the line first ahead of Swede David Mobaerg and Canada's Jared Schmidt, 2, who won his first World Cup medal.
● Gymnastics ● The USA Gymnastics Winter Cup is being held in Indianapolis, Indiana; a separate report will be posted later today.
● Nordic Skiing ● The 42nd World Nordic Skiing Championships are on in Obertsdorf (GER), with Norway already running away with the medal count.
In Cross Country, Sweden's Jonna Sundling won the first gold medal of the Championships, taking the women's 1.2 km Classical Sprint in 2:36.76, just ahead of Maiken Caspersen Falla (NOR) and Anamarija Lampic (SLO), just 2.32 and 2.35 seconds behind. American Jessie Diggins reached the quarterfinals, but did not advance.
The men's 1.5 km Classical Sprint was a Norwegian sweep, with defending champion Johannes Hoesflot Klaebo winning a tight race from teammates Erik Valnes and Havard Solas Taugboel, 3:01.30-3:01.96-3:02.10.
The women's 7.5 km Classical/7.5 km Freestyle Skiathlon was the eighth career individual world title for Norwegian superstar Therese Johaug, who won in 38:35.5, a cool 30.0 seconds ahead of Sweden's Frida Karlsson (39:05.5) and 30.2 ahead of Ebba Andersson (39:05.7). Diggins was 15th at 40:35.0.
The men's 15 km Classical/15 km Freestyle Skiathlon was the first career Worlds gold for Russia's Alexander Bolshunov, who won at the finish by 1.1 seconds over Simen Hegstead Krueger (NOR), 1:11.33.9-1:11:35.0 and 1.7 seconds up on Hans Christer Holund (1:11:35.6) as Norway went 2-3-4-5-6.
Sunday's Team Sprints were won by Norway (Klaebo and Valnes) for the men, over Finland and Russia, and Sweden (Sundling and Maja Dahlqvist), over Switzerland and Slovenia.
In Nordic Combined, the first-ever women's World Championships event was held on a 106 m hill and 5 km race. Norway swept the medals behind Gyda Westvold Hansen, who won in 13:10.4, followed by sisters Mari Leinan Lind (13:24.2) and Marte Leinan Lund (13:39.2). American Tera Geraghty Moats finished fifth in 14:19.8.
The first of two men's individual events, this one off the 106 m hill and a 10 km race, was a second straight world title for Norway's star Jarl Magnus Riiber, who won in 23:01.2, just ahead of Finland's Ilkka Herola (23:01.6) and Jens Luras Oftebro (NOR: 23:02.1).
The men's team relay was an easy win for Norway (including Riiber and Oftebro), over Germany and Austria, 43:57.7-44:40.4-44:36.8.
In Ski Jumping, Slovenia's Ema Klinec won the women's Normal Hill title, scoring 279.6 points to edge defending champion Maren Lundby (NOR: 276.5) and Japan's Sara Takanashi (276.3). The women's team title was won by Austria (959.3) over Slovenia (957.9) and Norway (942.1).
The men's Normal Hill title went to Poland's Piotr Zyla for his first individual Worlds gold, scoring 268.8 to 265.2 for German Karl Geiger – his second straight Worlds silver – and 261.5 for Anze Lanisek (SLO).
The Mixed Team event was a win for Germany (including Geiger), over Norway and Austria.
The Worlds continue through this coming week. After 13 events, Norway owns 17 medals (6-6-5), with Slovenia next at 5 (1-1-3) and Sweden with four (2-1-1).
● Rowing ● A ticket to Tokyo was on the line in the women's Single Sculls at the first stage of the US Rowing Olympic Trials in Sarasota, Florida, claimed by 2019 World Rowing Championships bronze medalist Kara Kohler.
The 2,000 m race quickly developed into Kohler vs. Gevvie Stone, the Rio silver medalist in the event, but Kohler opened the lead by 1,000 m, extending it to the finish in 7:23.37, with Stone at 7:27.17 and Kristina Wagner at 7:39.29.
Said Kohler: "It's a huge relief. I've worked incredibly hard the past few years to race the single in Tokyo, so there was a lot riding on today's race. But, I had fun and trusted everything I've done up to this point. So, that was what I was thinking about while racing – trusting my preparation, thinking about my teammates, my coach and my family."
In the men's Single Sculls, John Graves won in 6:59.08, ahead of Lucas Bellows (7:03.50) and Kevin Meador (7:04.73). The men's Double Sculls winners were Kevin Cardno and Jonathan Kirkegaard (6:22.07), beating Justin Keen and Sorin Koszyk (6:23.03) and Charles Anderson and Eliot Putnam (6:24.87).
The winners in the men's Single Sculls, Double Sculls and lightweight men's and women's Double Sculls must race at the World Rowing Final Olympic Qualification Regatta from 15-17 May in Lucerne (SUI) to confirm their Olympic spots.
● Shooting ● The first half of the ISSF Shotgun World Cup in Cairo (EGY) has been completed, including the men's and women's Skeet events and the three team Skeet events.
The men's individual event was a 53-52 final victory for 2000 Olympic gold medalist Mikola Milchev (UKR) over Jesper Hansen (DEN), with Rashid Hamad (QAT) third at 48. Milchev and Hansen both hit of their first 20, then Milchev hit 18 of his next 20, while Hansen hit 17. In the last 20 shots, both hit 18.
The women's title went to Czech Dante Bartekova, the 2012 Olympic bronze medalist, who scored a 55-53 win over Russian Alina Fazylzyanova, with Konstantia Nikolaou (CYP) third at 43. The difference came in the final 20 shots, as Bartekova hit 19 and Fazylzyanova, 17.
Russia swept the team events, defeating Poland, 35-31, in the Mixed Team, and beat the Czech Republic in both the men's and women's team events, by 6-0 and 6-2, respectively.
You can receive our exclusive TSX Report by e-mail by clicking here. You can also refer a friend by clicking here, and can donate here to keep this site going.
For our 649-event International Sports Calendar for 2021 and beyond, by date and by sport, click here!