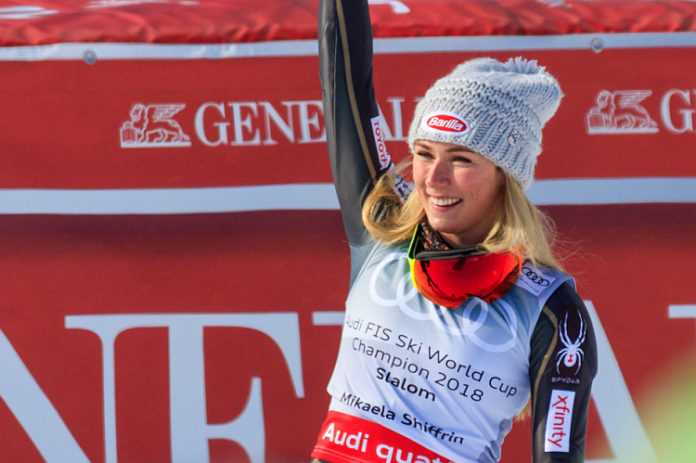 Headline results of noteworthy competitions around the world:
● ALPINE SKIING ● The Alpine World Cup is in North America, with women's racing at Killington, Vermont and the men at Lake Louise, Canada, and it was another great weekend for American superstar Mikaela Shiffrin.
The three-time defending World Cup overall champion won her second World Cup Slalom of the season, winning on Sunday for the fourth straight year in Killington. It's her 42nd career Slalom win (extending her record) and her 62nd career World Cup win. Shiffrin got out to a huge lead with a 51.98 first run, then cruised in with a total time of 1:50.45-1:52.74 over Petra Vlhova (SVK).
Shiffrin was third on Saturday in the Giant Slalom, won by Italy's Marta Bassino for her first World Cup title. It's Shiffrin's 87th World Cup medal; amazing; only four women and three men have ever won 100 career World Cup medals.
In the men's Downhill and Super-G in Canada, Italy's Dominik Paris won silver medals in both events, with the wins going to Thomas Dressen (GER: Downhill) and Matthias Mayer (AUT: Super-G). Full results here.
● BIATHLON ● The IBU World Cup season started with a week-long festival in Oestersund, Sweden, and a good start for Norway's reigning World Cup Champion, Johannes Thingnes Boe. He led a Boe-family 1-2 with a win in front of his brother Tarjei in the men's 10 km Sprint, 24:18.3-24:37.3.
Defending women's World Cup winner Dorothea Wierer (ITA) also won her season opener, the 7.5 km Sprint, ahead of Marte Olsbu Roeiseland (NOR), 19:48.5-19:57.1. The events continue on Wednesday. More results here.
● CROSS COUNTRY SKIING ● The two-time World Cup champ, Norway's Johannes Hoesflot Klaebo, got a good start on a third title by finishing 1-2-1 in the season-opening series in Ruka, Finland. Klaebo won the Sprint Classical and the 15 km Free Pursuit and was second to home favorite Ilko Niskanen in the 15 km Classical.
Norway's Therese Johaug, who won 10 World Cup races last season, won the women's 10 km Classical and 10 km Free Pursuit in the women's division, and teammate Maiken Caspersen Falla won the Sprint Classical. The U.S. got two bronze medals, with Sadie Bjornsen third in the Sprint, and Jessie Diggins taking third in the Pursuit. Full results here.
● CYCLING ● The third UCI Track Cycling World Cup was held in Hong Kong, with home favorite Wai Sze Lee winning the women's Sprint and Dutch star Harrie Lavreysen winning the men's Sprint. The two are the only riders who have won their event in all three of the World Cups held so far. Lavreysen won a second gold as a member of the winning Dutch Team Sprint trio. Full results here.
● GYMNASTICS ● The FIG World Trampoline Gymnastics concluded in Tokyo, Japan, with history for China's Lei Gao. He became the first man to win four consecutive world titles in the individual trampoline, an event that will be on the Olympic program in Tokyo. He won a tight battle with Ivan Litvinovich (BLR), 61.705-61.520, with three-time World Champion Dong Dong (CHN) third.
Japan's Hikaru Mori won her first world title, leading a home 1-2 finish with Chisato Doihata second (55.860-55.225) and Canada's defending champ Rosie Maclennan third (54.820).
The U.S. won seven medals (1-3-3) in the non-Olympic events, including the women's Double Mini team title. American men won three individual medals: Ruben Padilla and Alex Renkert were 2-3 in Double Mini and Kaden Brown won the Tumbling bronze. Full results here.
● KARATE ● The final Karate-1 Premier League meet was held in Madrid, Spain, with seasonal champions crowned in six men's and women's weight classes. Four of the seasonal winners were also World Champions in 2018: women's winners Sandra Sanchez (ESP: Kata) and Irina Zaretska (AZE: 68 kg) and Ryo Kiyuna (JPN: Kata) and Steven Dacosta (FRA: 67 kg) in the men's weights. Madrid results are here; seasonal standings are here.
● LUGE ● The annual FIL World Cup stop in Lake Placid, New York, was a good one for Austria's Jonas Mueller, who won for the second straight week, this time over American Tucker West and Dominink Fischnaller (ITA), who was also third last week. In the first Sprint event of the season, Russian Roman Repilov won, with West second and Mueller third.
Germany's Julia Taubitz won both the women's race and the Sprint, beating Emily Sweeney of the U.S. in the standard race and American Summer Britcher in the Sprint, with Sweeney third. Germany's Tobias Wendl and Tobias Arlt, second in the season opener, won the men's Doubles. Full results here.
● NORDIC COMBINED ● Norway's Jarl-Magnus Rieber dominated the 2018-19 Nordic Combined season and is starting out the same way. He won all three of the season-opening races in Ruka, Finland, off a 142 m hill and 5 km/10 km/10 km cross-country races, repeating his triple win from last season! Norwegians won eight of the nine medals, with Espen Bjornstad and Jorgen Graabak getting silvers in the first and third races and Jens Luras Oftebro taking all three bronzes! Full results here.
● SHORT TRACK ● The third Short Track World Cup was another showcase for Canada's Kim Boutin, who won her third straight title at 500 m, in Nagoya, Japan. Korea's Ji Yoo Kim won her second straight women's 1,500 m to take the seasonal lead with 20,000 points. In the men's 1,500, Korea's Ji Won Park won his second straight meet and also assumed the seasonal lead at 20,000. Full results here.
● SKI JUMPING ● Norway's Daniel Andre Tande won the second World Cup of the season, in Ruka, Finland, following up on his season-opening in Poland last week. Austria's Philipp Aschenwald and Andre Lanisek (SLO) went 2-3. Sunday's jumping was canceled because of weather; full results here.
● SPORT CLIMBING ● The Olympic qualifying event in Toulouse, France continued to fill the field for Tokyo for 2020. The top six finishers in the Combined event advanced to Tokyo, with Kokoro Fujii (JPN), Adam Ondra (CZE) and Meichi Narasaki (JPN) taking the top three positions in the men's event (Japan has more qualifiers than the two allowed and will have to decide who will compete). In the women's competition, Futaba Ito (JPN) was the winner, ahead of Julia Chanourdie (FRA) and Mia Krampl (SLO). Full results here.
● TABLE TENNIS ● The men's World Cup was held for the 40th time, this time in Chengdu, China, with a familiar face on top of the podium: China's Zhendong Fan. The two-time World Championships medal winner won for the third time in the last four years, defeating Japan's Tomokazu Harimoto, 4-2, in the final. Full results here.