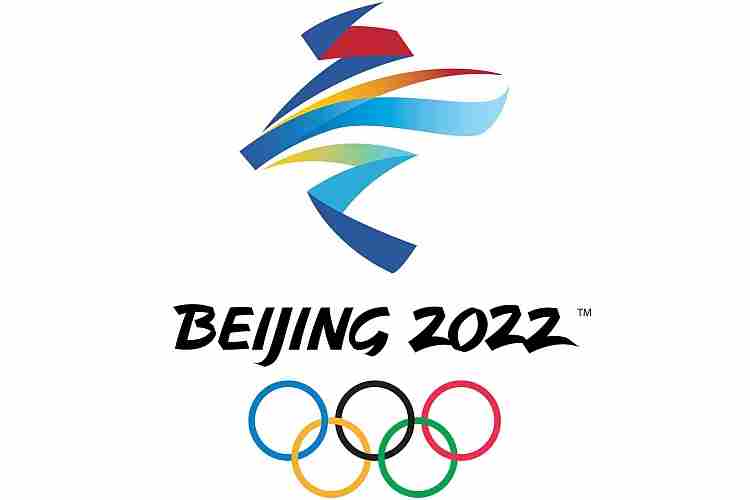 News, views and noise from the non-stop, worldwide circus of Olympic sport:
≡ SPOTLIGHT ≡
"The Biden administration will not send any diplomatic or official representation to the Beijing 2022 Winter Olympics and Paralympics games given the PRC's ongoing genocide and crimes against humanity in Xinjiang."
The announcement by White House Press Secretary Jen Psaki on Monday confirmed the long-expected U.S. governmental response to attendance at the Beijing 2022 Olympic Winter Games, which will not affect the participation of the United States team.
"U.S. diplomatic or official representation would treat these games as business as usual in the face of the PRC's egregious human rights abuses and atrocities in Xinjiang, and we simply can't do that," added Psaki.
She noted that American allies had been informed of the decision and would make their own decisions on a similar move.
Reuters reported Chinese foreign ministry spokesman Zhao Lijian as telling reporters prior to the Administration's announcement, "If the U.S. insists in wilflully clinging to its course, China will take resolute countermeasures," and that there should not be a boycott "so as not to affect the dialogue and cooperation between China and the United States in important areas."
The International Olympic Committee posted a statement which included:
"The presence of government officials and diplomats is a purely political decision for each government, which the IOC in its political neutrality fully respects."
Observed: This is a major victory for Olympic athletes, decoupling governmental actions from any attempt to keep athletes from competing. It will also increase the pressure on athletes from the U.S. and other countries whose governments do not send officials to Beijing, a situation that the athletes did not ask for or choose.
It is worth appreciating that after Beijing was chosen over Almaty (KAZ) by just 44-40 by the IOC back in 2015, the bid process for the Games has been completely overhauled to avoid exactly such an outcome. Future Games are now set for Paris, Milan Cortina, Los Angeles and Brisbane in 2032. And possibly in Salt Lake City in 2030 (see below).
¶
Meanwhile, the leadership of the Salt Lake City-Utah Commission for the Games met online with International Olympic Committee staff and IOC chief Thomas Bach (GER) as part of the "continuous dialogue" discussions about a potential Salt Lake City hosting of the 2030 or 2034 Winter Games.
Following up on a 12 November online discussion with the IOC's Future Hosts Commission, Monday's two-and-half-hour meeting focused on the current process for bidding and possible selection. Said bid committee chief executive Fraser Bullock, the 2002 organizing committee chief operating officer:
● "This is a partnership, that we work together to figure out what fits best for the city in terms of timing and preparation and delivery of the Games."
● "There is no specific timing. It could go way in advance of the historic seven years. It could even go a little bit later, but what we've seen with Brisbane – which they highlighted – it could happen any time, when the parties come together in a meeting of the minds. But there is no specific timetable or timeline for an award of any upcoming Games."
● "The IOC recognizes that that's really a decision that is made at the NOC level – or at the USOPC level [in the U.S.]. They're willing to embrace either position in terms of a dialogue, so they said that's an issue that you'll decide in the United States and once that decision is made, then they will work with us specifically on that Games edition."
With regard to that decision of 2030 vs. 2034, Bullock reiterated:
"All of this is led by the USOPC. So, we have meetings with the USOPC, we talk about the issues. The USOPC meets with L.A., and they're the focal point of that decision. And then they bring us together to talk about different elements we have to work through collaboratively. … Now, it's more into the detailed work of how which edition of the Games could go forward. …
"After Beijing, we believe that they'll be a stepped-up amount of activity."
Bullock also underscored Salt Lake City's readiness to host the Games, as it has the venue infrastructure already in place:
"Fortunately, with the 2002 Games, there was an endowment left behind of $76 million which has kept the facilities pretty much up to date. Of course, there's always small elements of refurbishments that would be needed and we've accounted for that in our budget that we're still putting together. But, we have everything we need to host the Games. Yes, there needs to be a little bit added, but in our budget, there is very little that is needed to be able to host the Games going forward. …
"Even though we have 40% more events than 2002, we can fit them all within our existing venue infrastructure. So we're very pleased with that."
He also remarked on two points on which the IOC would be eager to select Salt Lake City based on its own priorities:
● "A big part of their presentation to us today was on sustainability. Fortunately, Mayor [Erin] Mendenhall and Governor [Spencer] Cox, they're such huge champions of this that it fits seamlessly into our state's objectives. In fact, the Games could help be a catalyst for some of those elements that we're trying to accomplish. … It really was a little bit of symbiosis in terms of what they're trying to accomplish and what we're trying to accomplish"
● "One of the things that they continue to appreciate, and say maybe you can emphasize even more is the wonderful legacy we have. All the venues we have in place, all the athletes, all the events, is such a powerful element of moving sport forward and towards – hopefully – an Olympic Games. They say, 'you need to tell that story even more.'"
Bullock said there was no discussion about a U.S. diplomatic boycott of Beijing 2022; the in-person meeting hoped for today will be re-scheduled for next spring.
Observed: All of this, added to last week's comments in Los Angeles from the LA28 organizers, point toward a 2030 bid from Salt Lake City.
Bullock noted the IOC's comments on the "fit" between a Games and a city in terms of timing and preparation. It's a short hop from there to recognize that an award for 2030 means the venues are four years fresher than they would be for 2034 and will keep Salt Lake City's costs down.
Further, LA28 Chair Casey Wasserman's comments to a Los Angeles City Council committee last week that "as we sit here today, with well over half our revenue contracted, we are prepared to deliver the Games – if we had to – with the revenue we have today" are another milestone on the road to getting Salt Lake City into the game for 2030.
That in-person meetings with the IOC are expected next spring – after the Beijing Games and the associated political fires are extinguished – shows that any award of the 2030 is not imminent, but could happen as early as next summer.
≡ THE 5-RING CIRCUS ≡
● Games of the XXXII Olympiad: Tokyo 2020 ● Surprise! The Tokyo Games actually cost less than expected!
Kyodo News reported that the total cost of the project is now estimated to come in at about ¥1.5 trillion, or about $13.30 billion U.S. Given the measures against the Covid-19 pandemic, with the Games held without spectators, it had been expected that the total costs would rise from about ¥1.35 trillion (~$12.6 billion U.S.) to as much as ¥16.4 trillion (~$14.54 billion U.S.)
Instead, the cost-saving measures brought the total expenditures down below the level of the loss of ticket revenues. The split of the costs between the Tokyo organizers (expected to raise at least $6.7 billion), the Tokyo Metropolitan Government and the Japanese national government is expected by year-end.
It is, however, worth remembering that the projected total cost of the Games in the Tokyo bid was only ¥734 billion or about $6.5 billion U.S. The cost explosion came, as usual, from the construction of new facilities, including a new National Stadium.
● Games of the XXXIV Olympiad: Los Angeles 2028 ● Amid the two-and-a-half-hour Los Angeles City Council session last Friday – most of which dealt with City approval of the "Games Agreement" with the LA28 organizing committee – Council Member Kevin de Leon (14th District) made special note of one of the issues surrounding the Games that the organizing committee can't control and that does put the City at risk:
"One thing I will say, is the caveat for the 2028 Olympics, is our real danger of exposure is without a doubt if we don't deal head on – as we have been talking about incessantly – on the issue of homelessness. Because, by 2028, if we haven't resolved this humanitarian crisis, we are guaranteed to win the gold, silver and bronze when it comes to the largest concentration of unhoused individuals in the United States of America, perhaps even in the world.
"Because what will be guaranteed is that we will have cameras in Skid Row, in Venice, in Hollywood and throughout other parts of the City, not just at SoFi Stadium or the Coliseum or Staples [Center] or the Rose Bowl and elsewhere. That is the real fear of exposure …
"It's not on [LA28 Chair] Casey [Wasserman] or anyone else, but that will be a real exposure if we don't deal with this humanitarian crisis by then."
By comparison, the City of Los Angeles budget for fiscal year 2021-22 shows $11.23 billion in projected revenues and expenditures of $11.48 billion. The LA28 budget to stage the Games with private finances is $6.88 billion in total over the next seven years.
De Leon is quite right that the governmental response to the L.A. homelessness crisis will be closely watched, and is right now, let alone in 2028.
● Athletics ● The 75th and final edition of the famed Fukuoka Marathon in Japan was won on Sunday by Kenyan Michael Githae in 2:07:51.
For many years, this race was essentially the world championship in the marathon and was won by some of the sport's titans such as American Frank Shorter (four-time winner), multiple Olympic champions and the beloved Toshihiko Seko, who also won four times. The race, limited to just a few hundred runners and not designed as a mass-participation race, finally succumbed to costs and the decision to finish in 2021 was announced in March.
¶
Not that it was a surprise, but there were plenty of rumors and outright lies told at the USA Track & Field Annual Meeting in Florida over the weekend. One of the whoppers was heard by and then tweeted by Monzavous "Rae" Edwards, now 40, who had a best of 10.00 in the 100 m from 2010 and was twice a Pan American Games bronze medalist for the U.S. on the men's 4×100 m relay in 2007 and 2011; he hosts the track & field-themed "Raes Take TV" on YouTube.
Apparently Edwards heard in one of the many sessions that:
"When Simone Biles competed in her Tokyo finals she drew in 8 milllion [sic] viewers from NBC. When @itskerrii competed at the US Trials she drew in 11 million viewers!"
This is completely wrong and is not fair to Sha'Carri Richardson, a star-in-the-making in the sport. But she is no Simone Biles. The actual numbers at their respective U.S. Olympic Trials:
● 20 June: NBC averaged 3.53 million viewers for Richardson's women's 100 m session.
● 25 June: NBC averaged 4.59 million viewers for the first women's session (with Biles).
● 27 June: NBC averaged 5.75 million viewers for the second women's session, peaking at 6.6 million during Biles' floor exercise routine.
At the Tokyo Olympic Games, NBC's four highest-rated primetime nights were the four in which Biles appeared:
● 19.5 million on 25 July (Sun): Women's Gymnastics qualifying
● 18.9 million on 29 July (Thu): Women's Gymnastics All-Around
● 16.9 million on 03 Aug: (Tue): Women's Gymnastics Beam final
● 16.2 million on 27 July (Tue): Women's Gymnastics Team final
So where did the 11 million number for Richardson come from? Maybe from our 1 July story noting that video views of four clips Richardson during the Trials on NBC Sports' YouTube page combined for 11,832,455 views (as of 30 June). There were five clips that included Biles that were viewed a combined total of 5,955,184 times through 30 June.
From the Games, the seven clips that included Biles had 9.59 million viewings through 1 December. Now you know the numbers.
¶
USATF announced faster standards for the Olympic Marathon Trials for Paris, expected to pare down the fields considerably.
The men's qualifying standard is 2:18:00 for the marathon or 1:03:00 for the half; women must achieve 2:37:00 or better in the marathon or 1:12:00 for the half. That's one minute faster for the men across both distances and the women's half, but eight minutes faster for the women's marathon.
For the 2020 U.S. Trials, 260 men and 513 women qualified – 713 total – with 235 men and 450 women starting the Trials race in Atlanta. For 2024, LetsRun.com calculated that the number of qualifiers for 2020 would drop under the new standards to 169 men and 91 women, a reduction of 35.0% for the men but a whopping 82.2% for the women.
But this will also a make a Trials race much less expensive to operate, an important element in attracting a city to underwrite the costs of a program to choose six Olympic athletes.
● Boxing ● Agence France Presse reported that the 11 boxers and two officials that made up the Afghanistan boxing team at November's AIBA men's World Championships in Belgrade (SRB) have remained in the country, hoping not to return and come under the rule of the Taliban.
Said Hasib Malikzada, a 19-year-old lightweight, "If the Taliban find us… they will kill us."
They are looking for a permanent solution that does not include returning to Kabul.
● Football ● A report on the rioting outside, inside and around Wembley Stadium on 11 July for the Euro 2020 football final pitting England against Italy found that mass casualties and deaths were "narrowly avoided."
The Football Association commissioned the study, which found far more disorder than had been reported at the time:
"The report finds that more than 2,000 people gained access to Wembley without tickets, with 17 mass breaches of security, and a systematic targeting of disabled entrances as means of access. Previously unreported is the existence of a 6,000-strong crowd who stood outside Wembley throughout the final, waiting to charge the gates in the event of an England victory."
Much of the trouble was ascribed to people under the influence of alcohol and cocaine. There 553 police on-site, but they were overwhelmed by the thousands of people around the stadium. The reality: "No one was fully prepared for what happened that day and it can't be allowed to happen again."
● Gymnastics ● Friday was the deadline for objections to be filed to the set-to-be-approved USA Gymnastics reorganization plan before the U.S. Bankruptcy Court for the Southern District of Indiana.
Four filings were made: one by the State of Indiana, alleging that the procedures against future abuse by USA Gymnastics are inadequate; by the U.S. Trustee, alleging the wide-ranging release of claims under the plan is too broad; by Liberty Insurance Underwriters, stating the plan impedes its ability to obtain settlements against other insurers; and TIG Insurance Co.
TIG Insurance is the lone non-settling insurer and could potentially be on the hook for more than $106 million in damages under the plan. Its 150-page filing asserts that the plan improperly alters its rights as a non-settling insurer, prejudges certain coverages, improperly assigns the right to pursue payments from it to the trust that would be formed to distribute proceeds to claimants and other defenses.
The objections will be heard on 13 December at a procedure at which the USA Gymnastics reorganization plan could be declared effective, or modified.
≡ SCOREBOARD ≡
● Handball ● The 25th IHF Women's World Championship is underway in Spain, with 32 teams chasing the world title. Play is continuing in eight groups, to be concluded today (6th), with 24 teams moving to the second round of pool play; the playoffs will include eight teams beginning on 14 December and finishing with the championship match on 19 December.
The Netherlands is the defending champion from 2019, with France winning in 2017 and Norway in 2015. All are expected to contend once again
● Speed Skating ● Near the end of Sunday's program at the ISU World Cup at the ultra-fast Olympic Oval in Kearns, Utah came the men's Team Pursuit final, with Americans Joey Mantia, Emery Lehman and Casey Dawson winning in a world record time of 3:34.47. That was 0.21 better than the gold-medal performance by The Netherlands at the 2020 World Championships … also held at the Olympic Oval.
Mantia led all the way with Lehman and Dawson pushing from behind. Said Mantia, who won the men's 1,500 earlier in the meet:
"We got together a couple years ago and decided that this would be the best way. These guys practice together and I don't practice with them on a regular basis. They just do a great job practicing the pushing, and obviously it shows out there.
"I did the easy job. I just get up front and lead the way and these guys are pushing me so hard that I can basically just move my feet and I keep the rhythm and keep the speeds up. The magic behind our Team Pursuit being successful is that everybody thinks everybody else's job is the hardest."
● Junior Pan American Games ● The first edition of the Junior Pan Am Games concluded successfully in Cali (COL), with about 3,500 athletes at the event.
Mexico won the most medals, with a total of 172 (46-78-48), followed by Brazil with 163 (59-49-55), and host Colombia at 145 (48-34-63). The U.S. was fourth with 114 total medals, but had 47 golds (+29 + 38).
You can receive our exclusive TSX Report by e-mail by clicking here. You can also refer a friend by clicking here, and can donate here to keep this site going.
For our 743-event International Sports Calendar for 2021 and beyond, by date and by sport, click here!