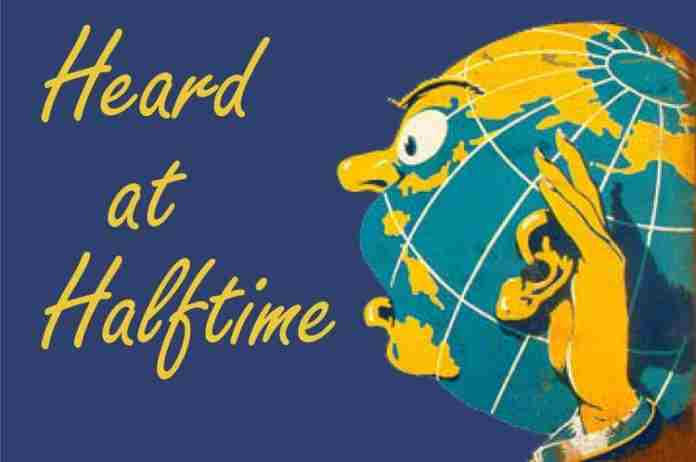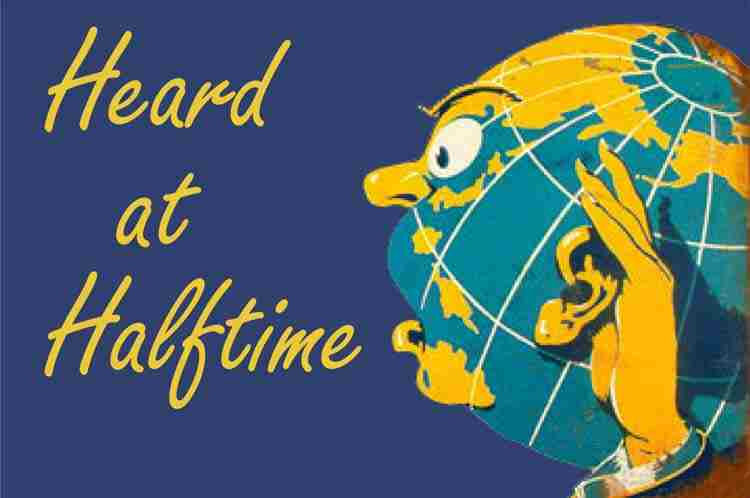 News, views and noise from the non-stop, worldwide circus of Olympic sport:
● Vox Populi ● We received a lot of response to Sunday's Lane One column, "Bach asks for "frugal Games" in Tokyo; what can be learned from the ultimate "frugal" organizers in Los Angeles four decades ago?"
Among the most noteworthy replies include this tweet from former International Olympic Committee marketing director Michael Payne:
"Late in the day to pull this one off. The all powerful Dentsu has generated record local sponsorship revenues (like LA at the time) but also created budget expenditures many times over previous OCOGs. Take torch relay as example- managed by Dentsu at 300% normal budget."
A very special message came from John M. Argue, son of the long-time Southern California Committee for the Olympic Games leader John C. Argue, the driving force behind bringing the 1984 Games to Los Angeles:
"Rich, thanks for reminding the Olympic movement of the basics that made LA84 so great. My dad was frugal in many ways but he was always consistent with providing quality. Keep up the great work."
Thanks to everyone who sent in comments, some with interesting personal memories of one of the pivotal events in the Olympic Movement.
● If you enjoy The Sports Examiner, why not tell your friends? ●
● They can sign up for free here! ●
● Games of the XXXII Olympiad: Tokyo 2020 ● The IOC announced last week that it expects to incur up to $800 million in costs for the delay of the Tokyo 2020 Games to 2021, with $650 million for its own operations and $150 million available to International Federations, National Olympic Committees and other organizations to stay afloat during the coronavirus pandemic.
No breakdown of what the $650 million in costs will entail at this point, leading to endless media speculation. But there's actually not that much mystery, as the IOC has previously detailed what its Games costs are in its annual reports:
For the Rio Games in 2016, the IOC spent $463.7 million, primarily on:
● $321.1 million ~ Host broadcaster services
● $ 43.4 million ~ IOC operations
● $ 39.8 million ~ NOC support (travel and services)
● $ 14.4 million ~ Insurance against cancellation
● $ 14.3 million ~ Coordination Commission & bid service costs
The remaining $30.7 million included technology support, marketing commissions, technology support, direct athlete services, the Knowledge Transfer Program and other items.
For the PyeongChang Winter Games in 2018, the IOC's costs were $364.3 million, including:
● $246.1 million ~ Host broadcaster services
● $ 32.8 million ~ Games operations
● $ 23.3 million ~ Candidacy, Games prep and Transfer of Knowledge
● $ 18.6 million ~ Medical and anti-doping operations
● $ 14.4 million ~ Technology costs
● $ 12.8 million ~ Insurance against cancellation
● $ 11.0 million ~ NOC support (travel and services)
So the big cost for 2021 is going to be for broadcasting, which the IOC pays for itself now, through its subsidiary, Olympic Broadcasting Services (OBS). Will the total really get to $650 million?
Doubtful, unless the IOC has internally decided that it will support that figure as a total it is willing to absorb, including more support to the Tokyo organizers. Can the IOC afford it? It's 2018 annual report showed "fund balances" of $2.45 billion. It can afford it.
● Athletics ● The women's pole vault challenge held on Saturday was another triumph for Greece's Olympic and World Champion Katerina Stefanidi.
She competed against Canadian Alysha Newman and American Katie Nageotte in separate facilities in Athens, Bolton (Ontario) and Marietta (Georgia) over a 30-minute challenge, with all vaults at 4.00 m (13-1 1/2).
Stefanidi cleared the bar 34 times, compared to 30 for Nageotte and 21 for Newman. The Greek star had 19 clearances by halftime, but slowed after the five-minute break. All told, Stefanidi had 34 successful clearances in 36 tries. Her triumph was all the more remarkable as she was vaulting in 102-degree (F) temps in the Greek capital!
¶
Correspondent Paul Roberts noted that for those in their late 20s who think you are too old to keep competing, USA Track & Field has the answer for you: a new "Masters" category for ages 25-29.
The announcement noted that "The addition of this new 'pre-masters' age group was championed by the late [USATF Masters Track & Field] Chair, Rex Harvey, in a push to retain post-collegiate non-elite, intramural, and recreational athletes."
This "pre-Masters" category joins the USATF's "sub-Masters"group for ages 30-34. For international competitions, however, the Masters entry limit will still be age 35.
The first national championships in this division was supposed to be held in 2020, but that appears unlikely at present. So who will be the first to win both the USATF National (open) Championships and the Pre-Masters title in the same event in the same year?
● Football ● FIFA announced that the host for the FIFA Women's World Cup in 2023 will be made by the FIFA Council on 25 June 2020.
There are four bidders, from Brazil, Colombia, Japan and a joint bid from Australia and New Zealand. The site evaluation report is expected to be completed by early June.
● Gymnastics ● As if USA Gymnastics didn't have enough trouble in the courts, it filed a new suit on Monday, asking the U.S. Bankruptcy Court for an injunction against the U.S. Small Business Administration.
USAG is protesting the SBA's rule against allowing loans to organization in Chapter 11 bankruptcy, preventing it from receiving loans under the U.S. government's Paycheck Protection Program. Said the complaint:
"USAG has had to cancel or postpone virtually every competition, meet, or other event that it manages or sponsors, out of concerns for the health and safety of its members and in order to comply with shelter in place orders issued by numerous state governments, including Indiana. These event cancellations and postponements have had a devastating impact on USAG's budget. The events will no longer generate revenues that USAG intended to use to support its general operations and to defray event costs, which USAG has already incurred and is already obligated to pay.
"Despite the material decrease in USAG's revenues, USAG's non-event expenses have remained constant. USAG still must support athletes, coaches, and gyms in order to fulfill its statutory mission as a national governing body. USAG also is required to satisfy the accumulating professional fees and other administrative expenses associated with this chapter 11 case."
No specific dollar figures were mentioned in the complaint.
● Swimming ● The South China Morning Post reported that the Sun Yang Global Support Association has announced its dissolution in the aftermath of freestyle superstar Sun's eight-year ban from swimming by the Court of Arbitration for Sport.
Sun, a triple Olympic gold medalist and 11-time World Champion in freestyle events from 200 m to 1,500 m, interfered with a doping-control collection at his home in September 2018. FINA's doping-control panel let him off with a warning, but the World Anti-Doping Agency filed an independent appeal and Sun was assessed a doping sanction of eight years since he had previously had a short doping ban previously. He is appealing to the Swiss Federal Tribunal.
His "Global Support Association" had been active on social media, but posted a notice on the Chinese social-media site Weibo, including (translated from Chinese by the SCMP):
"For some time there has been a lot of criticism on the internet for Sun Yang fans, we sincerely accept that. To all those who have been forced to pay attention to fan behaviour and persecution, we sincerely apologise and decide to disband the support group.
"Under the premise of Sun Yang's public voice causing cyber bullying, stirring up nationalism, and violent resistance to inspection, here we would like to say sorry to the Chinese people and all athletes."
The SCMP report, noting the heavy criticism – and intimidation activities – vs. Australian freestyler Mack Horton, who refused to stand on the awards podium with Sun after the 2019 FINA World Championships 400 m Free last July, that the announcement also noted:
"'We feel guilty about not being able to guide fans effectively' and describing 'recent acts of irrational behaviour' as a 'wake up call'"
and also included an apology
"'to all those who have been threatened and cursed, to all the people who have been misled and deceived, and to the party and the country' adding they will 'focus on rules, laws and self-reflection'."
Sun remains enormously popular in China, with 33.7 million fans on his personal Weibo account.