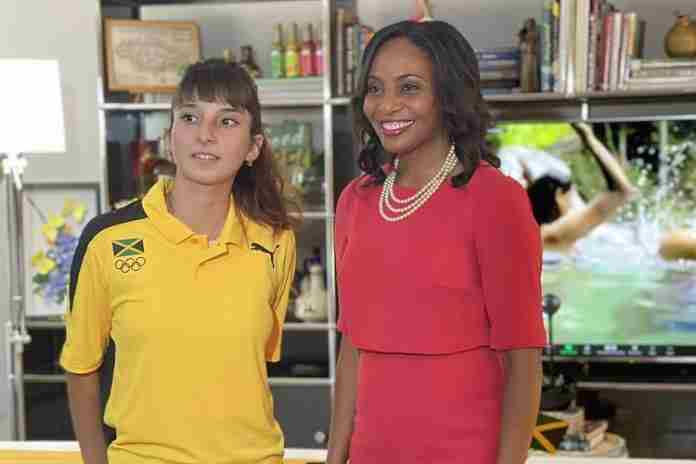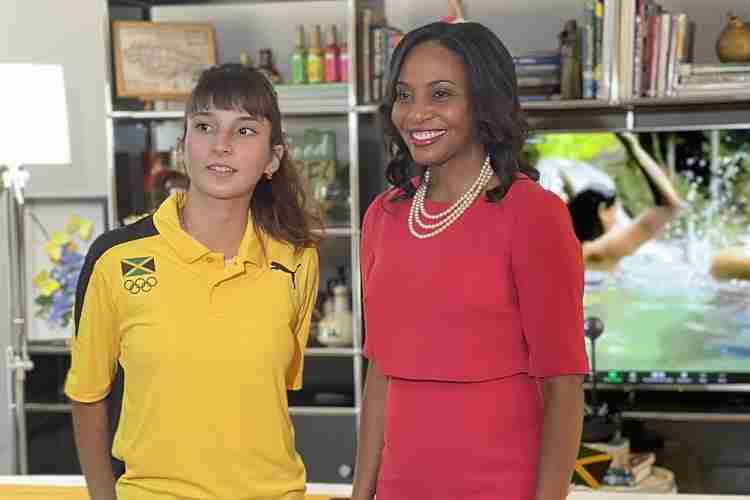 (★ Friends: Wow! Now 59 donors have joined to cover our current tech support bill. If you would like to help with the next one, please donate here. So, so grateful for the support of our readers. Thank you. ★)
News, views and noise from the non-stop, worldwide circus of Olympic sport:
● XVI Paralympic Games: Tokyo 2020 ● As with the now-completed Olympic Games, all the talk is about the coronavirus in Tokyo, with the Paralympic Opening Ceremony on for Tuesday the 24th.
"The number one principle to organize this games is the safety and wellbeing of everyone," said International Paralympic Committee chair Andrew Parsons (BRA), adding "We don't feel the presence of the Paralympics here will have a direct impact on raising the number of cases or even decreasing the number of cases."
About 4,400 athletes are expected to attend the Paralympics, with most of the same restrictions as for the Olympic Games: essentially no spectators and a much-reduced number of officials, sponsors and support staff. Tokyo's state of emergency has continued, but Parsons noted:
"We would not be here if we did not believe that we could deliver a safe games."
Tokyo 2020 chief Seiko Hashimoto underscored the commitment: "We will protect the games that will open tomorrow until the very end and guide them to success."
¶
The IPC reported that 161 countries/regions, plus a Refugee Team, will compete in Tokyo, considered a major success given that – despite the pandemic – this is three more than in Rio 2016 and just short of the all-time record of 164 from London 2012. There are 21 nations not competing; four had travel issued related to the pandemic, two had its athletes decline to participate and four did not come due to a governmental decision or lack of funding.
Parsons explained that Afghanistan will not have a delegation in Tokyo as a result of the Taliban takeover of the country, but that the country's flag will "be included" in the Opening Ceremony as a "sign of solidarity." The flagbearer will be from the Office of the United Nations High Commissioner for Refugees.
The U.S. Olympic & Paralympic Committee announced that its flagbearers at the Opening Ceremony will be wheelchair rugby player Chuck Aoki, a two-time Paralympic medalist, and paratriathlete Melissa Stockwell, a Paralympic bronze medalist. They were voted in by their fellow athletes; the U.S. has a team of 242 competing in Tokyo and expects to have about 115 athletes marching in the opening.
● Games of the XXXII Olympiad: Tokyo 2020 ● One of the enduring stories of the Tokyo Games was how a volunteer at the rowing venue offered Jamaican hurdler Hansle Parchment taxi fare so he could get to his semifinal race at the Olympic Stadium on time.
Parchment had absent-mindedly taken the wrong bus, but thanks to Tijana Kawashima Stojkovic, 25, he not only got back to the track in good time, he later won the final in an upset of American star Grant Holloway, all on 4 August.
It was Jamaica's only men's gold in the entire Games. Parchment returned to the rowing venue the next day to repay the taxi fare and gift her a Jamaican team polo shirt, and now the Jamaican Tourism Minister, Edmund Bartlett, has invited her to come to Jamaica as a show of thanks.
She was invited during a special ceremony at the Jamaican Embassy in Tokyo; she told reporters, "I just did what I can do."
¶
The International Fair Play Committee revealed 13 nominations for its Tokyo Fair Play Award, including moments from Athletics (6), Badminton, Cycling (BMX), Gymnastics, Judo, Swimming, Skateboarding and Triathlon.
The nominees included the U.S. women's Artistic Gymnastics team supporting teammate Simone Biles in her moment of need after withdrawing from the Team Finals; Dutch star Sifan Hassan, who fell while starting the final lap of her heat in the women's 1,500 m, then getting up and winning the race; American 800 m runner Isaiah Jewett and Botswana's Nijel Amos, who fell in their heat, but got up and walked together to the finish line, and the "Can we have two golds?" moment in the men's high jump between Mutaz Essa Barshim (QAT) and Italy's Gianmarco Tamberi.
The winner is expected to be announced soon.
● Games of the XXXIV Olympiad: Los Angeles 2028 ● Multiple international federations are mounting all-out rushes at the LA28 organizers to get their sports added to the program.
One sport with direct Los Angeles connections is the World Flying Disc Federation which was essentially born in Southern California. At its annual Congress held last Saturday (21st), it added national federations in Ghana, Nigeria, Madagascar, Serbia, and Kyrgyzstan to bring its membership total to 100. It expects to have 120 nations officially involved by 2024.
The WFDF is making sure that the L.A. folks know they are around: the World Beach Ultimate Championships will be held in the Los Angeles area next April, and the sport will be showcased at the World Games in Birmingham, Alabama in early July.
The added sports for the 2028 Games are expected to be finalized in 2025.
● Athletics ● There is a lot to unpack from Saturday's Prefontaine Classic, held at the new Hayward Field in front of an announced crowd of 8,937.
Number one was whether Jamaica's Olympic sprint star Elaine Thompson-Herah's 10.54 win in the women's 100 m is actually the world record.
It's the second-fastest time ever run, behind Florence Griffith-Joyner's 10.49 in the quarterfinals at the 1988 U.S. Olympic Trials. But that mark has been questioned for decades as it had a wind reading of 0.0 m/s even though the triple jump – going on at the same time – had over-the-allowable wind on almost every jump. Most statisticians believe Flojo's mark was wind-aided, but the one group that counts – World Athletics – recognizes it as the world record.
American Sha'Carri Richardson had a bad day at the office, finishing last in 11.14. She was hardly contrite afterwards, telling NBC's Lewis Johnson on live national television:
"Coming out today, it was a great return back to the sport. I wanted to be able to come and perform after having a month off and dealing with all I was dealing with.
"I'm not upset with myself at all. This is one race. I'm not done. You know what I am capable of. Count me out if you want to. Talk all the [s—] you want, because I am here to stay. I am not done. I am the sixth fastest woman in this game, ever. And nobody can ever take that from me. Congratulations to the winners, but they are not done seeing me yet. Period."
Much happier was American Noah Lyles, who won the men's 200 m in a world-leading 19.52 after winning the bronze medal in Tokyo:
"It's a tight little bow on the end of the season. I wasn't really feeling that my mindset was right for today but I feel like five sessions of therapy I was able to let go of what happened in Tokyo and convince myself that I know I'm upset [about Tokyo] and I know I'm in great shape to run and come out here and be able to put it on the track.
"I don't think you understand how lifeless it was in Tokyo to have no crowd there. It was dead silent. To come here and see a whole lot of people who love track, it was just amazing to see. I'm really excited to come back [in 2022] especially coming off a great year like this, only moving it forward. Shoot, the sky's the limit."
¶
The World Athletics U-20 Championships were held in Nairobi (KEN) from 18-22 August, with the U.S. and many other leading track & field nations absent due to Covid concerns. The headline win was by France's Sasha Zhoya, who won the men's 110 m hurdles in a sensational 12.72!
These were 99 cm-high hurdles – 39 inches – the same as used in the U.S. for high school races. For comparison, the U.S. high school best is 13.08 by Wayne Davis (Raleigh Southeast in North Carolina) in 2009!
¶
Sometimes Twitter can be entertaining. Take the thrust-and-parry all day Saturday between ex-Los Angeles Times and NBC Sports Olympic columnist Alan Abrahamson and others about whether Eugene is a worthwhile center of track & field in the U.S. Highlights:
● Abrahamson on Friday night's distance program: "There's no one there, as you can see from the picture. This for a much-hyped WR attempt [by Sifan Hassan]. When will people start to understand that Eugene is in the middle of nowhere?"
● Former Oregonian track writer Ken Goe: "Ummm, 3,541 people showed up during a severe Covid outbreak for four races. Those were scanned tickets, not a crowd estimate. Not sure that would happen in Los Angeles, based on the LA meets I've covered."
● Abrahamson: "I reiterate. 3541 people. At a brand-new $270m stadium. Where a triple medalist was hyped for a world record. That is not outstanding. Farthest thing from
"As for severe covid – LA County is arguably worst in the nation and there were 48,117 at the Dodger game … we both love t/f, Ken, but this is what it is, as I have observed time and again about Eugene"
● Abrahamson, replying to @tracksuperfan Jesse Squire: "I'm trying to say that Eugene is not the place to grow track and field in the United States. Which you know full well is what I'm saying"
● Goe: "Seems to me, Los Angeles once had an elite-level track meet. What happened to that?"
● Abrahamson: "Here's the real q. What do you think Sha'Carri would draw today in LA? Or NY? Chicago? Houston? Any Top-10 city? A real city? She is the first crossover star in ages. And this meet is in Eugene"
● Goe: "Maybe one of those cities should stage a Diamond League meet."
● Abrahamson: "Maybe we should all stop pretending that we are 'growing' track and field in the United States of America out of remote Eugene, Oregon"
● Veteran coach and track writer Steve Ritchie: "Eugene has hosted the Trials seven times. Six of those times the attendance was excellent. Given the reluctance of many to travel to the Trials this year and the fairly restrictive Covid measures implemented, I would not judge Eugene too harshly for low attendance this year"
● Abrahamson: "Steve, you and I are friends. And your love for all things Oregon is perfectly excellent. But your argument is exactly why the sport is where it is. Six times already. And track as a sport in the US landscape – looking up at fb, baseball, hoops and more. My point!"
● Ritchie: "Like @tracksuperfan I agree it would be a good thing to have other, larger cities step up to host major events. In my lifetime I haven't seen LA, NYC, or any other community do anywhere close to what Eugene has done."
● Abrahamson: "It's not per se Eugene. It's one individual [with] a love for the university. Which is totally fine. He is allowed to spend his money as he sees fit"
Classic. Game on. Worth noting: Mt. San Antonio College in Southern California – home of the Mt. SAC Relays – was awarded the 2020 Trials, then had it revoked over concerns over finishing its renovation on time. It was ready before Hayward Field; will it get another chance?
● Cycling ● The 76th Vuelta a Espana finished its first rest day on Monday, with two-time defending champion Primoz Roglic (SLO) back in the leader's red jersey after nine of 21 stages.
Roglic returned to the lead after stage 6, in which he dueled with Denmark's Magnus Cort to the finish and was out-leaned at the line. Friday's much more demanding stage – with six climbs and an uphill finish – was won by Australia's Michael Storer with a breakaway in the final 3 km over Spain's Carlos Verona, with Roglic finishing 16th, with the other race contenders. The flat, sprinter's stage 8 on Saturday was the second stage win for Fabio Jakobsen (NED), ahead of Alberto Dainese (ITA) and 110 others who received the same time.
Sunday was a difficult, four-climb mountain stage with an uphill finish to the Alto de Velefique in southern Spain, won by Italy's Damiano Caruso, but with Roglic second, gaining major time on all of his competitors except Spain's Enric Mas. After nine stages, Roglic is +0:28 vs. Mas and +1:21 over Miguel Angel Lopez (COL). Roglic is trying to be the first three-peat winner since 2005 and is well on his way.
¶
The UCI World BMX Racing World Championships were held in Papendal (NED) over the weekend, with Olympic gold medalists Niek Kimmann (NED) and Bethany Shriever (GBR) repeating their victories.
Kimmann won his second BMX Racing world title in a tight, 34.337-34.500 duel over France's Sylvain Andre, the 2018 World Champion. Shriever was a clear winner by 35.110-36.375-36.468 over Dutch stars Judy Baauw and 2018 winner Laura Smulders.
● Football ● CONCACAF announced an expanded program of women's championship football for 2021-24, with play beginning in November for the new "W Championship."
This tournament will include eight teams – the U.S., Canada and six qualifiers – and finish in 2022 with the four semifinalists all qualifying for the 2023 FIFA Women's World Cup in Australia and New Zealand. The three-place finishers in the two groups will advance to a intercontinental play-in tournament. The winner of the W Championship will qualify for the 2024 Olympic tournament in Paris.
The first-ever CONCACAF W Gold Cup will be held in 2024 with eight teams from the region and four guest teams.
● Ice Hockey ● The IIHF Women's World Championship began last Friday in Calgary, Canada, with the U.S. women looking for their sixth title in a row and ninth in the last 10.
In Group A, seeded with the strongest teams, Canada and the U.S. are both 2-0. Canada defeated Finland, 5-3, in its opener and the Russians, 5-1. The U.S. has shut out Switzerland (3-0; Alex Cavallini in goal) and Finland (3-0; Nicole Hensley) so far.
The Czech Republic and Germany are both 2-0 in Group B; The quarterfinals begin on the 28th.
● Triathlon ● The World Triathlon Championship finals in Edmonton (CAN) on Saturday saw Olympic Champions Kristian Blummenfelt (NOR) and Flora Duffy (BER) add the 2021 world titles to their trophy cases.
Blummenfelt won the men's final in 1:44:14, just ahead of Marten Van Riel (BEL, also 1:44:14) and Leo Bergere (FRA: 1:44.15) and finished the season with 3,927 points against 3,594 for Van Riel and 3,289 for Olympic silver winner Alex Yee (GBR). American Taylor Knibb won the women's race in Edmonton in 1:54:47, beating Leonie Periault (FRA: 1:55:43) and Duffy (1:56:11). Americans Katie Zaferes (1:56:14) and Taylor Spivey (1:56:16) went 4-5. Duffy took the seasonal title with 3,861 points to 3,486 for Knibb and 3,239 for Spivey.
Blummenfelt is a two-time champion (also in 2019), while Duffy won her third (also 2016 and 2017).
● At the BuZZer ● More from Twitter, this time with advice from three-time Olympic gold medalist Tianna Bartoletta.
Former USC star Kendall Ellis, who won an Olympic gold in Tokyo on the women's 4×400 m as a member of the U.S. team in the heats, tweeted with concern after the Pre Classic:
"y'all always wanna argue about appeal, marketing, and storytelling but how're fans supposed to know anybody's story if you keep interviewing the same 4 people win or lose?"
Replied Bartoletta:
"This is the part where athletes have to do the heavy lifting first. Start telling your story YOURSELF even if it seems no one is listening. Don't wait to be your own storyteller. Tell it yourself. Trust me on this one."
You can receive our exclusive TSX Report by e-mail by clicking here. You can also refer a friend by clicking here, and can donate here to keep this site going.
For our 649-event International Sports Calendar for 2021 and beyond, by date and by sport, click here!