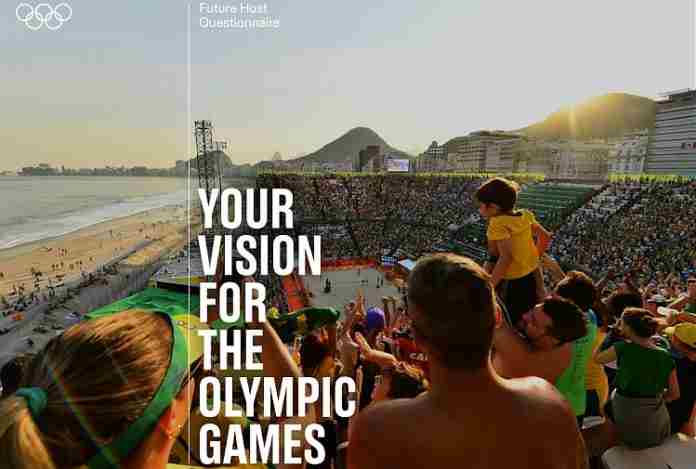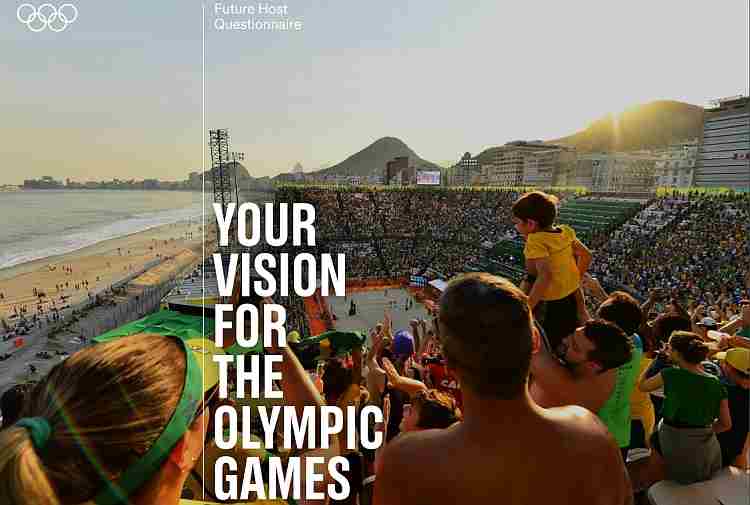 News, views and noise from the non-stop, worldwide circus of Olympic sport:
While the 137th Session of the International Olympic Committee dominated last week's news, there were still a lot of other things going on:
● Games of the XXXII Olympiad: Tokyo 2020 ● The widely-expected decision to ban foreign spectators from the Tokyo Games may be confirmed next week. The Tokyo organizers are expected to meet with the International Olympic Committee, International Paralympic Committee and Japanese governmental entities as soon as Monday to try to come to a conclusion.
Kyodo News reported: "The Japanese government has already decided that welcoming spectators from abroad is impossible, given concerns among the public over the further spread of the virus and the fact that more contagious variants have been detected in various countries, officials with knowledge of the situation said earlier."
IOC chief Thomas Bach (GER) has said that the decision of the organizers and the Japanese government would be respected, although there are many details to be finalized, such as for officials, coaches and support staff not formally part of national teams.
A decision on the number of (domestic) spectators to be allowed in the Olympic venues is expected by the end of April; the whispers are that around 50% capacity is expected to be approved.
No spectators at all will be present for the start of the Olympic Torch Relay that begins on 25 March in Fukushima.
¶
Kyodo also reported that the Tokyo organizers are discussing plans to increase the coronavirus testing of athletes and officials in the Olympic Village to as often as daily. The issue is "whether an increase in the costs and manpower needed for giving COVID-19 tests daily could be kept to an acceptable level without affecting the general public's access to the tests."
The increase is testing frequency could be extended to in-country host towns and training camps to reach as many Village residents before they even come to Tokyo itself. The Kyodo story also noted:
"The International Olympic Committee has also been calling for the testing scheme to be ramped up after tests on the virus took place almost daily at the handball's World Championships in January and the Australian Open tennis tournament in February."
¶
Anti-doping activities are also being heightened in a first-of-its size effort by the International Testing Agency. Where only 1,500 athletes were targeted for testing prior to Rio, a stunning 26,000 recommendations for testing have been made by the ITA, covering all 33 sports on the Tokyo program and to be completed over a six-month period.
These samples will be stored for up to 10 years, with a long-term holding facility already set up and receiving specimens. The ITA announcement also noted:
"Thousands of these recommendations have already triggered additional doping controls, and many more are already planned, resulting in over 9'000 tests to be completed in the coming weeks. The closer Tokyo 2020 gets and the smaller the pool of potentially participating athletes becomes through the qualification process, the more the recommendations will focus on the athletes who will definitely take part in the Games."
¶
The Japanese government is asking political delegations coming to the Games to salute their teams to keep their delegations small, with not more than 11 support staff. All visiting officials are expected to be asked to obtain a coronavirus test within 72 hours of departure for Japan as well.
Kyodo's report noted a not-well-appreciated aspect of being an Olympic host for the Japanese government:
"The government is eager to welcome top officials to broaden diplomatic bonds. Prior to the games' one-year postponement, it had made preparations for the attendance of government leaders and heads of states from more than 100 countries and regions during the opening ceremony."
¶
The Russian news agency TASS reported that the famed folk song "Katyusha" – for whom the feared World War II-era Soviet rocket-launcher system was named – will not be allowed to be used as a substitute Russian anthem in Tokyo.
The Russian Olympic Committee, acting on a request from its athletes' advisory group, had proposed the song, but the Court of Arbitration for Sport declared it unsuitable: "The CAS panel considers that 'any anthem linked to Russia' extends to any song associated with, or with links to, Russia, which would include Katyusha."
Next?
● Games of the XXXIV Olympiad: Los Angeles 2028 ● The LA28 organizers and the U.S. Olympic & Paralympic Committee announced Monday a second founding partner in Comcast, the U.S. communications giant.
Already deeply partnered with the Olympic Movement through its long-term television rights agreement through the 2032 Games via its NBCUniversal division, Comcast is also a major player in the U.S. cable services market under its own name and its Xfinity brand for consumers and businesses, as well as in wireless telephony.
Comcast was already a USOPC sponsor from 2017, and NBC has been the U.S. television rights holder for the summer Games since 1988 (Comcast acquired majority control of NBCUniversal in 2011). The announcement noted:
● "Under the new agreement, Comcast brands, including Xfinity and Comcast Business, will continue as the official communications services provider to consumers and businesses, including Internet, video distribution, wireless and electronic home security for Team USA for Beijing 2022, Paris 2024, Milan Cortina 2026 and Los Angeles 2028. Comcast has been an Official Partner of Team USA since 2017."
● "As Founding Partner of the LA28 Olympic and Paralympic Games, Comcast will work with LA28 over the next several years to drive lasting social change and build a more equitable and inclusive society, including by championing the Paralympic Movement as Los Angeles prepares for its first-ever Paralympic Games. These efforts will support LA28's Diversity, Equity and Inclusion Collective, raising awareness for underrepresented communities."
This is the second major sponsorship announced by LA28, with Delta Airlines announced in February of 2020.
● Games of the XXXV Olympiad: 2032 ● A special, closed meeting of the Brisbane City Council has been called for 23 March to review the plan for a 2032 Olympic Games, with documents apparently due back to the International Olympic Committee in April.
Brisbane Mayor Adrian Schrinner called the first closed meeting of the City Council since 2007:
"The information to which councillors will be privy to is not speculation on where venues might go but narrowing down to a more specific decision on where those venues will be. That does have impacts on things like the property market — significant impacts.
"So, councillors will be getting this information before general members of the public, and for that reason, it is important it is confidential."
If the IOC's 38-page Future Host Questionnaire is completed with the relevant governmental guarantees on time, the 2032 Games could be awarded as early as the IOC Session in Tokyo in July.
● Games of the XXXIX Olympiad: 2048 ● Believe it or not, there is already a candidate for the 2048 Olympic Games, as India announced its interest!
Deputy Chief Minister of New Delhi Manish Sisodia said during a city budget presentation:
"Our government aims to bring the sports facilities and the atmosphere towards sports competitions to such a level through the new Sports University that we can apply to host the 39th Olympic sports competitions for 2048."
New Delhi has had Olympic aspirations since hosting the 1982 Asian Games, but its hosting of the 2010 Commonwealth Games was widely seen as a disaster, with allegations of corruption and incompetence. There has also been discussions in India of hosting a Youth Olympic Games, an excellent way (if successful) to build trust for a future Olympic bid.
● XXV Olympic Winter Games: Milan-Cortina 2026 ● Fans are getting a unique opportunity to vote on the logo for the 2026 Winter Games, with a choice between a blue- green and red "Logo Dada" and a snowflake-white "Logo Futura."
Online voting began on 6 March and will continue to 22 March, with a maximum of three votes per day per person. The winning design will be announced on a special Olympic and Paralympic Games edition of the Italian game show "Soliti Ignoti" on the national channelo RAI.
● National Olympic Committees ● More allegations of athlete abuse have come forward, one in a review of British Gymnastics and in a lawsuit filed in Canada by artistic swimmers.
In Great Britain, UK Sport and Sport England commissioned a report in August of 2020 by attorney Anne Whyte to look into abuse of British gymnasts. Her interim report was posted on 9 March, with the full report due in August.
Whyte's findings were unsettling:
● Some 272 submissions of information were received through a specially-set-up Web site for the project, and another 118 submissions via the British Athletes Commission. Of the 400 submittals, 126 were by current and former gymnasts, 145 by parents or guardians, 46 by current and former coaches and even a small number by sports photographers!
● "Concerns have been raised about the practices and culture at clubs throughout England, Wales, Northern Ireland and Scotland. Over 90 clubs and 100 coaches have been identified in submissions. Whilst many issues raised are at the elite level of the sport, this is not exclusively the case. Some of the re-occurring issues emerging from the information I have received are of bullying, belittling, extreme weight management, regular over-stretching, use of excessive physical force, training on serious injuries, gas-lighting, coercive control and a reluctance to raise complaints/lack of opportunity to do so. In a significant number of cases, the individual sharing their experiences with the Review continues to be impacted by their experiences in gymnastics, in some cases many years later."
● Some 64 individual meetings have been held, with 19 more scheduled. The report notes:
"Due to the sensitive nature of the submissions and the desire to avoid causing further distress or trauma to potentially vulnerable individuals, these conversations about consent can be delicate and require experience in speaking with vulnerable individuals. Many individuals request that the referral be made anonymously with the primary reason provided that they remain involved in gymnastics and fear repercussions. To date, the Review has made 39 referrals to the statutory authorities."
● British Gymnastics estimated that it received some 3,500 "complaints" of various kinds from 2008-20 – about 300 per year – but the numbers could not be more specific since the data was spread among various tracking systems over that time.
In Canada, five former members of the national artistic swimming squad filed a class-action suit against Canada Artistic Swimming. The CBC reported the suit alleged "psychological abuse and harassment suffered while training.
"The lawsuit would cover athletes who were training and competing between 2010 and 2020, and seeks compensation of $250,000 for punitive damages, as well as moral damages in the amount of $12,000 per athlete for each year they spent on the team."
Specific complaints were made against four successive national-team coaches, including three women and one man, alleging body-shaming, excessive injuries, verbal abuse and more.
● Athletics ● World Athletics unveiled its 3-D, online Museum of World Athletics on Monday, with dozens of exhibits and a user experience that tries to replicate an actual walk-through of a physical museum. From the announcement:
"Demonstrating the unmatched universality of athletics, the museum features athletes from more than 30 countries and all six continental areas. The six areas (Africa, Asia, Europe, North and Central America, Oceania and South America) each have a section devoted to the history of athletics in their region.
"The museum includes other carefully thought out details such as the lines of an athletics track on the virtual floor to guide visitors, and even features the shadows of the objects, providing a convincingly immersive experience for sports and museum fans.
"The project took six months to bring to life and was designed with the capacity to evolve over time."
It's a pretty impressive program for such a short development time; World Athletics has been collecting objects, souvenirs and memorabilia from athletes, fans and organizations for years and having them available online is an up-to-date way to share them with fans worldwide, for free.
¶
The Athletics Integrity Unit announced that the Court of Arbitration for Sport dismissed the appeal of the suspension of sprinter Michelle Lee Ahye (TTO). Her two-year ban for "Whereabouts" failures was confirmed, from 19 April 2019.
This allows Ayhe to return to competition in late April of 2021 and to be eligible for the Tokyo Games in July, a benefit for her of the postponement.
¶
Double Olympic women's 800 m champion Caster Semenya (RSA) is being financially supported with R12 million (~$895,495 U.S.) from the South African government in her appeal against the World Athletics regulations for individuals with Differences in Sex Development.
Athletics South Africa asked the government's sports ministry for assistance. The Desmond and Leah Tutu Foundation is also supporting Semenya and noted in a statement that "one of the fundamental elements of a just society is that the rules apply equally to every individual.
"It is sad how seldom this really happens. Whether or not the European Court of Human Rights rules in time for Semenya to take to the track in Tokyo later this year — and her lawyers don't expect that to happen — hers is a test case for other athletes with differences in sex development."
The World Athletics regulations apply only to events from 400 m to the mile; Semenya has said she is aiming for the 200 m for Tokyo.
● Figure Skating ● Figure skating coach John Zimmerman was suspended last week by the U.S. Center for SafeSport for "Abuse of Process, Emotional Misconduct, Failure to Report" incidents of abuse.
Reports noted that the incidents apparently involved French skater Morgan Cipres, who was accused of sending lewd photographs to an underage skater in 2017. Both Cipres and the minor skater were being coached by Zimmerman.
Zimmerman himself was a three-time U.S. Pairs champ, with Kyoko Ina and was a 2002 Olympian. The USCSS decision of a ban for up to two years is appealable.
● Football ● A major change in the way football is organized worldwide is being suggested by FIFA's Chief of Global Football Development Arsene Wenger (FRA), with discussions to begin in the spring.
In an interview with BeIN Sports, Wenger, 71, said
"Organise only competitions of meaning and kick all the parallel competitions out of the game. People must understand what is at stake and only have games with meaning."
That could mean a FIFA men's World Cup every two years perhaps, alternated with the European Championships and "Kick all the rest out." The other confederations are hardly going to like the idea, but Wenger went further, also suggesting enforced breaks for players in what has become an all-year-round game.
Further, the 22-year manager of Arsenal in the English Premier League also suggested that the club calendar in Europe be adjusted to a March-to-November timeline so that all seasons are played inside the calendar year. This is done in Japan – where Wenger has also coached – and in Major League Soccer in the U.S.
These ideas would also impact women's football, which Wenger noted must be more fully developed worldwide, and perhaps even the offside rule, perhaps the single rule which causes the most unhappiness in any sport in the world.
FIFA chief Gianni Infantino (SUI) has been urging a review of the international schedule with the idea to make the game more accessible and understandable to fans and less exhausting for players who have both club and national-team responsibilities.
¶
The U.S. Women's National Team, unbeaten in 37 straight matches, will head to Europe for its next friendlies, with challenging matches against Sweden and France coming in mid-April.
The American women will play at Friends Arena in Stockholm on 10 April, to be shown in the U.S. on Fox at 1 p.m. Eastern time; no spectators will be allowed. On 13 April, the U.S. will face France in Le Havre, to be shown on ESPN2 at 3 p.m. Eastern time.
The French handed the U.S. women their last loss, 3-1, at the Stade Oceane, in January of 2019.
¶
The continuing battle between Swiss special prosecutor Stefan Keller and FIFA – especially President Infantino – saw a win for FIFA last Thursday.
The Swiss Federal Criminal Court (FCC) ruled that Keller has acted beyond his authority in investigating matters beyond the question of impropriety of former Swiss Attorney General Michael Lauber, in meeting with Infantino. FIFA released a statement which included:
"On 10 December 2020, Mr Keller issued a media release stating that there were 'clear indications of criminal conduct on the part of the FIFA President'. Now it is clear that this unfounded and defamatory statement was made on the basis of an investigative act which was itself illegal, null and void.
"The FCC further states that it is the task of the supervisory authority to oversee the conduct of the office of the extraordinary Federal Prosecutor. FIFA trusts that in future it will actually do so."
● Gymnastics ● An 80-page "Findings of Compliance Audit" was posted by USA Gymnastics on 10 March, reviewing the progress – or lack thereof – on the recommendations of the 2017 "Proposed Policy and Procedural Changes for the Protection of Young Athletes," better known as the "Daniels Report" on changes needed at the federation.
The Krieg DeVault law firm, of which Daniels is a member, issued the new report, with generally high praise:
"In the nearly four-year period since the Report was submitted to USA Gymnastics in June 2017, the organization has made significant progress toward compliance with the recommendations made in the Report. This progress has been far more pronounced and strategic in the nearly two year period since the Board of Directors selected Li Li Leung to serve as president of USA Gymnastics. …
"Overall, we conclude that USA Gymnastics has made tremendous strides, in particular over the past two years, in achieving the goals of the original Report – including in particular the overarching goal of a compete cultural shift to a focus on athlete safety first. While some additional work remains to be done, primarily but not solely in the area of communication, what has been accomplished to date constitutes an impressive re-focusing of the entire organization on the well-being of athletes."
More work was suggested in communications, oversight and tracking of abusers, more training of hearing panel members and "Continued improvement in the organization's support of athletes ultimately evidenced by a more universal perception by athletes that they are in fact supported and protected by the organization."
The work of the U.S. Center for SafeSport was also lauded, especially for creating "what appears to be highly effective training."
This is an important, milestone report for USA Gymnastics, especially in possible de-certification hearings by the U.S. Olympic & Paralympic Committee, or in any move by the U.S. Congress in the fall (under the Empowering Olympic, Paralympic and Amateur Athletes Act) to de-certify the federation.
● Swimming ● Two-time Olympic gold medalist Klete Keller pled not guilty on 9 March to seven charges stemming from his presence during the U.S. Capitol riots on 6 January. His next hearing is scheduled for 6 April.
He was indicted by a grand jury in February, including civil disorder, obstruction of an official proceeding, entering a restricted building, disorderly conduct in a restricted building, and disorderly conduct in a Capitol building.
● At the BuZZer ● Further to our 9 March note on the auction purchase of a 1972 Sapporo Session badge earlier this month for €1,500 (~$1,778 U.S.), long-time U.S. Olympic journalist and devoted collector Karen Rosen replied:
"The 1972 Sapporo IOC badges are extremely rare. One with the same ribbon just sold on eBay for a best offer of $2,000. In June 2018, [dealer] Ingrid O'Neill sold the same badge for $3,000 plus 15 percent commission, so $3,450."
So, maybe a bargain, right?
You can receive our exclusive TSX Report by e-mail by clicking here. You can also refer a friend by clicking here, and can donate here to keep this site going.
For our 649-event International Sports Calendar for 2021 and beyond, by date and by sport, click here!