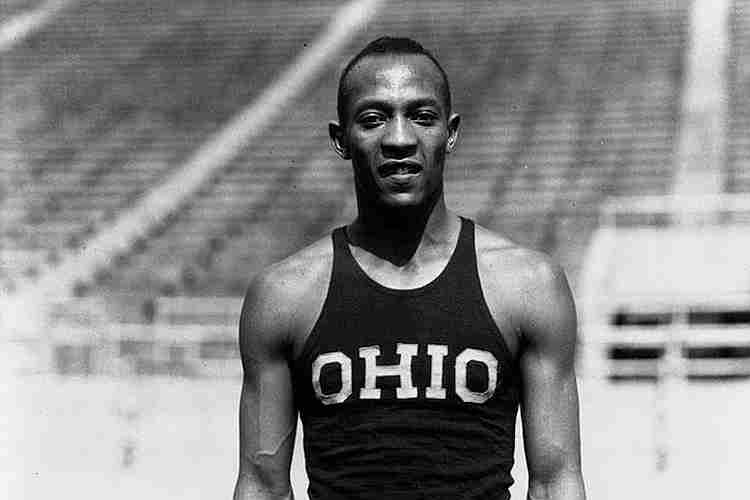 News, views and noise from the non-stop, worldwide circus of Olympic sport:
● Athletics ● Today is Memorial Day in the United States, remembering those who gave their lives in service to their country. It is also the 85th anniversary of the most remarkable one-man show in track & field history, as Jesse Owens won four events at the 1935 Big Ten Championships at Ann Arbor, Michigan.
Owens wasn't even sure he could run that day, having been hurt in a fall down some stairs a few days earlier. But once he got to the starting line, he felt no pain at all:
● At 3:15 p.m.: Won the 100 yards in 9.4, tying the world record. Remember, this was before starting blocks, so he raced out of foot-holes he dug into the cinder track.
● At 3:25 p.m.: Ten minutes later, he won the long jump with his first and only leap of 26-8 1/4 (8.13 m), a mark not broken for 25 years!
● At 3:45 p.m.: Owens then won the 220 yards on the straightaway, setting world marks for both the 220 and the shorter 200 m in 20.3. That mark lasted until 1949!
● At 4:00 p.m.: He won the 220-yard hurdles on the straightaway, again claiming world marks for the 200 and 200 m, in 22.6.
Amazing, and the crowd of 12,000 at Michigan's Ferry Field was duly impressed … even if it was a Buckeye who did it. Owens' performance was even more stunning, considering that he had trouble with the pains from his fall again just minutes after finishing the hurdles.
In many ways, this performance far surpassed his four gold medals at the Berlin Games the following year, but the glory that accompanies the Olympic Games has elevated those races to another level.
But Owens will always have the greatest hour in track & field history.
¶
The always-interesting Tianna Bartoletta, the reigning Olympic gold medalist in the women's long jump and two-time Olympic gold winner on the 4×100 m relay, has been running a "garage sale."
It's quite a sale, with two IAAF Diamond League trophies already sold for $2,015 and $2,014, shoes, uniforms, earphones, relay batons and more on sale. On Twitter, the 34-year-old Bartoletta explained:
"I love you all. I'm getting a lot of messages asking 'why' I'm selling all of my stuff! A few things: 1) it's not even close to ALL my stuff 2) as I get older my attachment to things changes. I lived it, have the experience, and the medals
"I find it really cool that I've found a way to share memorabilia from my special moments with people who also cherish my special moments. I don't want to be a collector of my own "stuff" I don't want to live in a shrine dedicated to me.
"Lastly, I'm looking forward. I want to defend my Olympic Title, I know the financial investment required. $$ is uncertain for (not just) me but athletes all over. I want to be proactive rather than reactive when it comes to preparing myself to do what it takes to achieve this."
¶
World Athletics opened the application period for grants from its $500,000 fund to support athletes whose earnings have been impacted by the corona virus pandemic. Grants of up to $4,000 will be available, based on the following criteria:
● Must be qualified (entry standard met) for selection for the Tokyo 2020 Olympic Games;
● Must have never had an anti-doping rule violation;
● Must be able to demonstrate a justifiable welfare need through significant loss of income in 2020 compared to 2019.
Athletes who are in the top six in the World Athletics World Rankings, finished in the top six in a World Athletics Gold Label road race in 2019, or who earned $6,000 or more in Diamond League prize money are ineligible.
● Alpine Skiing ● The 2014 and 2015 FIS Alpine World Cup champion, Austria's Anna Veith, announced her retirement on 23 May, ending her outstanding career on the slopes.
As Anna Fenninger, she won those two World Cup overall titles, won three discipline titles (Giant Slalom-2, Alpine Combined-1), six World Championships medals (3 gold) and three Olympic medals, including the Super-G gold in Sochi in 2014, a Giant Slalom silver in Sochi and a Super-G silver in PyeongChang in 2018..
Now 30, she finishes with 15 World Cup wins and 45 World Cup medals over the course of 13 seasons on tour. After tearing the anterior cruciate ligament in her right knee in 2019, it was too difficult to return to world-class form and she retired.
"I have lived my childhood dream and now is the right time for me to take a step back.
"I am so very proud of everything I've achieved. I acknowledge the hardships and sacrifices that came along with it. My passion for sports is what has always continued to fuel my drive. I repeatedly gave it my all and my hard work was rewarded. But it was not to be this time. Last winter I did everything I could to come back and to find trust within myself to get there, but unfortunately, it didn't work out as planned."
● Bobsled ● Good news for the U.S. men's Bobsled team, as Carlo Valdes, a 2018 Olympic Team brakeman, has decided to return and contend for a post on the 2022 U.S. Team.
Valdes was a member of the U.S. four-man sled driven by Justin Olsen in PyeongChang, finishing 20th overall. He started his athletic career as a javelin thrower at UCLA, reaching 61.91 m (212-11) in 2013 before taking up a career in winter sports.
Now 30, he's been away from Bobsled for two seasons, focusing on other business interests.
● Cycling ● For some of our readers who were members of the Los Angeles Olympic Organizing Committee for the 1984 Games, you may have heard a familiar name associated with ESPN's highly-promoted, two-part documentary, "Lance" concerning the rise and fall of cycling icon Lance Armstrong.
The name is Marina Zenovich, who directed the four-hour program that covers Armstrong's rise to unparalleled success as a seven-time Tour de France winner from 1999-2005 and then his downfall when his doping regiment was finally unveiled in 2012. Zenovich was a member of the LAOOC's Press Department – headed by Amy Quinn – before and during the Games, while Zenovich was a student at the University of Southern California.
"Lance" is part of the ESPN "30 for 30″ documentary series, for which she previously produced "Fantastic Lies" in 2014 about the Duke Lacrosse rape scandal. She's also created well-received films on comic legends Richard Pryor and Robin Williams.
● Football ● There was no doubt that the U.S. Soccer Federation filing that tried to make the assertion that the World Cup champion Women's National Team was somehow in a different class or had different responsibilities than the Men's National Team was going to lead to someone losing their job.
That person was Lydia Wahlke, the USSF's chief legal officer, who resigned last Thursday (21st) after being on administrative leave. According to the ESPN report, Wahlke will be available for consulting services if needed through 15 September.
The USSF's law firm which filed that brief, Seyfarth Shaw L.P., was also dismissed and the case is now being handled by another U.S. mega-firm, Latham & Watkins.
Interestingly, despite the controversy over language in the March filing, the other arguments made by Seyfarth Shaw and ostensibly overseen by Wahlke proved successful. U.S. District Court Judge R. Gary Klausner granted summary judgement to the federation on the Women's National Team's main claims under the Equal Pay Act. The Women's National Team has indicated it will appeal the ruling.
● Swimming ● Swimming World Magazine's Editor-in-Chief Craig Lord has never been someone to hold back an opinion. On Saturday, he posted a well-worth-reading comment, asking whether lists of top performances by 9-10 year-olds and 11-12 year-olds should be celebrated, or even allowed.
USA Swimming, in coordination with the American Swim Coaches Association, posted the lists, and Lord asked:
"The trouble with the notion of a 9-12-year-old coupling the improvements they're working on to rankings is clear: the tool is one that often means more to coach, club and parent than child."
Long-time Australian coach Michael Gale commented on the Swim Coaches Idea Exchange Group, in part:
"We need children to experience a variety of sports when they are young. It's when they are in that age group of 16-18 where they need to specialise in 1-2 sports and have the time and mental dedication to aspire to be amongst the best.
"SADLY, it's at this Age Group where we lose so many people from sport.
"WHY? Often because they have parents/coach who have their child marked as a future World Champion. Most often, a child discovers something that they are good at. Not many youngsters will excel at something they dislike and that is a true basis to expose children to a variety of sports."
● Games of the XXXII Olympiad: Tokyo 2020 ● Japanese Prime Minister Shinzo Abe lifted the national state of emergency caused by the coronavirus pandemic on Monday, but warned that there is more work to be done against the threat.
He told reporters that rapid development of a vaccine and other treatments are top priorities in the effort to hold the Olympic Games in Tokyo in 2021. He noted that control of the illness in Japan along was insufficient to hold the Games, because athletes and spectators from around the world will be an integral part of the event.
In an interview with the BBC, IOC President Thomas Bach confirmed that the Tokyo Games must be held in 2021 if at all, saying "you cannot forever employ 3,000, or 5,000, people in an Organising Committee. You cannot every year change the entire sports schedule worldwide of all the major federations. You cannot have the athletes being in uncertainty."
This mirrors Abe's recent comments, and Bach added that "There is no blueprint for it so we have to reinvent the wheel day-by-day. It's very challenging and at the same time fascinating."
And Bach confirmed, as he has again and again, that the directives of the World Health Organization will play a major role in future decisions on how the Games can be staged in Tokyo and possibly beyond to Beijing for the 2022 Olympic Winter Games.
● At the BuZZer ● Remembering Owens's great feat in 1935 and today's Memorial Day commemoration, it also worthwhile to remember that some great American athletes lost their lives in combat in the forthcoming World War and in later conflicts.
Ace statistician Barry Schreiber, one of the editors of the glorious FAST Annual (FAST stands for "Federation of American Statisticians of Track"), wrote with the names of four U.S. track stars we salute on this day:
● "Captain Ron Zinn, a West Point graduate who competed in the 1960 and 1964 Olympic Games and was 3rd at the 1963 Pan Am Games. He was killed in Vietnam.
● "Foy Draper, USC graduate who held the 100-yard world record and won gold in the 4×100 m at the 1936 Berlin Olympic Games. Killed during WWII.
● "Albert 'Al' Blozis, Georgetown Univ. graduate in 1942 who won the AAU (USA) and NCAA shot put three years, 1940-1942. He then played football for the New York Giants. I read that his number was retired after he died during World War II.
● "Charles Paddock, USC graduate. He served in the Marine Corps in World War I before going to USC. At the 1920 Olympics in Amsterdam he won the 100 meters, was 2nd at 200 meters, and was on the gold medal 4×100 m relay. He won silver at 200 m in the 1924 Paris Olympics and was 5th at 100 meters. His running was a part of the movie 'Chariots of Fire.' That is likely how his name is familiar to most track fans. He rejoined the Marine Corps in World War II and was killed in an airplane crash."
It's worth noting as well as Zinn is remembered annually by USA Track & Field with the presentation of the Captain Ron Zinn Memorial Award, given to the outstanding U.S. race walker.