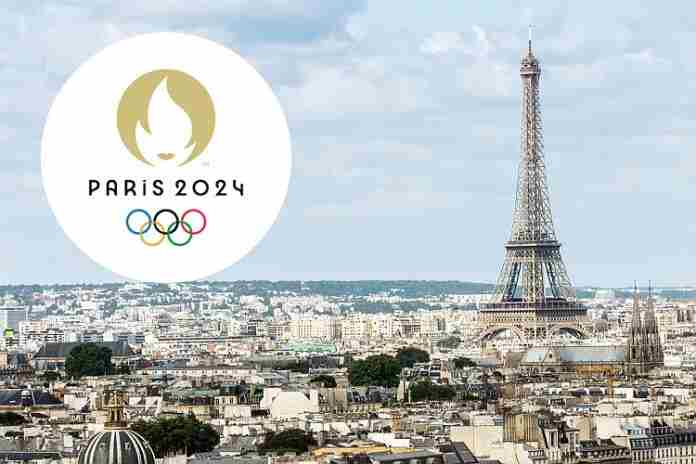 (★ MANY THANKS to our 46 donors, covering 81% of our site costs for the first six months of 2022. If you would like to join in, please donate here. ★)
● Plus: Athletics: Three more Kenyan suspensions for "whereabouts"; deadly hit-and-run tragedy for Milligan University distance runners = Canoe-Kayak: Oklahoma City and Sarasota picked for 2024-25 ICF Worlds = Football: 1930 host Uruguay at center of four-country proposal for centennial World Cup; ex-USWNT star keeper Solo arrested = Gymnastics: Israeli gold medalist Ashram retires = SCOREBOARD: Golf: Kupcho takes first LPGA title at last major to be played at Mission Hills = Athletics: new world leaders of note in weekend sprints ●
News, views and noise from the non-stop, worldwide circus of Olympic sport:
≡ SPOTLIGHT ≡
The Paris 2024 Olympic schedule announcement last week was an interesting balancing act among the sports and the flow of interest during the Games. But there were some clear winners.
The biggest was boxing: it's still on the program! Despite all of its many issues with refereeing and judging and substantial concerns with the validity of the International Boxing Association, the sport is on the schedule for Paris.
It has been substantially re-formatted: the 286 fighters in Rio in 2016 competed in 10 divisions for men and just three divisions for women (36 total entries), and 8 vs. 5 in Tokyo. In Paris, there will be 124 men and 124 women competing on seven men's and six women's weight classes.
The IBA's statement included, "The International Boxing Association (IBA) is proud to welcome the IOC Executive Board's confirmation of the Olympic Qualification System (OQS) and categories for boxing at the Olympic Games Paris 2024." The confirmation that boxing will still be on the program is the most important thing for the IBA.
Next is swimming, which saw its profile raised once again for the Games. While no new events were announced, the swimming program was maintained at nine days for Paris – same as Tokyo – increased by one day from Rio. By doing so, swimming now stretches right through the second weekend of the Games, but with all evening finals, vs. many morning finals in Tokyo to support U.S. television audiences.
However, the overall aquatics quota was reduced from 1,410 in Tokyo to 1,370 for Paris, and swimming's quota took most of the cuts from 878 to 852. That leaves athletics – track & field – with the largest sport quota for Paris, with 1,810, down from 1,900 in Tokyo. The next biggest is 514 for cycling.
A third winner is the International Sport Shooting Federation (ISSF), which introduced what are essentially semi-finals into the competitions for pistol, skeet and trap. Not everyone was happy with the changes, but the IOC accepted them for 2024.
The big loser, as has been seen from the original announcement of the program itself, is weightlifting. This sport had 260 athletes in eight men's and seven women's divisions as recently as Rio 2016. But thanks to unending doping revelations and later discovery of corruption inside the International Weightlifting Federation, the quotas were cut to 196 in Tokyo (in 14 weight classes) and now just 120 for Paris, in five classes each for men and women.
The IWF will hold an electoral Congress in June – possibly in Las Vegas – with its fate as a future Olympic sport hanging in the balance.
The added sports for Tokyo that were incorporated into the Paris program all got more athletes:
● Skateboarding: from 80 in Tokyo to 88 for Paris
● Sport Climbing: from 40 to 68
● Surfing: from 40 to 48
The new sport, Breaking, gets 32 athletes, compared with 80 for the one-and-done Karate program and the 234 in baseball and softball. However, the Games took an overall, 5% haircut from 11,090 down to an athlete total of 10,500, so many sports lost a few spots to accommodate the new limits.
Look for even more jockeying for position as the Los Angeles 2028 organizers and the International Olympic Committee's sports staff figure out whether boxing, weightlifting and the in-transformation modern pentathlon will return to the program and what added sports the LA28 folks want to include.
≡ THE 5-RING CIRCUS ≡
● XXVI Olympic Winter Games: 2030 ● The drama in Spain continues, as the Spanish Olympic Committee (COE) announced on Friday a confirmation of the "technical proposal" on the distribution of events for a bid by the regions of Catalonia and Aragon for the 2030 Winter Games.
According to the Catalan-based El Nacional newspaper, "The COE explained that the meeting had 'validated the proposal presented, debated and agreed by the Technical Commission', thus ratifying the project even though Aragon apparently now renounces it."
The COE statement also added, "We hope and trust that the government of Aragon will join this proposal." Javier Lamban, the President of the Aragon region, stated publicly last week that the project as proposed is unfair to Aragon and cannot be accepted.
It's not clear what the next steps will be; Lamban said Aragon will offer suggestions for change to the existing plan. Catalonia could also offer to go it alone.
● Athletics ● Kenya's The Nation reported three more doping suspensions by the Athletics Integrity Unit for Kenyan distance runners:
● Marathoner Morris Gachaga was suspended for two years for "whereabouts" violations, failing to report his location in order to allow out-of-competition drug testing. His results from December 2021 forward have been nullified and his suspension began on 24 March of this year.
He posted a lifetime best in the marathon of 2:05:09 in finishing sixth in the 2021 Marathon de Paris.
● Mathew Kisorio, 32, was provisionally suspended, also for "whereabouts" failures; he had previously served a two-year doping ban from 2012-14. Kisorio was the 5,000 m and 10,000 African Junior Champion in 2007 and has not competed internationally since 2019; he has a marathon best of 2:04:53 from 2018.
● Justus Kimutai, 29, was also provisionally suspended for "whereabouts" issues and has not competed internationally since 2019. His marathon best came in 2016 at 2:09:29.
The story noted that 11 Kenyan athletes "who have either been suspended or banned for having violated anti-doping rules in months."
¶
Another horrible hit-and-run incident by a drunk driver, this time involving five Milligan University distance runners, this from last Thursday (31st), causing the death of 20-year-old Eli Cramer.
The five athletes were on a run on a road near Williamsburg, Virginia, in advance of a weekend meet when they were hit by a car driven by Jose Efrain Hernandez Mancia, later found to be intoxicated.
Milligan University's statement included, "Sophomore Eli Cramer succumbed to his injuries. Seniors Alex Mortimer and Eli Baldy also were injured. Mortimer is currently undergoing treatment. Baldy was treated and released." Mortimer said he suffered a broken leg and a dislocated shoulder. The other two runners were apparently uninjured.
Milligan is a private university in Carter County, Tennessee.
● Basketball ● Four Olympic gold medalists were announced as selections for the Naismith Basketball Hall of Fame last Saturday.
Among the 13 inductees will be Argentina's Manu Ginobili, a member of the memorable 2004 Olympic champions; American Tim Hardaway, a member of the 2000 Olympic gold-medal team; Swin Cash (USA), a two-time gold medalist in 2004 and 2012, and Lindsay Whalen (USA), from the 2012 and 2016 Olympic winners.
Coach Marianne Stanley will also be inducted, the coach of the U.S. team that won the 1986 FINA World Championship.
The International Direct Elect Committee approved Yugoslavian star Radivoj Korac, a mainstay on the Olympic silver-medal team of 1968, which lost to the U.S. in the final. He was killed in a car crash in 1969.
Induction ceremonies will take place on 9-10 September.
● Canoe-Kayak ● The impact of the 2028 Olympic Games in Los Angeles might extend to Oklahoma and Florida.
The International Canoe Federation announced Saturday that the ICF Canoe Slalom World Championships will return to the U.S. for the first time in 12 years in 2026, to be held in Oklahoma City, to be staged by the American Canoe Association.
In addition, Sarasota, Florida was awarded the first-ever, combined World Championships for Canoe Marathon and Stand-Up Paddling Worlds, for 2026, the 2024 Stand-Up Paddling Worlds and the 2026 ICF Junior and U-23 Canoe Sprint Worlds.
The Canoe Sprint Worlds for 2026 was awarded to Poznan, Poland. Also:
"The two-day ICF board meeting also endorsed the executive committee decision to suspend Russia and Belarus from all competitions following the invasion of Ukraine, and also received an update on the ongoing support being provided to Ukrainian athletes and their families."
● Football ● The centennial of the FIFA World Cup is coming in 2030 and four South American nations – Uruguay, Argentina, Paraguay and Chile – are working on a comprehensive bid for the centennial World Cup to be held in the same region it started.
Uruguay hosted the first World Cup in 1930, with the idea now to play games in the same Montevideo stadium – the Estadio Centenario – used then.
FIFA is expected to select a site for the 2030 World Cup in 2024, so the jockeying is already beginning. A South American site would be the third World Cup in five to be played in the Western Hemisphere, after Brazil in 2014 and Canada, Mexico and the U.S. in 2026.
After Germany hosted the 2006 World Cup, the event has gone to South Africa (2010), Brazil, Russia (2018) and Qatar this November. Argentina (1978) and Chile (1962) have also previously hosted a World Cup.
Many other bid candidates have announced interest, including prior bidder Morocco, possibly with Tunisia, Algeria and/or Egypt, Spain and Portugal, a multi-nation bids from the Balkans and possibly even another multi-country bid from South America.
¶
For those already planning their vacation and/or viewing schedule around the Qatar '22 World Cup, the one-page, game-by-game schedule per last week's draw is here.
¶
The Associated Press reported that former U.S. Women's National Team star goalkeeper Hope Solo was arrested Thursday (31st), after "she was found passed out behind the wheel of a vehicle in North Carolina with her 2-year-old twins inside."
According to the police report, she was taken from her car, parked at a Winston-Salem shopping center and charged with "driving while impaired, resisting a public officer and misdemeanor child abuse." She was released, has returned home and is scheduled to return for a court appearance on 28 June.
Solo, now 40, completed her 20-year career on various U.S. age-group and senior national teams in 2016 and was a member of the 2008 and 2012 Olympic champion teams and the 2015 World Cup winners.
● Gymnastics ● Israel's Linoy Ashram, who memorably upset the favored Averina sisters from Russia to win the Tokyo Olympic All-Around title in Rhythmic Gymnastics, announced her retirement on Monday.
"Today, on this festive occasion, I am announcing my retirement from competition.
"Athletes need to know when to retire, and as far as I'm concerned, I achieved my dream. I reached my professional peak, and I decided that this is the right time to continue on the same path, but this time from the other side of the mat."
Still only 22, she will continue as a coach. Even thought she competed in the shadow of Russian gymnasts her entire career, she piled up 11 World Championships medals (0-6-5), seven European Championships medals (2-2-3) and an impressive 55 FIG World Cup medals (18-17-20).
≡ SCOREBOARD ≡
● Athletics ● Lots of action on the weekend, with 10 world-leading outdoor marks on Saturday, most of which were good – but not great – marks in the early season. But there were some noteworthy performances.
The women's 100 m got its first sub-11 mark of the season with American Brittany Brown clocking 10.99 to win the Baylor Invitational in Waco. Namibian star Christine Mboma, the Olympic 200 m silver medalist, is racing in the U.S. and stormed to the best 200 m of the outdoor season in 22.12 to win the UAB Invitational in Birmingham, Alabama. She also won the 100 m in 11.03.
● Golf ● The first LPGA major of the season concluded in Rancho Mirage, California on Sunday with the last edition of the Chevron Championship – known since its founding in 1972 for its association with singer Dinah Shore – to be held at Mission Hills Country Club.
The 2022 edition was dominated by American Jennifer Kupcho, who co-led after a first-day 66, but ran away from the field with an eight-under-par 64 in the third round to enter Sunday's final round with a six-shot lead.
She withered a little in hot conditions with a four-over 74, but withstood a charge from fellow American Jessica Corda (69-276) to finish at 274, two shots up and three up on Japan's Pia Babnik, who shot a 66 to finish at 277 and move up eight places to third in the final standings. Defending champ Patty Tavatanakit (THA) finished in a four-way tie for fourth at 278.
It was Kupcho's first LPGA win in her fourth full-time year on tour!
With Chevron now at title sponsor, the tournament will move to Houston next year, ending a 50-year run at Mission Hills.
You can receive our exclusive TSX Report by e-mail by clicking here. You can also refer a friend by clicking here, and can donate here to keep this site going.
For our 832-event International Sports Calendar for 2022 and beyond, by date and by sport, click here!