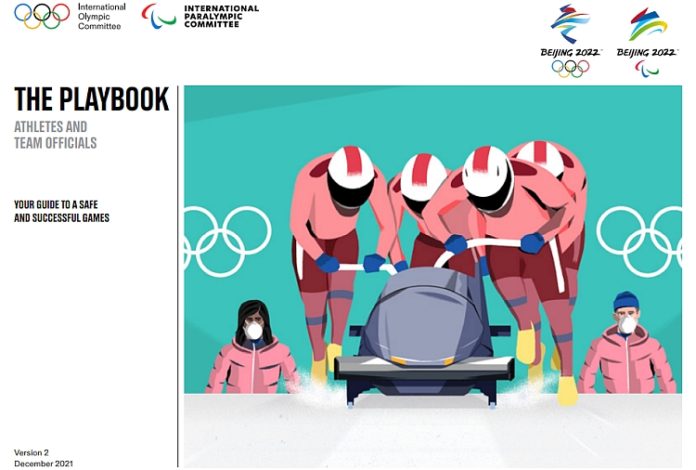 News, views and noise from the non-stop, worldwide circus of Olympic sport:
≡ SPOTLIGHT ≡
The "leading representatives of the Olympic Movement" met online on Saturday for the 10th Olympic Summit, with the International Olympic Committee's positions reinforced, but most dramatically with regard to the possibility of the FIFA men's World Cup to be held every two years.
The "declaration" of the Summit sent a pointed message to FIFA President Gianni Infantino, who was a participant:
"The attendees voiced serious concerns over proposals from FIFA for a biennial World Cup and the impact on the world-wide sport event calendar. It was noted that, until today, there has been neither any information nor consultation with other [International Federations], Continental Associations of NOCs or the IOC. The FIFA President explained that the ongoing discussions in FIFA were broader in scope than a biennial World Cup, and that what had been presented so far was only the preliminary results, which are still under discussion within FIFA. He offered to engage with the Olympic Movement in these discussions."
More details on the IOC's foray into eSports were noted, including:
"The Summit received a review of the successful first edition of the Olympic Virtual Series in 2021, bringing together the virtual sports of five International Federations and reaching nearly 250,000 participants, with more than two million entries. The Summit noted that, building from this strong base, the Olympic Virtual Series is planned to continue on an annual basis, providing opportunities for IFs to reach out, engage with and promote their sports, and reach new communities. Details for the Olympic Virtual Series 2022 will now be confirmed in the first half of 2022, including the timing and the sports to be included."
The Associated Press reported that activists from the Students for a Free Tibet tried to get into the IOC's Olympic House headquarters, noting:
"Local police were called to help block the activists who continued to sit at the front doors and hold up banners including 'Boycott Genocide Games' next to the iconic Olympic rings symbol outside the building."
An IOC statement explained, "We have engaged multiple times with peaceful protestors and explained our position, but we will not engage with violent protestors who used force to enter the IOC building and injured a security guard badly by doing so."
≡ THE 5-RING CIRCUS ≡
● XXIV Olympic Winter Games: Beijing 2022 ● The second editions of the Beijing 2022 "Playbooks" were issued on Monday, one for athletes and team officials, and a second for everyone else.
The 70-page guide for athletes and team officials underlines the vaccination theme (with very limited exemptions):
"It will be mandatory to be fully vaccinated at least 14 days prior to departure for China, in order to be allowed in the closed loop system … without quarantine. …
"While we strongly encourage Games participants to receive a booster shot, any requirement to have one is according to the requirement of the participant's country/region of residence or national health authority where the vaccine was administered.
"Anyone not fully vaccinated will need to quarantine for 21 days upon arrival in Beijing."
Key to the operation of the Games within a Covid environment is the "closed loop system" from 14 days prior to the Opening Ceremony on 4 February and three days after the close of the Games on 20 February. In detail:
"This closed loop system allows you to enter China without undergoing a compulsory 21-day quarantine, subject to you being fully vaccinated. Within the closed loop, all Games participants will be subject to daily health monitoring and testing and will be allowed to move between permitted destinations (including Games venues, accommodation facilities, etc) in dedicated Games transport. This is to ensure there is no contact with the general public or anyone outside of the closed loop.
"The closed loop system will apply during your entire stay in China."
Although designed to deal with the pandemic, the concept dates back to the 2008 Olympic Games in Beijing, where a similar system of "clean" transport was used to ferry people from site-to-site without requiring repeated accreditation and bag checks.
Daily temperature checks, reporting using a smartphone app and isolation for any positive cases and close contacts will once again be in place. How important is your phone? The Playbook suggests:
"Before you leave the plane and go through customs/immigration, have your phone fully
charged
"– Consider bringing an external battery pack, with the correct associated cables, to keep your phone charged on the go. Please note and respect all airline, country and airport rules on transportation of external battery packs
"– Make sure you pack and bring all the charging cables and power plug/transformers for your phone. It is recommended to take these in carryon luggage, also consider bringing spares in your check-in luggage
"– Consider bringing a spare mobile phone handset, just in case something happens to your primary phone while in China."
And this:
"Please be aware that some of the measures described in the Playbook, such as those related to the entry into and departure from China, are under the jurisdiction of the Chinese authorities."
¶
South Korea will not institute a "diplomatic boycott" of the Beijing 2022 Winter Games, per President Jae-In Moon during a visit to Australia on Monday.
Japan has not announced its decision, but local reports suggest that government ministers will not attend; Prime Minister Fumio Kishida has yet to announce a decision.
¶
The current Covid situation in China is worrying National Hockey League Commissioner Gary Bettman, who stated he has "concerns" over multiple issues related to the Beijing Games. How positive Covid tests will be handled, entry and exit from China, quarantine issues and relayed questions are all to be worked out.
Said Bettman, "Ultimately, this is going to have to be a players' decision, unless we jointly agree with the [NHL Players' Association] to the contrary. And so that's why, for all the reasons (provided), I am concerned."
Apparently, financial penalties would attach to an NHL pull-out after 10 January 2022.
¶
The International Skating Union confirmed the teams in the Beijing figure skating team event: Russia, USA and Canada top the qualifying list, followed by Japan, China, Italy, Germany, Georgia, Czech Republic and Ukraine. Each "team" will include "one Man, one Woman, One Pair Skating Couple and one Ice Dance couple (i.e. a total of six (6) skaters per Team), will compete."
● Games of the XXXIII Olympiad: Paris 2024 ● A wild Opening Ceremony concept was announced by the Paris organizers, to hold the event n the Seine River:
"A 6 km procession will transport athletes along the Seine in a flotilla of some 160 boats, between Pont d'Austerlitz and the Pont d'Iena. The river, its bridges and the capital's iconic monuments will serve as the backdrop for a once-in-a-lifetime spectacle, showing the world the very best of Paris, with hundreds of millions of people watching on television. This bold choice means that the Paris 2024 Opening Ceremony will be more open than any other in the entire history of the Games: at least 600,000 can experience it in the flesh – ten times more than could attend in the Stade de France."
While there will be spaces for hundreds of thousands of spectators to see the parade for free, there will also be a significant ticketed element to the program, in the low quays, between the Austerlitz and Iena bridges. The high quays and bridges could be locations for free views.
Have no doubt that International Olympic Committee President Thomas Bach (GER) was one of the major, driving forces in this concept; the announcement included his comment:
"We started discussing this 'Seine' option with the Paris 2024 team and its President, Tony Estanguet, after the great success of the Opening Ceremony of the Youth Olympic Games
Buenos Aires 2018. There, over 200,000 people gathered around the iconic Obelisk monument. We were all inspired by this magical moment, but we also recognised the challenges it could create."
Those challenges are many, starting with logistics and security, but Paris 2024 has set a goal for itself that it has 2 1/2 years to work out.
● XXVI Olympic Winter Games: 2030 ● The 2030 bid situation continues to heat up.
The Salt Lake City-Utah Bid Committee for the Games held a Strategic Board meeting on Monday and unveiled a $2.2 billion budget for a 2030 Games (in 2030 dollars), including:
● Operations: $1.75 billion U.S.
● Contingency: $200 million
● Legacy Fund: $250 million
It's worth noting that the IOC's Host City Contract for 2026 includes cash support for the organizing committee of $452 million in television rights sales revenues and $200 million from TOP sponsorship sales ($652 million total), about 29.6% of the projected budget. Something more will be available for 2030, perhaps up to a third of the total budget in 2030 dollars.
As for the bid effort itself, a total cost of $2.80 million is foreseen and $1.75 million has been raised so far, "sufficient for this phase."
The possible Canadian bid by 2010 host city Vancouver has been floundering, but received new life last week with the announcement that the heads of the Tsleil-Waututh, Squamish, Musqueam and Lílwat Nations – the "four First Nations" of the area that includes the 2010 hubs Vancouver and Whistler – would lead the "Host Nations Exploratory Assembly." The group will examine the feasibility of hosting another Winter Games, with Vancouver and Whistler agreeing to be partners with them.
Canada-based GamesBids.com reported: "Vancouver mayor Kennedy Stewart, after his City Council was split over support for an Olympic bid, said last year that he would not pursue an Olympic Games that was not led by First Nations. On Friday he made good on his assertion by positioning the partnership as the First Nations inviting Vancouver and Whistler to participate."
● World University Games ● The Executive Committee of the International University Sports Federation (FISU) met online last Friday, noting the sad cancellation of the 2021 Winter World University Games in Lucerne (SUI) due to complications of the pandemic. However, "conversations will be had with Lucerne to determine if they may consider 2027 to leverage all the work done in Central Switzerland in planning for 2021."
The next Winter WUG will be in January 2023 in Lake Placid, New York, host of the 1972 Winter WUG. The Lake Placid organizers reported that thanks to state funding for the 2023 event, the Lake Placid sports venues have been brought up to international standards, and that ESPN will provide U.S. television coverage, including six hours on ESPN 2, 10 hours on ESPNU, and 130 hours of coverage on ESPN+.
For the 2027 World University Games, the two bids submitted so far are from Chungcheong Province in South Korea, and the Triangle region of North Carolina in the U.S., and online meetings are scheduled with both to continue developing their bids.
● International Paralympic Committee ● IPC President Andrew Parsons (BRA) was elected for a second term as the head of the IPC, as he ran unopposed and received 156 out of a possible 159 votes at the 20th IPC General Assembly held online on Sunday.
New Zealand's Duane Kale was also re-elected – running unopposed – for a second four-year term as IPC Vice President. Among the 10 members of the IPC Council was American Muffy Davis, elected to serve into late 2025.
● Diving ● SwimSwam.com reported that "NCAA Champion and US Olympic Team diver Jordan Windle has been given a temporary suspension by the US Center for Safe Sport on 'Allegations of Misconduct.'"
Windle placed ninth in Tokyo in the 10 m Platform event and SwimSwam added that the diver "is under investigation for allegedly exchanging nude photographs with at least one minor athlete who is also a member of USA Diving."
The University of Texas announced "We have removed Jordan from all team activity, pending investigation. Any further action will be determined at the end of this process."
● Football ● FIFA announced on Monday that it would be selling rights to its competitions in three groups instead of one. The packages to be sold will be for men's football, led by the FIFA World Cup in 2026 in Canada, Mexico and the U.S., as well as youth tournaments; for women's football, beginning with the 2023 FIFA Women's World Cup in Australia and New Zealand and youth events, and for eSports and gaming through "FIFAe" competitions.
FIFA currently hosts youth tournaments for men and women in the U-20 and U-17 categories.
● Gymnastics ● Lots of statements from lots of people following Monday's announcement of a settlement in the USA Gymnastics bankruptcy case, but the most salient might have been from Michigan-based attorney Jamie White, who represented several of the survivors:
"We need everyone to take a good hard look at this outcome. Not just people at the highest levels of the Olympics, or pro sports, or university athletic departments, but everyone – at the elementary schools, at the corner martial arts studio, at the recreational gymnastics program for little kids. Because it is everyone's responsibility to keep our young people safe from predators, to listen when these kids try to tell you something, to not turn a blind eye. If that had happened from the beginning, if we had just listened to what so many girls in this case were trying to tell us, it could have prevented immeasurable pain.
"To the institutions that only care about maximizing profits while disregarding the human toll, we hope this sends a message: this is how much a cover-up costs. This is the price tag of being indifferent to kids."
● Short Track ● The ISU Four Continents Championships to be held at the Olympic Oval in Kearns, Utah is a victim of the Omicron variant:
"Following the emergence of the new Covid-19 variant Omicron, the ISU was recently informed that several ISU Members will not attend the ISU Four Continents Short Track Speed Skating Championships, scheduled to take place from January 14 – 16, 2022 in Salt Lake City (USA), resulting in a very limited attendance.
"Following these withdrawals and considering the complicated epidemic situation involving travel restrictions, quarantine requirements, safety concerns, logistical challenges as well as the planned limited attendance, this Event will not be dignified anymore to remain an ISU Championships.
"Consequently, and for the above-mentioned reasons, the ISU Council decided to cancel the ISU Four Continents Short Track Speed Skating Championships 2022."
¶
The Korea Skating Union announced that 2014 and 2018 Olympic Short Track women's relay gold medalist Suk-hee Shim's actions in the 2018 women's 1,000 m final in PyeongChang did not amount to race fixing.
The possibility was brought up after some text messages between Shim and a coach could be interpreted as a plan to deliberately throw the race. The Korea JoongAng Daily reported "Though Shim has been cleared of the race fixing allegations, a disciplinary committee is still to rule on whether she will face any punishment for insulting her teammates" in the text messages.
Thus far, Shim has not been named to the Korean team for Beijing; she has not been allowed to compete in the ISU World Cup series this season.
● Tennis ● After saying last Monday (6th) that it would not cancel its youth and developmental tournaments in China over the Peng Shuai situation, the International Tennis Association clarified its stance on Tuesday (7th) with a statement noting
"No pro tennis men's or women's ITF World Tennis Tour tournaments have been hosted in China since January 2020 and there are currently none scheduled for 2022."
However, while the federation's "primary concern continues to be to establish and ensure Peng Shuai's safety and well-being," the ITA did not indicate it would pause its development programs in China.
The Women's Tennis Association, a strictly professional circuit, has paused its tournaments in China while continuing to try to help Peng, a famed doubles player and three-time Olympian.
≡ SCOREBOARD ≡
● Cycling ● The Pan American Freestyle Park Championships were in San Miguel (PER), with Costa Rica's Kenneth Tencio Esquivel winning the men's division over Jose Torres Gil (ARG), with American Nick Bruce fourth.
Colombia's Queen Villegas Serna won the women's class, ahead of Katherine Diaz Darmase (VEN).
You can receive our exclusive TSX Report by e-mail by clicking here. You can also refer a friend by clicking here, and can donate here to keep this site going.
For our 743-event International Sports Calendar for 2021 and beyond, by date and by sport, click here!