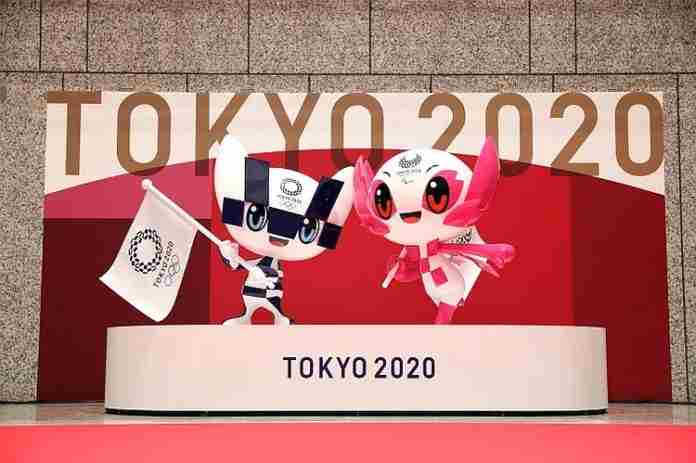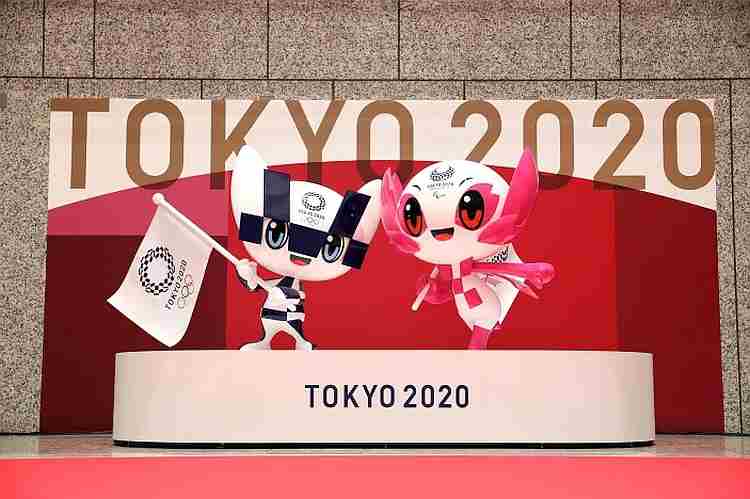 News, views and noise from the non-stop, worldwide circus of Olympic sport:
● Games of the XXXII Olympiad: Tokyo 2020 ● A Kyodo News poll of 1,015 Japanese citizens that was released Monday (12th) captured perfectly the link between the coronavirus and concerns over hosting the Olympic Games this summer:
"In the poll, 92.6 percent said they feel anxious about a resurgence of novel coronavirus infections, with 56.5 percent disapproving of the government's handling of the pandemic and 35.9 percent expressing approval.
"Amid lingering concern over a fourth coronavirus wave and the slow progress of vaccination, the poll found 39.2 percent believe the postponed Olympics and Paralympics should be canceled, while 32.8 percent think they should be rescheduled. Only 24.5 percent responded that the games should be held as scheduled."
Wednesday (14th) marked 100 days to go until the Opening Ceremony in the new National Stadium on 23 July. Several events were held in and around Tokyo, including the unveiling of a set of Olympic rings on Tokyo's Mount Takao, and statues of the Olympic ("Miraitowa") and Paralympic ("Someity") mascots at the Tokyo Metropolitan Government headquarters.
The International Olympic Committee promoted the milestone with full throat on its Web site and social-media platforms, including a video news release with praise for Japan and the organizers from Tokyo 2020 Coordination Commission chief John Coates (AUS):
"They will commence the Games on the 23rd of July, and I think this is a great credit to what President [Thomas] Bach and I and others have described as the best-prepared ever Games. And the work of the Organising Committee has just been quite outstanding in this regard and I have no hesitation in saying that the Games will take place and they'll be the safest Games possible. All of the countermeasures have been put in place to deal with COVID to ensure that the public, the athletes and all of the other participants are safe. They will take place as scheduled."
Kyodo reported last Sunday that coronavirus countermeasures will include the reservation of a 300-room hotel to sequester athletes who test positive for the virus, but have few or no symptoms.
¶
The International Paralympic Committee announced Tuesday that it will minimize non-essential visitors to the Paralympic Games in Tokyo in order to reduce foreign visitors to Japan.
Village guests, dignitaries, representatives of non-Paralympic sport federations, winter Paralympic federations and many other groups will not be accredited for the Games. However, there was no targeted number provided of the reductions to be made.
● XXIV Olympic Winter Games: Beijing 2022 ● The Beijing organizers, in cooperation with the Chinese government, was reported to have completed a 10-day trial of potential monitoring measures against the coronavirus at multiple test events.
Kyodo News reported on some of the measures, which should bring a chill to any supporter of individual civil liberties:
"At a venue for ice hockey, around 1,000 staff members had wireless chip-type thermometers placed under their arms and other parts of the body. The data was sent to the management center via smartphone. …
"Spectators have been allowed to enter some venues, but they have been prohibited from sitting side-by-side. Before the entry, they have also been required to present their health code on a smartphone, which can confirm whether they have a high risk of infection.
"The system, launched by the Chinese government in early 2020, assigns citizens multicolor QR codes to register where they went and whether they had contact with infected patients.
"With a green light shown on their smartphones, they are permitted onto trains and expressways and into shops, restaurants and office buildings."
● U.S. Olympic & Paralympic Committee ● The USOPC announced a digital platforms campaign called "We are Team USA." The new program:
"highlights the collective competitive success and personal stories of Team USA athletes. Recognizing America's elite Olympic and Paralympic athletes as the most diverse group of athletes in the world, the new 'We Are Team USA' campaign honors the beauty of differences and individual experiences coming together to represent the best of American possibility."
The program is available on TikTok, Instagram, Twitter and Facebook and will run through the Paralympic Games in Tokyo; involved partners include DeVry University, Reese's, Samsung, and United Airlines.
One of the program segments is "Road to Tokyo, presented by DeVry University," as part of a re-formatted "Team USA Summer Fest – originally planned for 2020 as an interactive cross-country roadshow featuring activities and special moments with Team USA athletes – into a four-month journey across digital platforms."
¶
Although designed in time for the Tokyo Games to take place in 2020, USOPC uniform supplier Ralph Lauren had an updated unveiling of the Closing Ceremonies uniforms for the U.S. team for Tokyo.
The "Team USA Collection" is also on sale to the public, with polo shirts, jeans, belts and jackets offered from $98-495 for men and $98-550 for women.
¶
On the NCAA front, a support group for the 11 sports announced to be cut by Stanford University – 36SportsStrong – met with the school's administrators on Wednesday:
"We took the first step in reinstating the 11 cut sports at Stanford today. We met with Stanford leaders and the Board of Trustees members for about an hour in a video conference, and we presented our vision for a new partnership between the school and 36 Sports Strong.
"President Marc Tessier-Lavigne said he will take the next few weeks to consider our plan to reinstate the sports. We were encouraged by the meeting, and look forward to continuing to work with the president and Board. We believe President Tessier-Lavigne and the Board's Athletics subcommittee are trying to lead an earnest effort to review the decision. We look forward to continuing the conversation about how this plan will work for Stanford students."
The group solution to the funding of these sports is raising enough money to endow them permanently into the future. It is asking the university to provide "5 years of runway for the 11 sports to self-endow and instituting a new financial structure in which 34 sports become self-funded, while football and men's basketball retain their profits."
● Artistic Swimming ● A late report on last weekend's second leg of the FINA World Series, held in Budapest (HUN). It was a showcase for Canada's Jacqueline Simoneau, four-time Pan American Games gold medalist, who won the Solo Technical, Solo Free, and the Duet Technical and Duet Free with partner Claudia Holzner.
● Athletics ● One of the exciting aspects of an Olympic or World Championships year is to see unknowns suddenly come onto the scene, as from an all-comers meet in Lukasa, Zambia on Sunday.
In the women's 400 m, Namibians Christine Mboma (17) and Beatrice Masilingi (18) ran the two fastest times of 2021, finishing in 49.24 – a World U-20 record – and 49.53. Mboma had won the 800 m on Saturday in 2:03.27, a lifetime best, but hardly a predictor of that 400 mark.
Lukasa is at altitude – 1,289 m – so that helped, but even so, it's a big leap from her 2020 best of 51.57 and 50.42 for Masilingi!
¶
Other world leaders reported from Sunday included a 77.89 m (255-6) hammer throw by American Rudy Winkler, giving the U.S. the world leaders in both the men's and women's hammer!
Japan's Satoshi Maruo won the Japanese national walk championships 50 km race in Wajima (JPN) and claimed the world lead at 3:38:42, his first-ever win at the distance, in eight tries.
Ethiopian superstar Gudaf Tsegay, who set a World Indoor Record of 3:53.09 in the women's 1,500 m in February, took the world lead in the women's 5,000 m by winning at the Ethiopian nationals in Addis Ababa in 14:49.7 (hand time). Letesenbet Gidey was second, seven secons back in 14:56.7.
Kenya's Angela Tanui won the elites-only Xiamen Marathon on Sunday, held in the Italian town of Ampugnano, Italy instead of in China due to the pandemic, in 2:20:08, to take the world lead in the women's marathon. Kenyan Erick Kiptanui took the men's race in 2:05:47 for no. 2 on the men's world list for 2021.
¶
Rio 2016 Olympic marathoner Des Linden did not make the U.S. marathon team for Tokyo, but now owns the world's best time for the 50 km distance – 31.07 miles – winning the specially-arranged Brooks Running 50 km & Marathon on Tuesday (13th).
She finished in 2:59:54 on the loop course just outside of Eugene, Oregon (5:47 per mile average), smashing the prior best of 3:07:20 by Alyson Dixon (GBR) from 2019.
¶
With the Court of Arbitration for Sport decision to suspend Russian high jumper Ivan Ukhov for two years and nine months (through 31 October 2021), he also loses his 2012 Olympic victory in London in 2012 at 2.38 m (7-9 3/4).
The beneficiary is American Erik Kynard, who will be elevated to the gold medal spot after clearing 2.33 m (7-7 3/4) on the field. There will now be three silver medalists: Mutaz Essa Barshim (QAT), Derek Drouin (CAN) and Robbie Grabarz (GBR), who all cleared 2.29 m (7-6).
Kynard, now 30, was sixth in Rio in 2016 and has already cleared 2.30 m (7-6 1/2) this season and is a serious contender to go to a third Games this summer. The International Olympic Committee has yet to formally re-allocate his medal from London, but perhaps – if he makes the U.S. team – it could happen in Tokyo!
● Curling ● One of the strangest World Championships in history finished near midnight last Sunday evening in Calgary, Canada, with Sweden winning a third men's title in a row on a sensational finish by skip Niklas Edin.
Sweden and Scotland – skipped by Bruce Mouat – were deadlocked at 5-5 going into the ninth end. Sweden put four stones in the house and then Mouat placed a second Scot stone in the circle, but both were lined up so that a perfect shot by Edin could displace both. The Swedish star – now the only skip to win five world titles – did just that and gave his team five points and the win by 10-5. Said Edin:
"It was probably the toughest field ever at a World Championship. We were in really good form after winning the Worlds two years ago, and we were super pumped up and eager to play in the Worlds last year and when that got shut down. We didn't really know if we were still that good [this year]. We are super confident normally going into events like this, but we couldn't really know if our form and will to win was still the same, so I think winning this one feels unreal."
Because of three positive tests to players not in the playoff round and then one from a team in the playoffs, competition was not held on Saturday and the entire playoff round – six matches – was held on Sunday.
Initially, the player from a playoff team – later identified as an American – who had tested positive was not going to be allowed to play. But he had a negative test on Saturday and was then, in consultation with medical officials, allowed to play, since he had been fully vaccinated before coming to the tournament.
However, Canada's TSN network declined to show the Switzerland vs. USA quarterfinal game out of concerns over having an infected player on the ice. The U.S. was eliminated, and TSN resumed coverage, but without a cameraman at ice level, for the remainder of the tournament.
On Monday, the World Curling Federation announced
"After extensive reviews conducted with Alberta Health, the testing facilities, event medical officers and an expert in infectious disease, four positive tests for COVID-19 that put the World Men's Curling Championship 2021 on hold for a day are now considered "False Positives" resulting from potentially contaminated samples."
Wow.
● Football ● The U.S. Women's National Team defeated France, 2-0, in Le Havre on Tuesday (13th), thanks to goals from Megan Rapinoe (5th minute, on a penalty shot) and Alex Morgan in the 19th minute. The Americans controlled 55% of the possession and had a 16-3 edge in shots.
The result was far better than the 1-1 tie against Sweden on 10 April, but the French squad was without six of its 2019 World Cup starters due to coronavirus complications. Nonetheless, the won extended the U.S. unbeaten streak to 39 straight games and coach Vlatko Andonovski is now 17-0-1 in his career with the women's squad.
¶
Last Friday, Federal District Court judge R. Gary Klausner approved, as expected, a settlement from last December between the U.S. Women's National Team and the U.S. Soccer Federation on staffing and travel support. In legal terms, this creates a final decision on all aspects of the suit filed by the women's team over unequal pay and other issues.
By doing so, the plaintiffs can now appeal Klausner's summary judgement dismissal last May against the women's team on its claims under the Equal Pay Act and the 1964 Civil Rights Act, to the U.S. Ninth Circuit Court of Appeals.
¶
FIFA suspended the national football federations of Chad (FTFA) and Pakistan (PFF) last week (7th), citing government interference in Chad and third-party meddling in Pakistan. In Chad:
"The suspension was prompted by the recent decisions of Chadian government authorities to permanently withdraw the powers delegated to the FTFA, establish a national committee for the temporary management of football and seize control of the FTFA's premises."
In Pakistan:
"This situation was prompted by the recent hostile takeover of the PFF headquarters in Lahore by a group of protestors and an alleged decision by certain individuals to remove the FIFA-appointed normalisation committee of the PFF led by Haroon Malik and to hand over the leadership of the PFF to Syed Ashfaq Hussain Shah."
● Skiing ● Two more U.S. retirements in alpine skiing, as Alice McKennis Duran and Laurenne Ross have both ended their careers.
Both were two-time Olympians, with McKennis Duran (now 31) in 2010 (Downhill) and 2018 (Downhill, Super-G) and Ross (32) in 2014 and 2018, in the Downhill and Super-G both times.
McKennis had 121 World Cup starts and won two medals, including a Downhill victory in 2013. Ross also won two World Cup medals – both silvers – in 153 starts.
McKennis wrote on Instagram that the fractured right ankle she suffered at the Val d'Isere World Cup last December proved too hard to come back from; Ross decided to race for a final time at the U.S. Nationals in Aspen, Colorado, then retire.
It was a good choice: Ross won the Downhill on Saturday (10th) with a combined time of 2:18.49, ahead of A.J. Hurt (2:18.94) and Lauren Macuga (2:19.38).
¶
Thanks to some difficult weather, the U.S. Alpine National Championships are still ongoing, and are scheduled to finish on Friday (16th).
● Swimming ● The amazing Adam Peaty, reigning Olympic champ in the 100 m Breaststroke, won that event at the British Olympic Trials in London on Wednesday in 57.39. That's the no. 5 performance in history and, amazingly, gives Peaty all of the top 20 performances in history!
Safe to say he's the prohibitive favorite in the event for Tokyo.
¶
Recovering Japanese star Rikako Ikee finished with four wins at the recent national championships, taking titles in the 50 and 100 m Freestyles and 50 and 100 m Butterfly events. She did not meet the national standards for Olympic entry as an individual, but did qualify for Olympic entry on at least two relay teams.
"Both my swimming and my times came back more quickly than I expected,' Ikee told reporters in an online interview. 'Now I have to build on that with the kind of normal growth I expect from myself. I'm looking forward to the real thing.'"
Pretty good for someone diagnosed with Leukemia two years ago!
● At the BuZZer ● Amid all the chatter over future Olympic boycotts, it's worth remembering that Monday – 12 April – was the 41st anniversary of the darkest day in the U.S. Olympic Movement, when the United States Olympic Committee's House of Delegates voted 1,704-697 to accede to demands from the Carter Administration and decline to participate in the 1980 Olympic Games in Moscow, USSR.
The late Mike Moran, the long-time USOC spokesman, wrote, "The deplorable decision by the USOC came after intense pressure from the Carter administration that included pointed calls to USOC sponsors urging them not to make critical payments to the organization unless it supported the boycott."
Moran noted other threats that included the loss of some of the Olympic Training Center property in Colorado Springs that still belonged to the Defense Department and possible elimination of the USOC's charitable deductions for contributions.
Worth remembering with Beijing 2022 less than 10 months away.
You can receive our exclusive TSX Report by e-mail by clicking here. You can also refer a friend by clicking here, and can donate here to keep this site going.
For our 649-event International Sports Calendar for 2021 and beyond, by date and by sport, click here!