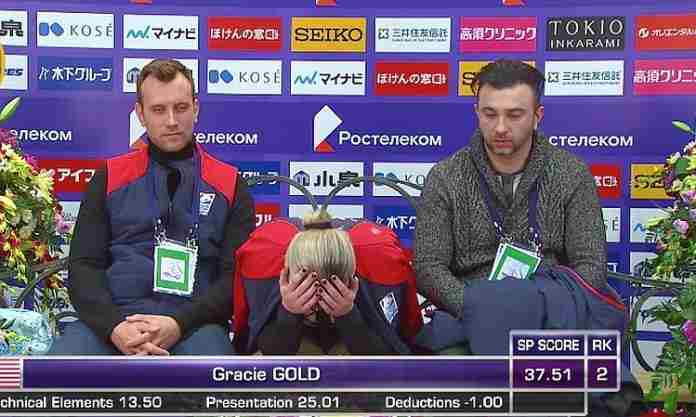 Gold has addressed some of the uncertainty in soul-baring posts on social media, where she discussed her withdrawal from a November Grand Prix event after the short program and her withdrawal from the upcoming U.S. Championships.  Two days before she announced the nationals withdrawal, her coach, Vincent Restencourt, posted a vote-of- confidence message to her, with undated video of Gold successfully landing a triple jump in practice.
But U.S. Figure Skating had declined comment two months ago on seven questions I emailed about what factored into her decision to skate at Rostelecom Cup in Moscow, where her painful-to-watch short program was stunningly clear evidence Gold was far from a competitive level.  Her agent at International Management Group also did not respond to messages seeking comment at that time.
That is why I have refrained until now from writing anything more than a few matter-of-fact tweets about Gold since Rostelecom Cup.  There still are more questions than answers.
So I tried again with USFS Thursday, in relation to the pullout from nationals, an action giving a rare clear answer to questions about her situation.
This time, the questions were:  "Did USFS monitor Gracie recently?  If so, was that a factor in her wise decision to withdraw from nationals?  If not, was USFS still instrumental in helping her make that decision?"
And this time, USFS had a comment, even if it did not address specific monitoring of her progress.
Said USFS communications director Barb Reichert in an email:  "While the decision was Gracie's alone, she asked for and received guidance from U.S. Figure Skating, which continues to monitor and support her goals."
Restencourt has not responded to text and phone messages sent to him Thursday. He posted more triple jump video Wednesday, saying in the accompanying message: "Gracie and I know she is so far from where we want to and that the jumps aren't perfect. Watching Gracie strive towards perfection every single day is what makes me so proud to be her coach. Most people would not be brave enough to try, and she is out in the rink everyday making progress."
Yet the questions about what guidance – if any – USFS or the coach or her agents provided before Rostelecom remain unanswered. So do questions about the potentially dispiriting effect of what happened there.
Here is a young woman, fourth in singles at the 2014 Olympics and the best female skater in the United States for several seasons, who had courageously gone public in late 2017 about seeking professional help for a number of personal issues – anxiety, depression, disordered eating – that led her to step away from the sport and forego an attempt to make the 2018 Olympic team.
And then, after undergoing treatment and going nearly 20 months since her previous competition, a 2017 U.S. Championships in which she was a mediocre sixth, she returned to competition at a high-level event, drawing more attention and making invidious comparisons more of a risk.
Who decided Gold should do that?  After all, USFS has a system to monitor the fitness of skaters coming back from injury or time away for other reasons.  And, if she had been monitored in November, her lack of preparedness should have been evident.
Was this a case of two-time U.S. champion Gold, 23, insisting she wanted to go to Russia, and no one in a position of authority or no one close to her being able to talk her out of it?  Did they simply say, "She's an adult.  She can make her own decisions?"
Yes, a non-injury withdrawal before the event might have jeopardized the bye to nationals predicated on her skating in Russia, even if, ironically, going to nationals would become highly unlikely for Gold after her performance at Rostelecom.
And she maintained immediately after the Nov. 16 short program that just getting out there was significant, no matter that it led to a score so deservedly and frighteningly low she could not look at it.
"The expectation wasn't to come here and set the world on fire.  I just needed to compete," Gold told the Associated Press. "On-brand for my personality is to go to one of the hardest Grand Prixs in Moscow to do it, not at some tiny competition.  The goal was just to show up and try to be brave."
She soon realized that, as Shakespeare wrote, the better part of valor is discretion.  This is what Gold said in a four-part Nov. 17 Twitter post about her Rostelecom withdrawal:
"I'm heartbroken to withdraw from tonight's free skate.  It was a difficult decision to make, but ultimately I need to put my mental health first and focus on the big picture.  Looking forward, I need to keep improving both my physical and mental condition…)
"I thought checking into treatment last fall was the most difficult thing I've ever done, but skating my short program last night might have topped it.  I do not want to undo the tremendous progress I've made in these last few months
"and I feel that competing the free skate would be damaging to both my confidence and mental health going into Nationals. I thank you all for your support, and I am so sorry if I have let you guys down. This is just the start for me, and I know that greater things are yet to come.
"Thanks for sticking with me ❤"
And this is what Gold said in the Wednesday post on Instagram in which she announced her well-reasoned decision to skip nationals:
"Since my return to competitive skating, I've had one mantra: Trust the Process.  While difficult at times, coming back to skating has been the best decision I could have made.  A large part of trusting the process has me looking more at the big picture of my career.  My goal is the 2022 Olympics in Beijing. With that being said, I have decided it is in my best interest to withdraw from the 2019 championships.  This was an incredibly difficult decision, but ultimately the right one.
"I have already begun preparations for next year.  This is a great opportunity for me to get a jump start on the season.  I want to thank everyone for their support this past season, as the feedback I have received has been quite tremendous.  I thank you from the bottom of my heart.
"I wish everyone the best of luck at the Championships.  See you all soon."
If Gold thinks coming back to skating was the best decision she could have made, one can only take her at her word and assume that it was a decision made after thorough discussions with the mental health professionals who have worked with her.
It would be interesting to know why Gold chose to return to the competitive side of skating rather than be in the much less pressurized environment of skating shows.  The positive reactions to both her attempt at a comeback and to her posts about it showed that people are happy just to see her skating again – and were utterly dismayed to see her stagger through the Rostelecom short program.
Whether Gold made the decision to withdraw from nationals on her own or did it after getting good counsel from others makes no difference.  Someone clearly realized another poor performance could have been a confidence-crusher in more areas than skating for a young woman who long has had confidence issues.
In mid-October, Gold gave a lengthy, forthright video interview to a web site called "No Bull Biz."  The interviewer was a person who met Gold had interacted with during her brief time coaching in Arizona last winter.  Although Gold handled the interview extremely well, making points about mental health that could help others in similar situations, the interview was taken down from YouTube almost immediately, for reasons that remain unclear.
I am sure of just one thing: the crux of the Gracie Gold situation is the same as it was Sept. 1, 2017, when Gold announced she was stepping away from the sport for an unspecified amount of time to sort out her psychological problems.  What I wrote then still stands:
The important things for Gracie Gold now have nothing to do with the 2018 Olympics or triple lutzes or the sponsors whom she may have felt a need to satisfy as she pressed on through roiling seas.  Her record in the sport may lack some of the medals people predicted for her, but that record needs no further enhancements for her to look back on it with immense pride, no matter what her future brings.
The important thing now is for her is to find ways to be happy in whatever that future is, wherever it takes her.  Count me among those who hope she finds them soon – and forever.
We still don't know what that future is.  She may not, either.
If Gold and those who have treated her feel that skating, which has led to discomfort as well as pleasure in her life, remains for now the place where she can feel most comfortable, then that is where she should be.