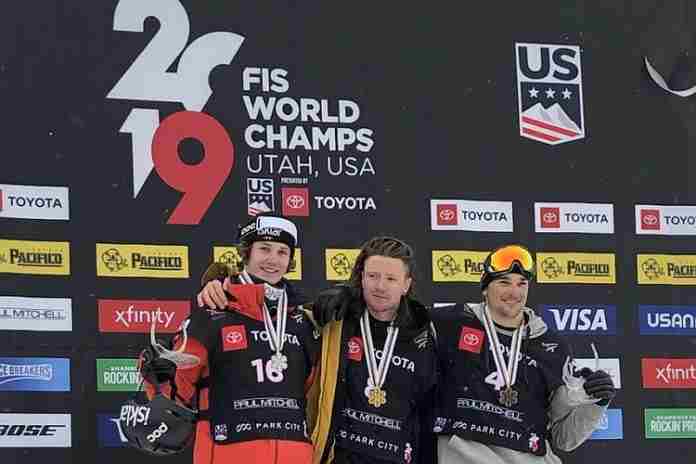 The Freestyle Slopestyle at Park City was initially postponed for the women due to more rough weather, but the men's event was completed, albeit with a late afternoon start instead of in the morning.
American Nick Goepper, a two-time Olympic Slopestyle medalist – bronze in 2014 and silver last year – took the lead in the first round at 84.46, an impressive score given the heavy snows, wind and low visibility.
That looked like it might hold up and it did … for a while. No one else managed 77 points in the first round and through the first three runs of the second run. But then Britain's James Woods, who came in with two Worlds medals from 2013 and 2017, put together an excellent run that earned 86.68 from the judges to take the lead.
Two skiers later came Norway's Birk Ruud, 18 – who has a World Cup win this season – and put down a nice run that was rewarded with a 85.40 score and second place.
Goepper responded in the third round with his best score of the day, 85.18, but stayed in third and no one else could get close. It was Goepper's second Worlds Slopestyle bronze; he also did in back in 2013.
"It was great to have my my sister, my fiancé, and my friends out here along with some family watching at home," said Goepper. "It's been a great experience here in Park City. There were some positive emotions and some negative emotions today, but we were able to get the contest off. In this type of weather it's about competing and not necessarily the skiing.
"There's a lot of strategy involved. If you going forward or switch, because you tend to get more speed forward. I'm one of the veterans out here and I think experience really helps. It's about picking those tricks that allow you to dial in your landing and carry speed into a tuck and get through the next feature. That was my play today."
American Mac Forehand was fourth, but with a remarkable story. "I broke my skis in practice," he said afterwards. "I ended up not having any skis for finals, but the French coach offered his skis for my first run. For my second run, my mom actually ran to where we were staying and picked up my other pair and brought them up to the top of the course for me. Shout out to all moms out there, especially my mom for making it happen." And Forehand's second-round 83.30 – on the skis his mom brought – got him up to fourth.
Later in the evening, FIS and the organizing committee announced that the women's Slopestyle had to be canceled, the second event to be lost due to weather.
The Freestyle Aerials events were held, with Russian Maxim Burov, 20, coming through to score his first meaningful results, and getting even – sort of – with his brother!
Burov was the final skier in the Super Final, so he knew what he had to do: beat the 126.24 mark of Ukraine's Oleksandr Abramenko, who took the lead on the third run. Burov was up to the task and responded with a 130.09 to put himself on the top of the podium.
Quite a difference from 2018, when Maxim and his older brother Ilya both competing in the Winter Games in PyeongChang. Ilya won the bronze medal there, but a year later, Maxim can say he's a World Champion!
The women's Aerials was won by 22-year-old Aliaksandra Ramanouskaya of Belarus. Who?
Hardly a well-known name on the World Cup circuit, she was the 2016 World Junior Champion and has won three World Cup medals in 2015, 2016 and 2018. But after a 15th in her only World Cup appearance this season, how could she win?
She took the Simone Biles route: her run was so much more difficult than anyone else's that a good run was going to score very big. And it did. Her back layout with two full twists had a difficulty level of 4.028, almost a half-point more than anyone else in the final! When multiplying that by the best in-air form, the best landing and best jumping, she routed the field at 113.18. Next best were Russian Lyubov Nikitina and China's Mengtao Xu, both at 89.88, but with Lyubov getting the silver on criteria.
The Freestyle and Snowboard Worlds continues through the 10th, with the Freestyle Team Aerials scheduled for Thursday. The broadcast schedule is here. Look for results here. Summaries:
FIS Freestyle Skiing World Championships
Park City, Utah (USA) ~ 1-10 February 2019
(Full results here)
Men's Aerials (at Deer Valley)/ Super Final: 1. Maxim Burov (RUS), 130.09; 2. Oleksandr Abramenko (UKR), 126.24; 3. Noe Roth (SUI), 125.22; 4. Pavel Krotov (RUS), 107.24; 5. Stanislav Nikitin (RUS), 80.54; 6. Xindi Wang (CHN), 61.50.
Men's Big Air (at Canyons Village): 1. Fabian Boesch (SUI), 186.00; 2. Henrik Harlaut (SWE), 184.00; 3. Alex Beaulieu-Marchand (CAN), 183.25; 4. Alex Hall (USA), 180.50; 5. Finn Bilous (NZL), 179.75; 6. Oliwer Magnusson (SWE), 171.00; 7. Jesper Tjader (SWE), 152.75; 8. Oystein Braaten (NOR), 109.00. Also: 10. Nick Goepper (USA), 43.00.
Men's Ski Cross (at Solitude Mountain)/ Big Final: 1. Francois Place (FRA); 2. Brady Leman (CAN); 3. Kevin Drury (CAN); 4. Alex Fiva (SUI). Small Final: 5. Jean Frederic Chapuis (FRA); 6. Johannes Aujesky (AUT); 7. Viktor Andersson (SWE); 8. Filip Flisar (SLO).
Men's Slopestyle (at Park City): 1. James Woods (GBR), 86.68; 2. Birk Ruud (NOR), 85.40; 3. Goepper (USA), 85.18; 4. Mac Forehand (USA), 83.30; 5. Henrik Harlaut (SWE), 82.70; 6. Colin Wili (SUI), 81.81; 7. McRae Williams (USA), 76.28; 8. Jonas Hunziker (SUI), 73.43.
Women's Aerials (at DeerValley)/ Super Final: 1. Aliaksandra Ramanouskaya (BLR), 113.18; 2. Liubov Nikitina (RUS), 89.88; 3. Mengtao Xu (CHN), 89.88; 4. Laura Peel (AUS), 87.77; 5. Ashley Caldwell (USA), 58.81; 6. Sofia Alekseeva (RUS), 37.80.
Women's Big Air (at Canyons Village): 1. Tess Ledeux (FRA), 184.75; 2. Julia Krass (USA), 173.75; 3. Isabel Atkin (GBR), 168.75; 4. Sarah Hoefflin (SUI), 167.75; 5. Silvia Bertagna (ITA), 122.25; 6. Anastasia Tatalina (RUS), 92.50; 7. Mathilde Gremaud (SUI), 77.75; 8. Maggie Voisin (USA), 41.75.
Women's Ski Cross (at Solitude Mountain)/ Big Final: 1. Marielle Thompson (CAN); 2. Fanny Smith (SUI); 3. Alizee Baron (FRA); 4. Sanna Luedi (SUI); Small Final: 5. Kelsey Serwa (CAN); 6. Brittany Phelan (CAN); 7. Nikol Kucerova (CZE); 8. Mikayla Martin (CAN).
Women's Slopestyle (at Park City): Canceled due to the weather.