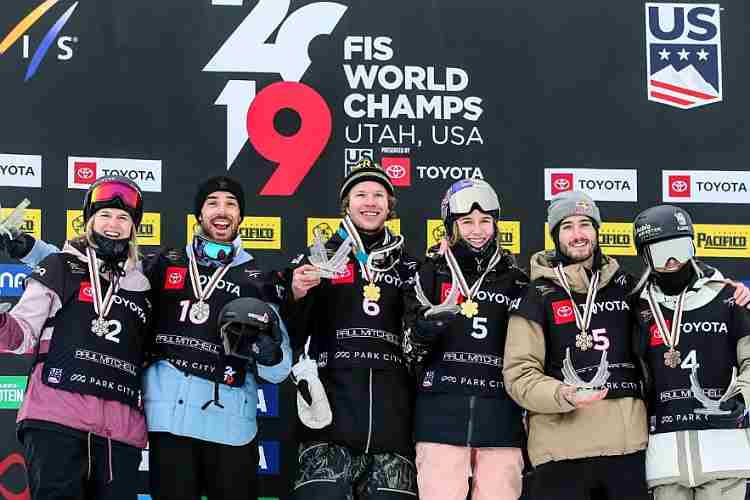 The final day of Freestyle events at the World Freestyle and Snowboard Championships in Utah produced four champions, including two defending their 2017 titles, a double gold medalist and a 16-year-old sensation from Estonia.
The women's Halfpipe looked like it might be a replay of the 2018 Winter Games in Korea. Into the final were the gold and bronze medalists, Canada's Cassie Sharpe and Brita Sigourney (USA). And both were brilliant right away, with Sharpe scoring a fabulous 94.40 in the first round to take a big lead, with Sigourney claiming an excellent score of 90.60. Those were scores that could stand up throughout the competition.
In fact, neither improved in the second round, but 16-year-old Kelly Sildaru moved into third with a good run at 88.00. She wasn't able to compete in PyeongChang due to injury, but was a dangerous competitor and already a World Cup event winner.
In the final round, Sigourney, Sildaru and Sharpe were the last three in the order. Sigourney put down another strong run at 89.80, but inferior to her first-round score. Then came Sildaru and he run was near-perfect and spectacular, scoring 95.00 and putting her into the gold-medal position. Sharpe could not answer and aborted her run, giving Sildaru the gold.
"I still can't believe it" said Sildaru "I wasn't sure if I should go for a switch 1080, because I simply haven't tried it before and I didn't know if I was going to land it. I decided to save it for my last run and I did it. I'm shaking right now, because I'm so happy."
One champion had been dethroned and then it was the men's turn, with American Aaron Blunck trying to defend his 2017 World Championships crown against teammates David Wise and Alex Ferreira, who went 1-2 in Korea,
Wise and Ferreira were good, scoring 86.60 and 84.20, respectively, but this was one of the best competitions ever in the Halfpipe and those marks earned only seventh and eighth places. In the meantime, four men scored over 90.
Canada's Noah Bowman, competing third in the order, got the party started with an excellent 90.00 in the first round, but he was surpassed three skies later by France's Kevin Rolland, the 2017 bronze medalist in the Halfpipe. He rang up a 93.80 score to take the lead, and maybe the event. Blunck showed he wasn't going to give anything away and rode into second at 91.80. Canada's Simon d'Artois roared into third at 91.00 as the next-to-last rider in the first round.
D'Artois improved slightly in the second round to 91.40, but was still third. In the final round, Bowman rose up with a great run and was rewarded with a score of 91.60, moving him just ahead of d'Artois. Rolland fell off his run and opened the door for Blunck. He spun through four doubles in a row and wowed both the crowd and the judges for a 94.20 score and his second consecutive World Championship.
"I'm on cloud nine right now," said Blunck afterwards, "The X-Games didn't go my way so I just wanted to come here and redeem myself. We've got to ski quite a bit of powder beforehand and I really think that was a recipe for success. I was happy and I was having fun the whole time.
"The Park City crowd is always so good and it's definitely one of the biggest events of the year. Everyone from Park City and Salt Lake comes out for this. They're huge ski and snowboard fans."
This was the seventh time that the Halfpipe has been held at the World Championships level and Blunck is the first to repeat a title.
The evening event was the Dual Moguls, with Canada's superstar Mikael Kingsbury the men's favorite and France's Perrine Laffont trying to defend her 2017 title and move up from her bronze in Moguls.
Kingsbury was outstanding in the men's event, winning his first three rounds decisively, while 2017 silver medalists Bradley Wilson of the U.S. eked out a first-round win, then sailed past defending champion Ikuma Horishima (JPN) and Japan's Daichi Hara in the semis.
The final was tight, but Kingsbury managed an 87.62-84.69 win and a sweep of the Moguls golds in 2019. It's his second Dual Moguls gold after 2015 and his fourth World Championships title.
Laffont eked out three wins in the eighth, quarter and semis and met American Jaelin Kauf, the 2017 bronze medalist in the final. Another tight match ended with Laffont scoring 84.74 to Kauf's 82.59 and a second gold medal in Dual Moguls for the 20-year-old. She now has a total of four career World Championships medals.
The Freestyle and Snowboard Worlds finishes Sunday, with the Snowboard Slopestyle. Summaries:
FIS Freestyle Skiing World Championships
Park City, Utah (USA) ~ 1-10 February 2019
(Full results here)
Men's Aerials (at Deer Valley)/ Super Final: 1. Maxim Burov (RUS), 130.09; 2. Oleksandr Abramenko (UKR), 126.24; 3. Noe Roth (SUI), 125.22; 4. Pavel Krotov (RUS), 107.24; 5. Stanislav Nikitin (RUS), 80.54; 6. Xindi Wang (CHN), 61.50.
Men's Big Air (at Canyons Village): 1. Fabian Boesch (SUI), 186.00; 2. Henrik Harlaut (SWE), 184.00; 3. Alex Beaulieu-Marchand (CAN), 183.25; 4. Alex Hall (USA), 180.50; 5. Finn Bilous (NZL), 179.75; 6. Oliwer Magnusson (SWE), 171.00; 7. Jesper Tjader (SWE), 152.75; 8. Oystein Braaten (NOR), 109.00. Also: 10. Nick Goepper (USA), 43.00.
Men's Halfpipe (at Park City): 1. Aaron Blunck (USA), 94.20; 2. Kevin Rolland (FRA), 93.80; 3. Noah Bowman (CAN), 91.60; 4. Simon D'Artois (CAN), 91.40; 5. Birk Ruud (NOR), 88.20; 6. Thomas Krief (FRA), 87.00; 7. David Wise (USA), 86.60; 8. Alex Ferreira (USA), 84.20. Also: 10. Taylor Seaton (USA), 82.80.
Men's Moguls (at Deer Valley): 1. Mikael Kingsbury (CAN), 84.89; 2. Matt Graham (AUS), 81.94; 3. Daichi Hara (JPN), 81.66; 4. Ikuma Horishima (JPN), 81.30; 5. Benjamin Cavet (FRA), 81.02; 6. Philippe Marquis (CAN), 79.50.
Men's Dual Moguls (at Deer Valley)/ Big Final: 1. Kingsbury (CAN); 2. Bradley Wilson (USA); Small Final: 3. Daichi Hara (JPN); 4. Walter Wallberg (SWE).
Men's Ski Cross (at Solitude Mountain)/ Big Final: 1. Francois Place (FRA); 2. Brady Leman (CAN); 3. Kevin Drury (CAN); 4. Alex Fiva (SUI). Small Final: 5. Jean Frederic Chapuis (FRA); 6. Johannes Aujesky (AUT); 7. Viktor Andersson (SWE); 8. Filip Flisar (SLO).
Men's Slopestyle (at Park City): 1. James Woods (GBR), 86.68; 2. Birk Ruud (NOR), 85.40; 3. Goepper (USA), 85.18; 4. Mac Forehand (USA), 83.30; 5. Henrik Harlaut (SWE), 82.70; 6. Colin Wili (SUI), 81.81; 7. McRae Williams (USA), 76.28; 8. Jonas Hunziker (SUI), 73.43.
Women's Aerials (at DeerValley)/ Super Final: 1. Aliaksandra Ramanouskaya (BLR), 113.18; 2. Liubov Nikitina (RUS), 89.88; 3. Mengtao Xu (CHN), 89.88; 4. Laura Peel (AUS), 87.77; 5. Ashley Caldwell (USA), 58.81; 6. Sofia Alekseeva (RUS), 37.80.
Women's Big Air (at Canyons Village): 1. Tess Ledeux (FRA), 184.75; 2. Julia Krass (USA), 173.75; 3. Isabel Atkin (GBR), 168.75; 4. Sarah Hoefflin (SUI), 167.75; 5. Silvia Bertagna (ITA), 122.25; 6. Anastasia Tatalina (RUS), 92.50; 7. Mathilde Gremaud (SUI), 77.75; 8. Maggie Voisin (USA), 41.75.
Women's Halfpipe (at Park City): 1. Kelly Sildaru (EST), 95.00; 2. Cassie Sharpe (CAN), 94.40; 3. Brita Sigourney (USA), 90.60; 4. Rachael Karker (CAN), 85.20; 5. Fanghui Li (CHN), 80.20; 6. Maddie Bowman (USA), 77.00; 7. Elisabeth Gram (AUT), 74.80; 8. Kexin Zhang (CHN), 73.60.
Women's Moguls (at Deer Valley): 1. Yulia Galysheva (KAZ), 79.14; 2. Jakara Anthony (AUS), 78.99; 3. Perrine Laffont (FRA), 78.70; 4. Anastasia Smirnova (RUS), 72.67; 5. Justine Dufour-Lapointe (CAN), 71.25; 6. Jaelin Kauf (USA), 66.41.
Women's Dual Moguls (at Deer Valley)/ Big Final: 1. Laffont (FRA); 2. Kauf (USA); Small Final: 3. Tess Johnson (USA); 4. Yulia Galysheva (KAZ).
Women's Ski Cross (at Solitude Mountain)/ Big Final: 1. Marielle Thompson (CAN); 2. Fanny Smith (SUI); 3. Alizee Baron (FRA); 4. Sanna Luedi (SUI); Small Final: 5. Kelsey Serwa (CAN); 6. Brittany Phelan (CAN); 7. Nikol Kucerova (CZE); 8. Mikayla Martin (CAN).
Women's Slopestyle (at Park City): Canceled due to the weather.
Mixed Team Aerials (at Deer Valley): 1, Switzerland (Bouvard, Gygax, Roth), 303.08; 2. China (Xu, Sun, Wang), 297.82; 3. Russia (Nikitina, Nikitin, Burov), 296.74; 4. Belarus, 272.15; 5. Canada, 244.56; 6. United States (Ashley Caldwell, Chris Lillis, Jon Lillis), 227.18; 7. Australia, 218.29; 8. Kazakhstan, 178.00.