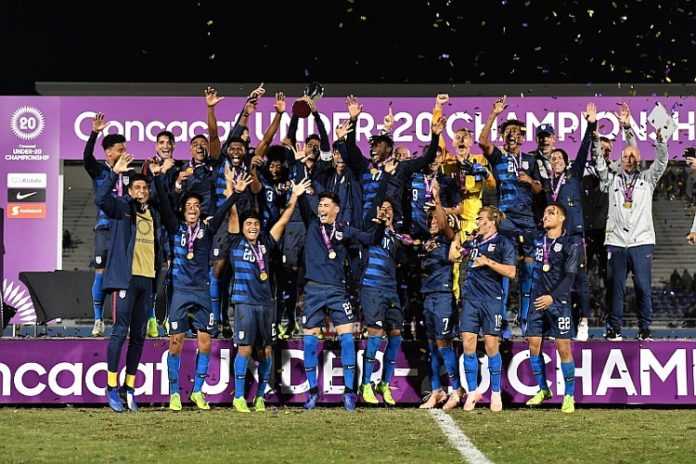 The United States men's U-20 team won its second consecutive CONCACAF U-20 title with a 2-0 victory over Mexico last Wednesday (21st) at the IMG Academy in Bradenton, Florida (USA).
Alex Mendez scored both goals for the American side, both times with an assist from Paxton Pomykal. In the 17th minute, Pomykal sent a cross from the left side to the top of the box, where Mendez left-footed a laser through traffic into the right corner for the net for a 1-0.
That was the halftime score, but the pair struck again in the 50th minute. This time it came on a counter following a Pomykal steal, and a give-and-go with Mendez that ended with a Pomykal pass to the right side of goal where Mendez sent the ball between the legs of Mexican keeper Carlos Higuera for the 2-0 advantage.
The U.S. outshot Mexico, 17-10, but the game was highly contested, as the U.S. had 34 fouls to Mexico's 17 and both sides were assessed three yellow cards.
But it was a win for the U.S., following up its 2017 victory. In the 22 editions of this tournament in which a winner was decided, Mexico has now won 13 times and the U.S. joins Honduras, Canada and Costa Rica with two wins each. Mexico has now been in 16 of the 22 championship finals!
Mendez scored eight goals in the tournament and earned the Golden Ball award as the tournament's best player. The Golden Boot for the top scorer went to Mexico's Jose Macias (10) and American keeper Brady Scott earned the Golden Glove award as best goalie.
The "Best XI" all-star team included:
∙ Goalkeeper: Brady Scott (USA)
∙ Right Back: Sergino Dest (USA)
∙ Left Back: Chris Gloster (USA)
∙ Center Back: Mark McKenzie (USA) and Gilberto Sepulveda (MEX)
∙ Midfielder: Brandon Servania (USA), Alex Mendez (USA) and Diego Lainez (MEX)
∙ Winger: Ayo Akinola (USA) and Ulysses Llanez (USA)
∙ Striker: Jose Macias (MEX)
Congratulations too, to U.S. coach Tab Ramos, who guided both of the victorious U.S. squads to titles in this tournament.
The U.S., Mexico, Panama and Honduras all qualified for the 2019 FIFA men's U-20 World Cup. There was one political note, as 12 players on the Cuban team asked for asylum in the U.S. after their team's games were completed.
Look for final scores and standings here.