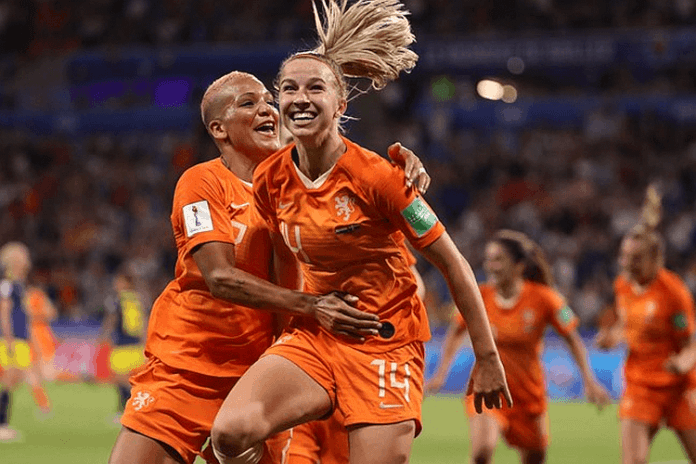 A bruising game in which neither side was technically brilliant and the goalkeepers were outstanding – except for one play – saw the Netherlands defeat Sweden, 1-0, in extra time in the final FIFA Women's World Cup semifinal in Lyon (FRA).
There was no scoring through the first 90 minutes, with excellent defense on both sides and crucial saves by Sweden's Hedvig Lindahl and Dutch keeper Sari van Veenendaal. Both tipped chances that ended up hitting the woodwork and kept the score sheet clean.
The defensive nature of the match was underscored by the fact that there were only 20 shots combined in regulation time, with 11 for the Dutch and nine for Sweden. As expected, the Dutch had 58% of the possession.
For the first time in Women's World Cup history, a semifinal went to extra time.
The first extra period was more of the same, but in the 99th minute, a Dutch attack saw the ball go to the right and midfielder Jackie Groenen made a right-footed strike that sailed toward the far post and dribbled past Lindahl for a 1-0 lead. It was the first goal of the World Cup for Groenen.
Sweden got back to work, but was unable to get the ball past van Veenendaal.
Netherlands won the European Championship in 2017 and will meet the U.S. for the World Cup title on Sunday. This is the first time the Dutch women have made it to the medal round of the Women's World Cup; Sweden will meet England for the bronze medal on Saturday.
The U.S. will be overwhelming favorites in the final; the last meeting between the teams was in 2016. The Americans won by 3-1in a friendly in Atlanta in September, with goals from Carli Lloyd and Allie Long. The Dutch suffered an own goal, but actually had a 1-0 lead from the second minute off a goal from star striker Shanice van de Sanden.