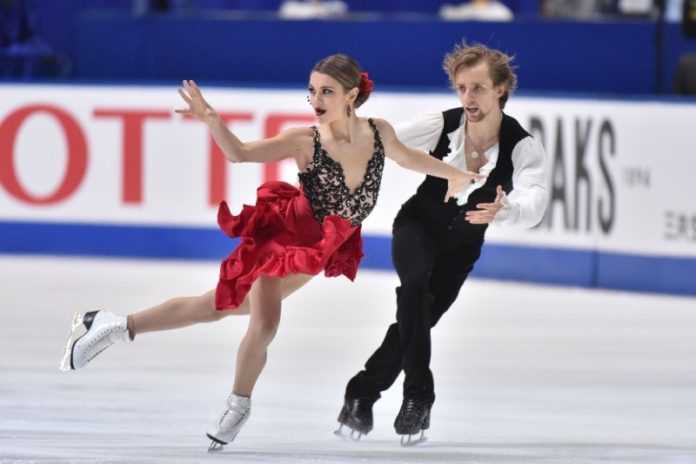 No surprise for Japan's Olympic silver medalist Shoma Uno, who won the NHK Trophy title in Hiroshima (JPN) by 22 points and will move on to the Grand Prix Final, or World Championships fourth-placers Natalia Zabiiako and Alexander Enbert (RUS), who won the Pairs for the second straight week and will go to the Grand Prix Final as well.
But otherwise, it was first-timers who took the gold medals in Japan's Rika Kihira and Americans Kaitlin Hawayek and Jean-Luc Baker (pictured).
Kihira, 16, was the Japanese junior champion last season and finished eighth in the World Junior Championships. She was just fifth in the Short Program, but came on to win the Free Skate by more than 11 points over the field and vaulting to the top of the podium, ahead of teammate Satoko Miyahara. She completed two triple axels in her program and had six other triple jumps to score her first Grand Prix gold. Her reaction? "I didn't imagine I could get such a high score."
Another first-time gold medalist was the American Ice Dance duo of Kaitlin Hawayek and Jean-Luc Baker, who scored 184.63 to come from second in the Short Dance to win the Free Dance and edge Russians Tiffani Zagorski and Jonathan Guerreiro (183.05). The U.S. brother-and-sister combo of Rachel and Michael Parsons scored a bronze medal at 178.64.
"Our main goal was really to try to put out two solid performances, but also to understand our programs," Baker said. "It is our first event. We really just wanted to get our feet wet. We're very happy that we're walking away with the gold medal."
Said Rachel Parsons, "Overall we're pretty happy with the performance that we put out there, but there is always something that we could have done better. There are some levels that didn't go quite as planned, but I think we're going in the right direction."
The U.S. came away with one other medal, a Pairs bronze for Alexa Scimera Knierim and Chris Knierim.
The NHK Trophy prize money included $18,000-13,000-9,000-3,000-2,000 for the top five. Summaries from Hiroshima:
ISU Grand Prix/NHK Trophy
Hiroshima (JPN) ~ 9-11 November 2018
(Full results here)
Men: 1. Shoma Uno (JPN), 276.45 (1st in Short Program + 1st in Free Skate); 2. Sergei Voronov (RUS), 254.28 (2+2); 3. Matteo Rizzo (ITA), 224.71 (4+3); 4. Vincent Zhou (USA), 223.42 (4+5); 5. Dmitri Aliev (RUS), 219.52 (3+6). Also: 7. Alexander Johnson (USA), 199.75 (8+7).
Women: 1. Rika Kihira (JPN), 224.31 (5+1); 2. Satoko Miyahara (JPN), 219.47 (2+2); 3. Elizaveta Tuktamusheva (RUS), 219.02 (1+3); 4. Mai Mihara (JPN), 204.20 (3+5); 5. Mariah Bell (USA), 198.96 (7+4). Also: 8. Courtney Hicks (USA), 178.07 (10+8); … 11. Angela Wang (USA), 159.36 (8+11).
Pairs: 1. Natalia Zabiiako/Alexander Enbert (RUS), 214.14 (1+1); 2. Cheng Peng/Yang Jin (CHN), 207.24 (2+2); 3. Alexa Scimera Knierim/Chris Knierim (USA), 190.49 (4+3); 4. Kirsten Moore-Towers/Michael Marinaro (CAN), 189.66 (3+4); 5. Tarah Kayne/Danny O'Shea (USA), 163.16 (5+5). Also: 7. Audrey Liu/Misha Mitrofanov (USA), 149.25 (7+7).
Ice Dance: 1. Kaitlin Hawayak/Jean-Luc Baker (USA), 184.63 (2+1); 2. Tiffani Zagorski/Jonathan Guerreiro (RUS), 183.05 (1+4); 3. Rachel Parsons/Michael Parsons (USA), 178.64 (3+3); 4. Lilah Fear/Lewis Gibson (GBR), 177.20 (7+2); 5. Carolane Soucisse/Shane Firus (CAN), 169.84 (5+5).