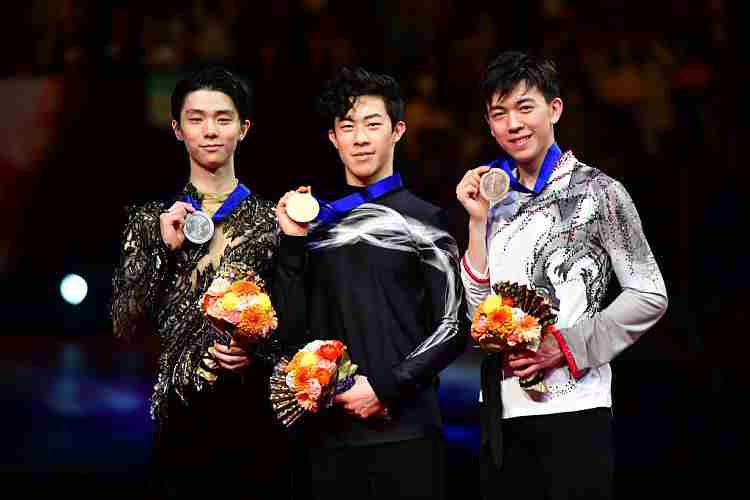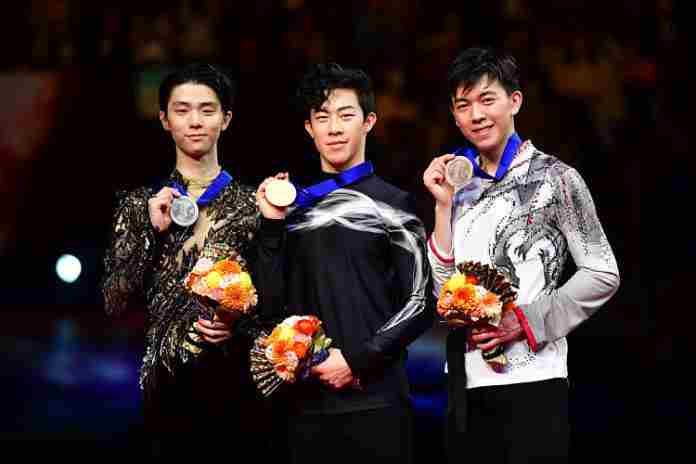 You would think that a World Championships in the year following the Olympic Winter Games might have a little less excitement,. But that was hardly the case at the sold-out Saitama Super Arena, where twice-Olympic Champion Yuzuru Hanyu put on a spectacular show, only to be outdone by American Nathan Chen.
Chen dominated the Short Program, piling up a 107.84-96.81 lead over teammate Jason Brown, with Hanyu third (94.87) and American Vincent Zhou fourth (94.17). In the Free Skate, there were 23 starters, with Hanyu, Chen and Brown the final three in the order.
Skating 19th was Zhou, 18, the 2017 World Junior Champion, whose performance included two quadruple jumps and his score of 186.99 was a seasonal best and his total score of 281.16 vaulted him into first place. "It wasn't perfect but I am more than happy with that. It felt unbelievable doing that out there," he said afterwards.
Hanyu had all 18,000 spectators cheering for him and he put on a show. He included four quadruple jumps in his performance and scored 206.10, the most ever under the new "Grade of Execution" scoring system introduced this season, along with a new record total of 300.97.
That's what Chen had to overcome, along with all of the emotion in the arena for Hanyu. But the 19-year-old Yale student was hardly fazed.
His program included four quadruple jumps and six triples and executed them all with precision and vigor and while he needed a score of 193.14 to win, he set a new scoring record of 216.02 and a total-score record of 323.42. Figure skating expert (and friend of The Sports Examiner) Phil Hersh tweeted, "Never have there been back to back free skates of the level of Chen and Hanyu … Greatest performance in worlds history."
Chen performed after Hanyu was showered with cheers and the typical throwing of Winnie the Pooh bears onto the ice. The final skater, Jason Brown – second going into the Free Skate – did not do as well and fell to 14th in the Free Skate and ninth overall.
For Chen, the victory – his second world title in a row – was sweet, and demonstrated his maturity as a competitor. "I've been in this position before, of course," he said of following Hanyu's great performance. "Yuzu being Yuzu is definitely going to get the crowd up and on their feet. As soon as I stepped on the ice, I felt that energy already there. He has been pushing the sport making the sport so enjoyable so competitive and that definitely made me so much better of a skater. Skating after that, of course there was pressure but a huge honor."
Chen became the sixth repeat men's World Champion this century, and the first American repeater since Scott Hamilton won four in a row from 1981-84. He's the sixth American man to win two or more world titles in a row, going back to Dick Button from 1948-52.
Hanyu wasn't happy about losing. "I had one mistake in my free program, but I am pleased that I could perform well on the World Championships.
"I think a lot of people have been watching the competition since the official training session and were worried about my quadruple loop, but I somehow managed to land it. I really wanted to win when I was skating.
"But I lost, that is about it. To tell the truth, it is like death to me. I really want to win. I think I did my best, but the problem is that in figure skating competition consists of two days, and I am losing in both. It means that I simple do not have enough strength to win.
"When I was going through my rehabilitation, I watched the American Nationals where Nathan Chen was performing. I am a really competitive person, and I want to compete with a strong opponent. I respect Nathan in this sense. Now I will have enough time until the next season, and I will try not to get injured and do my best to get stronger."
Zhou was thrilled with his Worlds bronze. "It was definitely a difficult season. Pretty much a lot of people know about my rough summer and a rough start and the Grand Prix series in the first half of the season. But just like I have been saying, I had a good Nationals and Four Continents and used the momentum to build and build, and finally, I was able to put out two great performances in the same competition, here at Worlds. I really couldn't be happier to do what I did here."
Brown, 24, was disappointed, but hardly devastated. "To be honest I feel great, it is not the performance that I had wanted, but I am so proud of the fight that I put out there, the growth that I made this year.
"I took another step today. Next season I hope everyone will see how much progress I have made thus far, and this was kind of a glimpse what to expect in the future."
The 1-3 for Chen and Zhou was the first such finish for the U.S. since 1996 (Todd Eldredge and Rudy Galindo), and Japan has now won the Worlds silver medal six years in a row and eight of the last nine, with three by Hanyu.
The Ice Dance competition was a showcase for France's Gabriella Papadakis and Guillaume Cizeron, who won their fourth title over the past five years. They also set records for the best score (under the new system) with 88.42 in the Rhythm Dance, 134.23 in the Free Dance and 222.65 overall. They were easily ahead of silver winners Victoria Sinitsina and Nikita Katsalapov (RUS: 211.76) and Americans Madison Hubbell and Zachary Donohue (210.40).
Said Hubbell, "Our goal was to do our best performance and the rest we can't control, that was really what we have achieved. Next season we would love to be competing for the top of the podium, we think that team USA is incredibly strong in ice dance, so it keeps us on our toes."
It was a Worlds to remember, but only the first step on what should be a very entertaining road to Beijing for 2022. Summaries:
ISU World Championships
Saitama City (JPN) ~ 18-24 March 2019
(Full results here)
Men: 1. Nathan Chen (USA), 323.42 (1st in Short Program + 1st in Free Skate); 2. Yuzuru Hanyu (JPN), 300.97 (3+2); 3. Vincent Zhou (USA), 281.16 (4+3); 4. Shoma Uno (JPN), 270.32 (6+4); 5. Boyang Jin (CHN), 262.71 (9+5); 6. Mikhail Kolyada (RUS), 262.44 (10+6); 7. Matteo Rizzo (ITA), 257.66 (5+10); 8. Michal Brezina (CZE), 254.28 (8+8). Also: 9. Jason Brown (USA), 254.15 (2+14).
Women: 1. Alina Zagitova (RUS), 237.50 (1+1); 2. Elizabet Tursynbaeva (KAZ), 224.76 (3+4); 3. Evgenia Medvedeva (RUS), 223.80 (4+3); 4. Rika Kihira (JPN), 223.49 (7+2); 5. Kaori Sakamoto (JPN), 222.83 (2+5); 6. Satoko Miyahara (JPN), 215.95 (8+6); 7. Bradie Tennell (USA), 213.47 (10+7); 8. Sofia Samodurova (RUS), 208.58 (9+8). Also: 9. Mariah Bell (USA), 208.07 (6+9).
Pairs: 1. Wenjing Sui/Cong Han (CHN), 234.84 (2+1); 2. Evgenia Tarasova/Vladimir Morozov (RUS), 228.47 (1+2); 3. Natalia Zabiiako/Alexander Enbert (RUS), 217.98 (4+4); 4. Cheng Peng/Yang Jin (CHN), 215.84 (3+5); 5. Vanessa James/Morgan Cipres (FRA), 215.19 (7+3); 6. Aleksandra Boikova/Dmitrii Kozlovskii (RUS), 210.30 (6+6); 7. Kirsten Moore-Towers/Michael Marinaro (CAN), 200.02 (5+8); 8. Nicole Della Monica/Matteo Guarise (ITA), 195.74 (8+7). Also: 9. Ashley Cain/Timothy LeDuc (USA), 193.81 (9+9).
Ice Dance: 1. Gabriella Papadakis/Guillaume Cizeron (FRA), 222.65 (1+1); 2. Victoria Sinitsina/Nikita Katsalapov (RUS), 211.76 (2+2); 3. Madison Hubbell/Zachary Donohue (USA), 210.40 (4+3); 4. Alexandra Stepanova/Ivan Bukin (RUS), 208.52 (3+4); 5. Kaitlin Weaver/Andrew Poje (CAN), 205.62 (5+5); 6. Madison Chock/Evan Bates (USA), 204.92 (6+6); 7. Piper Gilles/Paul Poirier (CAN), 200.92 (8+7); 8. Charlene Guignard/Marco Fabbri (ITA), 199.18 (7+8). Also: 9. Kaitlin Hawayek/Jean-Luc Baker (USA), 189.06 (9+10).