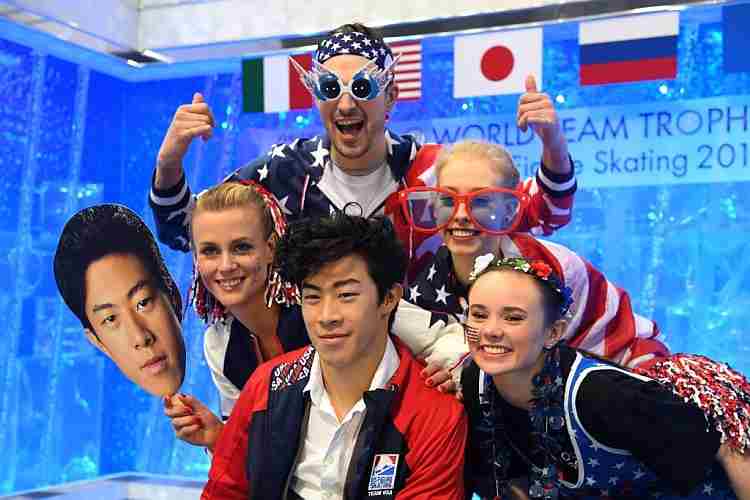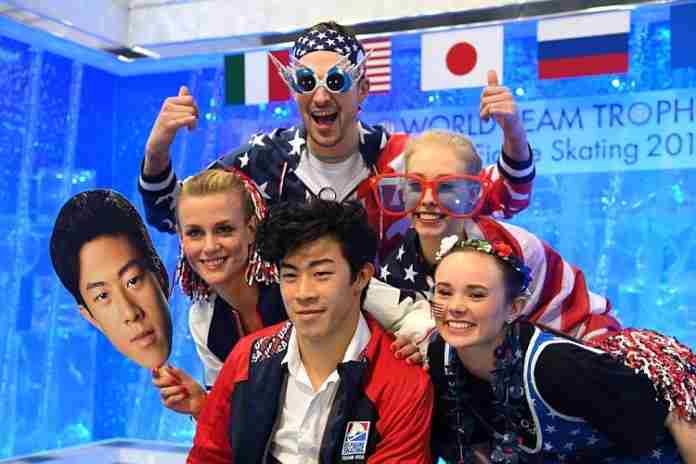 "We knew we were strong going in and we wanted to fight together as a team and to show how strong we are."
That comment from U.S. team captain Madison Hubbell summed up the high-quality American performance on the first two days of the ISU World Team Trophy competition in Fukuoka, Japan.
The U.S. leads, as expected, going into the final day, with 91 points to 79 for Japan and 70 for Russia. Although in a strong position, the U.S. hasn't clinched the title, with Japan expected to score 22 in the women's Free Skate, and seven in the Pairs Free Skate. That would be 108 points, so the U.S. has to score 18 to win. American skaters Bradie Tennell and Mariah Bell scored 17 in the women's Short Program and Pairs entry Ashley Cain and Tim LeDuc scored eight in their Short Program; a repeat would give the U.S. 25 points and another title.
World Champion Nathan Chen and Worlds bronze medalist Vincent Zhou were impressive with 1-2 finishes in both the Short Program and Free Skate, scoring a combined 301.44 and 299.01, respectively. That's a combined lifetime best for Zhou, who has made a solid move up the ladder to be able to compete with anyone in 2019.
Japan's home favorite Rika Kihira dazzled the home crowd with a brilliant Short Program that score 83.97, a new record for the scoring system put into place this season. She held the prior high of 82.51, and of course included a triple Axel in her program. Her Free Skate comes on Saturday.
Reigning World Champions Gabriella Papadakis and Guillaume Cizeron (FRA) dominated the Ice Dance event, winning the Rhythm Dance by almost three points over Victoria Sinitsina and Nikita Katsalapov (RUS) and the Free Dance by more than five. Americans Hubbell and Zachary Donohue were third in both events. Summaries so far:
ISU World Team Trophy
Fukuoka (JPN) ~ 11-14 April 2019
(Full results here)
Men/Short Program: 1. Nathan Chen (USA), 101.95; 2. Vincent Zhou (USA), 100.51; 3. Shoma Uno (JPN), 92.78; 4. Keiji Tanaka (JPN), 89.05; 5. Andrei Lazukin (RUS), 88.96.
Men/Free Skate: 1. Chen (USA), 199.49; 2. Zhou (USA), 198.50; 3. Uno (JPN), 189.46; 4. Keehan Messing (CAN), 178.04; 5. Matteo Rizzo (ITA), 172.89.
Women/Short Program: 1. Rika Kihira (JPN), 83.97; 2. Elizaveta Tuktamysheva (RUS), 80.54; 3. Kaori Sakamoto (JPN), 76.95; 4. Bradie Tennell (USA), 76.95; 5. Mariah Bell (USA), 70.89.
Pairs/Short Program: 1. Natalia Zabiiako/Alexander Enbert (RUS), 75.80; 2. Vanessa James/Morgan Cipres (FRA), 73.48; 3. Nicole Della Monica/Matteo Guarnise (ITA), 69.77; 4. Kirsten Moore-Towers (CAN), 68.38; 5. Ashley Cain/Timothy LeDuc (USA), 66.91.
Ice Dance/Rhythm Dance: 1. Gabriella Papadakis/Guillaume Cizeron (FRA), 87.31; 2. Victoria Sinitsina/Nikita Katsalapov (RUS), 84.57; 3. Madison Hubbell/Zachary Donohue (USA), 82.86; 4. Charlene Guignard/Marco Fabbri (ITA), 80.25; 5. Kaitlyn Weaver/Andrew Poje (CAN), 79.60.
Ice Dance/Free Dance: 1. Papadakis/Cizeron (FRA), 135.82; 2. Sinitsina/Katsalapov (RUS), 130.63; 3. Hubbell/Donohue (USA), 127.11; 4. Weaver/Poje (CAN), 124.18; 5. Guignard/Fabbri (ITA), 122.29.