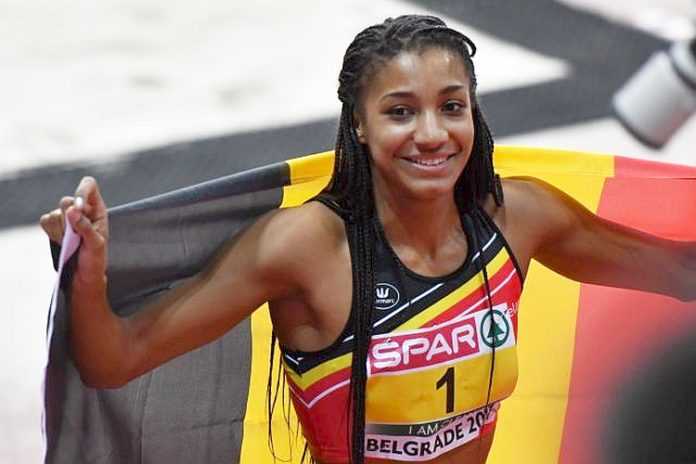 The stunning men's pole vault, topped by Mondo Duplantis's 6.05 m (19-10 1/4) world leader – see more in today's Lane One – was the highlight of the 2018 European Championships in Berlin (GER), but certainly not the only noteworthy performance.
All told, there were four world leaders from the Olympiastadion:
Men's Pole Vault: 6.05 m (19-10 1/4) Mondo Duplantis (SWE)
Women's 200 m: 21.89 Dina Asher-Smith (GBR)
Women's 4×100 m: 41.88 Great Britain
Women's Heptathlon: 6,816 Nafi Thiam (BEL)
Beyond Duplantis, the other new superstars to emerge from the Euros were Norway's Jakob Ingebrigtsen and British sprinter Dina Asher-Smith.
Already identified as a prodigy in the middle distances, Ingebrightsen won the 1,500 m in a tactical 3:18.10. All three of Norway's Ingebrigtsen brothers made the final, but at 17, Jakob is the youngest and held off Poland's Marcin Lewandowski (3:38.14). Henrik Ingebrigtsen, 27, finished fourth and Filip (25) was 12th in 3:41.66.
This was an amazing final in that all three Ingebrigtsen brothers have now won the European title at this distance: Henrik in 2012, Filip in 2016 and now Jakob! The youngest brother ran the last 400 m in 53.64 to win the title, while Lewandowski ran the last lap on 53.06, but ran out of race.
The 5,000 m came the next day, a final-only event, but without Henrik Ingebrigtsen, who broke a rib during a fall in the 1,500 m heats. This time, Jakob took his time before assuming the lead at 4,000 m and then ran away from the field in the last 800 m, timing 1:56.04 and just 55.15 for the final lap to set a European Junior Record of 13:17.06, with Henrik second in 13:18.75! France's Mourad Amdouni, trying for a 5,000-10,000 m double himself, finished third in 13:19.14.
Almost equally surprising was Asher-Smith's rise to world-class with three gold medals in the 100 m – in a world-lead-equaling 10.85 – then the 200 m, where she continued her dream season with a world-leading 21.89 win, defeating Dutch World Champion Dafne Schippers (22.14) and Jamile Samuel (NED: 22.37). She finished off the meet with a blistering anchor on the winning 4×100 m squad in 41.88.
"I can't believe this, I'm so happy," said Asher-Smith after the 200 m. "It's been a crazy championships! I really wanted to do a good time, but wasn't expecting to take the world lead in the 200 meters.
"I had a lot of fun, and didn't expect to run this fast when I'm still tired from the 100 meters final. I know this is not the Olympic Games or the World Championships, but I'm still very proud of myself. I still have a lot in me to give, but need to focus on running my own race."
And there were still more highlights:
Men's 400 m: Britain's terrific sprinting continued with Matthew Hudson-Smith at 44.78, finishing ahead of two of the Borlee brothers from Belgium: Kevin in 45.13 and Jonathan in 45.19. A day after winning the 400 m Hurdles, Norway's Karsten Warholm finished eighth in 46.68.
Men's 110 m Hurdles: Everyone expected Russian Sergey Shubenkov to continue dominating the season, but France's Pascal Martinot-Lagarde got to the line first, as both ran 13.17. The timing folks said the Frenchman won by 0.002!
Men's 4×400 m: This race should be made into a reality show called "Borlee Family Gold"! The three Borlee brothers combined with Jonathan Sacoor to win the European title for Belgium in 2:59.47. Dylan led off at 46.1, followed by Jonathan in 44.8, Sacoor in 44.70 and Kevin on anchor in 43.91!
Women's High Jump: Russia's Mariya Lasitskene was the big favorite and won at 2.00 (6-6 3/4), but only on misses against Mirela Demireva of Bulgaria, who equaled her lifetime best at that height.
Ever heard of an angry gold medalist? Here's Lasitskene after the event: "I won but I am upset. We expected much better jumps and much higher result. If you want to congratulate me, it is OK, but I cannot celebrate after this event. I do not know why it went like this. I have to talk to my coach and we have to watch the videos. I will continue with the next competitions and the Diamond League but I hope I will feel much better." Oy.
Women's Heptathlon: Belgium's Nafi Thiam (pictured) won the Olympic title in 2016, was World Champion in 2017 and now European Champion in 2018. She won with a world-leading 6,816 points, but got quite an argument from Britain's Katerina Johnson-Thompson, who scored a lifetime best of 6,759, with Germany's Carolin Schafer at 6,602.
"It feels nice to become the European champion especially it was not easy it the last two days, " said Thiam. "I did what I was aiming to do but I feel so tired now. Everything was in the head in this competition. It was fight until the end of the competition and I had to fight with myself too.
"But it is good to have hard competitions too. It alwys gives you something for the future. The start was not very good so I really needed the big throw in the javelin. I knew I can manage it because I have already seen it in Gotzis. It also brought a good energy to the rest of the competition.
"After the competition, I just want to eat everything I cannot before it. All the things like burgers, fries, donuts … But first of all, now I want to enjoy Berlin."
Croatia's Sandra Perkovic continued to be the standard by which the women's discus is measured, winning the event for the fifth time at the European Championships. Poland's Anna Wlodarczyk won the women's hammer for the fourth time and Adam Kszczot won the men's 800 m for the third time. France's Mahiedine Mekhissi-Benabbad won the men's Steeple for the fifth time on the track, as he was disqualified for ripping off his jersey in celebration of winning in 2014!
Just as important as the great performances on the field was the impressive spectator attendance in Berlin, which totaled 262,699 across the six days, for an average of 43,783, with 60,500 for Saturday's events. The European Champs results from Berlin are here.