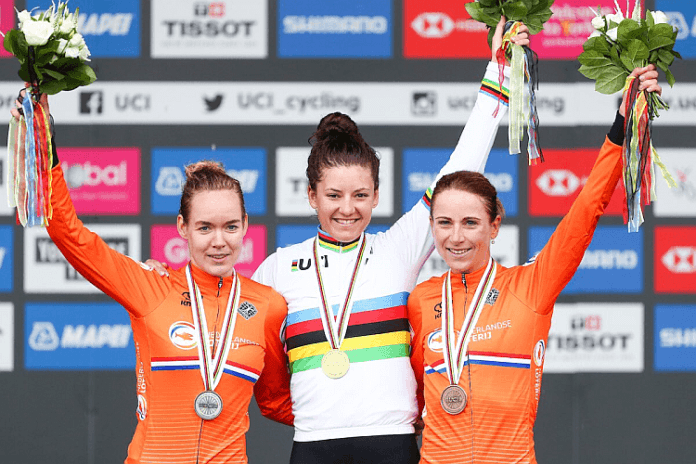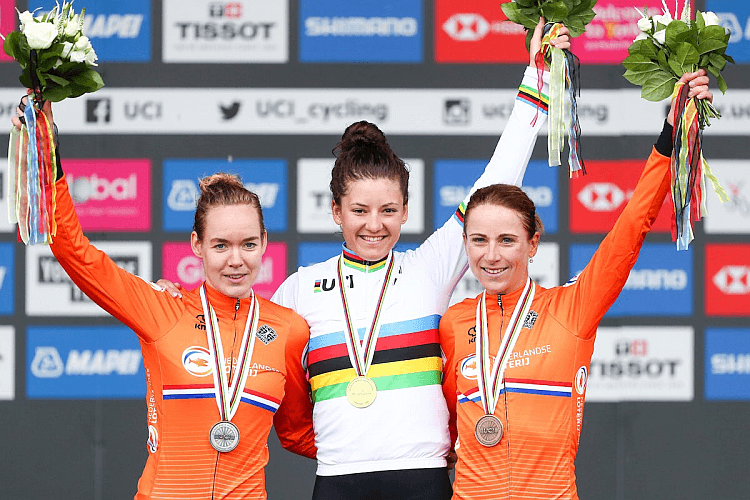 American Chloe Dygert-Owen served notice to the entire cycling world that she is going to have to be dealt with in Tokyo next year with a brilliant, overwhelming victory in the Individual Time Trial at the 2019 UCI World Road Race Championships in Yorkshire, England.
Dygert, 22, started 30th in the field of 53, but passed eight riders (!) on the way to a stunning time of 42:11.57, with no one close.
She took over the lead from Alena Amialiusik by more than 3:17, with 19 of the best riders in the world still to come. Dutch star Anna van der Breggen, who had finished second in this race for the past three years, came within 1:32.35 of the lead as the 45th rider in the order and she stayed right in that position.
The last rider to start was two-time winner Annemiek van Vleuten (NED), who also flew through the rainy conditions on the 30.3 km course, but was way behind at the finish, 1:52.66 behind the winner and in third place behind teammate van der Breggen.
Dygert-Owen wasn't the only American star on the day, as former World Champion Amber Neben, 44, was fourth and Leah Thomas finished seventh.
"I really prepared very well for this," said Dygert-Owens afterwards. "We took this year and just worked towards this race. I had my concussion last year so we had to take this slow and now we're looking forward to Tokyo. It's always very special to wear the stripes, it's everybody's goal, and I'm just super thankful for everyone who believed in me. I live in Washington State so I'm used to riding in the rain and I knew everyone else was going to be scared so I tried to make the most of it."
Dygert-Owen is coached by two-time Time Trial World Champion Kristin Armstrong (2006, 2009), so she was indeed ready. It's her third international senior title, after the Pan American Time Trial in 2017 and the Pan American Games Time Trial earlier this year in Lima, Peru. She also won the 2015 World Junior Road Race and Time Trial, and won two golds at the UCI Track Cycling World Championships in 2018 in the Individual and Team Pursuits!
She wasn't the only American highlight at the Road Worlds so far, as Ian Garrison and Brandon McNulty won the silver and bronze medals in the men's U-23 Individual Time Trial behind three-time winner Mikkel Bjerg of Denmark.
The UCI World Road Championships continue with the men's Time Trial tomorrow – look for Vuelta a Espana winner Primoz Roglic (SLO) as one of the favorites and continue with the road races through Sunday. Look for results here.
UCI World Road Championships
Yorkshire (GBR) ~ 22-29 September 2019
(Full results here)
Men
Time Trial/U-23 (30.3 km): 1. Mikkel Bjerg (DEN), 40:20; 2. Ian Garrison (USA), 40:47; 3. Brandon McNulty (USA), 40:48; 4. Mathias Norsgaard Jorgensen (DEN), 40:58; 5. Brent van Moer (BEL), 41:04.
Time Trial/Junior (27.6 km): 1. Antonio Tiberi (ITA), 38:28; 2. Enzo Leijnse (NED), 38:36; 3. Marco Brenner (GER), 38:41; 4. Quinn Simmons (USA), 38:48; 5. Michel Hessmann (GER), 38:56.
Women
Time Trial (30.3 km): 1. Chloe Dygert-Owen (USA), 42:11; 2. Anna van der Breggen (NED), 43:44; 3. Annemiek van Vleuten (NED), 44:05; 4. Amber Neben (USA), 44:50; 5. Lisa Klein (GER), 44:53; 6. Marlen Reusser (SUI), 45:14; 7. Leah Thomas (USA), 45:25; 8. Lucinda Brand (NED), 45:27.
Time Trial/Junior (13.7 km): 1. Aigul Gareeva (RUS), 22:16; 2. Shirin van Androoij (NED), 22:20; 3. Elynor Backstedt (GBR), 22:27; 4. Camilla Alessio (ITA), 22:31; 5. Wilma Olausson (SWE), 22:33. Also in the top 10: 7. Zoe Ta-Perez (USA), 22:42; … 9. Megan Jastrab (USA), 23:01.
Mixed
Mixed Team Time Trial: 1. Netherlands (Brand, Markus, Pieters, Bouwman, Mollema, van Emden), 38:27.60; 2. Germany, 38:50.35; 3. Great Britain, 39:18.87; 4. Italy, 39:23.49; 5. France, 39:50.64; 6. Switzerland, 39:54.54; 7. Slovenia, 40:25.00; 8. Denmark, 40:31.98.