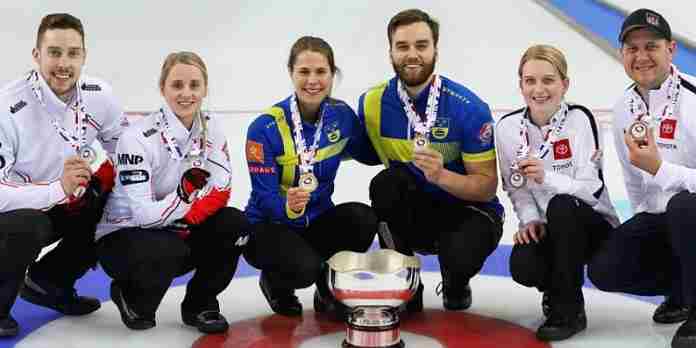 The enormous, 48-team World Curling Mixed Doubles Championship finally ended in Stavanger (NOR) with three familiar teams at the top of the standings: Sweden, Canada and the United States.
The final showcased once again the brilliant play of Sweden's Anna Hasselborg, who teamed with four-time Worlds team gold medalist Oskar Eriksson to win her first outright World Championship after winning the team Olympic title in PyeongChang (KOR) last year and earning silvers in the 2018 and 2019 World Championships.
The Swedes lost to Canada's Jocelyn Peterman and Brent Gallant during the round-robin phase, 7-6, but qualified as one of 11 teams to compile 6-1 records, along with Hungary's perfect 7-0 mark, to head into the 16-team playoffs.
The Swedes defeated New Zealand and the Czech Republic to make it to the semis against Australia's Tahli Gill and Dean Hewitt, winning a tight match, 7-6, and earning a rematch with the Canadians.
Peterman and Gallant whipped through their playoff rounds, beating Finland, 7-2, and Russia, 7-3, before facing Americans Cory Christensen and Olympic hero John Shuster. The Canadians got on top early, with three points in the second and fourth ends for a 6-1 lead and despite giving up three points in the fifth end, scored two and one in ends six and seventh to clinch a 9-5 victory.
In the third-place match, Gill and Hewitt got off to a 3-0 lead with single points in the first three ends. But four straight ends produced one point each for the U.S. for a 4-3 lead before Gill pushed a U.S. stone out of scoring position and tied the match in the eighth end. It took an extra end for Shuster to place a stone near the button and then Gill missed to give the Americans a 5-4 win and the bronze medal.
In the final, Sweden piled up a 3-1 lead through four ends, but Canada cane back with two in the fifth to tie the game at 3-3 when Peterman moved a Swedish stone away from the scoring zone.
But Hasselborg then came back to place a second stone in the scoring area in the sixth end for a 5-3 lead and put the Canadians in danger. But Peterman came through again to place a second stone in a scoring spot and got the two back for a 5-5 tie.
In the eighth end, Canada had two stones and Sweden had one in the four-foot zone with Hasselborg up for the final shot. She expertly ran her stone by a Canadian guard stone and into the center button for a final point that won the title.
In the 12th edition of this event, it's the first win for Sweden in five appearances in the final! Amazingly, for Canada, this was just its second appearance in a Mixed Doubles Championships final.
Cristiansen and Shuster won the second-ever medal for the U.S., both bronzes. It's Shuster's fourth medal in championship competition, after the 2018 Olympic gold, a 2006 Turin Olympic bronze and a 2016 Worlds bronze. Summaries:
WCF World Mixed Doubles Championship
Stavanger (NOR) ~ 20-27 April 2019
(Full results here)
Final Standings: 1. Anna Hasselborg/Oskar Eriksson (SWE); 2. Jocelyn Peterman/Brett Gallant (CAN); 3. Cory Christensen/John Shuster (USA); 4. Tahli Gill/Dean Hewitt (AUS); 5. tie, Zuzana Paulova/Tomas Paul (CZE), Marie Turmann/Harri Lill (EST), Satsuki Fujisawa/Tsuyoshi Yamaguchi (JPN) and Anastasia Moskaleva/Alexander Eremin (RUS). Semis: Peterman/Gallant d. Christensen/Shuster, 9-5; Hasselborg/Eriksson d. Gill/Hewitt, 7-5. Third: Christensen/Shuster d. Gill/Hewitt, 5-4. Final: Hasselborg/Eriksson d. Peterman/Gallant, 6-5.