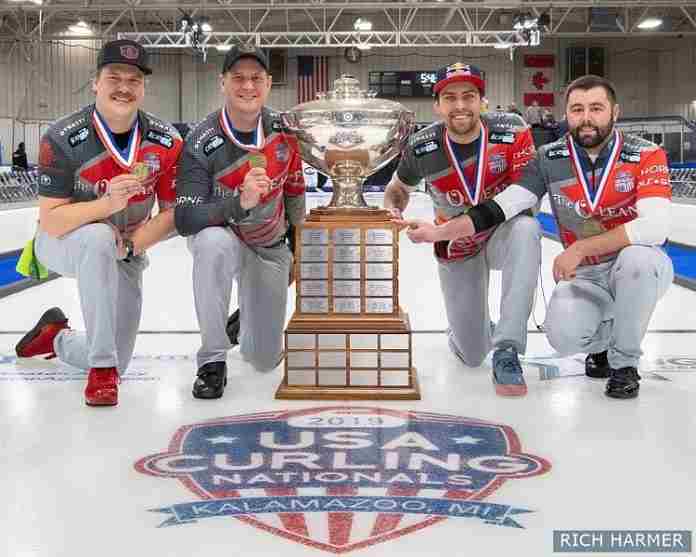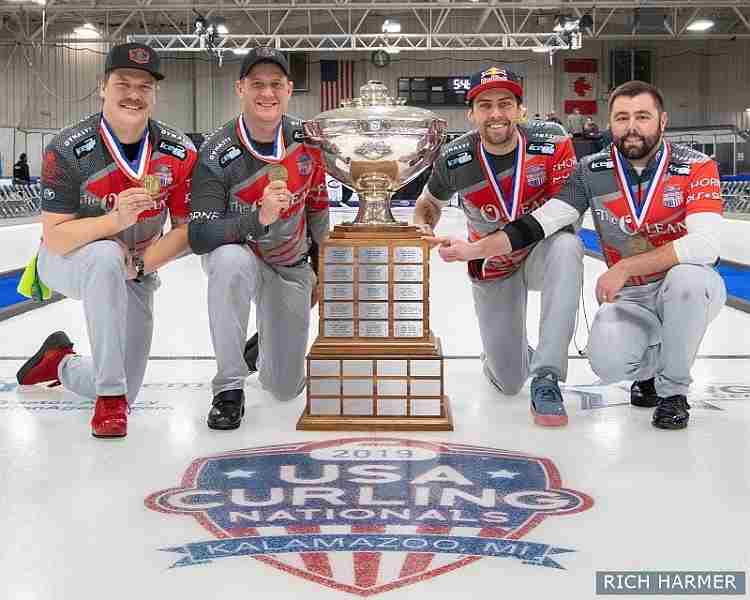 There were some familiar faces at the trophy presentations at the USA Curling National Championships in Kalamazoo, Michigan, especially John Shuster and Jamie Sinclair.
Shuster, skip of the U.S. Olympic gold medalists from PyeongChang, brought his rink into the 2019 Nationals after missing 2018 on a post-Games promotional tour. But they were sharp from the start, going 8-1 on the qualifying round and tying for the top spot.
They defeated co-qualifying leader Rich Ruohonen, 8-3, in the play-in game, and then faced Ruohonen again in the final, again winning, this time by 8-4.
"These guys [Ruohonen] are the defending national champions coming in here. We didn't get a chance to defend last year so it's kind of cool that we had the two teams that the last time they played each other they were playing for a national title, so it was pretty special," Shuster said. "We got a lot of breaks early, and when we got breaks, we made it count and that's the important thing."
Shuster, Matt Hamilton and John Landsteiner are holdovers from the 2018 Olympic team and were joined by Chris Plys. They will play for the U.S. at the 2019 World Men's Championship, from 30 March-7 April in Lethbridge (CAN).
This was the seventh national title for Shuster, who first won in 2003 as lead for Pete Fenson and has added championships in 2005-06-09-15-17.
For Sinclair, the two-time defending national champion, the 2019 Nationals came down to another tussle with Nina Roth's rink, who won the Olympic Trials last year and competed in PyeongChang.
Both were 6-1 in the qualifying round, but Sinclair defeated Roth, 9-8, in the play-in game and then again, 6-4 in the final.
"It has been three in a row for half of this team but every one has been different," said Sinclair afterwards.
"The first two years we had some different players and it was leading up to the Olympics so we kind of had our heart set on the Olympics and we had to turn around and re-focus on the Nationals. Coming into this year as a new team we were trying to figure out our communication out on the ice so there was a lot of learning to do as a team. We had our hearts set on this national championship so we're happy that we came together so quickly."
Sinclair's rink will represent the U.S. at the 2019 Women's World Curling Championship from 16-24 March 16-24 in Silkeborg (DEN). Summaries:
USA Curling National Championships
Kalamazoo, Michigan (USA) ~ 9-16 February 2019
(Full results here)
Men: 1. John Shuster; 2. Rich Ruhonen; 3. Todd Birr. Play-in: Shuster d. Ruohonon, 8-3; Birr d. Mark Fenner, 5-4. Semifinal: Ruohonen d. Burr, 6-5. Final: Shuster d. Ruohonen, 8-4.
Women: 1. Jamie Sinclair; 2. Nina Roth; 3. Cory Christensen. Play-in: Sinclair d. Roth, 9-8; Christensen d. Stephanie Senneker, 9-8. Semis: Roth d. Christensen, 7-5. Final: Sinclair d. Roth, 6-4.