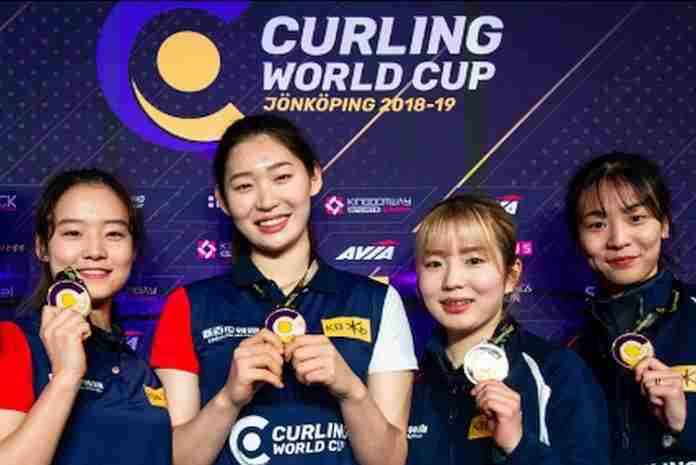 Let's face it, Canada will be the favorite in almost any international match, so it was not too big a surprise to see two Canadian teams win in the third WCF World Cup stop in Jonkoping, Sweden.
But to see a Korean team defeat the home-standing Swedes, skipped by Olympic champ Anna Hasselborg? Now that was a surprise.
Minji Kim's rink, including Hyerin Kim (3), Taei Yang (2) and Sujin Kim (1), got the jump in the early ends and that made the difference. The Koreans scored two in the first and two in the third for a 4-1 lead and held Hasselborg's squad to only single points in the fourth and fifth ends on the way to a 6-4 victory and their first World Cup title.
It was a sweet reversal from Korea's loss in the final of the Omaha World Cup to Japan. "I am very happy," said the Skip. "In Omaha the loss was hard so since then we have worked hard. We will practice very hard for the Grand Final in Beijing.
"I am even more happy to win this after losing in the second leg. We tried to concentrate on our own game. This experience has made us be in good shape for the World Juniors."
Canada won the other divisions, and scored a noteworthy victory as Matt Dunstone's rink scored a finals win over reigning World Champion Niklas Edin (SWE), 5-4. Early points were again the key. Although Edin took a 1-0 lead after the first end, Dunstone replied with two points in the third and fifth ends for a 4-2 edge. Edin tied it in the sixth end, but a final-end score gave the Canadians their second men's win in three World Cups.
In the Mixed Doubles, Canada's Kadriana Sahaidak and Colton Lott skipped past Norway's Kristin Skaslien and Thomas Ulsrud, 7-5, thanks to two points in the eighth and final end.
The Grand Final will take place in Beijing (CHN) from 8-12 May; the winners from each of the first three legs will be invited, along with China (hosts), the current World Champions and three invitees.