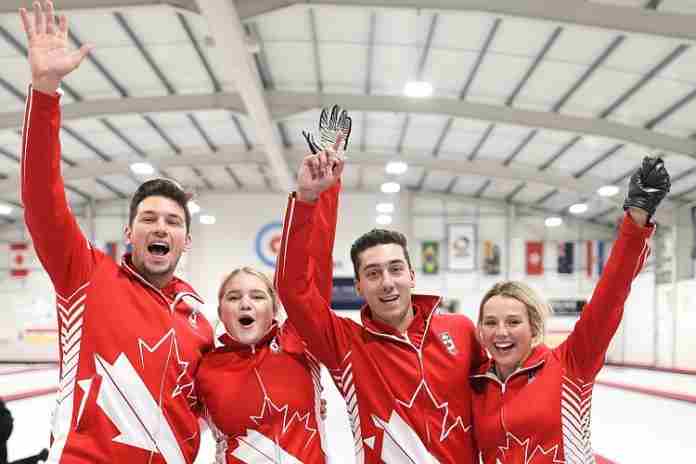 With its third different team in three years, Canada defended its title the WCF World Mixed Curling Championship, this time held in Aberdeen, Scotland.
Skip Colin Kurz and teammates Meghan Walter, Brendan Bilawka and Sara Oliver completed their group play at 7-0 and then won a series of tight matches in the playoffs to win Canada's second title in the five years that this event has been held.
Kurz & Co. defeated Sweden, 9-4, then skipped past Denmark, 6-4, to reach the semifinals. But they had to come from behind against Norway in the semis, scoring two in the seventh end to break a 4-4 tie, and then giving away only one point in the final end for a 6-5 win.
Germany, which had finished second to Canada in Group A, waited until the eighth and final end to score twice for a 6-4 win.
In the final, Canada got out in front to stay in the fifth end with three points to break open a 1-1 tie. But the Germans came back with three in the sixth end to tie and took the lead with a point in the seventh end. But in the final frame, Canada scored two to finish with another 6-5 win.
Norway defeated Korea, 6-5, to take the bronze medal. Summary:
WCF World Mixed Championship
Aberdeen (SCO) ~ 12-19 October 2019
(Full results here)
Final Standings (40 competed) 1. Canada (Kurz, Walter, Bilawka, Oliver); 2. Germany; 3. Norway; 4. Korea; 5. tie, Denmark, Hungary, Scotland, Switzerland. Also: 9. United States. Semis: Canada d. Norway, 6-5; Germany d. Korea, 6-4. Third: Norway d. Korea, 6-5. Final: Canada d. Germany, 6-5.