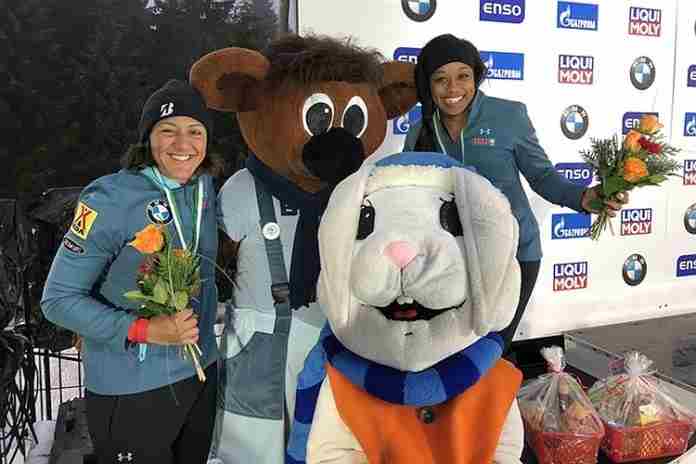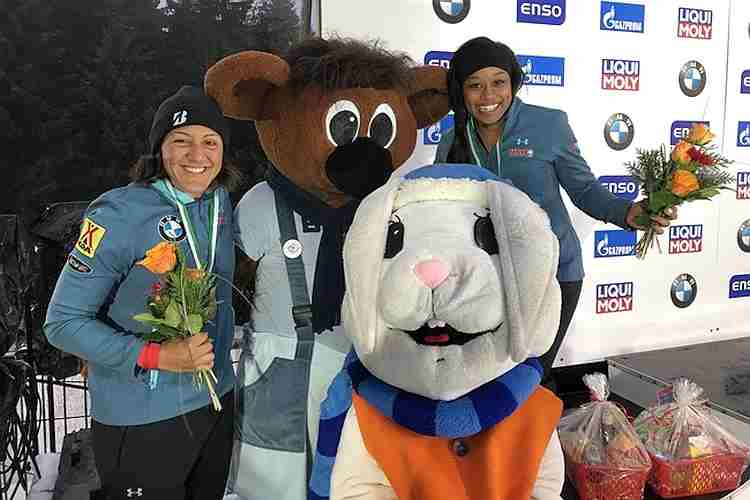 The PyeongChang Olympic Two-Man competition was one of the most thrilling ever, with Germany's Francesco Friedrich and Canada's Justin Kripps tying for the gold medal, with Latvian Oskar Kibermanis just behind for the bronze.
It almost happened again in Altenberg (GER), with the three sleds finishing 1-2-3 with Friedrich beating Kripps to the line by a combined total of just 0.37 seconds, with Kibermanis again third, just 0.48 behind the winners.
Friedrich continued with his perfect 2018-19 season, winning his third race – with three different brakemen! – without a loss so far. He also piloted the winning four-man team for the second time in three races (plus a silver in the other), meaning he is 6-for-6 on medals this season, and has five wins in the six races!
The women's race was full of surprises, but not in the winner. Germany's Mariama Jamanka won for the second time in three races on the circuit (and won silver in the other). But Canada's Christine de Bruin and Kristen Bujnowski took the silver, ahead of Olympic silver winner Elana Meyers Taylor of the U.S., with Lake Kwaza. For Meyers Taylor, it was her third medal in five events on the demanding Altenberg track.
The Skeleton races were dominated by Russia, with Alexander Tretiakov winning the men's race – his second straight on the circuit – and Elena Nikitina taking the women's, her second win in three races on the season. Summaries:
IBSF World Cup
Altenberg (GER) ~ 4-6 January 2019
(Full results here)
Men's 2: 1. Francesco Friedrich/Thorsten Margis (GER), 1:52.19; 2. Justin Kripps/Cameron Stones (CAN), 1:52.56; 3. Oskars Kibermanis/Matiss Miknis (LAT), 1:52.67; 4. Nico Walther/Paul Krenz (GER), 1:52.73; 5. Romain Heinrich/Dorian Hauterville (FRA), 1:53.13. Also: 17. Codie Bascue/Hakeem Abdul-Saboor (USA), 1:54.69; … 19. Justin Olsen/Adrian Adams (USA), 1:55.38
Men's 4: 1. Germany (Francesco Friedrich), 1:48.47; 2. Latvia (Oskars Kibermanis), 1:48/78; 3. Germany (Nico Walther), 1:48.98; 4. Germany (Johannes Lochner), 1:49.34; 5. Russia (Maxim Andrianov), 1:49.41. Also: 19. United States (Justin Olsen), 1:51.81; 20. United States (Codie Bascue), 1:58.49.
Women's 2: 1. Mariama Jamanka/Annika Drazek (GER), 1:57.25; 2. Christine de Bruin/Kristen Bujnowski (CAN), 1:57.56; 3. Elana Meyers Taylor/Lake Kwaza (USA), 1:57.64; 4. Mica McNeill/Montell Douglas (GBR), 1:57.68; 5. Anna Koehler/Leonie Fiebig (GER), 1:57.74. Also: 11. Brittany Reinbolt/Jessica Davis (USA), 1:58.65
Men's Skeleton: 1. Alexander Tretiakov (RUS), 1:55.09; 2. Sung-bin Yun (KOR), 1:55.66; 3. Nikita Tregubov (RUS), 1:55.93; 4. Christopher Grotheer (GER), 1:56.18; 5. Axel Jungk (GER), 1:56.19. . Also: 9. Austin Florian (USA), 1:56.67; … 13. Kyle Brown (USA), 1:58.11; … 16. Greg West (USA), 1:58.29.
Women's Skeleton: 1. Elena Nikitina (RUS), 1:57.42; 2. Jacquelline Loelling (GER), 1:57.79; 3. Yulia Kanakina (RUS), 1:58.39; 4. Tina Hermann (GER), 1:58.62; 5. Sophia Griebel (GER), 1:58.79. Also: 9. Kendall Wesenberg (USA), 1:59.98; … 13. Savannah Graybill (USA), 2:00.54.