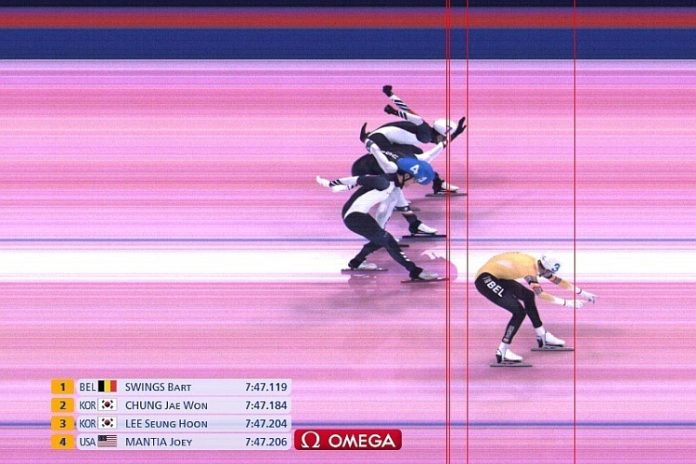 (★ Friends: Marvelous! Now 27 donors have covered 49% of our site costs for services for the first six months of 2022. If you would like to add your support, please donate here. ★)
= BEIJING 2022 =
From Lane One
American skiing star Mikaela Shiffrin hasn't had a happy Winter Games in Beijing, skiing out as a favorite in the Giant Slalom and Slalom and placing ninth in the Super-G and 18th in the Downhill before skiing out in the Combined Slalom.
She's gotten a lot of support on her various social network pages, but also plenty of rude and unpleasant comments. After the Combined, she posted a 36-line message of encouragement, including
"Just get up. It's not always easy, but it's also not the end of the world to fail.
"Fail twice. Fail 5 times. At the Olympics. (Enter me …)
"Who do I keep coming back? Gosh knows it hurts more than it feels good lately.
"I come back because those first 9 turns today were spectacular, really heaven.
"That's where I'm meant to be and I'm stubborn as s**t."
That was followed on Friday with a 2:20 video – posted from Beijing – backing up her message with:
"My post last night was not actually intended for the haters. It was intended for those people who are getting hate.
"I truly believe that if you try to address the haters, by hating on the haters, it really only continues to spread hate, and it doesn't fix the problem. The haters are there because they've decided they want to hate you, and you're really not going to do anything to make them stop hating you.
"So you might as well not waste your energy on that.
"But for the people out there who are experiencing any kind of those messages, those comments that make you feel about this small, and make you feel like your entire self-worth is summed up in awful sentence sent by an awful person, who thinks awful things about you … the whole premise of it, I don't really understand.
"But that message, that was meant for you guys, to get up and to keep going. Get out of bed the next day, even though you're getting these messages that make you feel awful. Aw-ful.
"That's OK; they're always going to be there. And you can choose to take them and dwell on them, and let them make you want to retire, let them make you want to disappear and just never be seen again, or you can just say, 'Hey, I've got a great sense of humor and I've got a lot more to give to this world, so back off and let me do my thing.'
"And I think a lot of you out there who might be experiencing these hate messages, I think a lot of you have that fire in you. So, you just go for it and don't send messages to your haters; they don't deserve your time being wasted on them.
"You just spread the message to the next person who's getting hate: keep on going."
Pretty good advice.
¶
The nine U.S. figure skaters who won the Team Event silver medal lost an appeal to the Court of Arbitration for Sport's Ad Hoc Division in Beijing to have their medals presented at the Games.
A letter explaining the action was sent to the International Olympic Committee's legal representatives by Paul J. Greene, an attorney from the Portland, Maine firm of Global Sports Advocates, not the U.S. Olympic & Paralympic Committee or U.S. Figure Skating, and included:
● "Our clients seek the legal right they have earned to be given their silver medals in a public ceremony at the Olympic Games prior to the Closing Ceremony."
● "In response to [IOC President Thomas] Bach's offer for input, a dignified medal ceremony from our clients' vantage point is one in the Medals Plaza as originally planned and afforded to all other medalists."
● "Because of the urgency, we anticipate filing an Application with the CAS Ad Hoc Division prior to receiving your response, but we hope that the IOC's reconsideration will make the CAS filing moot."
The appeal was discussed in a 2 1/2-hour hearing – by videoconference – in Beijing and dismissed by the panel of three arbitrators from Denmark, France and China, but the announcement did not give any of the reasoning. The full decision will be published in a few days.
¶
The 139th IOC Session continued in Beijing on Saturday, with elections of five new members.
Shooter Danka Bartekova (SVK), who had been deeply involved in athlete matters as a Vice Chair of the IOC Athletes' Commission, and Yiech Pur Biel, who competed at Rio in 2016 as a refugee from South Sudan and now lives in the U.S., were elected as individual members and can serve to age 70.
Union Cycliste Internationale President David Lappartient (FRA) was elected as an International Federation President, and the previously-announced Martin Fourcade (FRA) and Frida Hansdottir (SWE) were sworn in as athlete-representative members.
(With the heads of FIFA, World Athletics, the International Gymnastics Federation (FIG) and the UCI all now IOC members, look for Kuwait's Husain Al-Musallam, the head of FINA, to be considered soon.)
Juan Antonio Samaranch, Jr. (ESP), who has served as the head of the IOC's Coordination Commission for the Beijing Winter Games was elected as an IOC Vice President. Re-elected as Executive Board members were federation presidents Nenad Lalovic (SRB/wrestling) and Ivo Ferriani (ITA/bobsleigh & skeleton).
Important for LA28 was the re-election of Aruba's Nicole Hoevertsz, whose initial term had expired; she is the head of the IOC's Coordination Commission for the 2028 Games. She was also changed to an individual member and can now serve the age 70.
The IOC now has 106 members.
A small, but important move was made by the IOC in the selection of Mumbai, India, to be the host of the 2023 IOC Session in May or June. India has been showing greater interest in the Olympic Movement in recent years and lasted hosted an IOC Session way back in 1983.
Going to India again is a significant way for the IOC to show its interest in the continued development of deep relations with the country. Despite many issues with the staging of the 2010 Commonwealth Games in New Delhi, India is considering a bid for the 2036 Olympic Games.
¶
The Olympic Covid incidence report for 18 February showed a clean sheet, with no positives at the airport (18 arrivals) or from 67,387 total tests inside the closed loop.
The totals remain at 184 total positives (arrivals and inside the closed loop) among athletes and team officials and 324 among all other stakeholders since the closed loop began operations on 4 January.
The U.S. Olympic & Paralympic Committee reported Saturday that there were no new cases among the 462 delegates in Beijing, with no one in isolation.
¶
No ratings report from NBC on its Thursday primetime broadcast, the sixth day in the last seven without any information.
Using NBC's data plus TSX estimates for last Friday and Saturday, the first 10 days of the Games (not counting the pre-Games telecast), had an average primetime total audience of 13.3 million.
That's down 33% from the nightly average of 19.8 million for the PyeongChang Games in 2018 and down from the 15.1 million nightly primetime average for the Tokyo Games last summer.
More data will be available next week.
¶
Norway now has 35 total medals (15-8-12) and is likely to fall short of its all-time record of 39 in a single Winter Games set in 2018. The team's 15 gold medals in an all-time Winter Games record, surpassing the 14 won by Canada in 2010 and by Norway and Germany in PyeongChang.
Russia now has 31 medals (6-11-14), its all-time best for a Winter Games. Canada has 25 (4-8-13) and Germany (11-8-5) and the U.S. have 24 (8-9-7). The American total is up one from PyeongChang, and will likely stay there on the final day, a quite satisfactory performance given the preparatory chaos of the pandemic.
The all-time best medal totals in a single Winter Games:
1. 39, Norway in 2018
2. 37, United States in 2010
3. 36, Germany in 2002
4. 35, Norway in 2022 (so far)
5. 34, United States in 2002
6. 31, Germany in 2018 and Russia in 2022 (so far)
8. 30, Germany in 2010 and Russia in 2014 (at present)
Of course, the number of events has increased. The USSR won as astonishing 13 golds and 27 medals in the 1976 Winter Games in Innsbruck (AUT) across just 37 events, and 29 medals across 46 events in 1988.
For a better comparison of team strength, here are our TSX scoring rankings, using the top eight places, via the time-honored U.S. scoring of 10-8-6-5-4-3-2-1. So after 94 of 109 events:
1. 399, Norway
2. 379, Russia
3. 346, United States
4. 309, Germany
5. 299, Canada
6. 260, Austria
7. 216, Italy
8. 211, Netherlands
9. 208, Sweden
10. 204, China
11. 197, Japan
12. 194, Switzerland
~ Rich Perelman
= RESULTS: SAT., 19 FEBRUARY =
● Bobsled: Two-Woman
Germany has dominated the sliding sports in Beijing and Laura Nolte and 2018 gold medalist Mariama Jamanka continued the trend with a 1-2 finish in the two-woman event in Yanqing.
They stood 1-2 going into the second day of races, and Nolte (with Deborah Levi) not only won the third run, but set a track record to improve their lead. Jamanka (with Alexandra Burghardt) had the no. 2 run to solidify their silver status ahead.
American Elana Meyers Taylor (with Sylvia Hoffman), third after day one, continued there, with the third-best run to maintain their place. No changes.
Behind them, Canada's Christine de Bruin stayed in fourth, but German Kim Kalicki passed Kaillie Humphries (with Kaysha Love) for fifth as the U.S. sled ranked sixth and fell back to sixth for the final run.
The final run confirmed the medal standings, with Jamanka running fastest by 0.01 over Nolte, but with Nolte winning the gold in 4:03.96, Jamanka second (4:04.73) and Meyers Taylor third (4:04.48) for her fourth Olympic medal in a row: bronze-silver-silver-bronze.
Kalicki moved ahead of de Bruin for fourth and an eighth-place run for Humphries dropped her back to seventh overall as Melanie Hasler (SUI) took seventh.
With her silver in the Monobob, Meyers Taylor now has five career medals (0-3-2), the most ever in women's Olympic bobsled!
● Cross Country Skiing: Men's "50 km" Freestyle Mass Start
The Russian trio of Alexander Bolshunov, Ivan Yakimushkin and Artem Maltsev made a strong move in the middle of the race to surge to the front and eventually place 1-2-4 in the weather-shortened 30 km slog in 2 F temperatures.
Just too cold and windy for 50 km, the race was delayed, but once started saw the Russian trio surge to the front after the 13 km mark, along with France's Clement Parisse, Norway's Simen Hegsted Krueger and others.
By the 21 km mark, 10 men were within four seconds and had broken away from the rest. Bolshunov assumed the lead by 24 km, with Krueger and the two other Russians in close attendance. Yakimushkin passed Krueger on the final lap as Bolshunov sailed home with the win in 1:11:32.7-1:11.38.2, with Krueger third in 1:11:39.7.
Krueger's bronze was all the more remarkable because he had been in Covid isolation for the entire Games to that point! Maltsev was fourth in 1:11:43.4 and Norway's Sjur Roethe fifth in 1:11:48.5.
Alaskan Scott Patterson was a remarkable eighth in 1:12:06.6, moving up from 11th in 2018. It's the best finish for an American men's cross country skier since Bill Koch's silver medal in the 30 km in 1976!
For Bolshunov, the race capped a dream Olympics: five medals, with wins in the Skiathlon, 50 km and 4×10 km relay, a silver in the Sprint and bronze in the Team Sprint. He didn't contest the Sprint.
● Curling: Men's final
A very tight match between experienced foes went to Sweden and Niklas Edin, who finally won an Olympic gold in his fourth Games.
Competing against two-time Worlds medalist Bruce Mouat and great Britain (actually Scotland), the Swedes had a 3-1 lead after the third end, but could manage only one more point and were tied, 4-4 as Mouat engineered a final point in the 10th end.
The extra end saw Sweden positioned with a stone in the center of the house, with Mouat unable to move it out on the final shot, giving Sweden the victory by 5-4.
For Edin, it was the end of a four-Games odyssey that saw his team finish fourth in 2010, third in 2014, second in 2018 and now the winners in 2022. He's a five-time World Champion and can now say he is Olympic Champion.
For Mouat and Britain, it was their first medal in curling since its appearance in the first Winter Games, in 1924. The 1-2 finish duplicates the 2021 Worlds, where Edin's Sweden got past Mouat's Scotland.
Brad Gushue's Canadian team scored twice in the eighth and ninth ends to win the bronze medal over the John Shuster's U.S. rink, 8-5. The match was tied, 3-3, after four ends, and Canada took the lead with a point in the fifth end, but the U.S. scored twice in the six for a 5-4 lead. But it didn't hold up.
¶
Sweden won another medal, as Anna Hasselborg's rink defeated two-time World Champion Silvana Tirinzoni and Switzerland in the women's bronze-medal match, 9-7, surviving a three-point ninth end for the Swiss. Hasselborg came in as defending Olympic Champion, but managed a medal for Sweden for the fifth straight Games.
● Figure Skating: Pairs Free Skate
China's two-time World Champions, Wenjing Sui and Cong Han, completed their Olympic dreams with a tight 239.88-239.25 win over Russia's three-time Worlds medalists Evgenia Tarasova and Vladimir Morozov.
Already the leaders by 84.41-84.25 after the Short Program, Sui and Han suffered only a minor error in their Free Skate finale and were awarded 155.47 points, the highest of the night. Their final total of 289.88 is the best ever, surpassing the prior best by 0.06.
Tarasova and Morozov were excellent, scoring 155.00 and finishing second. Russia's 2021 World Champions Anastasia Mishina and Alexander Galliapov were also superb in their Free Skate performance, but ended up third at 154.95 and won the bronze medal at 237.71.
Russia also placed fourth, with Aleksandra Boikova and Dmitrii Kozlovskii scoring 220.50.
It was the second Olympic gold for China in the last four Games, after Xue Shen and Hongbo Zhao won in 2010. For Sui and Han, they moved up from silver in PyeongChang.
Americans Alexa Knierim and Brandon Frazier were seventh in the Free Skate and moved from fifth to sixth overall (212.68), still the best U.S. Pairs finish since 2002; that's impressive in only their second year together. Ashley Cain-Gribble and Timothy LeDuc suffered two falls and fell from sixth after the Short to eighth overall (198.05).
● Freestyle Skiing: Men's Halfpipe
The wind was a major issue, gusting severely during runs and slowing everyone down both on the snow and in the air.
The impact was least during the first round and the favorites took advantage, with World Champion Nico Porteous (NZL) getting great height, clean execution and a superb 93.25 score to take the lead.
Two-time defending Olympic Champion David Wise of the U.S. also made his ride count, scoring 90.75 for second, with fellow American Alex Ferreira in third at 86.75.
Only one of the top five were able to improve in the second round as the wind came on strongly.
In the final round, the wind was up. Ferreira missed a grab on his second trick, and did not improve and had to sweat out the last six riders to see if he would win a medal. The wind hit Canada's Noah Bowman during his run and he could not finish, leaving him at 84.75 and fourth. Brendan MacKay (CAN) also fell and finished at 65.50.
Wise could not get the speed he needed on his spins after a promising start and scored only 40.00, remaining in second. American Birk Irving was cooking at the top of the pipe, but fell on his last trick and scored 48.00 to stayed fifth. Porteous suffered from a huge gust and fell flat off the pipe, but retained his lead.
The last man on the course was qualifying leader Aaron Blunck of the U.S., standing seventh, but he lost his footing on his second trick and crashed into the middle of the pipe. He was attended to immediately, but was able to leave the pipe on his own.
Amazingly, the three medals from 2018 went to the same people in 2022, but in a different order: Porteous, Wise and Ferreira in China instead of Wise, Ferreira and Porteous in Korea.
● Speed Skating: Men's Mass Start ~ Women's Mass Start
The craziest race in skating once again featured a mad, four-way dash to the finish line, finally won by Belgium's Bart Swings by 0.07 in 7:47.11.
It was the first Winter Games gold for Belgium in 74 years and completed Swings' long wait after winning silver in 2018.
Going into the final turn of the 12-lap race, it was Korean Seung-hoon Lee – the PyeongChang 2018 gold medalist – who looked like a possible repeat winner, but the final sprint saw Swings come up on the outside, and Lee's teammate Jae-won Chung and American Joey Mantia screaming to the close on the inside.
Swings got there first, with Chung getting up for silver (7:47.18) and it took photo analysis to separate Lee (7:47.204) from Mantia (7:47.206). The American, a three-time World Champion in the event, felt he was held at the end, but no foul was called.
To the 1000ths, the top four were separated by just 0.087, and 2-4 by an incredible 0.022.
¶
The women's Mass Start was another sprint to the finish, with the Dutch superstar Irene Schouten winning her third gold of the Games, 8:14.73-8:14.79 over Canada's Ivanie Blondin.
The Canadian was the reigning World Champion from 2021 and was trailing Schouten going into the last lap. But she moved to the lead and into the final straight, when Schouten came from behind in the final strides to get the victory.
Schouten won the World title in 2019 over Blondin, and after finishing third in 2021, scored another win.
Schouten, 29, finishes with three Speed Skating golds and a bronze in Beijing; Blondin was on the winning relay team in addition to her silver in the Mass Start.
Third was Italy's Francesca Lollobrigida, just slightly behind in 8:14.98, winning her second medal of the Games and American Mia Manganello-Kilburg was fourth in 8:16.15, her best individual Olympic finish ever.
The amazing, 49-year-old Claudia Pechstein (GER), a five-time Olympic gold medalist, finished ninth to complete her eighth Olympic Games appearance. She will be 50 on the 22nd.
Elsewhere:
● Ice Hockey: Surprising Slovakia, which won only one of its three group-stage games, stomped Sweden by 4-0 to win the men's bronze medal.
There was no doubt about it, as Slovakia out-shot the Swedes in all three periods, scoring twice in the second period, first by Juraj Slafkovsky at 3:17 and then on a power-play by Samuel Takac at 12:47.
That score held up until the final minutes, when Sweden pulled goalie Lars Johansson and Slafkovsky and Pavol Regenda scored empty-netters in the final 1:14. Slovakian keeper Patrik Rybar, who so frustrated the U.S. in the quarterfinals, saved all 28 shots against him.
= PREVIEWS: SUN., 20 FEBRUARY =
(5 events across 5 disciplines)
● Alpine Skiing: Mixed Team Parallel Event
Postponed due to high winds on Saturday, this is the second time for this event in the Games, which has two men and two women in a four-person team that competes in Parallel Slalom races against another team in an elimination (bracket) format.
In its debut in PyeongChang in 2018, the Swiss defeated Austria in the final, with Norway edging France for the bronze.
At the 2021 Worlds, Norway defeated Sweden, 3-1, for the gold and Germany edged the Swiss for the bronze. These are, once again, the contenders.
The format favors the Swiss, which can field a team of Loic Meillard and Daniel Yule (5-6 in the men's Slalom) and Wendy Holdener and Michelle Gisin (3-6). Second choice would be Austria, with Johannes Strolz and Marco Schwarz (2-17) and Katharina Liensberger and Katharina Huber (2-12).
Norway has strong men in Sebastian Foss-Solevaag and Henrik Kristoffersen (3-4), but need help from Giant Slalom skiers Ragnhild Mowinckel and Thea Louise Stjernesund. German and Italy should also be dangerous.
Mikaela Shiffrin will line up for the U.S., reportedly becoming the second women's skier in Olympic history to enter all six alpine events on the program. She and Paula Moltzan (eighth) could be an excellent women's pair and while there were no U.S. finishers in the Slalom, River Radamus and Tommy Ford went 4-12 in the men's Giant Slalom.
● Bobsled: 4-man
No doubt whatsoever about the favorite: it's Germany's Francesco Friedrich, the defending gold medalist from 2018 and who dominated the World Cup season, winning seven of the eight races.
If he drives to another gold, Friedrich would become the fourth to win two Four-Man golds as the driver. And if Fredrich wins, he will complete a 2018-22 double-double, which no one has ever done. Fellow German Andre Lange won the Four-Man in 2002 and 2006 and the Two-Man in 2006 and 2010. (One note: Friedrich tied with Canada's Justin Kripps in the 2018 Two-Man.)
Beyond Friedrich, the situation is murky. Kripps won three World Cup medals in eight races; Russian Rostislav Gaitiukevich won three; German Johannes Lochner – who won the Two-Man silver – won two, as did Benjamin Maier (AUT).
And Latvia's Oskars Kibermanis had the only sled to beat Friedrich, in the season finale, and he won one other medal.
After the first two runs, Friedrich is leading – but just barely – over Lochner, 1:57.00 to 1:57.03. Kripps is third at 1:57.38 and the Two-Men bronze winner, Christoph Hafer, stands fourth at 1:57.55, just 0.01 ahead of Kibermanis.
American Hunter Church's sled stands 13th (1:58.61) and Fred Del Duca is 15th (1:58.82).
● Cross Country Skiing: Women's 30 km Mass Start Freestyle
The ultimate test in women's skiing – 18.6 miles – has to be another showcase for Norway's Therese Johaug, right?
The silver medalist in 2014 behind teammate and all-time great Marit Bjoergen (15 Olympic medals), Johaug has dominated distance skiing, winning this race at the 2011-15-19-21 World Championships and has already won the 10 km Classical and 15 km Skiathlon in Beijing.
She's absolutely the favorite, but 2018 silver medalist Krista Parmakoski (FIN) will be in close attendance and won the Beijing 10 km Individual bronze, and teammate Kerttu Niskanen won the silver medal in the 10 km Classical behind Johaug.
Sweden has the silver and bronze medalists from the 2021 World Championships 10 km Individual and 15 km Skiathlon, Frida Karlsson and Ebba Andersson; Karlsson took the 30 km bronze in both the 2019 and 2021 Worlds.
Do not discount Russian Natalya Nepryaeva – the World Cup leader – won the 15 km Skiathlon silver in Beijing. Austria's Teresa Stadlober took the 2022 Skiathlon bronze and was ninth in this race in 2018.
Wild cards? How about American Jessie Diggins and Rosie Brennan? Both are known better as sprinters, but Diggins took seventh in this race in PyeongChang and fourth in the 2019 World Championships! Brennan was 16th in the 30 km at the 2019 Worlds. A medal for either would be staggering.
● Curling: Women's final
No one saw this coming.
Great Britain's all-Scotland team, skipped by Eve Muirhead, eliminated defending Olympic gold medalist Sweden and Anna Hasselborg in the semifinals. Two-time World Champion Switzerland, led by Silvana Tirinzoni, lost to Japan, skipped by Satsuki Fujisawa.
Both finals skips own World Championships medals. Fujisawa won a Worlds silver in 2016 and Muirhead (for Scotland) won a 2017 bronze. And both own Olympic medals, with Muirhead winning a 2014 bronze and Satsuki leading Japan to a bronze in PyeongChang.
In the only game between them in Beijing, Britain got out to a 6-1 lead after three ends and cruised home with a 10-4 win.
● Ice Hockey: Men's final
With no NHL players competing in 2018, Russia was able to use players from its Kontinental Hockey League to assemble a skilled team that won the PyeongChang gold. They may be on the way to a repeat.
The Russians were 2-1, with an overtime loss to Denmark in the group phase and beat Sweden, 2-1, in their semi.
Finland went 3-0 in its group and the skated past Slovakia, 2-0, and will be trying to win its first Olympic gold in men's hockey in its third title game appearance. The Finns have won four Olympic bronzes, in 1994-98-2010 and 2014 and made it to the championship game in 2006, but lost to Sweden, 3-2.
Their not-so-secret weapon has been goalie Harri Sateri, who has allowed four scores in 240 minutes and has a 1.00 goals-against average. Russia has scored 13 goals in its five games so far (2.6 a game).
The USSR was, of course, the power in Olympic hockey, winning seven out of nine golds from 1956-1988 and then again as the "Unified Team" in 1992. Since the Soviet break-up, Russia made the title game in 1998 and the "Olympic Athletes from Russia" won in 2018 over Germany in the absence of NHL players.
= BEYOND BEIJING =
● Athletics ● Three world-leading marks and three U.S. sprint wins in the Muller Indoor Grand Prix in Birmingham (GBR), a World Indoor Gold-level meet. The world leaders:
● Men/Vault: 6.05 m (19-10 1/4), Mondo Duplantis (SWE)
● Women/800 m: 1:57.20, Keely Hodgkinson (GBR)
● Women/1,000 m: 2:38.25, Isabelle Boffey (GBR)
Duplantis won the vault at 5.81 m (19-0 3/4) from Brazil's 2016 Olympic champ, Thiago Braz and went straight to 6.05 m, which he cleared on his third try. He missed three times at a record 6.19 m (20-3 3/4).
Hodgkinson, still just 19 and the Tokyo Olympic silver winner, set a national indoor record with the win over Australia's Catriona Bisset (1:59.46) and prior world leader Natoya Goule (JAM: 1:59.85). Hodgkinsson ranks no. 6 on the all-time list, with the fastest time in the event since 2002!
Boffey, the 1,000 m winner, just 21, won a tight finish over Angelika Cichocka (POL: 2:38.57).
The U.S. wins start with Noah Lyles in the men's 60 m in 6.55, a lifetime best, winning over fellow Americans Ronnie Baker (also 6.55), Elijah Hall-Thompson (6.56) and Mike Rodgers (6.58). Kahmari Montgomery rose to no. 4 on the 2022 world list with his 45.72 win in the 400 m and Grant Holloway got his third win of the season in the 60 m hurdles in 7.41. Holloway was way ahead of Andrew Pozzi (GBR: 7.59) and fellow American Jarret Eaton (7.60).
Kenyan Collins Kipruto won the men's 800 m in the no. 2 mark of 2022, 1:45.39-1:45.42 over Elliot Giles (GBR), and countryman Abel Kipsang – the Olympic fourth-placer – won the men's 1,500 m in an indoor lifetime best of 3:34.57.
Jamaica's Elaine Thompson-Herah won the women's 60 m in 7.08 from Swiss Mujinga Kambundji (7.11), to move to no. 4 on the 2022 world list. Fellow Jamaican Stephanie Ann McPherson won the 400 m (51.39) and Ethiopia's Dawit Seyaum took the women's 1,500 m in a speedy 4:04.35, now no. 8 on the 2022 world list.
Australia's Eleanor Patterson, the world leader at 1.99 m (6-6 1/4) in the high jump from last Tuesday in Slovakia, won at 1.97 m (6-5 1/2) with a rare victory over Russia's Olympic champ Mariya Lasitskene (1.91 m/6-3 1/4).
¶
World-record holder Jacob Kiplimo of Uganda won the Ras Al Khaimah Half Marathon in the UAE in 57:56, the fifth-fastest performance in history. He was trying for another world record and passed 10 km in a sensational 26:56, and won going away from Kenya's Rodgers Kwemoi (58:30), who moved to no. 11 on the all-time list.
Ethiopia's Girmawit Genrzihair won the women's race in a fast 1:04:14, making her the no. 4 performer all-time, just ahead of Kenyan star Hellen Obiri (1:04:22: no. 5 all-time) and Sheila Kiprotich (KEN: 1:04:36, now no. 7 all-time).
You can receive our exclusive TSX Report by e-mail by clicking here. You can also refer a friend by clicking here, and can donate here to keep this site going.
For our 832-event International Sports Calendar for 2022 and beyond, by date and by sport, click here!