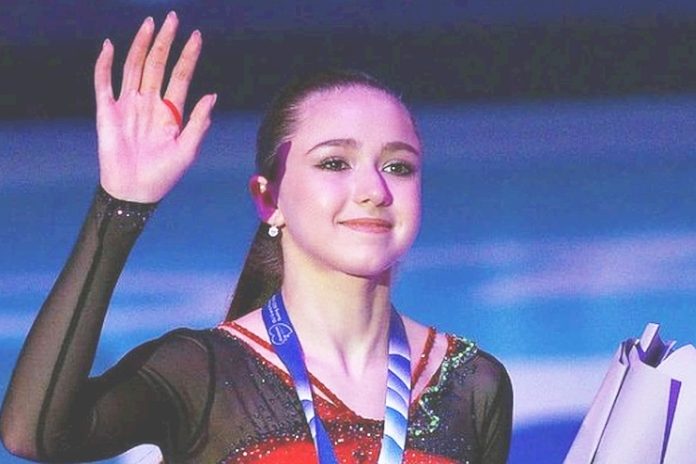 (★ Friends: So grateful for the 21 donors who have stepped up to cover 38% of our site costs for services for the first six months of 2022. If you would like to add your support, please donate here. Thank you. ★)
= BEIJING 2022 =
From Lane One
The rumors and speculation over the Team Event in figure skating were finally quelled by an extensive statement by the International Testing Agency on Friday morning in Beijing that finally answered most of the questions. In short:
(1) Russia's 2022 women's European Champion Kamila Valieva tested positive for trimetazidine, a prohibited substance classified as a hormone and metabolic modulator, on 25 December 2021. The sample was taken at the Russian Championships and processed at the accredited laboratory in Stockholm (SWE), with the results communicated on 8 February 2022.
(2) In the meantime, Valieva competed in the Team Event, winning both the Short Program and the Free Skate, helping the Russian team to the gold medal, 74-65, over the U.S. The Team Event finished on 7 February 2022, one day before the revelation of the positive test.
(3) Valieva was suspended by the Russian Anti-Doping Agency (RUSADA) as of the 8th, but she appealed and the RUSADA Disciplinary Anti-Doping Committee cleared her after a hearing one day later, on 9 February. That's two days after the Russian team won in Beijing.
(4) "Under the World Anti-Doping Code, the World Anti-Doping Agency (WADA), the International Skating Union (ISU), RUSADA and the IOC have a right to appeal the decision to lift the provisional suspension before the Court of Arbitration for Sport (CAS). …
"Following the delegation of the IOC's anti-doping program in relation to the Olympic Games to the ITA, the ITA will lead the appeal before CAS on behalf of the IOC."
That's where we are. Valieva's team will ask for an immediate test of her B-sample from December by the Stockholm lab and the evaluation of Valieva's status will take place at the Court of Arbitration for Sport's temporary Ad Hoc Division office in Beijing, set up for exactly this purpose.
On Friday, the CAS posted a statement acknowledging the appeals, which "were received at the CAS Ad Hoc Division in Beijing at 20:45 [IOC] and 22:20 [WADA] respectively, on Friday, 11 February 2022 (time of Beijing). …
"A Panel of arbitrators will be appointed shortly to decide the matter. The Panel will issue procedural directions, including directions for a hearing. The date and time of the CAS decision will be announced after the hearing."
Once a decision on whether Valieva should have been suspended and not allowed to compete is reached, the International Skating Union will decide on any revision of the results of the Team Event.
In the meantime, the clock is ticking toward the women's Short Program on 15 February (next Tuesday).
Now you know.
Observed: For all the many assurances of fairness and transparency in the anti-doping process, the system did not work as smoothly as planned.
The 46 days that it took for the Stockholm lab to return the results of Valieva's test put the ITA in an impossible position. The Team Event had already been completed when the agency found out about Valieva's positive, and it delayed the medal ceremony accordingly.
But instead of issuing a statement which revealed the positive and the procedure going forward – as it has done now – but without the name of the athlete, the ITA went silent. In fact, its statement underlined its reluctance to say anything:
"[T]he ITA stresses that Ms. Kamila Valieva, a member of the Russian Olympic Committee (ROC) delegation in Beijing, is a minor and therefore a 'Protected Person' under the World Anti-Doping Code – this status applies to persons under the age of 16. As such, the parties are not subject to mandatory public disclosure of her name or any case she might be involved in, instead any public disclosure must be proportionate to the facts and circumstances of the case. Seeing that some in the media did not grant her the same protection and have reported widely on the basis of unofficial information following the postponement of the medal ceremony of the figure skating Team Event at the Olympic Winter Games Beijing 2022, the ITA acknowledges the necessity for official information due to heightened public interest."
Is this the only way to handle this? No.
By contrast, the Athletics Integrity Unit, the independent body which runs the anti-doping program for World Athletics, was notified of a doping positive for Nigerian sprinter Blessing Okagbare during the Tokyo Games on Friday, 30 July and (1) provisionally suspended her on Saturday, 31 July, (2) informed her of her provisional suspension on that day, (3) removed her from that day's semifinals of the women's 100 m to be held at 7 p.m. that evening and (4) issued a public statement on the same day.
All of this could have been done – without mentioning Valieva by name – on Tuesday the 8th, instead of waiting until Friday the 11th. The delay built up enormous and unnecessary pressure on the process because the massive media corps in Beijing knew that only an inadequately small part of the story had been shared.
And the concerns have gone well past the news media. U.S. Olympic & Paralympic Committee Chair Susanne Lyons told Karen Rosen of AroundTheRings.com:
"It doesn't matter whose athlete it is or how good they are; if someone does something wrong, it needs to be addressed evenly across all countries.
"That's my great fear. I don't have information on today's specific situation, but I think that it's a conversation we need to reopen again. That really the whole credibility of the Olympic Movement and the Paralympic Movement stands teetering on the edge of us saying that we really believe and live the values that we say we stand for."
If the appeal is successful and Valieva is suspended, the Russian team will be disqualified. And there will be more losers:
● If the Russian Figure Skating Federation had any knowledge that Valieva must have tested positive on 25 December 2021, why play with fire? Russia would have won the event without incident by substituting either 2021 World Champion Anna Shcherbakova (age 17) or 2018 and 2019 World Junior Champion Alexandra Trusova (also 17) for Valieva.
Now, as all three skaters belong to the same skating club, Sambo 70, suspicion will now be on them also.
● The World Anti-Doping Agency has been working with RUSADA on a reinstatement plan for Russia, but this incident and especially the rapid clearance of Valieva by a RUSADA committee after Russia won the Team gold is going to require further inquiry. The full decision of the RUSADA Disciplinary Committee is due to be disclosed shortly, but the IOC, ITA, WADA, ISU and even RUSADA itself are not waiting.
For those who have continued to doubt Russia's sincerity in creating an anti-doping culture, these events are now a prime exhibit.
The ITA erred on the side of protecting the athlete's identity and causing chaos when it could have disclosed more details that would have protected her identity – discovered in about a day by reporters inside and outside of Russia – and allowed the case to proceed in an orderly way.
If Russia is disqualified from the Team Event, the U.S., Japan and Canada would be the medal winners; will they get their medal ceremony before the closing ceremony on the 20th?
¶
The Olympic Covid incidence report for 10 February ticked up a little again, with 11 total positives: two at the airport (both athletes and team officials) and nine (five athletes and team officials and four others) inside the closed loop.
This was the first report of more than 10 positives after three days of single digits. The number of arrivals increased to 179, including 121 athletes and team officials getting ready for the second week.
The totals now show 176 total positives (arrivals and inside the closed loop) among athletes and team officials and 314 among all other stakeholders since the closed loop began operations on 4 January.
The U.S. Olympic & Paralympic Committee reported Thursday that there were no new cases among the 570 delegates in Beijing. The number currently isolated is down to one athlete.
¶
NBC's reported that its Wednesday primetime audience rose slightly to 12.0 million, up from 11.5 and 11.0 million on Monday and Tuesday. This should have been a big night for viewing, with Nathan Chen winning in figure skating and Chloe Kim's snowboard Halfpipe victory.
For the first six days of the Games (not counting the pre-Games telecast), and subject to final confirmation once all of the numbers come in, the average primetime total audience is now 12.4 million. That is down 37% from the nightly average of 19.8 million for the PyeongChang Games in 2018 and down from the 15.1 million nightly primetime average for the Tokyo Games last summer.
¶
Favored Norway climbed to the top of the medals table for the first time in this Winter Games with 14 (6-3-5), in a tie with Austria (4-6-4).
Russia continues to have an excellent Games with 12 medals (2-4-6), with Canada also at 12 (1-4-7). Germany, the gold-medal leader with seven has 11 (7-4-0), followed by the Netherlands (5–4-1), U.S. (4-5-1) and Italy (2-4-4) all at 10.
For a better comparison of team strength, here are our TSX scoring rankings, using the top eight places, via the time-honored U.S. scoring of 10-8-6-5-4-3-2-1. So after 52 of 109 events:
1. 177, Norway
2. 176, Austria
3. 164, Russia
4. 154, Germany and the United States
6. 140, Canada
7. 124, Netherlands
8. 117, Italy
9. 109, Sweden
10. 102, Japan
11. 86, China
12. 79, Switzerland.
~ Rich Perelman
= RESULTS: FRIDAY, 11 FEBRUARY =
● Alpine Skiing: Women's Super-G
Heading into Beijing, Switzerland had won every event on the women's Olympic skiing program except the Super-G. Its reigning World Champion in the event, Lara Gut-Behrami remedied that on Friday with a brilliant run to win in 1:13.51, ahead of Austria's Mirjam Puchner (1:13.73) and Swiss teammate Michelle Gisin (1:13.81).
There was drama from the start, as defending Olympic champion Ester Ledecka (CZE), already having won another Snowboard gold, went second in the order and took the lead at 1:13.94.
But she was pushed down the list by Puchner, who started third and then by Gisin, whose run left her second to the Austrian. France's Tessa Worley, starting sixth, was a medal threat, but skied unevenly and her 1:15.30 time ended up earning only 19th place.
Then came Gut-Behrami, the overall World Cup winner in 2016 and the World Cup Super-G champion in 2014, 2016, and 2021, with 17 total World Cup wins in this discipline. She made the most of her chance.
She won the race near the top of the course, keeping a tight line and not succumbing to the wide turns that hurt so many of the racers. Her 23.00-second interval between the first and second checkpoints was 0.21 faster than anyone else in the field and was 95.5% of her margin over Puchner.
The top seven in the final standings came from the first nine racers; Tamara Tippler (AUT) finished fourth (1:13.84) and Ledecka ended up fifth at 1:13.94.
American Mikaela Shiffrin fell victim to a wide turn on the upper part of the course and could not develop the speed she wanted on the lower half, finishing in 1:14.30, in a creditable ninth place.
She said afterwards, "I proved to myself that I can still trust my instincts a bit, and that's really, really huge. And for all the people who have been sending me support, I can only say: thank you."
The other American entries included Isabella Wright in 21st, Keely Cashman in 27th and Alix Robinson, who fell after a promising start.
For Gut-Behrami, she now owns three Olympic medals and her first gold, to go along with her two 2021 World Championships victories.
● Biathlon: Women's 7.5 km Sprint
World Cup seasonal leader Marte Olsbu Roeiseland shot clean and broke away on the second of three loops to rout the field on the way to a 20:44.3 victory, the first ever for Norway in this event at the Winter Games.
Sweden's Elvira Oeberg had an 0.4-second lead after the first circuit, but Roeiseland turned on the speed on the second loop, forging a 24.6-second lead and cruising home, with Oeberg a clear second at 21:15.2 (+30.9).
Third was Italy's Dorothea Wierer, 37.2 seconds back of the winner (21:21.5), well ahead of Austria's Lisa Hauser (+47.3: 21:31.6).
Susan Dunklee, the 2020 Worlds silver medalist, was the top American in 27th (22:39.5).
Roeiseland moved up from silver in PyeongChang in 2018 and now owns five Olympic medals; she won a gold earlier in the Games in the Mixed Relay, as well as a bronze in the 15 km Individual race.
● Cross Country Skiing: Men's 15 km Classical
Finland's Iivo Niskanen, in the shape of his life, took off from the start and crushed the field, winning in 37:54.8.
Niskanen, the Skiathlon bronze winner earlier, had a 2.3-second lead by the 1.8 km checkpoint, and expanded it to lead by 11.4 seconds at halfway and 23.2 seconds at the finish over Russian star Alexander Bolshunov, the Skiathlon winner.
Bolshunov finished in 38:18.0, well ahead of Norway's Johannes Hoesflot Klaebo, the Sprint winner, in third, giving each of them their seconds medals of these Games. Fourth was Hans Christer Holund (NOR), another 12.3 seconds back (38:44.6).
Scott Patterson was again the top American, in 38th place (41:23.1). Three-time defending Olympic champ Dario Cologna (SUI) finished 44th.
For Niskanen, 30, this was his third straight Games with a gold, after the Team Sprint in Sochi and the 50 km Classical in PyeongChang.
● Short Track: Women's 1,000 m
Sure, there was a crash in the final, as American Kristin Santos and Italian star – and 10-time Olympic medalist – Arianna Fontana got tangled up on the last lap. Fontana was disqualified and Santos, who looked like a real medal favorite after winning her heat, quarter and semi, finished fourth.
None of that deterred the unstoppable Suzanne Schulting, who defended her 2018 title in this race in 1:28.391, over Korea's Min-jeong Choi (1:28.443) and Hanne Desmet (BEL: 1:28.928). Santos finished in 1:42.745.
Schulting also won her heat, quarter and semi and set a World and Olympic record of 1:26.514 in her quarterfinal. It's her second medal of these Games – she was second at 500 m – and fourth career Olympic medal. Choi won her third Olympic medal after two wins at home in 2018.
American Corinne Stoddard finished seventh overall as she was third in the "B" final; Maame Biney was fifth in that race and finished ninth.
● Skeleton: Men
Germany has dominated the sliding sports, but got its first-ever medals in men's Skeleton as Christopher Grotheer and Axel Jungk went 1-2, in 4:01.01 and 4:01.67.
Grotheer – the two-time defending World Champion – took charge from the start, setting a track record of 1:00.00 in the first run and then winning the second and third runs as well to create a big lead and cruise home with the victory. Jungk, the 2020 Worlds runner-up, was consistent, placing 5-2-2-3 on his four runs to cement his silver status over China's Wenqang Yan (4:01.77). It was also the first-ever men's Skeleton medal for China.
Russia's Alexander Tretiakov, the 2014 Olympic winner, was fourth in 4:01.99. Defending champion Sung-bin Yun (KOR) finished 12th. Andrew Blaser was the top American, in 21st.
● Snowboard: Men's Halfpipe
Some outrageous tricks in the first round ended up in failure as American Taylor Gold led all scorers with a modest 81.75. Swiss Jan Scherrer, the 2021 Worlds bronze medalist, upped the ante in round two with an 87.25, then American star Shaun White, in his fifth Games at age 35, completed a strong run and moved into second at 85.00.
But Australia's three-time World Champion Scotty James, who scored 91.25 in the qualifying, put together a sensational run and took the lead at 92.50. He was followed by Japan's Ayumu Hirano, the qualifying leader, who soared through a clean run of exquisite technical difficulty, but was awarded only 91.75 – and into second place – to the audible disbelief of the modest crowd on hand.
All the brakes were off for round three, and American Chase Josey improved to 79.50 to get into seventh, but Scherrer and Gold did not improve. White's final run – his last competitive run – started well, but he clipped the wall at the top of his second trick and he had to settle for his 85.00 score from the first round and ended his fifth Olympic trip in fourth place (as in 2014). "That's it" he said after watching the scoreboard replays. Gold finished fifth.
James's final run started well, but he could not complete it, leaving Hirano with a last chance to take the gold medal. The Japanese star completed a brilliant, imposing run, including an astonishing triple cork 1440 trick off the top and steamed home to earn a gold-medal-winning 96.00!
The brilliant run gives Hirano a gold at age 23 to go with his silver to White in PyeongChang, with much more ahead of him.
Younger brother Kaishu Hirano fell on his third run, but not before flying an amazing 24-4 above the 23-6 high Halfpipe, perhaps the best on record. Startling, but not a factor in the standings.
Said White, "I had announced before arriving here in China that this would be my last Olympics. Saying it was one thing, but to live in that moment, ride down that halfpipe and put down some solid runs, to see the cheer of the crowd and my fellow competitors waiting there to give me some kind words, it was just a beautiful day. Obviously, I wish I had really nailed that podium spot, but I'm so proud of my career and my life in snowboarding. This was a perfect send off. I'm very happy."
● Speed Skating: Men's 10,000 m
Sweden's Nils van der Poel entered as the world-record holder (12:32.95 '21) and the winner of the 5,000 m in Beijing in Olympic Record time.
He left no doubt whatsoever in the 10,000 m, skating to another world record of 12:30.74 and winning by almost 14 seconds over Dutch star Patrick Roest (12:44.59).
Roest put down a strong skate in the second pair, but van der Poel could not be stopped, skating in the fifth pair and winning over eventual bronze medalist Davide Ghiotto by 15.24 seconds (12:45.98).
Defending champ Ted-Jan Bloemen (CAN: 13:01.39) finished eighth and Sochi winner Jorrit Bergsma (NED) was fourth in 12:48.94.
Van der Poel completed the Olympic 5-10 double for the first time since Jochem Uytdehagge (NED) in 2002. It's the 10th time it's been done, previously in 1932-36-52-72-80-88-94-98 and 2002.
Elsewhere:
● Curling: John Shuster's U.S. rink defeated Great Britain, 9-7, to go to 2-1 in the nine-match round-robin portion of the men's tournament. Sweden (Niklas Edin) and Canada (Brad Gushue) are the only undefeated teams at 3-0 and 2-0, respectively.
Tabitha Peterson's U.S. women's squad sailed past China, 8-4, to improve to 3-0, along with World Champion Switzerland (Silvana Tirinzoni).
● Ice Hockey: The U.S. women broke out of a 1-1 tie with the Czech Republic with scores by Lee Stecklein (6:49), a power-play goal by Savannah Harmon (16:51) and an empty-netter with six seconds remaining by Kendell Coyne Schofield for a 4-1 win in their quarterfinal.
The game should not have been that close, as the U.S. offensive barrage continued: 18-0 on shots in the first period, 13-4 in the second and 28-2 in the third for a 59-6 advantage! Alex Cavallini handled the U.S. goalie duties, turning away five of the six Czech shots.
Canada continued to destroy its opponents, beating Sweden, 11-0; it now has a 44-5 goal differential for the tournament.
In the semis on Monday, the U.S. will face the winner of Russia-Switzerland and Canada will play Finland or Japan.
= PREVIEWS: SAT., 12 FEBRUARY =
(6 events across 6 disciplines)
● Biathlon: Men's 10 km Sprint
Only in this sport can a 10,000 m race be called a sprint. But it could be the second step in an iconic Games for France's Quentin Fillon Maillet, who has already won the 20 km Individual race.
He was the last winner of a Sprint race on the World Cup circuit, back on 13 January in Germany and that makes him no less than a co-favorite. The others start with the other medal winners in the 20 km Individual race, silver winner Anton Smolski (BLR) and bronze medalist (and two-time World Champion in this event) Johannes Thingnes Boe (NOR).
Boe has a gold and a bronze in the six World Cup sprints, and Smolski has two bronzes. Sweden's Sebastian Samuelsson had two wins – both early in the season – but only one other medal on the season; teammate Martin Ponsiluoma is the reigning World Champion, but also had just one Sprint medal in 2021-22. France's Emilien Jacquelin has two Sprint silvers as well.
Boe's teammates Vetle Christiansen and Sturla Holm Lagreid are contenders and Germans Johannes Kuhn (a Sprint winner this season) and 2017 World Champion Benedikt Doll (silver) and Russia's Eduard Latypov (one silver) and 2020 World Champion Alexandr Loginov (one win) should not be overlooked.
But Fillon Maillet, 29, is hot right now and that makes him hard to beat.
● Cross Country Skiing: Women's 4×5 km Relay
This event has been held only once on the World Cup circuit this season, with Russia defeating Sweden and Norway in early December.
It will be interesting to see how Norway uses superstar Therese Johaug – a member of the Olympic winners in 2010 in this event – she is supreme at the longer distances, but not a sprinter. Losing former World Cup winner Heidi Weng to Covid really hurts.
Sweden has two strong legs in Frida Karlsson and Ebba Andersson; can sprinter Maja Dahlqvist help? Same for Finland with Kerttu Niskanen and Krista Parmakoski; can sprinter Johanna Matintalo be counted on?
The Russians have three proven legs with World Cup leader Natalia Nepryaeva, Tatiana Sorina and Yulia Stupak, but will their fourth be good enough?
The U.S. has never won a medal in this event, and has Jessie Diggins, Rosie Brennan and Julia Kern … and again, who's the fourth?
● Skeleton: Women
Germany has never won this event in the Winter Games, but is by far the dominant country, winning five straight World Championships, four of them by Tina Hermann.
But Hermann, 29, was in a fight during the World Cup season against three other stars and ended up fourth in the final standings to Kimberley Bos (NED: 2 wins/6 medals), Janine Flock (AUT: one win/2 medals) and Russians Elena Nikitina (2 wins/3 medals; the 2014 bronze winner) and Yana Kanakina (two medals). Even Australian Jaclyn Narracott won a World Cup race this season.
And Narracott was the surprise leader after two runs as most of the favorites had trouble. The Australian ran second and third in her first two runs and totaled 2:04.34.
Second is World Junior champ German Hannah Neise, 21, who was eighth on her first run, but won the second and is 0.21 back at 2:04.55. Hermann stands third after a fifth-place finish on the first run and third on the second (+0.23). What?
China's Dan Zhao is a shocking fourth, after finishing third and fifth on her runs (+0.32), followed by 2017 World Champion and 2018 silver medalist Jacqueline Loelling (+0.38) and then Bos (+0.39). Crazy; and still two more runs to go.
● Ski Jumping: Men's Large Hill (140 m)
A double or a triple? That's the question on the big hill in Beijing as Japan's Ryoyu Kobayashi goes for the Normal Hill/Large Hill double, or will Poland's Kamil Stoch win his third straight Olympic big hill title?
Japan has serious history in this event, with Kazuyoshi Funaki winning at home in 1998 and one other medal all-time, and Kobayashi won seven times – more than anyone else – on the all-Large Hill World Cup tour this season. The Olympic jumping double has been done several times, most recently by Stoch in Sochi in 2014.
The World Cup leader is German Karl Geiger, with four wins and six other medals, ahead of Norwegians Halvor Egner Granerud and Marius Lindvik, then Anze Lanisek (SLO) and German Markus Eisenbichler.
Those are the obvious contenders, but the last two bronze medalists are back: Robert Johansson (and his moustache) from Norway and Peter Prevc from 2014 (SLO). Don't forget to add in Austria's Stefan Kraft, the 2017 and 2021 World Champion, who also posted a World Cup win this season.
And Stoch? Just one bronze medal on tour this season, but strange things happen in the Games.
● Snowboard: Mixed Team SnowCross
This is a new event for the 2022 Games and held only twice in the FIS World Championships, with Mick Dierdorff and Lindsey Jacobellis winning for the U.S. in 2019 and Australians Jarryd Hughes and Belle Brockhoff winning in 2021. All four are in Beijing, but both teams have options, for example Nick Baumgartner of the U.S. or Cameron Bolton for Australia.
Italy's Michela Moioli won the silver both times and Omar Visintin, her partner in 2019, won the men's bronze medal already in Beijing.
Moioli and Lorenzo Sommariva won the only World Cup event held this season, beating the Czech team of Eva Samkova and Jan Kubicik back in December.
In addition to these three nations, France should field a strong pairing of Chloe Trespeuch and Merlin Surget.
● Speed Skating: Men's 500 m
The sprinters finally get on the ice in Beijing, with Canada's Laurence Debreuil the most decorated during the World Cup season: two golds, one silver and five bronzes. He won a medal in every race and is the reigning World Champion.
No one else can say that, but Japan had Tatsuya Shinhama win two races and Wataru Morishige and Yuma Murakami won medals.
Russia has a formidable entry with Viktor Mushtakov, a Worlds bronze medalist and a World Cup winner this season, two-time World Cup medalist Artem Arefyev and Ruslan Murashov, the 2019 World Champion and 2020 Worlds silver winner. Interestingly, the 2015-16-20 World Champion, Pavel Kulizhnikov – absent from the World Cup series this season – is listed as an alternate.
So is the defending gold medalist, Norway's Havard Holmefjord Lorentzen, who did not win a World Cup medal in 2021-22. The Duch are led by Kai Verbij, the two-time national champion in this event.
Tingyu Gao, the 2018 Olympic bronze medalist, won the season opener, but earned only one more medal (a bronze) during the rest of the season.
Motivation for Debreuil: Canada has never won this event, which debuted with the first Winter Games in 1924, and hasn't won a medal since 2002.
= BEYOND BEIJING =
● Swimming ● The surprise announcement of an added FINA World Championships in June in Budapest (HUN) drew a muted public response from the International Swimming League, whose early matches in 2022 now collide with the 18- June-3 July Worlds dates, including:
"[W]e are also respectful of the commitments that competitive swimmers have apart from the ISL. Thus, the Season 4 calendar deliberately avoids, as best as possible, the dates of the Commonwealth Games, the European Championships, the Asian Games and the original dates of the Fukuoka World Championships in May. …
"Furthermore, in recognition of the added difficulty that comes with navigating potential calendar clashes, the League is proud to increase its support for swimmers competing in the ISL – e.g., with additional travel expenses allowances, etc., to ensure that swimmers can be in the right place, at the right time, with minimum disruption.
"Ultimately, the League is delighted that swimmers have increased opportunities to compete this summer, as the ISL's goal has always been to provide more opportunities to the swimming community. Having more choice is always a positive. We look forward to a summer full of incredible performances from athletes, in the ISL Season 4 and elsewhere!"
This is a more cooperative attitude from ISL toward FINA than in the past, a favorable development for the new FINA administration, starting with President Husain Al-Musallam, (KUW).
You can receive our exclusive TSX Report by e-mail by clicking here. You can also refer a friend by clicking here, and can donate here to keep this site going.
For our 832-event International Sports Calendar for 2022 and beyond, by date and by sport, click here!