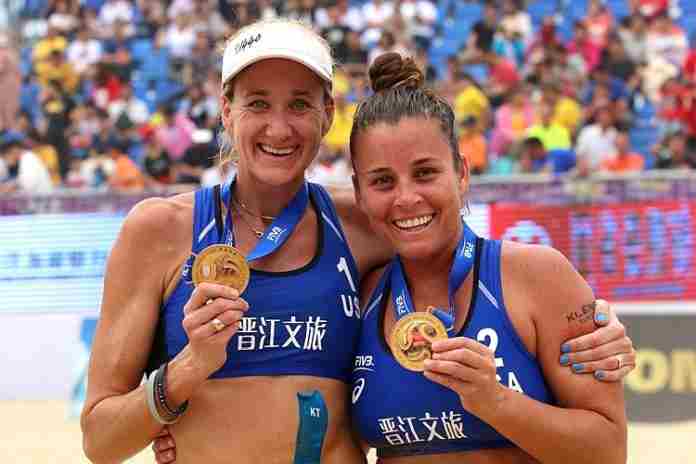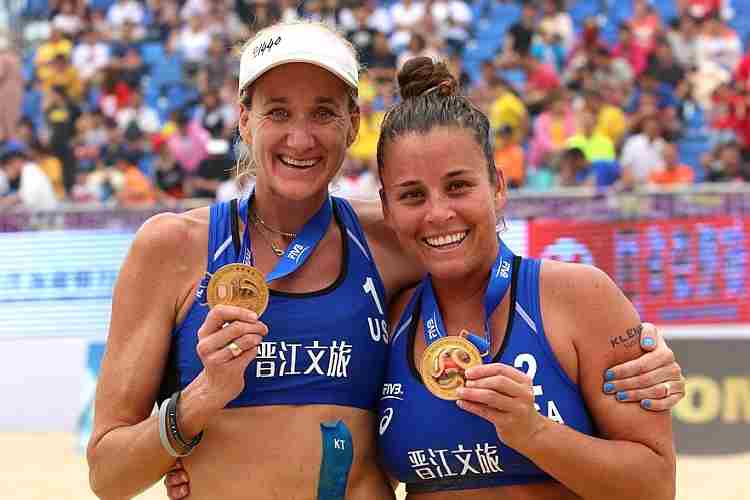 There has been plenty of reason to doubt the chances of three-time Olympic gold medalist Kerri Walsh Jennings – now 40 – on the trail of a fifth Olympics. But there is a little more reason for optimism after she and new partner Brooke Sweat won an impressive victory in the FIVB World Tout four-star tournament in Jiajiang (CHN).
Walsh Jennings and Sweat had to defeat the formidable Brazilian duo of Agatha Bednarczuk and Duda Lisboa in the semis (2-1) and then swept Australia's Taliqua Clancy and Mariafe Artacho del Solar in the final, 21-17, 21-19.
It was the first goal for Walsh Jennings and Sweat as a pair, but their fourth medal (1-1-2) in the nine tournaments they have played together this season. For Walsh Jennings, it was her 56th World Tour victory, but the first since 2016. It was the first ever for Sweat, 33.
"It's been so long, it just feels good, it feels good to play well as a team, it feels good to improve, it feels so good to finish on top," said Walsh Jennings. "The world is so good at volleyball so you have to be the best on that day to win and we played great and it was so fun."
"It's my first gold, so to get it with Kerri in such a great tournament, we played some great teams. I'm so excited and looking forward to more," said Sweat.
On the men's side, the Norwegian pair of Anders Mol and Christian Sorum are – for now – unstoppable, winning their second straight four-star tournament and third of the season. They dispatched the star Brazilian pair of Evandro and Bruno Oscar Schmidt in three difficult sets, losing the first (14-21), the coming back to win the final two sets, 21-17 and 15-12.
It's worth noting that even though Evandro and Oscar Schmidt are first-year partners, Evandro was half of the 2017 World Champion team and Oscar Schmidt half of the 2016 Olympic champions!
"It's been a really intense week, we fought through last week – six games – now again we came with the jet lag all the way [from Brazil] to China and we didn't really expect to play well because we feel bad after a long travel," said Mol. "But we managed to rally and get this gold medal, it feels amazing."
It isn't going to get much easier, as there are two four-star tournaments left – Ostrava (CZE) this week and Warsaw (POL) two weeks after that – before the 2019 World Championships at the end of June. Summaries:
FIVB World Tour
Jinjiang (CHN) ~ 22-26 May 2019
(Full results here)
Men: 1. Anders Mol/Christian Sorum (NOR); 2. Evandro Goncalves/Bruno Oscar Schmidt (BRA); 3. Andre Loyola Stein/George Wanderley (BRA); 4. Trevor Crabb/Tri Bourne (USA). Semis: Mol/Sorum d. Crabb/Bourne, 2-0; Evandro/Bruno Schmidt d. Andre/George, 2-0. Third: Andre/George d. Crabb/Bourne, 2-0. Final: Mol/Sorum d. Evandro/Bruno Schmidt, 2-1 (14-21, 21-17, 15-12).
Women: 1. Brooke Sweat/Kerri Walsh Jennings (USA); 2. Taliqua Clancy/Mariafe Artacho del Solar (AUS); 3. Ana Patricia/Rebecca Cavancanti (BRA); 4. Agatha Bednarczuk/Duda Lisboa (BRA). Semis: Walsh Jennings/Sweat d. Agatha/Duda, 2-1; Clancy/Artacho d. Ana Patricia/Rebecca, 2-0. Third: Ana Patricia/Rebecca d. Agatha/Duda, 2-0. Final: Walsh Jennings/Sweat d. Clancy/Artacho, 2-0 (21-17, 21-19).