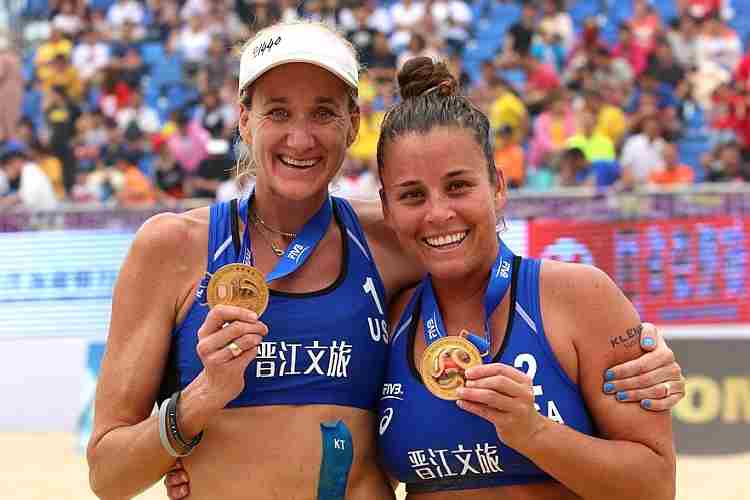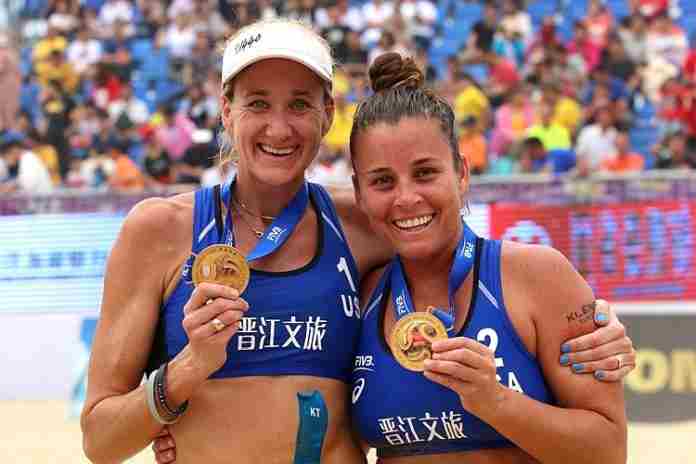 The FIVB World Tour is speeding into its final three weeks, with dual three-star and four-star events in Canada and Portugal. While the top teams from the World Championships and Gstaad five-star Major from last week are taking a breather, the fields are still of high caliber. The top seeds:
Espinho (POR) 4-star (current world rankings shown):
● Men:
1. Konstantin Semenov/Ilya Leshukov (RUS: 6)
2. Nick Lucena/Phil Dalhausser (USA: 19)
3. Jacob Gibb/Taylor Crabb (USA: 21)
4. Evandro Goncalves Oliveira/Bruno Oscar Schmidt (BRA: 7)
5. Paolo Nicolai/Daniele Lupo (ITA: 9)
● Women:
1. Barbora Hemrannova/Marketa Slukova (CZE: 15)
2. Ana Patricia Ramos/Rebecca Cavalcanti (BRA: 2)
3. Agatha Bednarczuk/Duda Lisboa (BRA: 5)
4. Barbara Seixas/Fernanda Alves (BRA: 12)
5. Brooke Sweat/Karri Walsh Jennings (USA: 11)
Edmonton (CAN) 3-star (current world rankings shown):
● Men:
1. Ryan Doherty/John Hyden (USA: 68)
2. Chase Budinger/Casey Patterson (USA: 57)
3. Ben Saxton/Grant O'Gorman (CAN: 24)
4. Stafford Slick/William Allen (USA: 37)
5. Philipp Arne Bergmann/Yannick Harms (GER: 26)
● Women:
1. Sarah Pavan/Melissa Humana-Paredes (CAN: 3)
2. Betsi Flint/Emily Day (USA: 26)
3. Megan McNamara/Nicole McNamara (CAN: 40)
4. Nicole Laird/Becchara Palmer (AUS: 52)
5. Amanda Dowdy/Corinne Quiggle (USA: 111)
It's worth noting the importance of the Espinho tournament for the top-seeded Czechs, Hermannova and Slukova, who had to miss the World Championships with injury. It's also interesting to see that Sweat and Walsh Jennings have climbed to no. 11 in the rankings in their first season together. Much of the field for Tokyo will come from the FIVB rankings as of June in 2020 and two teams per country will be admitted. At present, Sweat and Walsh Jennings stand third among U.S. teams, with Alix Klineman and April Ross ranked no. 1 at present, and Sara Hughes and Summer Ross ranked ninth. But the four-time Olympic medalist is back in the fight for a fifth Olympic Games.
Look for results from Edmonton here, and from Espinho here.