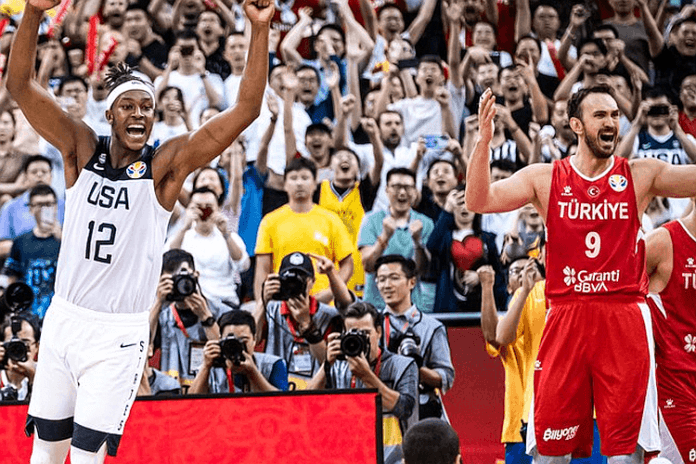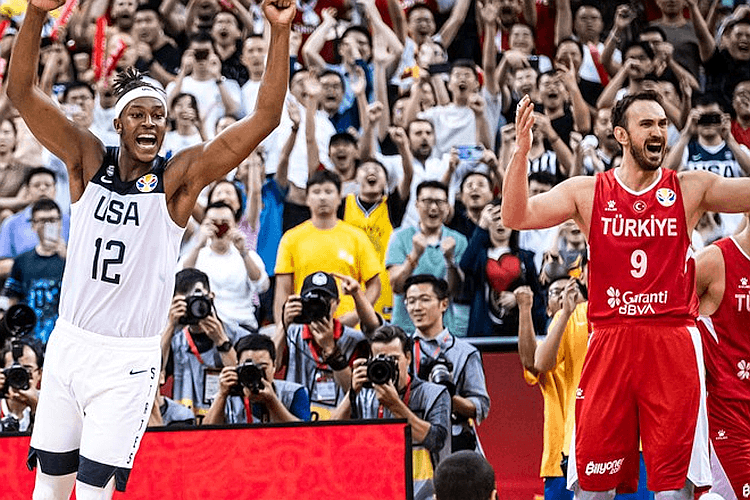 "The game was in our hands; we gave them the game."
That comment from Turkish forward Furkan Korkmaz summed up the monumental struggle that was the game of the tournament thus far in the 2019 FIBA World Cuo.
The favored U.S. team shot out to a 15-point lead at 41-26 in the second quarter and was on the edge of deciding the game in the first half. But the Turks scored 12 in a row to close to 41-38 and the American lead at halftime was only 47-42.
Trouble for the U.S.? Yes.
A steady lead in the third quarter evaporated and the U.S. was up only 65-61 after three quarters. In the fourth, Turkey tied it at 71-71 with 6:01 to go on a Melih Mahmutoglu layup. The game was tied again at 74-74 and then at 79-79 with 57 seconds to go as both sides found it difficult to score.
Then a Donovan Mitchell pass was intercepted by Turkey's Ersan Ilyasova and although Cedi Osman missed a jumper, Ilyasova tipped in the loose rebound for an 81-79 lead with 12.3 seconds to go.
A Khris Middleton try from three-point range missed, but Kemba Walker grabbed the rebound and Jason Tatum was then fouled by Osman – body contact as his shot was being taken – on a desperation three-point try with 0.1 seconds to go. Tatum made the first, missed the second and made the third to tie to game at 81-81.
In the overtime, Turkey ran out to an 89-84 lead with 3:20 to go, but Walker scored five straight points and Tatum added a layup for a 91-89 U.S. lead. Walker missed a three-point try that would have iced the game, then Osman drove for a layin and was fouled; he made the free throw for a 92-91 lead with 50 seconds left.
The U.S.'s Joe Harris missed a layin try off a drive with 35 seconds to go, but then Turkey's Scott Wilbekin gave the U.S. another chance with an offensive foul with 14 seconds to play. But Myles Turner mishandled a pass and Dogus Balbay stole the ball and Harris fouled him, giving Balbay two free throws with nine seconds left.
He missed both.
Turkey had the ball and Marcus Smart fouled Osman immediately, sending him to the line for two more foul shots. He missed both and Tatum took the rebound, but fell with an injured ankle and had to leave the game, replaced by Middleton.
Middleton then drove to the basket and was fouled. He made both for a 92-93 U.S. lead with 2.1 seconds to go. Ilyasova missed a fallaway three-pointer at the buzzer and the U.S. escaped, 93-92.
Wow.
"It was anybody's game," said U.S. coach Gregg Popovich. "We will accept the win, but it was anybody's to win. The team that we played tonight again showed its experience and the improvement we have to make execution-wise. We're not there yet. We're still trying to get better at that. But, playing a fine team like that gives us another good example of how we can be when everybody knows what they're supposed to be doing on the court. So, I give them a lot of praise for what I saw."
Middleton led the U.S. with 15 points in 20 minutes of play; Walker had 14 and Turner, Tatum and Harris each had 11. The U.S. shot just 35% from the floor, but did convert 25-32 free throws.
The Turks got 23 points from Milwaukee Bucks forward Ilyasova, 18 from guard Mahmutoglu and 16 from Philadelphia 76ers guard Korkmaz. Turkey shot 44% from the floor, but the U.S. had a slight rebounding edge at 51-48.
The win sends the U.S. on to the second round at 2-0 in Group E. Turkey will now play the Czech Republic on Thursday for the right to advance.
In the other games, Brazil upset Greece, 79-78, in Group F to advance as Giannis Antetokounmpo was held to 13 points on 3-7 shooting while Anderson Varejo had 23 points for the Brazilians. France and the Dominican Republic both won in Group G for 2-0 records and both will advance to the second round; same for Lithuania and Australia in Group H as Canada fell to 0-2 and will not advance.