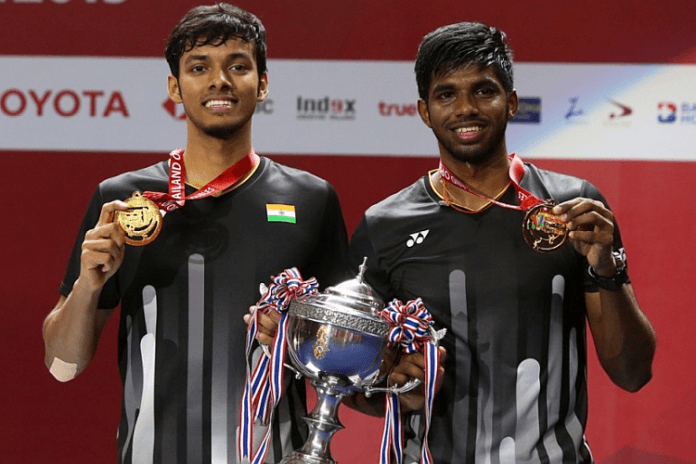 China's men's Doubles pair of Junhui Li and Yuchen Liu are the reigning World Champions and were the heavy favorites in the finals of the Thailand Open in Bangkok over the 16th-ranked (and unseeded) team of Satwiksairaj Rankireddy and Chirag Shetty from India.
In three closely-contested sets, the Indian pair triumphed, 21-19, 18-21, 21-18. What?!?
Said Rankireddy: "I was not playing like usual but I kept telling myself that it's just one more match, one more match. I was so calm and whenever I got a chance, I wanted to finish the shot. I could see that they didn't want to lift the shuttle for me."
Shetty added: "I can't believe that we've just beaten the current world champs. They are really good attacking players so our plan was to keep the shuttle low.
"We varied our shots. We played a few flat shots but then they rushed to the net so we decided that Satwik would play a few hard smashes and I would play some soft shots down to the net. Their defense is usually very good too but I think at their height, it looked like they were struggling to come forward low at the net."
Liu was as shocked as everyone else: "They were more than we expected. They were calm and in control. In stressed situations, they managed to pull through. They are a big potential threat for a long time."
That was the shocker from the Thailand Open, where no. 3 Tien Chen Chou (TPE) and no. 4-ranked Yufei Chen won the men's and women's Singles titles and no. 2-ranked Yi Lyu Wang and Dong Ping Huang won the Mixed Doubles over Japan's no. 3-ranked team of Yuta Watanabe and Arisa Higashino. Summaries:
BWF World Tour/Thailand Open
Bangkok (THA) ~ 30 July-4 August 2019
(Full results here)
Men/Singles: 1. Tien Chen Chou (TPE); 2. Ka Long Angus Long (HKG); 3. Zii Jia Lee (MAS) and Kanta Tsuneyama (JPN). Final: Chou d. Long, 21-14, 11-21, 23021.
Men/Doubles: 1. Satwiksairaj Rankireddy/Chirag Shetty (IND); 2. Junhui Li/Yuchen Liu (CHN); 3. Hiroyuki Endo/Yuta Watanabe (JPN) and Sung Hyun Ko/Baek Cheol Shin (KOR). Final: Rankireddy/Shetty d. Li/Liu, 21-19, 18-21, 21-18.
Women/Singles: 1. Yufei Chen (CHN); 2. Ratchanok Intanon (THA); 3. Sayaka Takahashi (JPN) and Pornpawee Chochuwong (THA). Final: Chen d. Intanon, 22-20, 21-18.
Women/Doubles: 1. Shiho Tanaka/Koharo Yonemoto (JPN); 2. Yue Du/Yin Hui Li (CHN); 3. So Hee Lee/Seung Chan Shin (KOR) and Ye Na Chang/Hye-Rin Kim (KOR). Final: Tanaka/Yonemoto d. Du/Li, 21-19, 14-21, 21-13.
Mixed Doubles: 1. Yi Lyu Wang/Dong Ping Huang (CHN); 2. Yuta Watanabe/Arisa Higashino (JPN); 3. Chun Man Tang/Ying Suet Tse (HKG) and Dechapol Puavaranukroh/Sapirsee Taerattanachai (THA). Final: Wang/Huang d. Watanabe/Higashino, 24-22, 23-21.