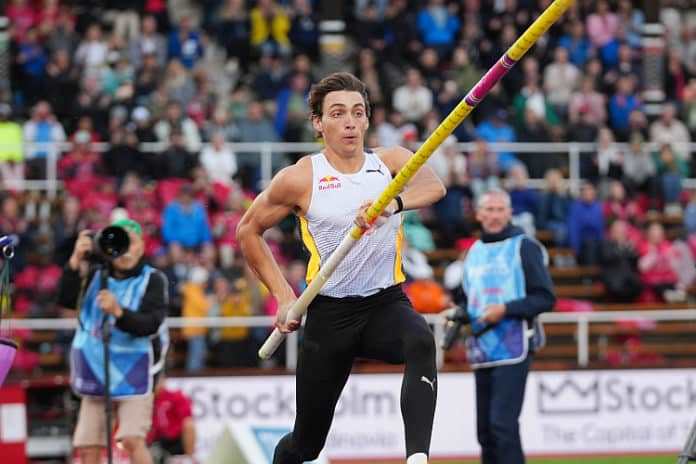 ★ The Sports Examiner: Chronicling the key competitive, economic and political forces shaping elite sport and the Olympic Movement.★
★ To get The Sports Examiner by e-mail: sign up here! ★
A second day of spectacular competition at the Nike Prefontaine Classic in Eugene, which also doubles this year as the Diamond League Final, with two sensational world records among seven world-leading marks:
● Men/800 m: 1:42.80, Emmanuel Wanyonyi (KEN)
● Men/3,000 m: 7:23.63, Jakob Ingebrigtsen (NOR)
● Men/110 m hurdles: 12.93, Hansle Parchment (JAM)
● Men/Pole Vault: 6.23 m (20-5 1/4), Mondo Duplantis (SWE) ~ World Record
● Women/800 m: 1:54.97, Athing Mu (USA) ~ American Record
● Women/5,000 m: 14:00.21, Gudaf Tsegay (ETH) ~ World Record
● Women/High Jump: 2.03 m (6-8), Yaroslava Mahuchikh (UKR) and Nicola Olyslsagers (AUS)
First, the world records:
Ethiopia's Gudaf Tsegay, who won the women's 5,000 m world title at Hayward Field in 2022, was making a world-record try, with countrywoman Birke Haylom (17) leading through 2,000 m. By 3,000 m, Haylom stepped off – essentially a pacesetter for Tsegay – and Tsegay and Worlds bronze winner Beatrice Chebet (KEN) had a huge lead on the rest of the field.
With three laps left, Tsegay and Chebet had 50 m-plus on the field, and at 4,400 m, Tsegay broke Chebet and took off down the back straight. All alone now at the bell, Tsegay passed in 12:55 and Tsegay was flying down the back stretch for the final time and, gritting her teeth, charged down the straight to finish in a staggering 14:00.21 world record! It's the second world mark in the event this season, after Kenyan Faith Kipyegon's 14:05.20 in June.
Tsegay's prior best was 14:12.29 in London in July and she now has two of the top eight performances ever. Chebet was second in 14:05.92, the no. 3 performance in history. Ethiopia's Ejgayehu Taye was third in 14:21.52; Americans Alicia Monson and Weini Kelati were 7-8 in 14:45.98 and 15:25.62.
Only world-record holder Mondo Duplantis (SWE) and Ernest John Obiena (PHI) were left in the men's pole vault at 5.82 m (19-1), and the bar went to 6.02 m (19-9). Duplantis sailed over right away, while Obiena missed three times. So the bar went up to 6.23 m of course – a world record of 20-5 1/4 – and on his 16th try at this height, snaked over and celebrated another mark, just as he did at the 2022 Worlds at the same site.
Incredibly, he might have had another six inches of hip height over the bar! It's his seventh world record in the vault, actually surpassing his 6.22 m (20-4 3/4) indoor clearance in February in France. Americans Sam Kendricks, Chris Nilsen and KC Lightfoot finished 3-5-7 at 5.72 m (18-9 1/4), 5.72 m and 5.52 m (18-1 1/4), respectively.
And the American Records:
What would Norway's 22-year-old Jakob Ingebrigtsen do in the men's 3,000 m a day after his 3:43.73 mile win? He had the lead after 1,600 m, with four Ethiopians chasing him. Eight were in contact with three laps left, and with two laps to go, but when would the break come? Two-time World Indoor 3,000 m champ Yomif Kejelcha came up on Ingebrigtsen and then Telahun Bekele, but Ingebrigtsen stayed in front at the bell (at 6:29!). On the backstraight, Kejelcha made his move and came right up on the Norwegian, who fought him off and ran into the home straight with a half-meter lead. Ingebrigtsen held on, and even looked to his right to find Kejelcha, who kept coming and both leaned hard at the finish, with Ingebrigtsen falling to the track, but winning in 7:23.63, the no. 3 performance of all time. Kejelcha got a national record of 7:23.64 in second (no. 4 all-time), and American Grant Fisher rocketed up in the final 100 m to get third in an American Record of 7:25.47, now the no. 8 performer of all-time. Bekele was fourth in 7:25.48.
No one knew exactly what to expect in the women's 800 m, with all three medalists from Budapest back again. World leader Keely Hodgkinson (GBR) and Olympic champ Athing Mu of the U.S. were running together at the bell, but would Mu have the finish she lacked at the Worlds? Onto the backstraight, Hodgkinson and Mu were leading World Champion Mary Moraa (KEN) and Jamaican Natoya Goule-Toppin, but Mu and Hodgkinson were a clear 1-2 into the home straight and Mu had the speed through the line to finish this time to win in a world-leading and American Record of 1:54.97, ahead of Hodgkinson's British record of 1:55.19 and Goule-Toppin's Jamaican record of 1:55.96. Moraa was fourth in 1:57.42. Sage Hurta-Klecker of the U.S. was eighth in 1:59.65.
Mu remains eighth all-time, while Hodgkinson is now equal-10th ever.
In the men's 800 m, Canada's World Champion Marco Arop led at the bell in a quick first lap of 49.19, and he simply would not be passed into the final straight. But in the final 50 m, he slowed slightly and that was enough for 19-year-old Emmanuel Wanyonyi (KEN) – already the world leader at 1:43.20 – to come through in lane two to get the win in a world-leading 1:42.80. Arop stayed close at 1:42.85 – a national record – for second and Algerian Djamel Sedjati – who ran up on Arop with Wanyonyi – had to settle for third in a lifetime best 1:43.06. American Bryce Hoppel was sixth in 1:44.63.
Five Americans lined up in the men's 110 m hurdles, with World Champion Grant Holloway out like a shot and leading over five hurdles. Jamaica's Olympic champ Hansle Parchment was left in the blocks, but stormed into the lead in mid-race and ran away in a world-leading 12.93 (wind: +0.9 m/s). Holloway barely held on to second, 13.06 to 13.07, over fellow American Daniel Roberts. The rest of the U.S. entries, Freddie Crittenden, Cordell Tinch and Jamal Britt were 6-7-8 in 13.15, 13.21 and 13.36.
The top three in the women's high jump was decided by 1.95 m (6-4 3/4), with World Champion Yaroslava Mahuchikh (UKR), Tokyo silver winner Nicola Olyslagers (AUS) and Angelina Topic (SLO) all over on the first try. Topic exited at 1.98 m (6-6) and Mahuchukh and Olyslagers both made a world-leading 2.03 m (6-8) on their second and third tries, respectively. At 2.05 m (6-8 3/4), both missed all three times, so Mahuchikh earned the win on misses. American Vashti Cunningham was fourth at 1.91 m (6-3 1/4).
The rest of the competition was excellent on a sunny day in Eugene, with plenty of surprises:
The men's 200 m was a stunner, with Olympic silver winner Kenny Bednarek of the U.S. leading Worlds silver winner Erriyon Knighton (USA) into the straight, but suddenly Canada's Olympic champ Andre De Grasse – sixth in Budapest – stormed down the straight in the final 50 m and ran away to a season-best 19.76 win (+0.6), with Bednarek second in 19.95 and Knighton third in 19.97. Kyree King of the U.S. was fifth in 20.16.
The men's long jump came to life in the fifth round, as both Swiss Simon Ehammer – the 2022 Worlds bronze medalist – and 2019 World Champion Tajay Gayle (JAM) reached 8.22 m (26-11 3/4), with Gayle's jump wind-aided. Ehammer won based on his second-best mark. Japan's Yuki Hashioka claimed third with his final jump of 8.15 m (26-9). Americans Jarrion Lawson and Will Williams were fifth and sixth at 8.02 m (26-3 3/4) and 7.99 m (26-2 3/4).
Two-time World Champion Joe Kovacs took the lead in the men's shot at 22.70 m (74-5 3/4) in the first round, trailed by Olympic and World Champion Ryan Crouser at 22.42 m (73-6 3/4). New Zealand's Tom Walsh, the 2017 World Champion, moved into second at 22.69 m (74-5 1/2) in round three.
Crouser took over at 22.91 m (75-2) in round two, but Kovacs was unimpressed, taking the lead again at 22.93 m (75-2 3/4) in round four. Crouser got out to 22.86 m (75-0) in round six, but it wasn't enough and Kovacs had another Diamond League title. Payton Otterdahl of the U.S. reached 21.43 m (70-3 3/4) and finished fifth.
A major upset in the men's discus, where the usual Daniel Stahl (SWE) and Kristjian Ceh (SLO) parade was interrupted by Matthew Denny (AUS) at 68.43 m (224-6) on his final throw to move past 2022 World Champion Ceh and set a national record! Ceh settled for second at 67.64 m (221-11) and 2023 Worlds winner Stahl was third at 67.36 m (221-0). American Sam Mattis was sixth at 64.51 m (211-7).
Everyone was thinking about Florence Griffith-Joyner's 21.34 world record from 1988 as the women's 200 m lined up, with two-time World Champion Shericka Jackson of Jamaica in lane seven. Jackson won the Worlds at 21.41 and 21.48 in Brussels on 8 September and owned the nos. 2-3-4-6 performances in history coming in.
Off the gun, Jackson took the lead immediately and came off the straight running for the record and won going away in 21.57 (wind: +0.3 m/s), the no. 8 performance in history. On the inside, Marie-Josee Ta Lou (CIV) was a clear second in 22.10, with Anthonique Strachan (BAH: 22.16) coming on late to pass TeeTee Terry of the U.S. (22.21). Americans Kayla White and Jenna Prandini were 6-7 in 22.49 and 22.68.
World champ Marileidy Paulino (DOM) was trailing American Lynna Irby-Jackson on the backstraight of the women's 400 m, but came to the fore by 250 m and ran away down the straight to win in 49.58. Poland's Worlds silver winner Natalia Kaczmarek came on for second in the final 75 m (50.38) with Lieke Klaver (NED) third in 50.47. Irby-Jackson was seventh in 51.60.
The women's 100 m hurdles was redemption for Nigeria's Tobi Amusan, who won the 2022 World Championships at Hayward Field, who got out hard and led Jasmine Camacho-Quinn (PUR) through the middle of the race and moved away over the final two hurdles to win in 12.33 (+1.8). Camacho-Quinn was second in 12.38 and American Keni Harrison came up for third in 12.44 over World Champion Danielle Williams (JAM: 12.47). Americans Alaysha Johnson, Nia Ali and Tia Jones finished 6-7-9 in 12.48, 12.62 and 12.82, respectively.
Femke Bol, the World Champion from the Netherlands in the women's 400 m hurdles, was the focus, but Worlds silver and bronze winners Shamier Little of the U.S. and Rushell Clayton (JAM) were in front after six hurdles. But Bol came on and led Little off the eighth and they were close over nine. But the Dutch star moved away after hurdle nine and won in 51.98, the no. 10 performance of all-time. Little got second in 53.45 and Clayton third in 53.56. American Anna Cockrell got fifth in 54.48.
Nigeria's 2022 Worlds runner-up Ese Brume took charge of the women's long jump with a seasonal best of 6.85 m (22-5 3/4) in round three, then Quanesha Burks of the U.S. burst into second in the fifth at 6.77 m (22-2 1/2). But what about World Champion Ivana Vuleta (SRB)? Of course, she left it late, blasting out to 6.85 m (22-5 3/4) in round six to steal the title, and leave Brume second and Burks in third. American Taliyah Brooks was sixth at 6.45 m (21-2). It's Vuleta's sixth Diamond League title.
In the women's discus, Olympic champ – and Budapest runner-up – Valarie Allman of the U.S. got going right away at 68.66 m (225-3) in the first round, with World Champion teammate Lagi Tausaga moving up to second at 68.36 m (224-3) in round three. Neither could improve; two-time Olympic champ Sandra Perkovic (CRO) got third at 66.85 m (219-4).
The event winners were crowned Diamond League champs; prize money was $30,000-12,000-7,000-4,000-2,500-2,000-1,500-1,000. This was pretty special, with two world records, four American Records and – in September – world-leading or equaling marks in 13 events. Better than special: fabulous.
¶
You can receive our exclusive TSX Report by e-mail by clicking here. You can also refer a friend by clicking here, and can donate here to keep this site going.
For our updated, 787-event International Sports Calendar (no. 3) for 2023 and beyond, by date and by sport, click here!