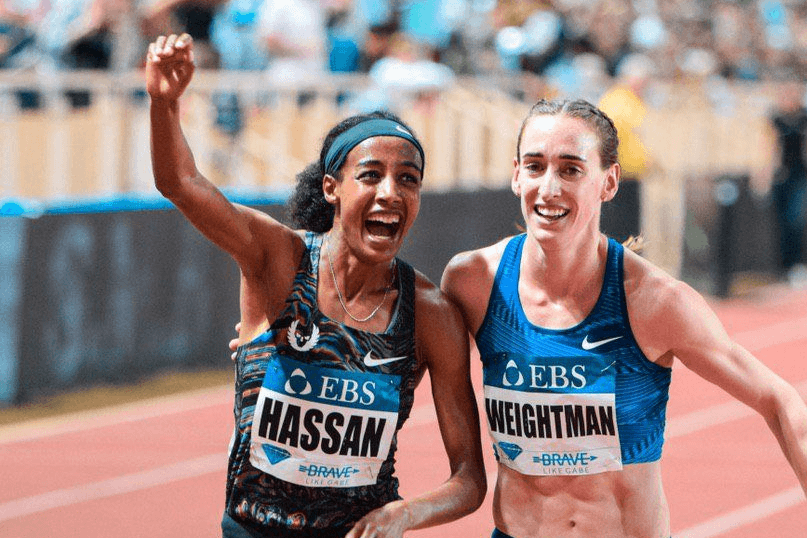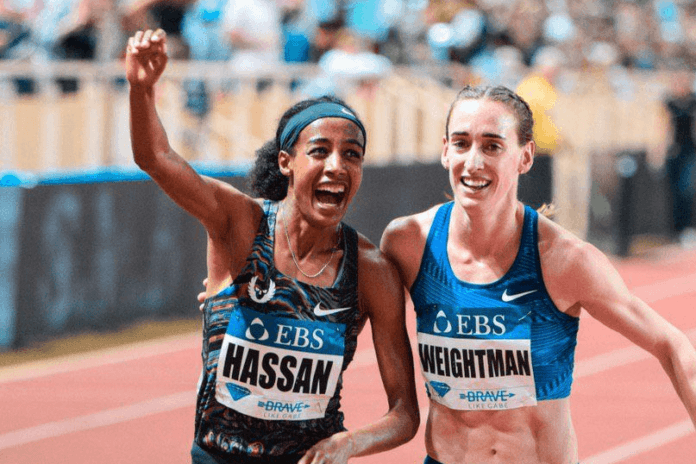 Friday's brilliant Herculis meet in Monaco had a rarity in today's track & field: a world record, specifically 4:12.44 in the mile by Dutch star Sifan Hassan. But that may not have been the most impressive effort at the Stade Louis II.
Hassan broke away from the field with 600 m to go and only Ethiopia's Gudaf Tsegay in contact and then rolled away on a final lap of about 63 seconds for a final time of 4:12.33, breaking Russian Svetlana Masterkova's 1996 mark of 4:12.56.
"I knew I could run fast but the first 800 was a bit slow, so after that I wasn't thinking it would be a world record," Hassan said afterwards. "When I crossed the line I was so surprised. After you run a last 400 like that, and set a world record, it gives me so much confidence over 5,000 m. I want to double over 1,500 and 5,000 m in Doha and the way I finished the last 400 there, it's amazing!"
Hassan won by more than five seconds over Britain's Laura Weightman (4:17.60) and Canada's Gabriela DeBues-Stafford (4:17.87 national record). Truth be told, Hassan's performance is much inferior to the women's 1,500 m record of 3:50.07 by Genzebe Dibaba (ETH: 2015), worth about 4:07.62 for the mile on the IAAF's scoring tables, but impressive nonetheless. The official split times had Hassan crossing 1,500 m in 3:55.30, also a world leader for 2019.
But there were other marks of note, and six world leaders in total:
● Men/800 m: 1:41.89, Nijel Amos (BOT)
● Men/3,000 m Steeple: 8:04.82, Soufiane El Bakkali (MAR)
● Men/Pole Vault: 6.02 m, Piotr Lisek (POL)
● Women/1,500 m: 3:55.30 (en route), Sifan Hassan (NED)
● Women/Mile: 4:12.33, Sifan Hassan (NED) ~ World Record
● Women/400 m hurdles: 53.32, Sydney McLaughlin (USA)
Just as stunning as Hassan was the 400 m hurdles runaway by the 19-year-old McLaughlin of the U.S. She tore apart a quality field and sprinted to a runaway 53.32 victory, an amazing 1.14 seconds (!) ahead of 2016 Olympic bronze medalist Ashley Spencer (USA). It's a world-leading mark, giving McLaughlin two of the top three marks in the world this year and a winning streak of eight meets in a row in 2018-19. Her last loss came in the 2017 USATF Nationals.
McLaughlin has been progressing steadily this season; in her four meets: 54.14, 54.16, 53.72, 53.32. She has a lifetime best of 52.75 (no. 9 all-time), but that will surely not last the season. Is the 52.34 world record by Yuliya Pechonkina (RUS) in 2003 under threat this year? You bet it is.
The men's 100 m was highly anticipated thanks to the match-up of World Champion Justin Gatlin (37) and new superstar Noah Lyles (21). This time, Lyles got out well, but Gatlin was better off the start and had the lead by 30 m, and never relinquished it. The two ran away from the field, but Gatlin won by 9.91-9.92. It's not the fastest 100 m this season, but one of the most competitive and the first meeting between the two.
Said Gatlin, "It's all about putting together a good technical race, to use my experience. It feels great to beat these guys. This season is surreal, I can't believe I'm still winning here after more than 20 years. Noah is a great runner, so every time I race him, I'm excited!"
Lyles was equally happy, and embraced Gatlin after the finish. "That was a good second place, so I'm not sad. It was a good run. My start was considerably better than other races and that makes me excited going to [U.S.] Trials. It could have been technically better, but the way I started brings me a lot of confidence."
Those events were superb, and there were others, including the 1:41.89 win in the 800 m for Botswana's Nijel Amos, the fastest race at the distance since the 2012 Olympic Games in London, where Amos ran 1:41.73 for the silver medal. Pole Piotr Lisek claimed another world leader in the vault, winning at 6.02 m (19-9) over Mondo Duplantis and a resurgent Thiago Braz (BRA), both of whom cleared 5.92 m (19-5). American stars Christian Taylor and Will Claye went 1-2 in the triple jump at 17.82 m (58-5 3/4) and 17.75 m (58-3).
Another definitive statement was made by Shaunae Miller-Uibo (BAH) in the women's 200 m, running away from Jamaica's Elaine Thompson – the world leader – by 22.09-22.44. Said the winner, "I'm happy with how the race went. The quicker I get at 200, the quicker I'll be at 400 and I'm really happy with where I'm at right now. If they can change the timetable for the Olympics, I'd be more than happy to double." Anyone listening?
American Keni Harrison ran a season-best 12.43 to win the 100 m hurdles, but knows she let a sensational time get away. "I've been working really hard, and my mindset is better too. It felt fine. I didn't get out at the start and my coach is pretty mad. I probably just gave up a 12.2 race but I've just got to work on that between now and U.S. Trials."
Wow! Summaries:
IAAF Diamond League/Herculis
Monaco (MON) ~ 12 July 2019
(Full results here)
Men
100 m (wind +0.3 m/s): 1. Justin Gatlin (USA), 9.91; 2. Noah Lyles (USA), 9.92; 3. Michael Rodgers (USA), 10.01. Also: 5. Cravon Gillespie (USA), 10.14.
400 m: 1. Steven Gardiner (BAH), 44.51; 2. Abderrahmane Samba (QAT), 45.00; 3. Nathan Strother (USA), 45.54.
800 m: 1. Nijel Amos (BOT), 1:41.89; 2. Ferguson Rotich (KEN), 1:42.54; 3. Amel Tuka (BIH), 1:43.62.
1,500 m (non-Diamond League): 1. Timothy Cheruiyot (KEN), 3:29.97; 2. Jakob Ingebrigtsen (NOR), 3:30.47; 3. Ronald Musagala (UGA), 3:30.58.
3,000 m Steeple: 1. Soufaien El Bakkali (MAR), 8:04.82; 2. Benjamin Kigen (KEN), 8:05.12; 3. Getnet Wale (ETH), 8:05.51. Also: 6. Hillary Bor (USA), 8:09.23.
Pole Vault: 1. Piotr Lisek (POL), 6.02 m (19-9); 2. Mondo Dupllantis (SWE), 5.92 m (19-5); 3. Thiago Braz (BRA), 5.92 m (19-5). Also: 5. Sam Kendricks (USA), 5.82 m (19-1); … 9. Cole Walsh (USA), 5.72 m (18-9 1/4).
Triple Jump: 1. Christian Taylor (USA), 17.82 m (58-5 3/4); 2. Will Claye (USA), 17.75 m (58-3); 3. Pedro Pablo Pichardo (POR), 17.38 m (57-0 1/4). Also: 6. Donald Scott (USA), 17.03 m (55-10 1/2).
Javelin: 1. Andreas Hofmann (GER), 87.84 m (288-2); 2. Magnus Kirt (EST), 87.47 m (286-11); 3. Thomas Rohler (GER), 86.04 m (282-3).
Women
200 m (+0.1): 1. Shaunae Miller-Uibo (BAH), 22.09; 2. Elaine Thompson (JAM), 22.44; 3. Dafne Schippers (NED), 22.45. Also: 4. Teahna Daniels (USA), 22.59; 5. Jenna Prandini (USA), 22.66; … 7. Gabby Thomas (USA), 22.99.
800 m (non-Diamond League): 1. Ajee Wilson (USA), 1:57.73; 2. Natoya Goule (JAM), 1:57.90; 3. Laura Muir (GBR), 1:58.42. Also: 6. Raevyn Rogers (USA), 2:00.16.
"Brave Like Gabe" Mile: 1. Sifan Hassan (NED), 4:12.33 (World Record; old, 4:12.56 Svetlana Masterkova (RUS), 1996); 2. Laura Weightman (GBR), 4:17.60; 3. Gabriela DeBues-Stafford (CAN), 4:17.87. Also: 9. Rachel Schneider (USA), 4:20.91.
100 m hurdles (+0.1): 1. Keni Harrison (USA), 12.43; 2. Danielle Williams (JAM), 12.52; 3. Christina Clemons (USA), 12.62. Also: 5. Nia Ali (USA), 12.80; … 7. Sharika Nelvis (USA), 12.98.
400 m hurdles: 1. Sydney McLaughlin (USA), 53.32; 2. Ashley Spencer (USA), 54.46; 3. Zuzana Hejnova (CZE), 54.55. Also: 7. Kori Carter (USA), 55.63.
High Jump: 1. Mariya Lasitskene (RUS), 2.00 m (6-6 3/4); 2. Mirela Demireva (BUL), 1.94 m (6-4 1/4); 3. Nicole McDermott (AUS), 1.94 m (6-4 1/4).
Triple Jump: 1. Yulimar Rojas (VEN), 14.98 m (49-1 3/4); 2. Liadagmis Povea (CUB), 14.71 m (48-3 1/4); 3. Shanieka Ricketts (JAM), 14.67 m (48-1 3/4). Also: 9. Keturah Orji (USA), 14.20 m (46-7 1/4).