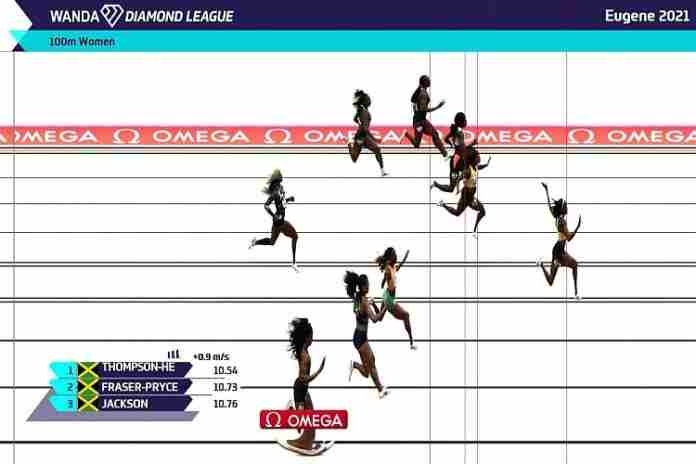 (★ Friends: You did it! Thanks to a generous 58th donor, our current tech support bill has been covered! If you would like to help with the next one, please donate here. So, so grateful for the support of our readers. Thank you. ★)
/Updated/Historic. That was the women's 100 m at the Prefontaine Classic in Eugene, as Jamaica's Tokyo Olympic medal winners swept again, with Elaine Thompson-Herah running the second-fastest time in history in 10.54.
Thompson-Herah took charge of the race at about 20 m, passing Tokyo silver winner Shelly-Ann Fraser-Pryce and then accelerated away from the field, storming through the finish with an aiding wind of 0.9 meters per second. With Olympic 100/200 m doubles in Rio and Tokyo and now two of the four fastest times ever in the 100 m, Thompson-Herah may be the finest women's sprinter of all time. Only Florence Griffith-Joyner's 10.49 at the 1988 U.S. Olympic Trials is faster. Even Thompson-Herah was stunned by the time when flashed on the scoreboard, covering her mouth with both hands.
Fraser-Pryce got out best and finished second in 10.73 and fellow Jamaican Shericka Jackson was third in 10.76, replicating the Tokyo podium. American Teahna Daniels, seventh in Tokyo, got a massive lifetime best of 10.83 for fourth, moving to equal-14th on the all-time U.S. list.
American Sha'Carri Richardson, the Trials winner who was suspended out of Tokyo for marijuana use, was not a factor, finishing last in 11.14.
Thompson-Herah's 100 m was just one of numerous outstanding performances during the meet, which featured so many of the Tokyo medal winners, gathered together for the first time since the Olympics closed 13 days earlier. Even at half full, the new Hayward Field was loud and friendly for the runners who had competed in a spectator-less Tokyo.
● In the women's 3,000 m Steeple, Kenya's Norah Jeruto, American Courtney Frerichs (Tokyo silver) and Hyvin Kiyeng (Tokyo bronze) were in charge from the halfway mark and then Jeruto ran away from Frerichs on the final lap to win in a world-leading 8:53.65, the no. 3 performance of all time.
Frerichs was second and became the first American woman to break nine minutes at 8:57.77, improving on her won American Record and now no. 4 on the all-time list. Kiyeng was third in 9:00.05, a season's best.
● There were more records broken. American teen Athing Mu confirmed her place as the dominant force in the women's 800, running away from the field on the final lap and straining right to the final in a world-leading 1:55.04, shattering her own American Record of 1:55.21 from the Tokyo Games. She's now no. 8 all-time in what was reportedly her final race of the year.
Kate Grace of the U.S. was second in 1:57.60, followed by Jamaica's Natoya Goule (1:57.71) and then Olympic bronze winner Raevyn Rogers (USA: 1:58.01).
● The men's sprints underscored the results of the Tokyo 200 m final. In the men's 200 m, American Noah Lyles was back in his favored lane seven and broke hard from the blocks, had the lead into the home straight and pulled away from a strong field to win in a world-leading 19.52 (+1.5 m/s), the no. 9 performance in history and no. 3 all-time U.S.
Lyles finished ahead of Tokyo silver winner Kenny Bednarek (19.80) and younger brother Josephus Lyles, who got a lifetime best in 20.03. Noah's time would have won by a tenth in Tokyo and was the fast finish he's famous for, but which had been absent for almost two years.
The men's 100 m was another statement for Canada's Andre De Grasse, the Tokyo 200 m gold winner and 100 m bronze medalist, who won in a wind-aided 9.74 (+2.9 m/s). He beat a superb field, with Tokyo silver medalist Fred Kerley (USA: 9.78w) second, Ronnie Baker (USA: 9.82w) third and world leader Trayvon Bromell (USA: 9.86w) fourth. American Justin Gatlin was sixth in 9.93w.
● The women's 200 m was an upset win for the underrated Mujinga Kambundji (SUI), who was even with Dina Asher-Smith (GBR) and Jenna Prandini (USA) coming off the turn and powered home in 22.06w (+2.4 m/s), Kambundji held off the late charge of Tokyo bronze winner Gabby Thomas (22.11w), who passed Asher-Smith (22.19w) and Prandini (22.36w) in the final 40 m.
American Allyson Felix was last (8th) in 22.60w.
● Double Olympic champion Ryan Crouser dominated the men's shot put, exploding to 23.15 m (75-11 1/2) – the no. 3 throw in history and he has all three – in the fourth round. In the Diamond League's sixth-round-takes-all format, he had a "safe throw" of 22.41 m (73-6 1/4) to win the event over Brazil's Darlan Romani (21.69 m/71-2 best). The actual runner-up was American Joe Kovacs, who reached 21.94 m (71-11 3/4), but fouled in the sixth round and was officially third.
● The middle-distance races confirmed the brilliance of Tokyo winners Faith Kipyegon (KEN) and Norway's Jakob Ingebrigtsen. Competing first, Kipyegon simply ran away from the women's 1,500 m field almost from the start, winning in 3:53.23, a time no one else has approached this year. Australia's Linden Hall was a far-back second in 3:59.73.
The men's mile was a runaway for Ingebrigtsen and Australia's Stewart McSweyn, who separated early from the pack and were all alone at the bell. Ingebrigtsen bided his time, then took over with 250 m remaining and ran alone to the finish in a blistering 3:47.24, the world leader for 2021, making him the ninth-fastest miler in history. McSweyn finished in 3:48.40 with Kenya's Timothy Cheruiyot – never a factor – leading the chase pack home in 3:51.17.
A sixth world-leading performance on Saturday was in the men's two-mile, with a wild finish finally won by Tokyo 5,000 m gold medalist Joshua Cheptegei (UGA) in 8:09.55, over Tokyo 10,000 m winner Selemon Barega (ETH: 8:09.82) and American Paul Chelimo – the 5,000 m bronze medalist – in 8:09.83.
Also:
In the men's 800 m, Canada's Marco Arop was eliminated in the Tokyo semifinals, but came from fifth with 200 m to go and won in 1:44.51, ahead of a big charge on the home straight from Tokyo silver winner Ferguson Rotich (KEN: 1:45.02) and Tokyo champ Emmanuel Korir (KEN: 1:45.05). The U.S. Olympic duo of Clayton Murphy and Bryce Hoppel were 5-8 and Isaiah Harris of the U.S. was sixth.
The men's triple jump had the most efficient performance of the day. Olympic gold medalist Pedro Pablo Pichardo took the lead with his opening jump of 17.24 m (56-6 3/4) and then passed the rest of his jumps! Hugues Fabrice Zango (BUR) came up to second at 17.12 m (56-2) and Donald Scott of the U.S. was third (17.03 m/55-10 1/2) heading into the best-jump-wins sixth round. Neither approached Pichardo's mark, but he boomed his final try out to 17.63 m (57-10 1/4), the equal-seventh best jump of 2021.
The women's 400 m hurdles was all about Rio gold and Tokyo silver-medal winner Dalilah Muhammad. She led from the start and won easily in 52.77, the no. 8 performance of the year, well ahead of Shamier Little (USA: 53.79).
The women's high jump was a battle between American star Vashti Cunningham and Ukraine's Iryna Gerashchenko. They were in a flat-out tie at 1.98 m (6-6), then missed three times at 2.00 m (6-6 3/4). They proceeded to jump-offs at 2.00m, 1.98 m, 1.96 m and 1.94 m – both missing each – then both made 1.92 m (6-3 1/2). Then Cunningham missed at 1.94 m (6-4 1/4) and Gerashchenko made it to finally win on her 18th jump of the afternoon.
The women's pole vault was a win for Tokyo champ Katie Nageotte, who needed a third-time clearance at 4.92 m (15-9 3/4) to beat Tokyo bronze winner Holly Bradshaw (GBR: 4.72 m/15-5 3/4).
There was a Friday evening distance program, with 3,541 in attendance, featuring Tokyo women's 5,000-10,000 m winner Sifan Hassan (NED) aiming at a world record in the 5,000 m, but falling well short in 14:27.89, moving her to no. 6 on the world list for 2021. She was an easy winner, ahead of Ethiopia's Senbere Teferi (14:42.25). American Alicia Monson was sixth in a lifetime best of 14:48.49, best in the U.S. for 2021.
The rarely-run women's two-mile was won by Francine Niyonsaba (BDI) in 9:00.75, reportedly the second-fastest ever run, well ahead of Tokyo 10,000 m bronze medalist Letsenbet Gidey (ETH: 9:06.74) and Kenyan star Hellen Obiri (9:14.55). Niyonsaba, the 2016 Olympic 800 m silver medalist, is not allowed to run in the 800 m or 1,500 m due to elevated testosterone levels, but was fifth in Tokyo in the 10,000 m and disqualified in the 5,000 m. She is clearly a comer in these distance events, and at 28, has a significant career ahead of her.
The women's 1,500 m was won by Rebecca Mehra of the U.S. in 4:06.35; the men's mile was taken by New Zealand's Geordie Beamish (3:54.86), ahead of Craig Engels (USA: 3:55.41), who was passed on the final straight while waving to the crowd. Really?
(Update: Special thanks to Association of Track & Field Statisticians Treasurer Tom Casacky for pointing out a typo on Andre De Grasse's winning 100 m time – 9.74, not 9.94 – plus noting that Norah Jeruto is in the midst of an allegiance change to Kazakhstan, and that Craig Engels was passed on the final straight while waving to the crowd. He also noted that Pedro Pichardo had cramps and this was the reason for his four passes after his big first jump. Thanks, Tom!)
You can receive our exclusive TSX Report by e-mail by clicking here. You can also refer a friend by clicking here, and can donate here to keep this site going.
For our 649-event International Sports Calendar for 2021 and beyond, by date and by sport, click here!