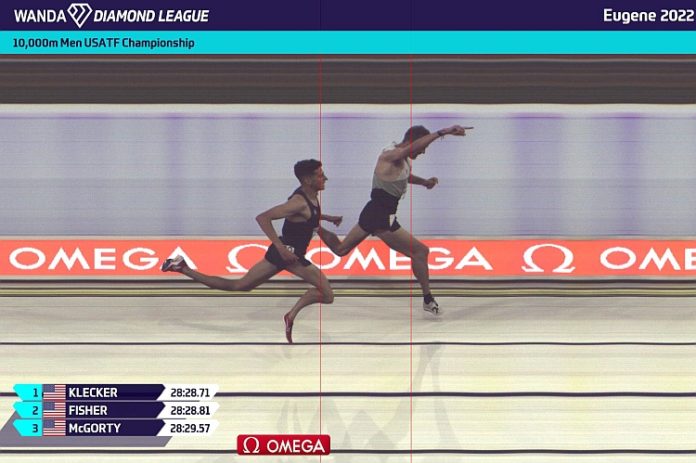 In an unusual move designed to assist American distance runners with their chances to make the U.S. team for the 2022 World Athletics Championships, the men's and women's 10,000 m national championship races were held Friday evening as part of the Prefontaine Classic in Eugene, Oregon.
The women's race saw world leader (30:14.66) Elise Cranny skip the event, preferring to focus on the 5,000 m, to be held at the U.S. Championships in June.
The 20 starters had good conditions, with 62 F temps and no rain, but since the emphasis was on placement and not times, the pace was slow. Emily Durgin – ninth at the 2021 Olympic Trials in this event – led through 3,000 m in 9:25.32 and then got slower, passing 5,000 m in 15:50.43 with Weini Kelati, Karissa Schweizer and Stephanie Bruce in close attendance.
Bruce then took over, with Alicia Monson moving up to second, then Monson took over at 6,000 m, with Schweizer close. Emily Infeld, Natosha Rogers and Kelati were chasing, but Monson was charging, with laps of 72-73-73-72 and pulling away, with only Schweizer anywhere near.
Monson crossed 8,000 m in 25:00.21, with Schweizer a clear second and Kelati, Emily Lipari, Infeld and Rogers fighting for third. They stayed that way until the final turn, when Schweizer surged and took the lead from Monson and ran to the line for a 30:49:56 win, with Monson second with a lifetime best of 30:51.09. Rogers won the race for third from Infeld and Kelati: 31:29.80-31:30.04-31:39.80.
Schweizer's win is the no. 8 performance in U.S. history and just off her best of 30:47.99 from last year. Monson moves to no. 7 all-time U.S. Schweizer and Monson were 2-3 at the Trials 10,000 m in 2021.
The men's 10,000 m was all about Grant Fisher, the world leader and American leader for 2022 by more than 44 seconds with his American Record 26:33.84 in March.
Veteran Emmanuel Bor led at 5,000 m in 14:31.27, with Sam Chelanga, Lopez Lomong, Fisher and others close. With five laps to go – 8,000 m – Bor led the pack, still bunched, with Fisher ninth. Joe Klecker took over with two laps left, over Bor and Lomong and at the bell, it was Klecker, Bor, Shadrack Kipchirchir and Fisher.
Fisher took off and was able to take the lead from Klecker on the final turn, but it was Klecker who had the best kick and won in 28:28.71, with Fisher at 28:28.81. Sean McGorty stormed his way past Bor into third on the final half-lap in 28:29.57, with Dillon Maggard fourth (28:30.75) and Kipchirchir fifth (28:30.79). Bor was eighth.
Kleker ran the last lap in 54.81 and the last 800 m in 1:55.05.
The women's two-mile was a world-record try for Francine Niyonsaba (BDI), no. 2 on the all-time list at 9:00.75 from the 2021 Pre meet. Niyonsaba was in full flight from the start, leading from the third lap on and running consistent laps just over 67 seconds … but it wasn't enough.
Niyonsaba got even closer, winning in 8:59.08, just missing Ethiopia's Meseret Defar's 8:58.58 world mark from 2007. Niyonsaba is now only the second woman to break 9:00 in this event. She passed 3,000 m in a world-leading 8:24.27, ahead of Konstanze Klosterhalfen (GER: 8:40.44).
Kenyan Beatrice Chebet was a distant second in 9:14.71, but that's good for no. 12 on the all-time list! Helen Schlachtenhaufen and Elly Henes were the top Americans in 5-6 and 9:17.62 and 9:18.73, moving to nos. 3-4 on the all-time U.S. outdoor list!
The women's 5,000 m was next, set up for world-record holder and also Olympic 10,000 m bronze medalist Letsenbet Gidey (ETH). She shot through 3,000 m in 8:32.07, no. 2 in 2022 only to Niyonsaba in the prior race!
But while Gidey led through 4,000 m, it was countrywoman Ejgayehu Taye who took charge and ran away to an impressive 14:12.98 win, the world leader for 2022 and moving her to no. 5 all-time! Gidey was a well-beaten second in 14:24.59 (no. 2 for 2022) with Rahel Daniel (ERI) third in 14:36.66.
The men's 5,000 m was set up for Uganda's Joshua Cheptegei for a shot at his own world mark of 12:35.36 from 2020. He was right in line with the pacesetters from the start and then took over after 2,000 m, which he passed in 5:05.
Only Ethiopia's Milkesa Memgesha – a 12:58.28 man himself – was keeping close, and Cheptegei passed 3,000 m in 7:41.19, no. 2 for 2022. But Milkesha was not going away and took charge after nine laps (3,600 m) had been completed. But Cheptegei stayed close and took charge for good at the bell and powered away to a world-leading 12:57.99, with Milkesha finishing at 13:01.11 and Kenyan Daniel Ebenyo third (13:10.61).
Cool temperatures, wind and rain are forecast for Saturday, so the men's vault and the women's high jump and discus were moved to Friday night. Sweden's Olympic champ Mondo Duplantis won the vault with a second-try clearance at 5.91 m (19-4 3/4), with Chris Nilsen of the U.S. second at 5.81 m (19-0 3/4) and Norway's Sondre Guttormsen at the same height.
Ukraine's Yaroslava Mahuchikh – the Olympic bronze medalist in Tokyo and 2022 World Indoor Champion – was a popular winner in the women's high jump, clearing a world-leading 2.00 m (6-6 3/4) on her second try. American Vashti Cunningham was second at 1.93 m (6-4).
Olympic champ and world leader Valarie Allman of the U.S. got out to the discus lead at 65.46 m (214-9) in the second round, with only two-time Olympic gold medalist Sandra Perkovic (CRO) close at 64.84 m (212-9).
They both got busy in the third round, with Allman extending to 67.54 m (221-7) and Perkovic to 65.50 m (214-11). And Allman kept going, spinning out to 68.35 m (224-3) in round five and that's how it ended.
Much more tomorrow; CNBC has coverage at 4 p.m. Eastern and then NBC from 4:30-6:00 p.m. Eastern.
You can receive our exclusive TSX Report by e-mail by clicking here. You can also refer a friend by clicking here, and can donate here to keep this site going.
For our updated, 620-event International Sports Calendar for 2022 and beyond, by date and by sport, click here!