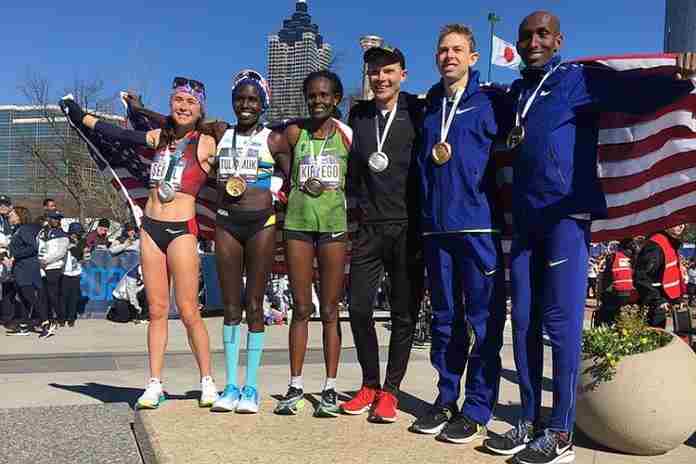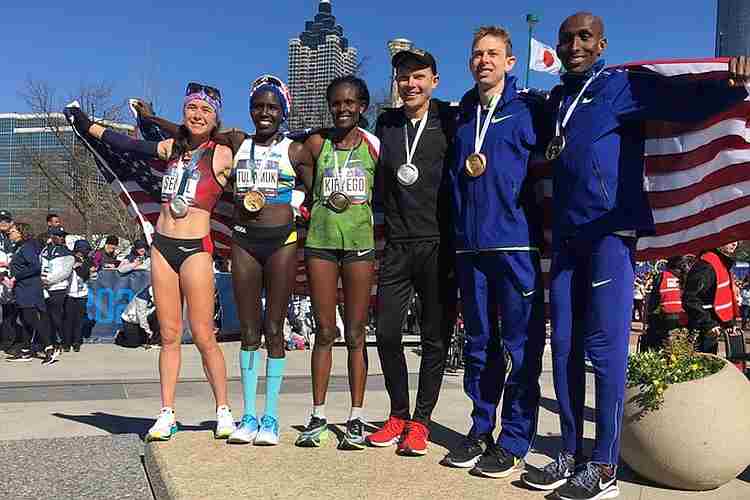 On a difficult, hilly, cold and windy course in downtown Atlanta, Galen Rupp showed that he is the dominant American marathoner at the U.S. Olympic Marathon Trials on Saturday afternoon. But who were those American women?
Rupp was the obvious choice in the men's race and after Brian Shrader broke away from the pack and led for almost all of the first half of the race, Rupp stepped on the gas in the 15th mile and closed the gap, finally taking the lead by the 16-mile mark.
He led a small pack through 19 miles, with Augustus Maiyo, Abdi Abirahman, Leonard Korir and Matt McDonald in close attendance. But a 4:52 mile left Rupp with a 17-second lead at the 21 mile mark and he was never headed.
Even with temperatures in the low 50s and winds gusting to 19 miles per hour, Rupp ran 4:40-4:48-4:52-4:52-4:44-4:50 from miles 18-23 and finished in 2:09:20, winning by 42 seconds. Barring injury, he's a favorite for medals in Sapporo.
But the fight behind him was epic. The U.S. Army World Class Athlete Program stars Korir and Maiyo were right in the hunt with Abdirahman at 23 miles, but unheralded Jacob Riley, 15th in the 2016 Trials and a Stanford All-American at 10,000 m in 2009-10-11, was making up ground fast.
Riley joined the fight for second by the 24-mile mark, then surged to second at 25 miles and remained in control to the finish. His time of 2:10:02 was not just excellent for the conditions, but was a lifetime best, improving his 2:10:36 from the 2019 Chicago Marathon at just the right time, in just his fourth career marathon.
Abdirahman, at 43, continued his lifetime-of-surprises story by finishing third (2:10:03) and making his fifth Olympic team. Korir finished fourth in 2:10:06. Bernard Lagat, trying for a sixth Olympic team at age 45, was 18th (2:14:23) and Jared Ward, sixth in the Rio Games in 2016, had a bad day, ending up 27th in 2:15:55.
The women's race was even more surprising. A large pack ran together for the first 20 miles and then the racing started. Nine-time U.S. Champion – at various distances – Aliphine Tulianuk, a former Kenyan who became eligible to run for the U.S. in 2016, led a breakaway group of three, including debut marathoner Molly Seidel and another ex-Kenyan, Sally Kipyego, who won nine NCAA title while at Texas Tech and the 2012 Olympic 10,000 m silver for Kenya.
Tuliamuk and Seidel ran away together and had a 22-second lead after 23 miles and 38 seconds at 24 miles; they were on the team. Kipyego was hurting, but held a steady lead of about 15 seconds over Laura Thweatt and Des Linden, who were trying to get back into contention.
Tuliamuk finally broke Seidel, a four-time NCAA champ for Notre Dame in 2015 and 2016, after the 25-mile mark and cruised in to win in 2:27:23. Seidel followed in 2:27:31 n her debut and Kipyego held on for third in her third career marathon on 2:28:52.
Linden got up for fourth in a creditable 2:29:03 and led a parade of favorites who did not contend for the top three places: Thweatt (5th: 2:29:08), Kellyn Taylor (8th: 2:29:55), and Jordan Hasay (26th: 2:37:57); Molly Huddle dropped out after 21 miles. Transgender athlete Megan Youngren finished in 230th place in 2:50:27. Full results here.
Seidel spoke for all three women when she said afterwards, "I'm still in shock right now." None will be a medal favorite at the Games, but given the difficult conditions, it's not hard to imagine one of them pursuing a medal.
In the race's biggest side story – the shoes – the men's race was dominated by Nike, with the top three all wearing the Vaporfly/Alphafly models. But for the women, Tuliamuk ran for Hoka One One, Seidel for Saucony and Kipyego for Nike. In fact, Kipyego was the only Nike-affiliated finisher in the top eight.
¶
Sunday's Tokyo Marathon was held solely for the elite athletes – about 210 – with the mass race of 38,000 canceled due to coronavirus concerns. About 16 men ran together through the first half of the race, and by 30 km, three broke away, with Ethiopians Sisay Lemma, Birhanu Legese and Asefa Mengstu in the lead. Legese ran away from Lemma after 35 km and strode to the finish and finished in an impressive, world-leading 2:04:15.
It was not only Legese's second straight win in Tokyo, but 33 seconds faster than in 2019!
Belgium's Bashir Abdi moved up to pass Mengstu with about 3 km remaining, then out-sprinted Lemma to get second in 2:04:49-2:04:51, a lifetime best by almost a minute and a half! Japan's Suguru Osako not only held onto his Olympic team spot, but ran a national record of 2:05:29 for fourth. Mengstu faded to seventh in 2:06:23.
The women's race went to ex-Kenyan Lonah Chemtai Salpeter – now running for Israel after marriage to her coach – who opened a decisive gap against Birhane Dibaba (ETH) with about 8 km to go. She was up by 38 seconds at 40 km and cruised in for her first World Marathon Majors victory in a stunning 2:17:45, a world leader and course record that moved her to no. 6 all-time (and the eighth-fastest women's marathon performance ever)!
After her disappointing failure to finish in the brutal conditions of the 2019 World Championships in Doha (QAT), Salpeter confirmed that she's one to watch in Sapporo in August.
Ethiopia's Dibaba finished second in an also-impressive lifetime best 2:18:35, winning her fifth Tokyo Marathon medal in the past seven years. Sutume Asefa Kebede (ETH) was third in 2:20:30. Results of the top finishers are here.
¶
The annual Boston University Last Chance meet, usually aimed at qualifying times for the NCAA Indoor Championships, saw an assault on the American Record n the women's 3,000 m.
The favorite was speed merchant Shelby Houlihan, who won the 1,500/3,000 m double at the recent U.S. Championships in Albuquerque, but it was former Missouri star (and five-time NCAA Champion) Karissa Schweizer who had the strongest final lap and won in 8:25.70.
That shattered Shalane Flanagan's 2007 mark of 8:33.25, with Houlihan second at 8:26.66 and Colleen Quigley third in 8:28.71, all under the old mark. Schweizer's time moves her to no. 5 on the all-time world list, with Houlihan now seventh and Quigley ninth.
In the women's 5,000 m, German Konstanze Klosterhalfen won easily in an impressive 14:30.79, now no. 4 on the all-time list and a national indoor record. American Vanessa Fraser was second in 14:48.51, now no. 10 on the all-time world list and no. 2 in American history. Emily Infeld ran 14:54.91 in third, now no. 3 all-time U.S.
The men's 1,500 m saw the surprise of the indoor season, Josh Thompson, run 3:34.77 to win and claim a lifetime best – indoors or out – and improve his indoor best by almost three seconds.
The men's 3,000 m was also speedy, with Lopez Lomong winning in 7:37.74 to move to no. 6 all-time U.S., ahead of Ryan Hill (7:38.03) and a comebacking Evan Jager (7:38.25, for no. 7 all-time U.S.).
Full results here.