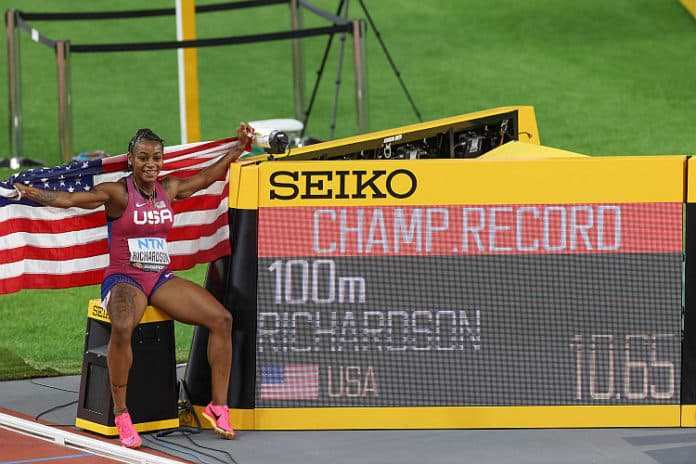 ★ The Sports Examiner: Chronicling the key competitive, economic and political forces shaping elite sport and the Olympic Movement.★
★ Thank you! Our 32 donors have covered 73% of our summer fund-raising goal. Please help! ★
★ To get The Sports Examiner by e-mail: sign up here! ★
≡ WORLD ATHLETICS CHAMPIONSHIPS ≡
Day three of the 2023 World Athletics Championships in Budapest was hot again, with the single, evening session beginning at about 90 F and high humidity, but the action on the track was even better. And the focus was on a memorable women's 100 meters.
● Women/100 m ● The semis started with Jamaica's five-time World Champion  Shelly-Ann Fraser-Pryce getting an average start and only taking the lead at 60 m, with American Tamari Davis (20) close behind at the finish, in 10.89 and 10.98 (wind: -0.4 m/s). The brutal second semi had Sha'Carri Richardson of the U.S.,  world leader Shericka Jackson of Jamaica and Marie-Josee Ta Lou (CIV) in 6-5-7, with Richardson getting a terrible start and Ta Lou and Jackson running away, with both in 10.79 – tied – and Richardson third in 10.84, qualifying for the final on time. The third semi was tight, with St. Lucia star Julien Alfred only taking the lead from Brittany Brown in the final 20 m and won in 10.92-10.97 (-0.1). Britain's Dina Asher-Smith was third in 11.01 and also made the final on time.
Lining up for the final were three Americans and two Jamaicans, with Richardson in nine. Poland's Eva Swoboda, the last qualifier, got her patented bullet start and was in front for 40 m, when the Jamaicans – Jackson and Fraser-Pryce – took over in the middle of the track.
But Richardson was coming, and coming at the far side of the track, and gained ground quickly in the final 40 m and passed Fraser-Pryce with 10 m to go and Jackson in the final five to win in a brilliant 10.65 (-0.2). Jackson was second in 10.72 and Fraser-Pryce taking the bronze in 10.77.
Ta Lou was fourth in 10.81, with Alfred fifth (10.93); Americans Brown and Davis were seventh and ninth in 10.97 and 11.03.
Even through she threw up her arms in celebration at the line, Richardson still couldn't believe it, but she's the World Champion, with a lifetime best and now equal-fifth all-time and equal-third all-time U.S. Only Florence Griffith-Joyner and Carmelita Jeter have run faster, and she's tied with Marion Jones in 1998.
It's the first U.S. win in the women's 100 m since the late Tori Bowie in 2017, who won the last U.S. medal in this race.
It was not, of course, the first Worlds sprint winner from a far outside lane, as Kim Collins (SKN) famously won from lane one in the 2003 Worlds in Paris.
● Men/110 m hurdles ● A false start in semi one eliminated heat winner Louis Francois Mendy (SEN), then American Daniel Roberts moved smartly off the gun, passed over hurdle nine, and finished second to Shunsuke Izumiya (JPN), 13.16 to 13.19 (-0.2). Defending champ Grant Holloway of the U.S. and teammate Cordell Tinch were in semi two, with Holloway sprinting to the lead right away and dominating the race in 13.02 (-0.2). France's Sasha Zoya got a lifetime best of 13.15 for second, but Tinch could not get going and was fourth in 13.31, and did not advance. American Freddie Crittenden was even with Olympic champ Hansle Parchment (JAM) in semi three, then edged ahead over the final three hurdles to win in 13.17-13.18 (-0.1).
The final saw Holloway leave no doubt. He started, as usual, like a rocket, and was never headed, clearing all 10 hurdles flawlessly. He led wire to wire and won in 12.96 (0.0), a seasonal best. Roberts was second for most of the race, but Parchment came on hard on the run-in and got second, 13.07-13.09, with Roberts getting his first Worlds medal, in his third Worlds.
Crittenden, between Holloway and Roberts, was third for most of the race, but ended up fourth in a season's best of 13.16.
Holloway won his third Worlds gold in a row, only the second man to do it, with American Greg Foster – who passed away in February at just 64 – the other, in 1983-87-91.
● Men/Triple Jump ● Favored Jaydon Hibbert of Jamaica, the NCAA champ for Arkansas and the world leader, suffered an injury on his first jump and passed the rest and had no mark. That left 2022 runner-up Hugues Fabrice Zango (BUR) to take the lead at 17.37 m (57-0) in the first round, passed by Cuba's Lazaro Martinez at 17.41 m (57-1 1/2) in round two.
Zango then exploded in round five to 17.64 m (57-10 1/2) to take the lead and no one challenged him on the way to his first Worlds gold, after a bronze in 2019 and silver last year. Martinez got second, adding to his World Indoor title in 2022, and teammate Cristian Napoles got third with a lifetime best of 17.40 m (57-1).
The U.S.'s Will Claye, a four-time Worlds medal winner, got a seasonal best of 16.99 m (55-9) in the second round, and ended up seventh. Teammate Chris Benard managed 16.62 m (54-6 1/2) in the second round and finished ninth.
● Men/Discus ● Another showdown between Olympic champ Daniel Stahl of Sweden and Slovenia's Worlds winner Kristjian Ceh, with Ceh reaching 69.27 m (227-3) in round two to take the lead, but Stahl came back in round four with 69.37 m (227-7).
Ceh wasn't done and sailed into the lead at a sensational 70.02 m (229-9) in the final round, but Stahl responded with a fabulous 71.46 m (234-5) on his final throw to win his second world title, previously in 2019.
Lithuania's Mykolas Alekna, the 2022 runner-up, ended up third at 68.85 m (225-10). American Brian Williams reached 63.62 m (208-9) in the third round and finished ninth.
¶
There was more brilliant running in the prelims on Monday, especially in the men's 400 m hurdles semis.
● Men/400 m hurdles ● The semis were hot from the start, with two-time Commonwealth Games winner Kyron McMaster (IVB) and Jamaica's Jaheel Hyde in the lead, with American CJ Allen trailing. Into the home straight, McMaster steamed to the finish and won in a startling 47.72! Allen passed Hyde off the final hurdle, but then he was passed by Estonian veteran Rasmus Magi – a two-time Olympic finalist – for second, 48.30 to 48.44, with Hyde fourth at 48.49.
Semi two was a delicious showdown with Olympic and World silver winner Rai Benjamin and defending World Champion Alison dos Santos (BRA) in lanes seven and eight. Benjamin led off the turn and steamed home comfortably ahead of dos Santos to win in a sensational 47.24, a time only Benjamin and Karsten Warholm have run this year. Dos Santos ran a seasonal best of 47.38.
Benjamin's 47.24 in the semis is the fastest non-final in history and there is much more in the tank. Wow.
Norway's Olympic champ Warholm was in lane five for semi three, and ran away from the field in 47.09, now the fastest non-final in history. Jamaica's Roshawn Clarke was strong the straight and finished in a lifetime best of 47.34, a World U-20 Record, that was just enough to stay ahead of American Trevor Bassitt.
Running out of lane nine, Bassitt steamed down the straight and got third in 47.38, a lifetime best, and enough to get into the final as the fastest non-automatic qualifier. Allen's time was not enough to get to the final, on Wednesday.
● Women/400 m ● Dominican star Marileidy Paulino, the Tokyo Olympic silver medalist, won the first semi in 49.54, with Ireland (and Texas) star Rhasidat Adeleke coming up for second in 49.87. In the second semi, Lieke Klaver (NED) controlled the pace and ran down the straight to win in 49.87. Talitha Diggs of the U.S. was fifth on the home straight, but pumped her arms hard and got to second, almost falling, but made the final in 50.86.
Poland's 2022 European runner-up Natalia Kaczmarek edged 2022 Worlds bronze medalist Sada Williams (BAR) in semi three, 49.50-49.58, with Lynna Irby-Jackson of the U.S. third at 50.71, but did not qualify for Wednesday's final.
● Women/400 m hurdles ● Jamaica's Rushell Clayton and Rio Olympic champ Dalilah Muhammad of the U.S. were 1-2 in the first heat in 53.97 and 54.21, and it was Jamaica-U.S. in the second heat with Janieve Russell and Anna Cockrell in 54.53 and 54.68.
Jamaica's streak stopped in heat three, as Bahrain's Kemi Adekoya got a lifetime best and a national record at 53.56, with Andrenette Knight (JAM) second at 54.21. Dutch superstar Femke Bol was back on the track after her Mixed 4×400 m mishap on Saturday, and stormed through heat four in 53.39, jogging after clearing hurdle ten; only three others have run that fast this season!
U.S. champ Shamier Little, the 2015 silver medalist in this event, headlined heat five, and was way out in front and then slowed on the home straight, chopped the tenth hurdle and saw Jessie Knight (GBR) pass her in the final 5 m, 54.27 to 54.40. The semis are Tuesday.
● Women/Vault ● Qualifying went to 4.65 m (15-3), with Olympic and World champ Katie Moon of the U.S. clearing, along with teammates Sandi Morris, Bridget Williams and high schooler Hana Moll – the 2022 World U-20 Champion – for whom the height was a lifetime best! European champ Wilma Murto (FIN) and Australia's Nina Kennedy also made it through to Wednesday's final.
≡ PANORAMA ≡
● Errata ● Sunday's post noted that U.S. heptathlete Taliyah Brooks did not start on the second day; in fact, she fouled three times in the long jump and withdrew. Thanks to reader Bob Bettwy for being the first to notice!
● Medals ● With two wins on Monday, the U.S. is up to nine total medals (5-3-2), already doubling up Ethiopia (4: 1-1-2), with Great Britain (1-1-1) and Jamaica (0-2-1) with three each.
● Stats ● How did Noah Lyles win the men's 100 m world title? He was the fastest man in the final 50 m. RaesTake posted a 10 m by 10 m breakdown of the race, showing the medalists in half-and-half:
● 1. Noah Lyles: 5.62 + 4.21 = 9.83
● 2. Letsile Tebogo: 5.61 + 4.27 = 9.88
● 3. Zharnel Hughes: 5.64 + 4.24 = 9.88
American Christian Coleman, the early leader, was at 5.57 at 50 m, but came home in 4.35 for fifth in 9.92.
Lyles ran the last five 10 m segments of the race either faster or as fast as everyone else: 0.84, 0.83, 0.84, 0.85 and 0.85. Not much deceleration in the final half of the event! Lyles' 60-70 m time of 0.83 was the fastest segment of the race.
● Stories ● Last year's men's 100 m World Champion, Fred Kerley of the U.S., missed the final by 0.01 with a third in his semifinal on Monday. Asked by @realtalkwithtee – former heptathlete Tiara Williams – afterwards, he explained:
"It's just track and field, so, hey, I'm a competitor, so there was a better man on this day, but, hey, I'm ready for any challenge."
He said he would be racing in China, and could be racing in the Diamond League final in Eugene in September.
¶
Sunday's fifth heat of the women's 100 m was a little crazy, with Poland's Krystsina Tsimanouskaya appearing to false start out from lane two, but the computer block control showed that Britain's Imani Lansiquot actually flinched first in lane eight.
Lansiquot protested and was allowed to run, and she finished third in the race behind Sha'Carri Richardson's 10.92, but her disqualification was confirmed and she was out. Tsimanouskaya finished fifth in 11.32, well off her all-time best of 11.04 from 2018.
But just racing for Poland is a win for her; remember she ran for Belarus in Tokyo, criticized her coaches and then was sent home, but asked for asylum from the Tokyo airport police. She was eventually welcomed in Poland, and competed in her second World Championships.
¶
Amid all the great performances was another that was less notice, for the seventh-place finisher in heat three of the women's 400 m on Sunday: defending World Champion and two-time Olympic champ Shaunae Miller-Uibo of The Bahamas.
Now 29, she gave birth to son Maicel just four months before, but still came back to the Worlds, running a seasonal best of 52.65 in the heat. Since the birth in April, she competed only at the nationals in July scored 3,369 in the heptathlon (!) for second place, even though she did not finish the 800 m.
Expect her to be ready for Paris in 2024.
¶
No morning session on Tuesday, but finals in the men's high jump, women's discus, women's 1,500 m and men's Steeple.
You can receive our exclusive TSX Report by e-mail by clicking here. You can also refer a friend by clicking here, and can donate here to keep this site going.
For our updated, 787-event International Sports Calendar (no. 3) for 2023 and beyond, by date and by sport, click here!