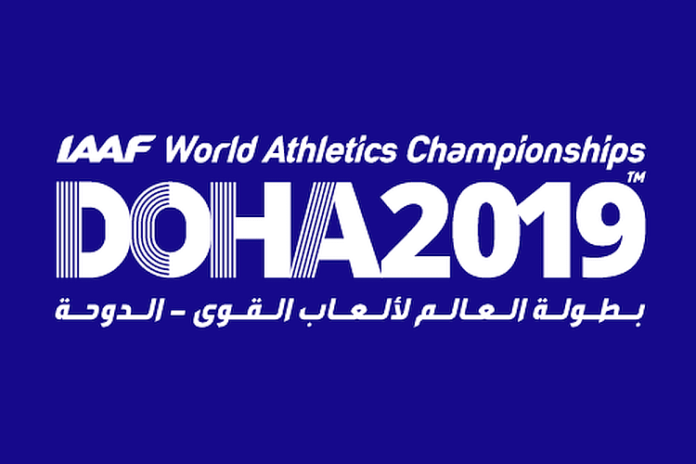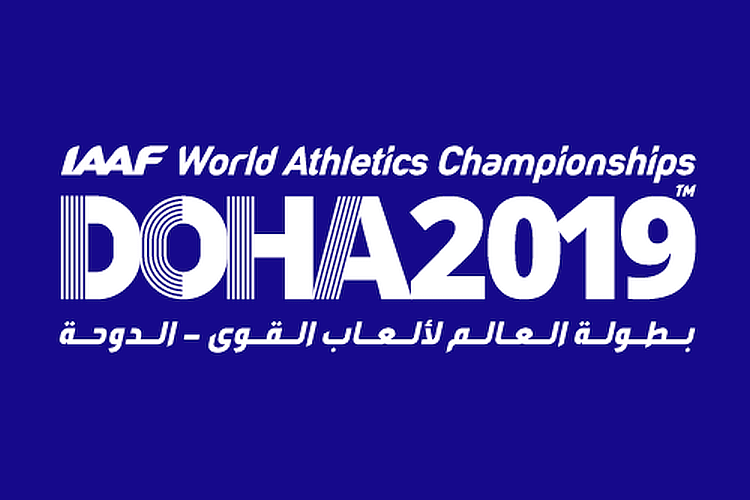 A massive throng of 1,972 athletes from 210 countries have gathered in Doha, Qatar for the 2019 IAAF World Championships, where the daily high temperatures range from 97-101 degrees (F), but are guaranteed to be in the 70s inside the Khalifa International Stadium for the competition.
Having the Worlds so late – a month later than any of the prior 17 editions – has caused a substantial uproar in training schedules and no one is quite sure of what will happen when the running, jumping and throwing starts on Friday.
The heat in Qatar has also changed the schedule, with a single, long session each day, with no rest days, going straight through for 10 days, to 6 October.
There are plenty of controversies already, with considerable chatter about doping and a report – rejected by the Qatari organizers – that ticket sales for the 40,000-seat stadium have only reached 50,000 for the entire meet and that free tickets will be given to children and migrant workers to fill the place.
Regardless, the athletes are there and that's what's important, so let's look ahead to the men's running events in Doha (based on entry data from the IAAF):
● Men/100 meters: 27-28 September
Leading entries (with 2019 seasonal bests):
9.81 Christian Coleman (USA) ~ 2017 Worlds silver medalist
9.86 Divine Oduduru (NGR)
9.87 Justin Gatlin (USA) ~ Defending champion
9.93 Akani Simbine (RSA)
9.93 Arthur Cisse (CIV)
9.93 Cravon Gillespie (USA)
Coleman, who was subject to sanctions for not reporting his whereabouts but saw the complaint withdrawn, is the favorite. He has been faster and more consistent than anyone else, but hasn't been seen on a track since the end of July. He could be rusty, or he could be ready to do something special
Gatlin ran 9.97 in a small meet in Italy on 1 September, then felt a tug in a hamstring two days later in Croatia and hasn't been seen since. Is he healed? Oduduru and Gillespie ran their hot times back in June at the NCAA meet, so Simbine, Jamaica's Yohan Blake, British star Zharnel Hughes or Canada's Andre De Grasse might be in line for a medal.
● Men/200 meters: 29-30 September-1 October
Leading entries:
19.50 Noah Lyles (USA)
19.73 Divine Oduduru (NGR)
19.82 Kenny Bednarek (USA)
19.86 Ramil Guliyev (TUR) ~ Defending champion
19.87 Andre De Grasse (CAN)
19.87 Alex Quinonez (ECU)
Lyles has to be the biggest favorite in the meet and has been sensational since a tight loss to Michael Norman in the Diamond League in Rome back in early June. In his five finals, he's run 19.72, 19.50, 19.78. 19.65 and 19.74!
Guliyev and De Grasse looked good in chasing Lyles home in the Diamond League final, in 19.86 and 19.87 and are favored for medals. But then there is Quinonez, who seems to surprise when no one is looking, and Coleman, who has run 19.91 this year and swears he will do some damage here.
Oduduru won the NCAA with a hot time and has disappeared; Bednarek pulled up at the USATF Nationals in the final, but ran 19.86 at altitude in May and 20.07 in his USATF semi. If healed, he could be a contender.
● Men/400 meters: 1-2-4 October
Leading entries:
43.45 Michael Norman (USA)
43.64 Fred Kerley (USA)
44.14 Steven Gardiner (BAH) ~ 2017 Worlds silver medalist
44.29 Nathan Strother (USA)
44.40 Akeem Bloomfield (JAM)
44.40 Vernon Norwood (USA)
The U.S. has dominated this event, with Norman running 43.45 to move to no. 4 ever back in April and Kerley running a lifetime best to beat him, 43.64-43.79 at the USATF Nationals. They are clear favorites to run 1-2, but Gardiner – who has a lifetime best of 43.87 – will be conceding nothing.
These three are prohibitive medal favorites, but much attention will be paid to 2011 World and 2012 Olympic champ Kirani James (GRN). Still just 28, he ran 44.47 in his only race this season, on 6 September in Spain. More in the tank?
● Men/800 meters: 28-29 September-1 October
Leading entries:
1:41.89 Nijel Amos (BOT)
1:42.54 Ferguson Rotich (KEN)
1:42.70 Donavan Brazier (USA)
1:43.51 Brandon McBride (CAN)
1:43.62 Amel Tuka (BIH)
The clock says that Amos, Rotich and Brazier are the class of the field, but they are hardly locks for medals. Amos and Rotich ran 1-2 with stirring times in the Diamond League Monaco race, but Brazier was tactically perfect in coming from seventh with a half-lap to go to win the Diamond League final just 0.10 from the American Record.
Kenya's Emmanuel Korir (1:43.69 this year) cannot be counted out and a slower, more tactical race will play into the hands of 2017 Worlds silver medalist Adam Kszczot (1:44.61 in 2019). Want a wild card? How about the two Puerto Ricans: Wesley Vazquez (1:43.83) and Ryan Sanchez (1:44.82)?
● Men/1,500 meters: 3-4-6 October
Leading entries:
3:28.77 Timothy Cheruiyot (KEN) ~ 2017 Worlds silver medalist
3:30.16 Jakob Ingebrigtsen (NOR)
3:30.58 Ronald Musagala (UGA)
3:30.62 Charlie Grice (GBR)
3:30.66 Ayanleh Souleiman (DJI)
No matter what the pace, Cheruiyot has been dominant in this event for a couple of years. He's a strong favorite to win, with a battle royal behind him for the other medals. Defending silver medalist Filip Ingebrigtsen (NOR: 26 years old) has run 3:30.82, but ranks only sixth among the declared entries. Younger brother Jakob (19) and Musagala both have lifetime bests this season and have closed hard at the end of races.
After looking so great indoors, Ethiopia's Sam Tefera has had an indifferent outdoor season, but he's a medal threat if fit. It's hard to see how 2016 Olympic champ Matthew Centrowitz of the U.S. could figure in the medal hunt, but if the race is slow, his tactical sense is not to be underestimated.
● Men/3,000 m Steeple: 01 & 04 October
Leading entries:
8:04.82 Soufiane El Bakkali (MAR) ~ 2017 Worlds silver medalist
8:05.12 Benjamin Kigen (KEN)
8:05.51 Getnet Wale (ETH)
8:05.69 Fernando Carro (ESP)
8:05.72 Abraham Kibiwot (KEN)
The top five all ran their seasonal bests in finishing 1-2-3-4-5 at the Diamond League Monaco race in July, but Wale won at the Diamond League Final in Brussels. Those two and Kigen look like likely medalists, but defending champ (and Rio Olympic champ) Conseslus Kipruto (KEN) swears he will be ready to run for gold here.
● Men/5,000 m: 27 & 30 September
Leading entries:
12:52.98 Telahun Haile Bekele (ETH)
12:53.04 Selemon Barega (ETH)
12:54.92 Hagos Gebrhiwet (ETH)
12:56.26 Birhanu Balew (BRN)
12:56.48 Abadi Hadis (ETH)
Looks like an Ethiopian sweep, doesn't it? But the year list is deceiving since the top five times all came in the terrific Diamond League Rome race, the best of the year so far. All four Ethiopians are medal threats, as are Uganda's Diamond League Final winner, Joshua Cheptegei (12:57.41) and Kenya's Nicholas Kimeli (12:57.90). A slower pace will give tacticians like American Paul Chelimo – the bronze medalist in 2017 – a better shot at a medal.
Norway's Jakob Ingebrigtsen (13:02.03) is running this as a warm-up for the 1,500 and could surprise with his excellent final-lap speed.
● Men/10,000 m: 6 October
Leading entries:
26:48.95 Hagos Gebrhiwet (ETH)
26:49.66 Selemon Barega (ETH)
26:49.99 Yomif Kejelcha (ETH)
26:50.16 Rhonex Kipruto (KEN)
26:53.15 Andamlak Belikhu (ETH)
The year list is again dominated by a single race, the Ethiopian Trials in Hengelo (NED) in July, with 13 of the top 14 marks run so far. If the four Ethiopians at the Worlds work together, a similar result is possible, but that seems unlikely. That opens the door for others, possibly including American Lopez Lomong (27:30.06 at the U.S. Nationals). But the top three Ethiopians are all experienced internationals; they will be hard to beat.
● Men/Marathon: 5 October
Leading entries:
2:02:55 Mosinet Geremew (ETH)
2:03:16 Mule Wasihun (ETH)
2:05:01 Shura Kitata (ETH)
2:06:46 Amos Kipruto (KEN)
2:06:46 Okubay Tsegay (BRN)
The marathon will start at 11:59 p.m. and be run in the middle of the night due to the hot weather in Doha. It sounds exotic, but who knows what will happen? Geremew, Wasihun and Shura Kitata ran 2-3-4 behind Eliud Kipchoge (KEN) in London, but this race will have no pacesetters and no Kipchoge. Label the Ethiopians favorites, but they need to work together to forge a pace which will shake off any challengers.
The entries for this race were certainly impacted by the late date, especially with the Berlin Marathon coming this Sunday.
● Men/110 m hurdles: 30 September & 2 October
Leading entries:
12.98 Grant Holloway (USA)
13.00 Daniel Roberts (USA)
13.05 Orlando Ortega (ESP)
13.07 Omar McLeod (JAM) ~ Defending champion
13.12 Sergey Shubenkov (RUS) ~ 2017 Worlds silver medalist
Holloway and Roberts were 1-2 at the NCAAs in June; Holloway has lost his form since then, but assures anyone who will listen that he'll be ready. Roberts has been good on the Diamond League circuit, winning in Paris in 13.08 a month ago, but he skipped the final. In the meantime, Ortega has been excellent and McLeod has been coming on.
Those three are the medal favorites; Shubenkov is certainly a possibility. But what about Holloway?
● Men/400 m hurdles: 27-28-30 September
Leading entries:
46.92 Karsten Warholm (NOR) ~ Defending champion
46.98 Rai Benjamin (USA)
47.27 Abderrahmane Samba (BRN)
48.30 Ludvy Vallant (FRA)
48.33 Kyron McMaster (BVI)
Kevin Young's 1992 world record of 46.78 is unquestionably in jeopardy, with Warholm and Benjamin racing to the nos. 2-3 times in history at the Diamond League Final in Zurich (SUI) at the end of August.
This time, they have to work through two preliminary rounds and there might also be Samba to worry about. He won the Diamond League meet in Shanghai in May, but hasn't been seen since, reportedly due to a foot injury. If he is right, he could challenge, but the pressure to perform in his home country makes this a lot to ask.
If Samba isn't fit, the fight for third could be epic, with 2017 silver winner Yasmani Copello (TUR) and McMaster the most likely to claim a medal.
● Men/20 km Walk: 4 October
Leading entries:
1:17:15 Toshikazu Yamanishi (JPN)
1:17:25 Koki Ikeda (JPN)
1:17:45 Massimo Stano (ITA)
1:18:00 Eiki Takahashi (JPN)
1:18:07 Perseus Karlstrom (SWE)
The strong Japanese marks were from the Asian Championships back in March, but Yamanishi also won the IAAF Race Walk Challenge event in La Coruna (ESP), so he's the favorite. Stano was second at La Coruna and Karlstrom was fourth and Ikeda should challenge for a medal
This event will start at 11:30 p.m. on Saturday evening and finish about 1 a.m. The competitors can literally say they went for a midnight stroll in Doha.
● Men/50 km Walk: 28 September
Leading entries:
3:37:43 Yohann Diniz (FRA) ~ Defending champion
3:38:02 Qin Wang (CHN)
3:39:07 Yusuke Suzuki (JPN)
3:41:04 Wenbin Niu (CHN)
3:41:15 Yadong Luo (CHN)
If Diniz is right, there's no stopping him, but in six Worlds appearances, he has gone DQ-2nd-12th-DQ-10th-1st. So who knows? All of the top marks are from early in the year, so form is a question; the minor medalists figure to come from China or Japan.
This event will also start at 11:30 p.m., and finish about 3:30 a.m., which will make it a unique show on its own.
● Men/4×100 m Relay: 4-5 October
● Men/4×400 m Relay: 5-6 October
The U.S. hasn't won the men's 4×1 since 2007 and blew both relays in 2017. With a team that will include Coleman, Lyles and Mike Rodgers, this year looks better, IF the American sprinters can get the stick around the track.
The British (37.60), Japanese (37.78) and Dutch (37.99) have all been under 38 seconds; if the U.S. passes were actually good, they could be under 37!
The American quartet, with Norman, Kerley and Benjamin, should win the 4×400 m without too much difficulty. The lesser medals should be sorted out about Trinidad & Tobago, Jamaica and Colombia, which won the Pan Am Games at 3:01.41.
Prize money at the Worlds is pretty good: $60,000-30,000-20,000-15,000-10,000-6,000-5,000-4,000 for individual events at $80,000-40,000-20,000-16,000-12,000-8,000-6,000-4,000 for the top eight places.
Back later with more previews of the men's field events; look for results here.