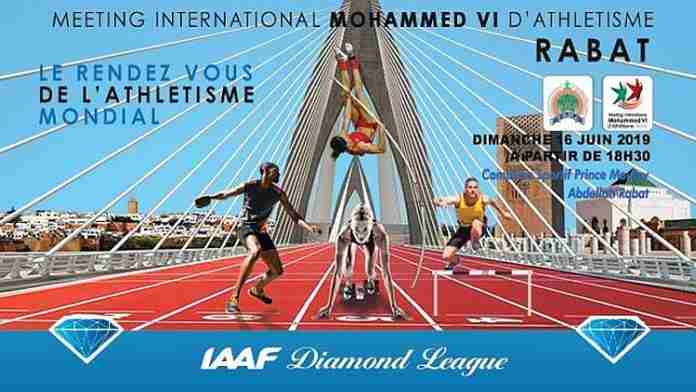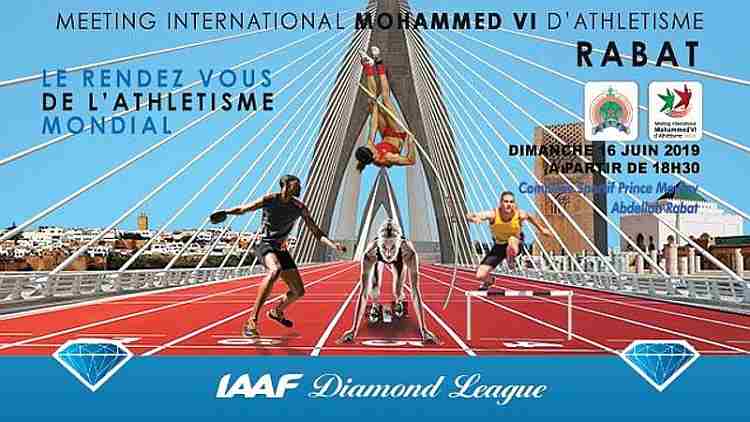 The confused IAAF Diamond League schedule started off with about one meet every two weeks, but now finished a stretch of three in 10 days, and then another two weeks off. Sunday's meet is in Rabat (MAR) for the Meeting International Mohammed VI d'Athletisme, the only Diamond League stop in Africa.
The event received some unwanted attention when South African star Caster Semenya's lawyers accused the organizers of not allowing her to run since the IAAF's female eligibility regulations have been suspended by the Swiss Federal Tribunal. Since then, she was invited to run in the women's 800 m … and declined! So now we can get back to considering who will be running; some of the headline events:
● Men/200 m: Canada's Andre De Grasse has been trying to get back on track, but has a best of 20.20 this season, Turkey's World Champion Ramil Guliyev (19.99) has been good when healthy, but this race is a test for newcomer Kenny Bednarek, who ran 19.82 to win the National Junior College title in the U.S. We'll know more about his possibilities after this race.
● Men/800 m: Botswana's Nijel Amos has been terrific in 2019, standing no. 2 on the world list at 1:43.65. He's the favorite, ahead of a good field that include Kenyans Ferguson Rotich (1:44.11 in 2019), Emmanuel Korir (1:44.50) and Jonathan Kitilit (1:44.97) and American Clayton Murphy (1:44.59), coming off a strong mile performance in Oslo.
● Men/3,000 m Steeple: Home favorite Soufiane El Bakkali was the world leader at 8:07.22 until the Rome Diamond League, when Benjamin Kigen (8:06.13) and Getnet Wale (ETH: 8:06.83) passed him. All three are racing Sunday, along with American Hillary Bor (8:08.41) and Leonard Bett (KEN: 8:08.61), who were 2-3 behind El Bakkali in Doha.
● Men/110 m hurdles: Jamaica's Olympic Champion Omar McLeod sits third on the world list for 2019 (13.12), behind Americans Grant Holloway (12.98) and Daniel Roberts (13.000> he's like to change that in Rabat and will be pushed by 2015 World Champion Sergey Shubenkov (RUS: 13.26 this season) and Britain's Andrew Pozzi (13.29).
● Men/Long Jump: A very strong field with Olympic champ and 2019 world leader Jeff Henderson (USA: 8.38 m/27-6), World Champion Luvo Manyonga (RSA: 8.35 m/27-4 3/4 in 2019) and 2017 Worlds bronze medalist Ruswahl Samaai (RSA: 8.21 m/26-11 1/4) all in. But all eyes will be on the erratic Juan-Miguel Echevarria (CUB), whose three outdoor meets have been 8.92 mw/29-3 1/4w (!!!), 7.95 m/26-1 and 8.12mw/26-7 3/4w for second in Stockholm. Which Juan shows up?
● Men/Discus: An all-star field with 2015 World Champion Piotr Malachowski (POL), 2016 Olympic Champion Christoph Harting (GER), 2017 World Champion Andrius Gudzius (LTU) and the top three on the world list for 2019, but the question is how far will Daniel Stahl (SWE) throw? His first two meets this season were wins in 70.56 m (231-6) in Doha and 69.57 m (228-3) in Stockholm, with a foul at almost 73 m (239-6). But then he had three fouls at the Nurmi Games in Turku (FIN). Is this the day he unleashes one for the ages?
● Women/100 m: This event has suddenly exploded, with Sha'Carri Richardson at 10.75, Shelly-Ann Fraser-Pryce (JAM) at 10.88 and Elaine Thompson (JAM) at 10.89. Marie-Josee Ta Lou (CIV: 11.14 in 2019), Dafne Schippers (NED: 11.06) and Blessing Okagbare (11.07) know now is the time to start running a lot faster.
● Women/400 m: Bahrain's Salwa Eid Naser sits no. 2 on the world list and is undefeated in four meets this season at 400 m. Reigning World Champion Phyllis Francis (50.85 in 2019) is the best bet to do something about that, along with former USC star Kendall Ellis (51.75 in 2019).
● Women/1,500 m: Eight runners who have finished under 4:02 this season are entered, headed by 2019 world leader Genzebe Dibaba (ETH: 3:56.28), who won the race of the year (so far) in Rome. Countrywoman Gudaf Tsegay won in Nanjing (CHN) in 3:59.57 and then there are Axumawit Embaye (ETH: 4:00.17), Sifan Hassan (NED: 4:00.53), home favorite Rabab Arafi (MAR), American Jenny Simpson (4:01.18) and more.
● Women/Pole Vault: World and Olympic champ Katerina Stefanidi (GRE) leads this field, with World Indoor champ Sandi Morris (USA) challenging and both trying to better the current world-leading mark of 4.91 m (16-1 1/4) by Jenn Suhr of the U.S. American Katie Nageotte moved up to third on the 2019 list on Thursday in Prague, clearing 4.81 m (15-9 1/4).
● Women/Discus: Even though the world leader (and 2015 World Champion) Denia Caballero of Cuba is in the field (68.46 m/224-7), much of the focus will be on Croatia's Sandra Perkovic, who threw poorly at the Bauhaus Galan in Stockholm (SWE), finishing fifth. Bad day at the office, or something more? We'll find out in Rabat.
U.S. TV coverage from Rabat is only available on the NBC Sports Gold online program; NBC will be showing the adidas Boost Boston Games on Sunday at 4:30 p.m. Eastern time. Look for Rabat results here.
¶
The adidas Boost Boston Games will have some strong fields, especially in the oddball sprints scheduled to be run on an elevated track on Boylston Street in the downtown area. Look for record tries in:
● Men/150 m: (World best: 14.35, Usain Bolt (JAM), 2009) ~ Noah Lyles of the U.S., Nethaneel Mitchell-Blake (GBR) and Jereem Richards (TTO).
● Women/150 m: (World best: 16.10, Florence Griffith-Joyner (USA), 1988) ~ Shaunae Miller-Uibo (BAH), Michelle-Lee Ahye (CIV) and Shania Collins (USA).
● Women/200 m hurdles: (World best: 24.8h, Yadisleidis Pedroso (ITA), 2013) ~ Shamier Little (USA) and Cassandra Tate (USA).
In the more traditional events, 2017 World Champion Tori Bowie is scheduled to run the women's 100 m, an event she hasn't run since winning the Pre Classic last May and suffering an injury. Now would be a good time to show some fitness and she will have Murielle Ahoure (CIV) and American Aleia Hobbs (11.03 in 2019) to push her.
In the men's 200 m on the straight, Steven Gardiner (BAH) has already run 20.04 around the turn in 2019 and will be pushed by Britain's Zharnel Hughes (9.97 for 100 m in 2019) and possibly 32-year-old LaShawn Merritt, who just opened his 2019 season with a second in 20.51 in a low-key meet in Florida on 8 June.
As noted above, the meet will be shown on NBC; look for results here.