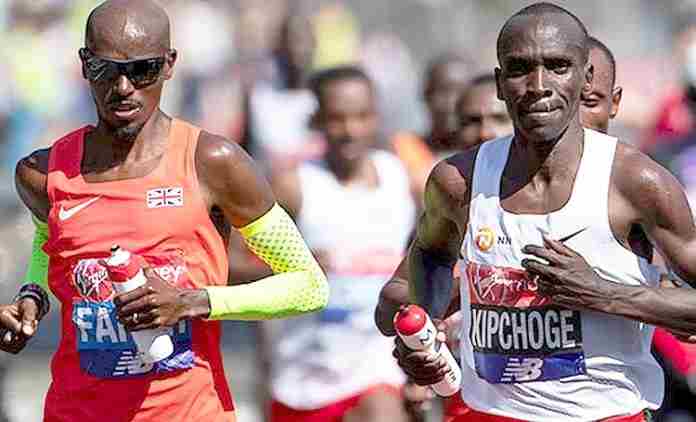 The usual preface to any marathon is that it's "unpredictable." Not when Eliud Kipchoge is running.
The Kenyan star finally claimed the world record last year with his stunning 2:01:39 performance in Berlin, and at age 34, appears ready to continue to dominate the marathon scene. Consider:
● He has ran 11 career marathons and finished them all: winning 10 and finishing second once;
● He holds the course records in Berlin (2:01:39 '18) and London (2:03:05 '16);
● He has three of the top 10 marathon performances of all time: 2:01:39 (1), 2:03:05 (4) and 2:03:32 (8);
● He has won his last nine marathons in a row, not counting his 2017 time trial (2:00:25) and last lost on 29 September 2013;
● The average of his top 10 marathon finishes is 2:04:00, which would rank him 12th on the all-time list!
So he's clearly the favorite for the 39th London Marathon, the third World Marathon Majors race of 2019, although there is an excellent field to chase him:
2:03:13 '16 Wilson Kipsang (KEN) ~ London winner in 2012-14, second in '15
2:04:00 '18 Mosinet Geremew (ETH) ~ Chicago runner-up '18, Berlin third '17
2:04:02 '18 Leule Gebrselassie (ETH) ~ Dubai runner-up '18; third career marathon
2:04:06 '18 Tamirat Tola (ETH) ~ Worlds silver '17; fourth at New York '18
2:04:37 '18 Mule Wasihun (ETH) ~ Amsterdam runner-up '18
2:04:49 '13 Tola Shura Kitata (ETH) ~ London & New York runner-up '18
2:05:11 '18 Mo Farah (GBR) ~ 4 OG golds/6 World titles; Chicago winner in 2018
2:05:21 '16 Daniel Wanjiru (KEN) ~ London winner '17; fifth in New York '18
There has been considerable coverage of a dust-up between Farah – third in London last year – and Ethiopian legend Haile Gebrselassie over what happened or didn't happen at one of Gebreselassie's hotels in Ethiopia, but Sunday's question will be whether Farah or anyone else can challenge Kipchoge.
Kipchoge's coach, Patrick Sang, said Friday that the conditions should be good for a fast time. "So if all goes well, he should be able to better his course record of 2:03:05 from 2016. The guy's in good shape. Of course, other factors can come into play – how the race is run after the pacemakers have gone, how the weather's behaving, all those uncontrollables – but all factors remaining constant, hopefully, it could be the first sub-2:03 in London."
As is almost everything Kipchoge does these days, that would be historic.
The women's field is headlined by the brilliant Mary Keitany, who ran an electrifying women-only world best of 2:17:01 in 2017, but was fifth in London last year. At 37, she has run 14 career marathons and finished in the top three 11 times, with seven wins, including London in 2011-12-17. The elite field stars:
2:17:01 '17 Mary Keitany (KEN) ~ Women-only race WR in London '17; 4x NYC winner
2:18:11 '18 Gladys Cherono (KEN) ~ Berlin winner 2015-17-18
2:18:31 '18 Vivian Cheruiyot (KEN) ~ Olympic 5,000 gold '16; defending London champ
2:18:35 '18 Brigid Koskei (KEN) ~ London runner-up, Chicago winner '18
2:19:17 '18 Rosa Dereje (ETH) ~ Chicago runner-up '18
2:19:51 '18 Birhane Dibaba (ETH) ~ Tokyo winner 2015-18, Chicago third 2014-15
2:20:13 '18 Haftamnesh Tesfay (ETH) ~ Frankfurt runner-up '18
2:21:36 '17 Yuka Ando (JPN) ~ Nagoya second '17, Osaka thiurd '18
2:21:40 '18 Tadelech Bekele (ETH) ~ Amsterdam winner 2017-18; London third '18
Cherono, 35, has run only six career marathons, winning three times in Berlin and finishing 2-5-4 in Dubai-Boston-London in 2015-17-18. For Cheruiyot, also 35, this will be her fifth career marathon and after a 1-2 finish in London-New York last year, she might be the favorite in this field.
Also part of the women's elite field is Molly Huddle of the U.S., the former American record holder in the 10,000 m. It's her first marathon outside the U.S.; she has finished 3-4 in the 2016-18 New York City Marathon (2:26:44 PR last year) and was 11th in the storm-blown 2018 Boston race. This could be a break-out opportunity for her, with good conditions expected.
The prize purse includes $156,500 for the top 12 places: $55,000-30,000-22,500-15,000-10,000 for the top five and on down to $1,000 for 12th. Course records are worth $25,000 more. Look for results here.